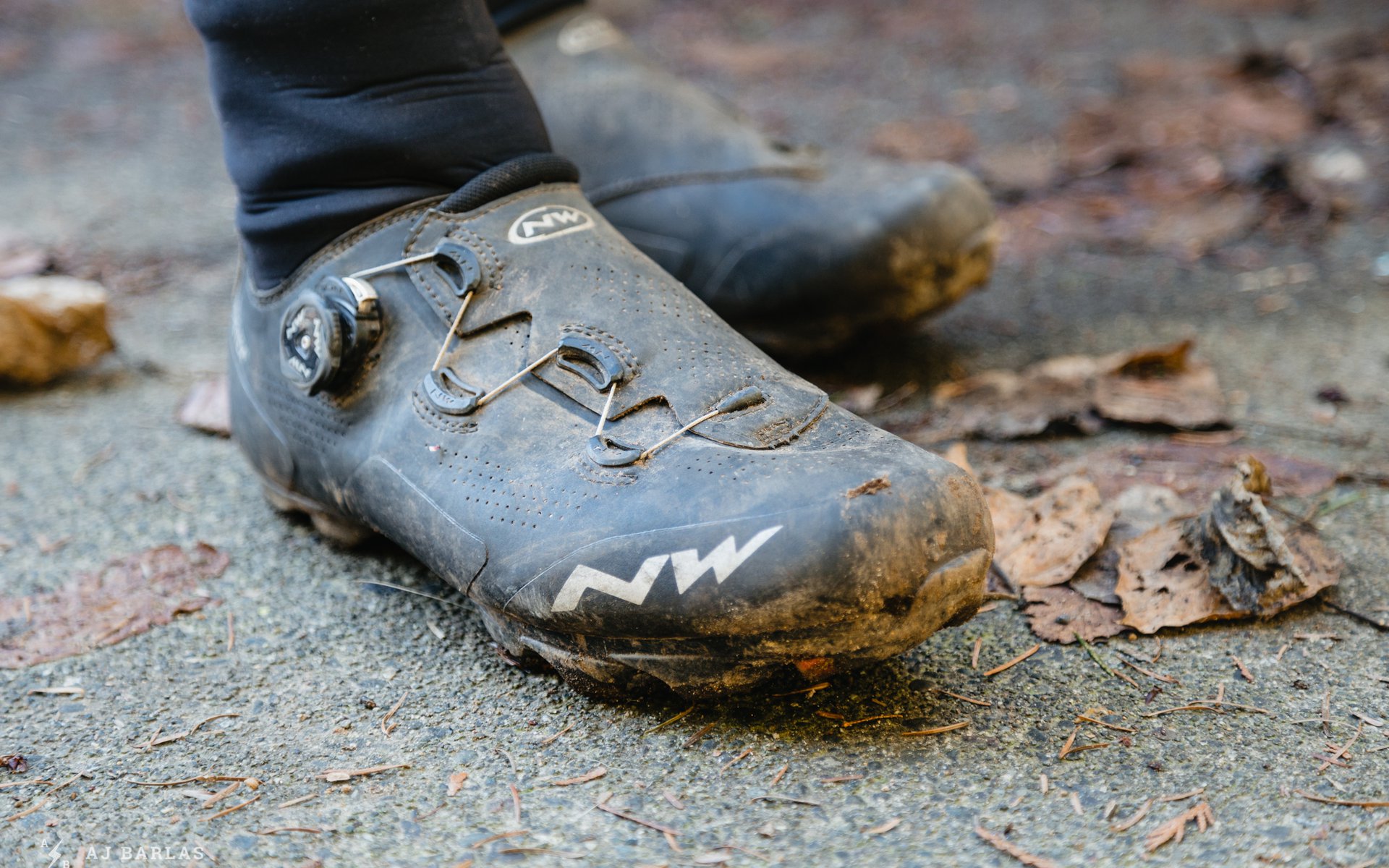 REVIEW
Northwave Raptor GTX Shoes Reviewed
If it's important to get as many rides in as possible during wet or cold weather, winter shoes should be on your radar. A good jacket, some merino wool layers, and waterproof shorts may be higher on the priority list, but keeping your feet comfortable in lousy conditions will have you looking forward to the next ride rather than searching for motivation.
In the past I've reviewed the Northwave X-Arctic GTX and Shimano MW5 Winter shoes. Both are excellent picks that I still highly recommend. The Northwaves are a no-holds-barred premium shoe with Gore-Tex membrane, great sole for hiking, comfortable fit, and a good balance of foot protection and pedal-friendly feel. The Shimano MW5 is the best winter shoe value out there at $200 US, although you can find it for less. If you're a flat-shoe type and wondering why you're not getting any love, I can suggest either Five Ten's Freerider EPS Mid which has some weatherproofing, insulation, and a high-cut design (and a fair price at $140 US) or the slipper-like OWN FR-01, which is more expensive but comes with two removable liners to choose from, one of which is lined for winter use. Neither of these shoes offers the waterproofness of the Northwaves or Shimanos I list above but both will combat the elements better than your typical flat shoe.
Waterproofness Above All
For our conditions on the North Shore, waterproofness is more important than thermal insulation. The shoes mentioned above never overcooked my feet, and were more than comfortable to wear when it was wet and well above freezing. However I had been left thinking: "why doesn't someone make a clipless shoe that adds waterproofness, without the insulation?" That would make it ideal for 4-season use both on the trails as well as when commuting in the rain. After a bit of searching, I found the Northwave Raptor GTX.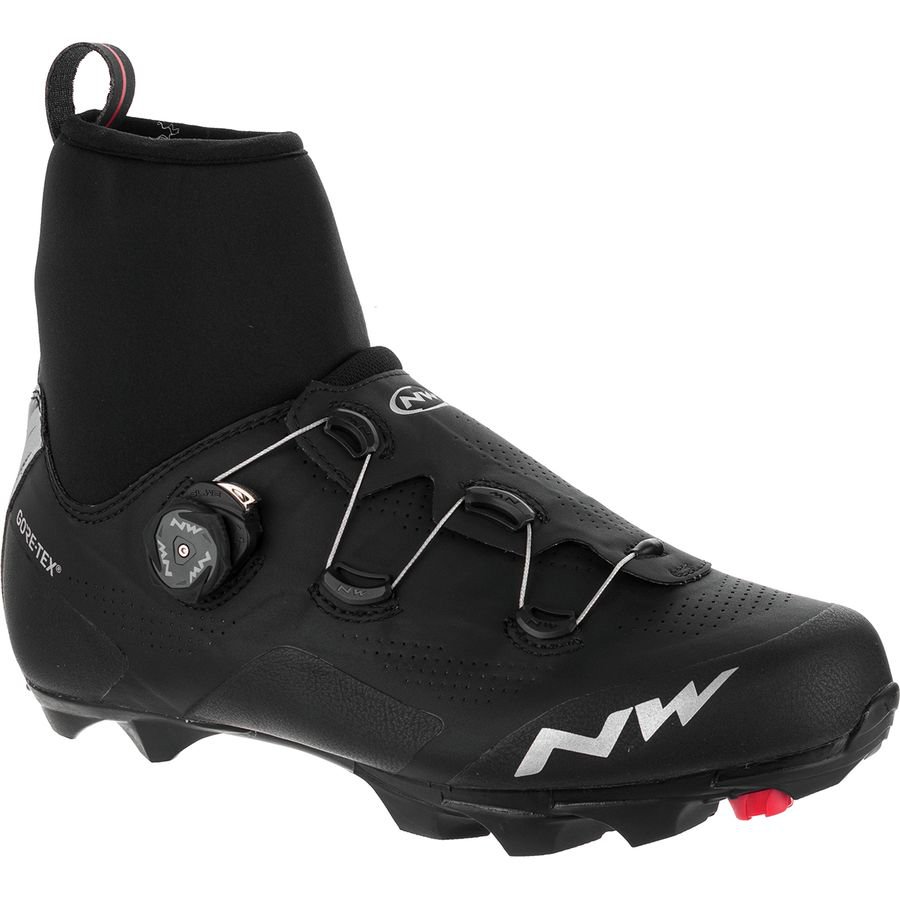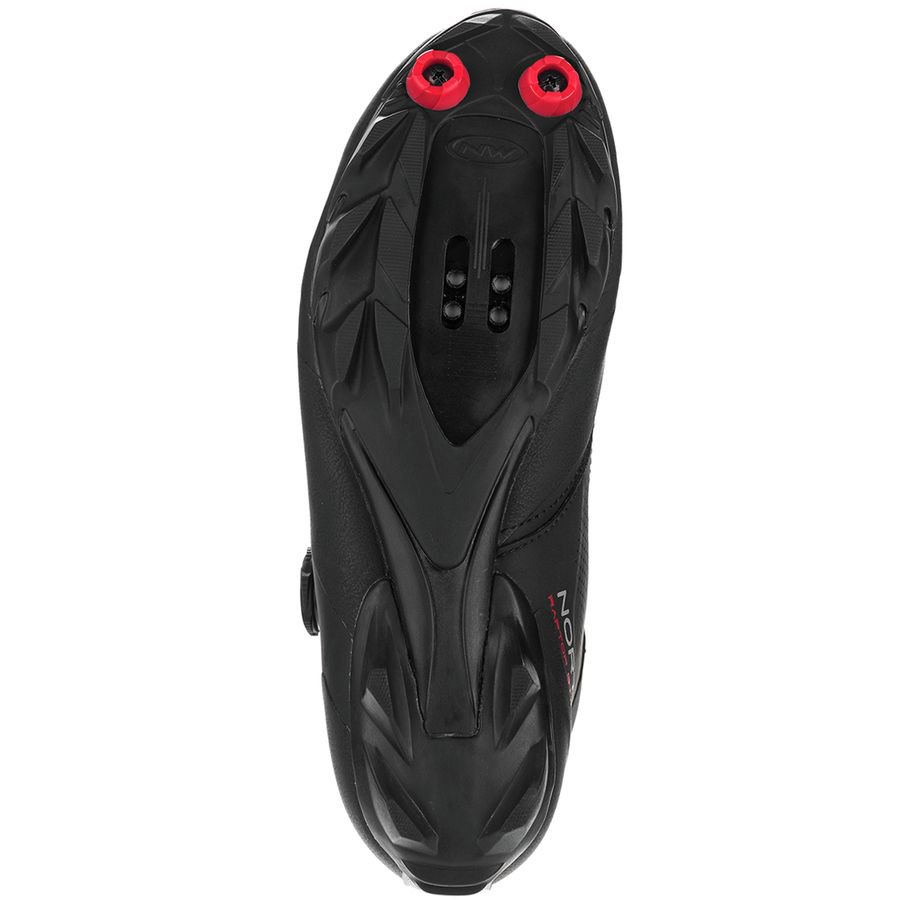 It's easy to avoid feeling uncomfortable on winter rides: just don't go.
Construction
The Raptor GTX combines a normal-looking clipless shoe with a high neoprene cuff. The lower uses a wind- and waterproof Gore-Tex Pique membrane, a GTX footbed, and a bit of thermal coating in the toe to ward off the elements. The cuff has an elastic membrane called Gore-Tex Rattler that works in tandem with the neoprene to breathe and keep your ankles warm (even when wet) and keep water out. No matter the cuff, however, any shoe will allow water in the top if it's raining hard enough. The only remedy for that is to wear riding pants. We recommend Race Face's Agent pants (if you can find them) but I'm also testing the Endura M500 and will have a review soon (spoiler: they're good).
A single SLW2 dial (like BOA, but Northwave's version) cinches down a top flap that provides plenty of overlap. Slip your foot through the neoprene cuff, close the flap, twist the dial. Easy and quick. SLW2 has a small button located along the dial to release tension either in small increments or all at once by pulling on the flap.
I've been careful not to ram my foot in through the neoprene cuff, but so far have seen no signs of wear and tear, so it seems to be durable. I usually tighten the dial after walking around or pedaling for 5-10 minutes, but that's the beauty of dial closures especially with winter shoes - you're not going to want to take off one glove or both to fiddle with flaps or re-tie your laces, and shoes are more prone to needing a little extra tightening when it's wet out.
Reflective inserts visible from all sides make this shoe a good commuter, too.
Riding
The Raptor GTX's carbon reinforced sole has a stiffness index of 8.0, which is an arbitrary number that, in my experience, means they are stiff enough to feel good power transfer but are comfortable to walk in and don't feel like boards. The sole looks like an XC slipper, but hits above its looks - the rubber tread provides decent grip and you can get purchase in soft dirt, but the sole on the X-Arctic GTX is certainly better for walking or bush-whacking.
Thanks to the pliability of the neoprene cuff, which extends down to the top of the forefoot, and the cable and dial retention, the Raptors envelop your foot comfortably without feeling like you're pulling on a boot. This was exactly what I was after: a waterproof shoe that doesn't feel too bulky either around the foot or at the ankle, where some winter shoes can feel like they're impeding ankle flexion, even if they don't when you're actually pedaling or walking.
The Northwave Raptor GTXs are waterproof - standing in ankle-deep puddles confirms that if 2-hour rides in terrible conditions wasn't enough. The exception, as I noted above, is that nothing will keep water from entering at the top of the cuff, except a pants leg that extends below it. Once they're on, you won't feel the neoprene cuff, so you're left with a riding shoe that feels great and will keep your feet dry and slightly warmer than a regular riding shoe.
Conclusion
Being prepared for winter riding usually means buying more gear, so it's always nice to find a piece that works across seasons, making it a more practical addition to the closet. The Northwave Raptor GTX isn't appropriate for summer use for me (although it would be on rainy days in the alpine) but for Fall through Spring, it's the single best clipless shoe I've used for wet conditions. The lack of thermal insulation means they aren't a cold-weather choice, although I've ridden them in -5º weather with no problems whatsoever. Cold is relative, and on the coast, -5 is as cold as it usually gets. At $239 USD / $339 CAD, this is a premium shoe, but considering the amount of use you can get out of them and the level of comfort and performance, they're a solid bet. Available in sizes 34 - 50 (half sizes from 39.5 - 45.5). They're a bit hard to find in Canada, and the Northwave family of websites is a bit of a disaster for info right now, but I can point you to buy them online here, and you can find them online elsewhere if you're not in North America.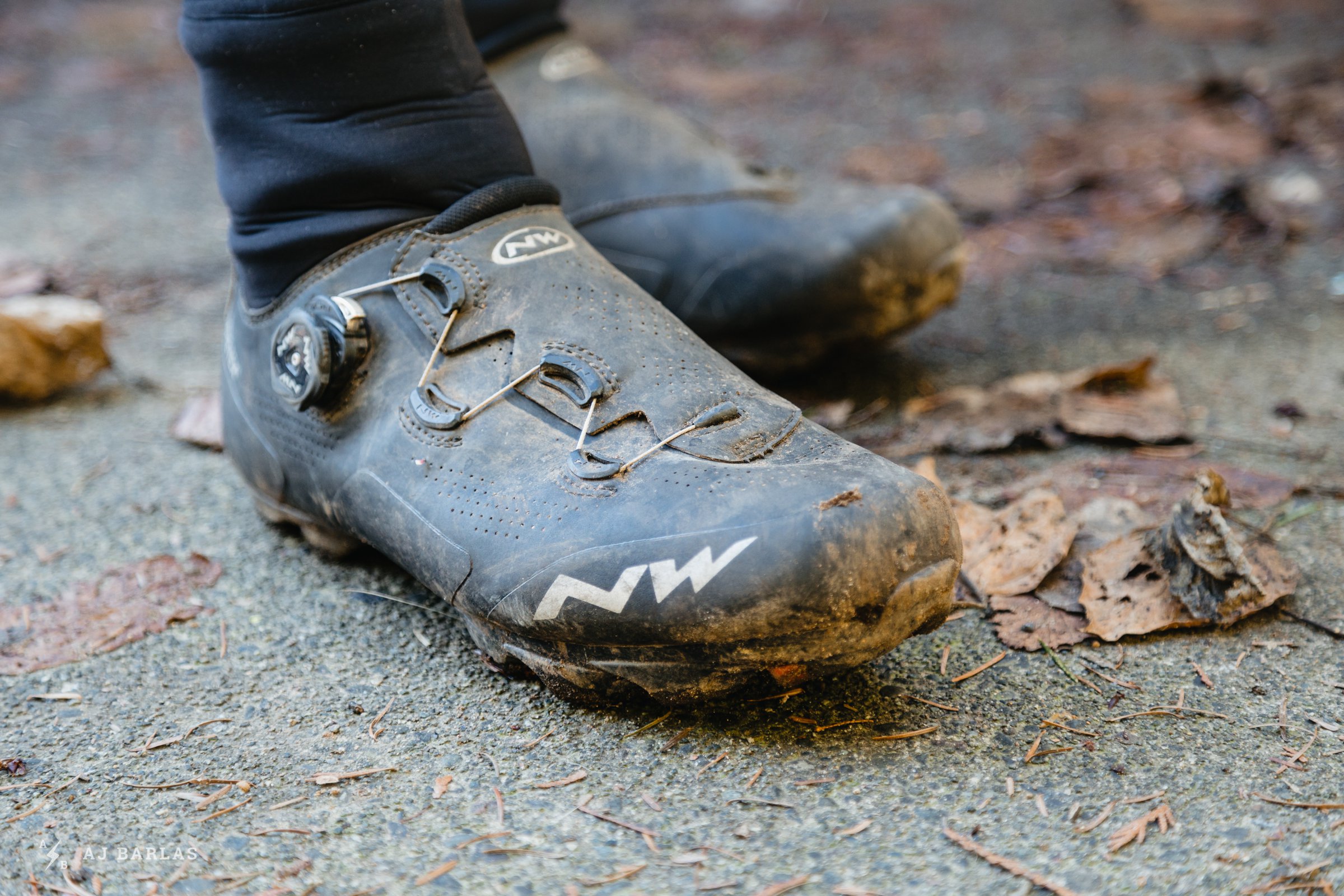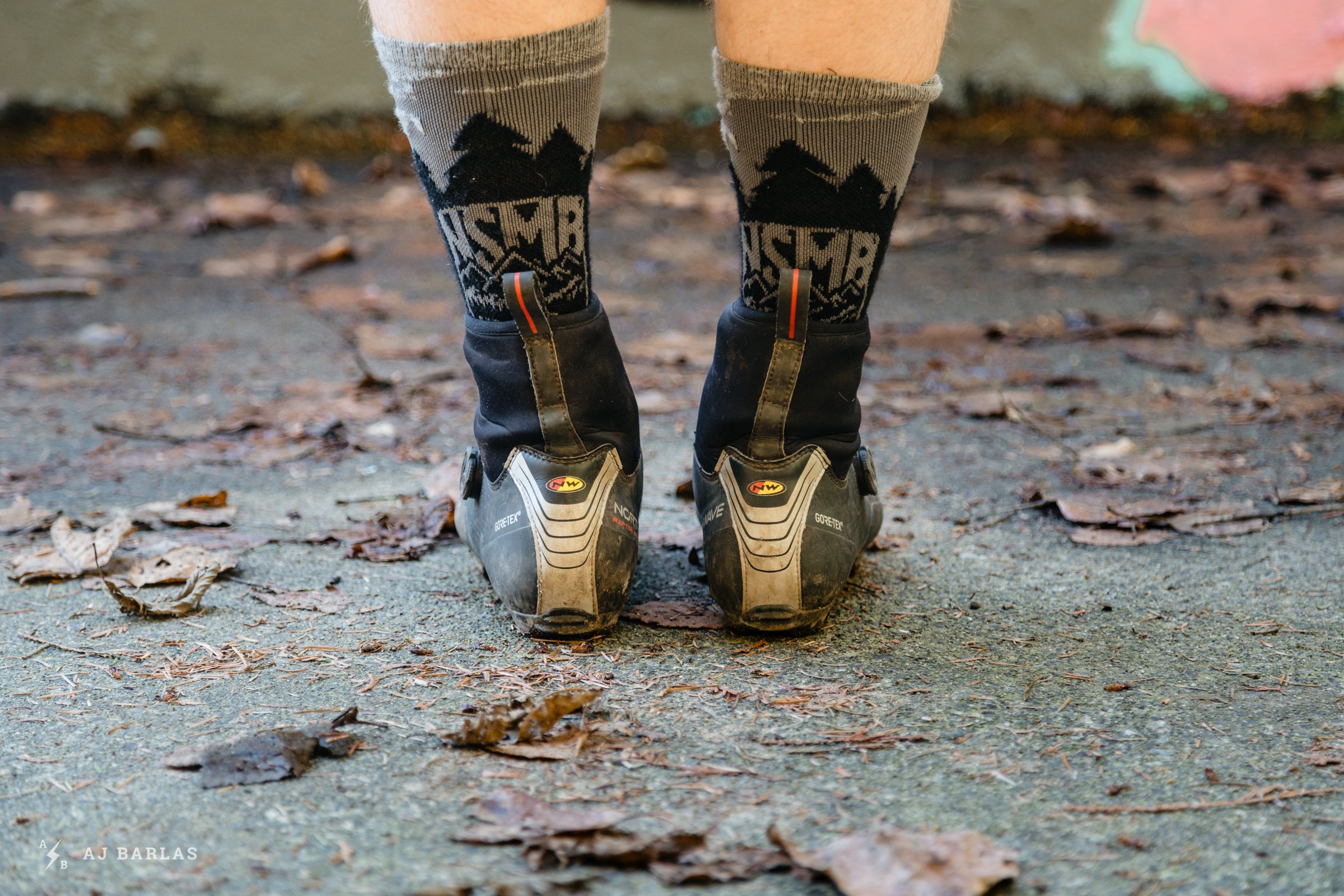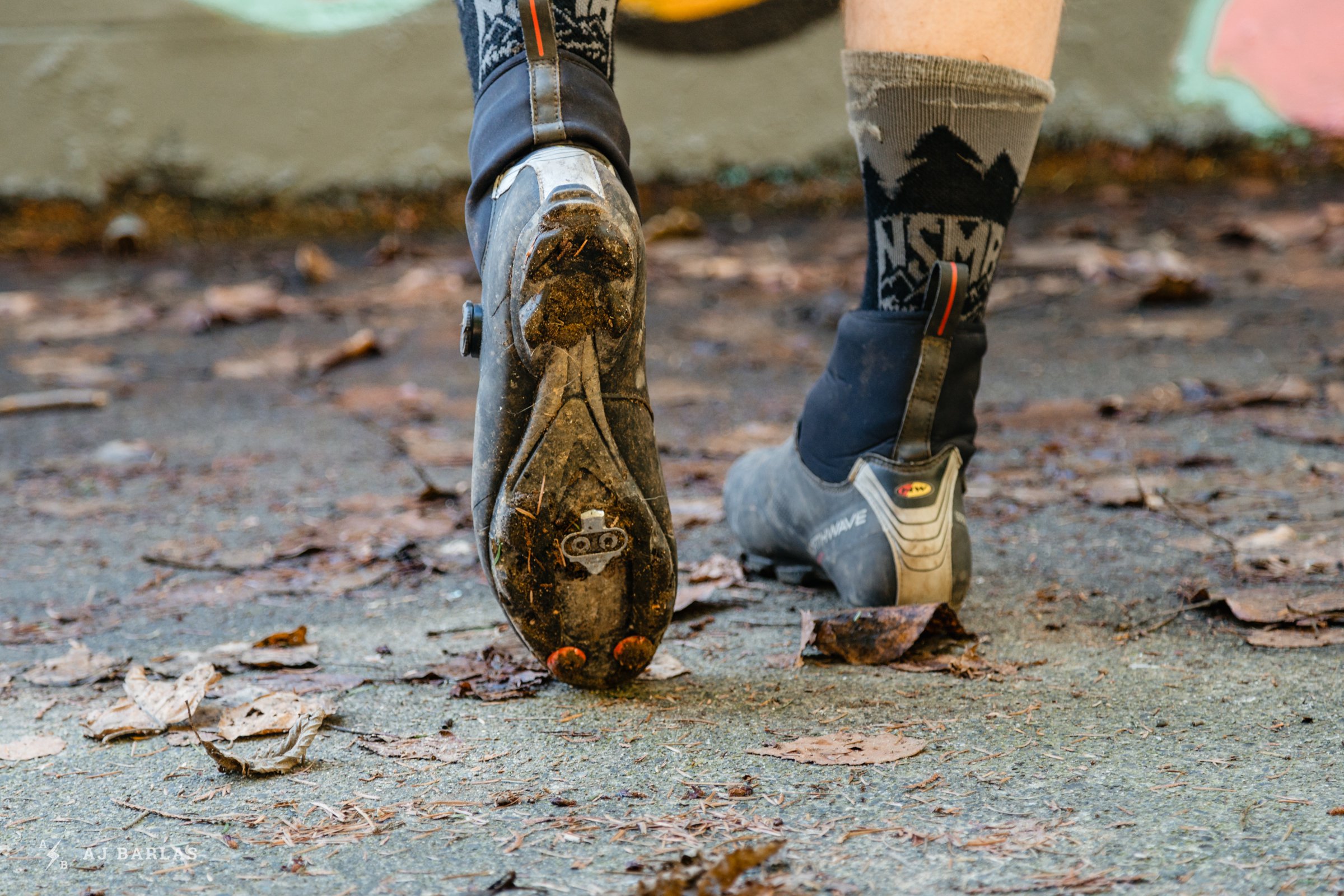 Other Winter Shoes Worth a Look
Should you live in a colder climate and need insulation to cover lower temps, Northwave's Raptor GTX series has two other versions, the Raptor Arctic GTX and Raptor Extreme XCM 2 GTX, that have the same basic construction but offer warmer insulation. Unfortunately right now Northwave's websites all seem to be choking on loam, so the best I can do is send you to this link so you can see some info on those two other shoes - but check back to their site soon to try to get more info, or look around at your local shop or online to get a better idea of pricing.
We've previously reviewed and approved the 45NRTH Japanther, and it's more of a winter shoe, but they also have a model called the Ragnarok which fits the 'waterproof but not insulated' intentions of the Raptor GTX. You can browse the 45NRTH Ragnarok for $195 US here. We'll see about reviewing it in the future.
Another option I can recommend that isn't a winter shoe, but will keep the elements out somewhat, feels great on the foot, walks as well as any shoe and is currently a steal at $65-75 US is the Giro Terraduro Mid.
Andrew Major previously gave high praise to the Bontrager Jack Frost Winter (JFW) which you can find for $199 US, as well as the Mavic XA PRO H20 GTX which sells for the same price.
Cam has had good luck with Specialized's Defroster Trail Winter shoes, that review is here.