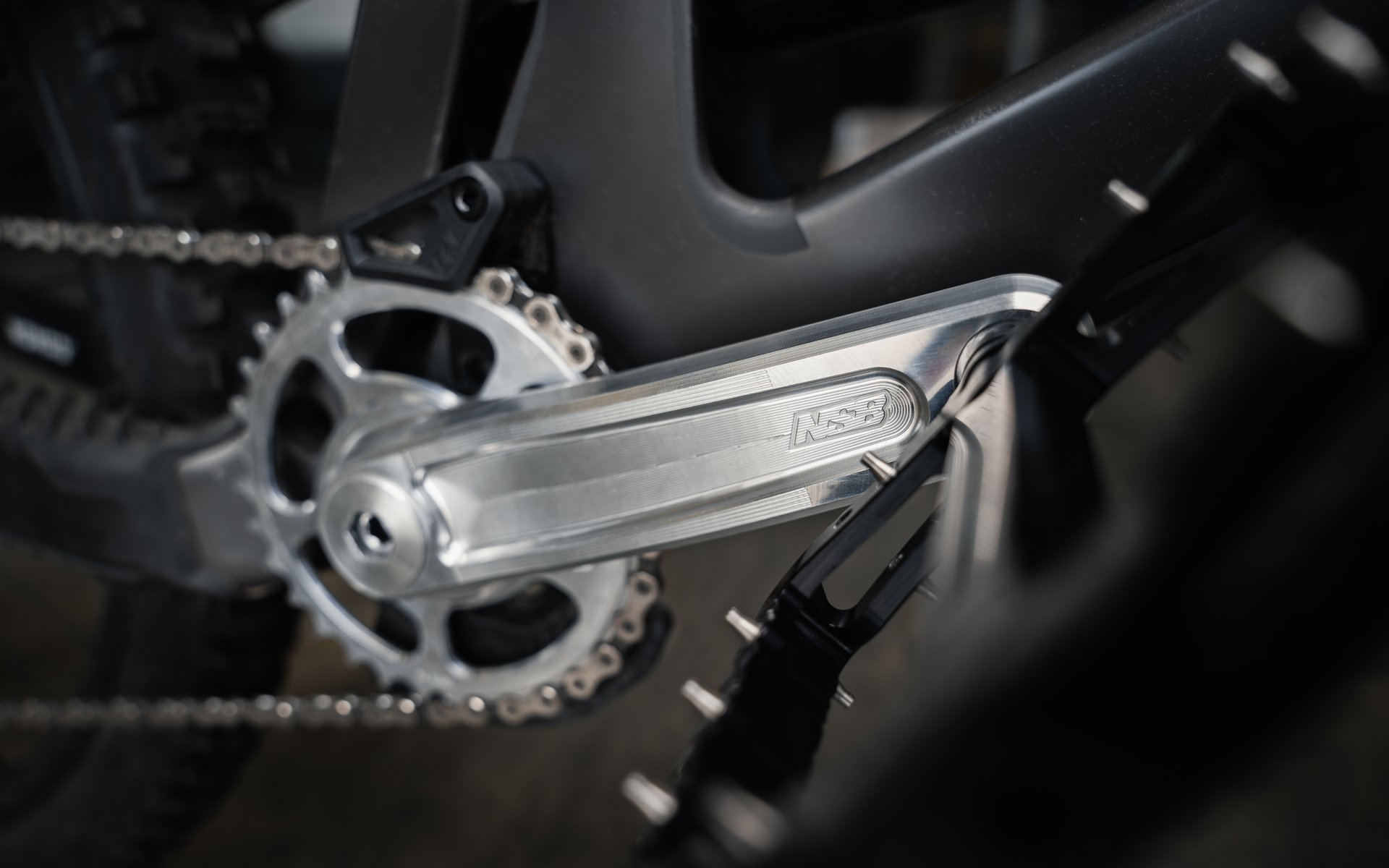 Press Release
North Shore Billet Announces Canadian-Made Talon Cranks
PRESS RELEASE:
Introducing the North Shore Billet Talon Cranks. We've dedicated two years to perfecting this product after it first came to life as a personal project on a few of our machinist's park, enduro, and DJ bikes. After catching the attention of our friends, team riders, and customers in Whistler and beyond, we proudly offer them to you.
To create the best product possible, we worked closely with our team of riders, including Yoann Barelli, Max Langille, Ben Wallace, and Milton McConville. Together, we refined the design to improve durability and usability while maintaining the sleek machined finish of the original cranks. After extensive real-world testing, we sent the cranks to EFBE Pruftechnik in Germany for further lab testing. They passed with flying colours, meeting and exceeding their comprehensive EFBE TRI-TEST® Gravity standards.
We're excited to release the Talon cranks to riders everywhere and offer them in various sizes, including new shorter lengths for modern mountain bikes. Precision machined from 7075 T6 aluminum in our Whistler machine shop; the cranks are available in anodized black, clear anodized silver, and our anodized pewter colour.
Features:
Built for Enduro and DH/Freeride, and Dirt Jump bike applications
Three-piece design
30mm crank spindle diameter
Aluminum pre-loader
Cinch chainring mount
Four lengths currently available: 155mm, 160mm, 165mm, and 170mm
Available for 73mm and 83mm bottom brackets
Machined from billet 7075 T6 aluminum in Whistler
Weight: 670g (170mm w/ 73mm spindle)
Price: $420 USD
As we produced our Talon cranks, we created a threaded bottom bracket and a tool for installation. This tool can also secure the direct mount chainring and follows Park Tool BBT-79 specifications, making it compatible with various bottom brackets such as SRAM DUB and Race Face.
The North Shore Billet Talon cranks, threaded bottom bracket and tool are now available on our website; several distributors also have stock ready to roll. Head to the site for more information on this exciting new addition to our range.
About North Shore Billet
Since 2003, NSB has been making high-quality Canadian-made bicycle components. First located in North Vancouver, we were drawn to Whistler for its diverse riding and small mountain town atmosphere. While being a small company in Whistler has allowed us to stay close to the roots of mountain biking, we strive to keep up with the latest manufacturing technologies and remain globally competitive.