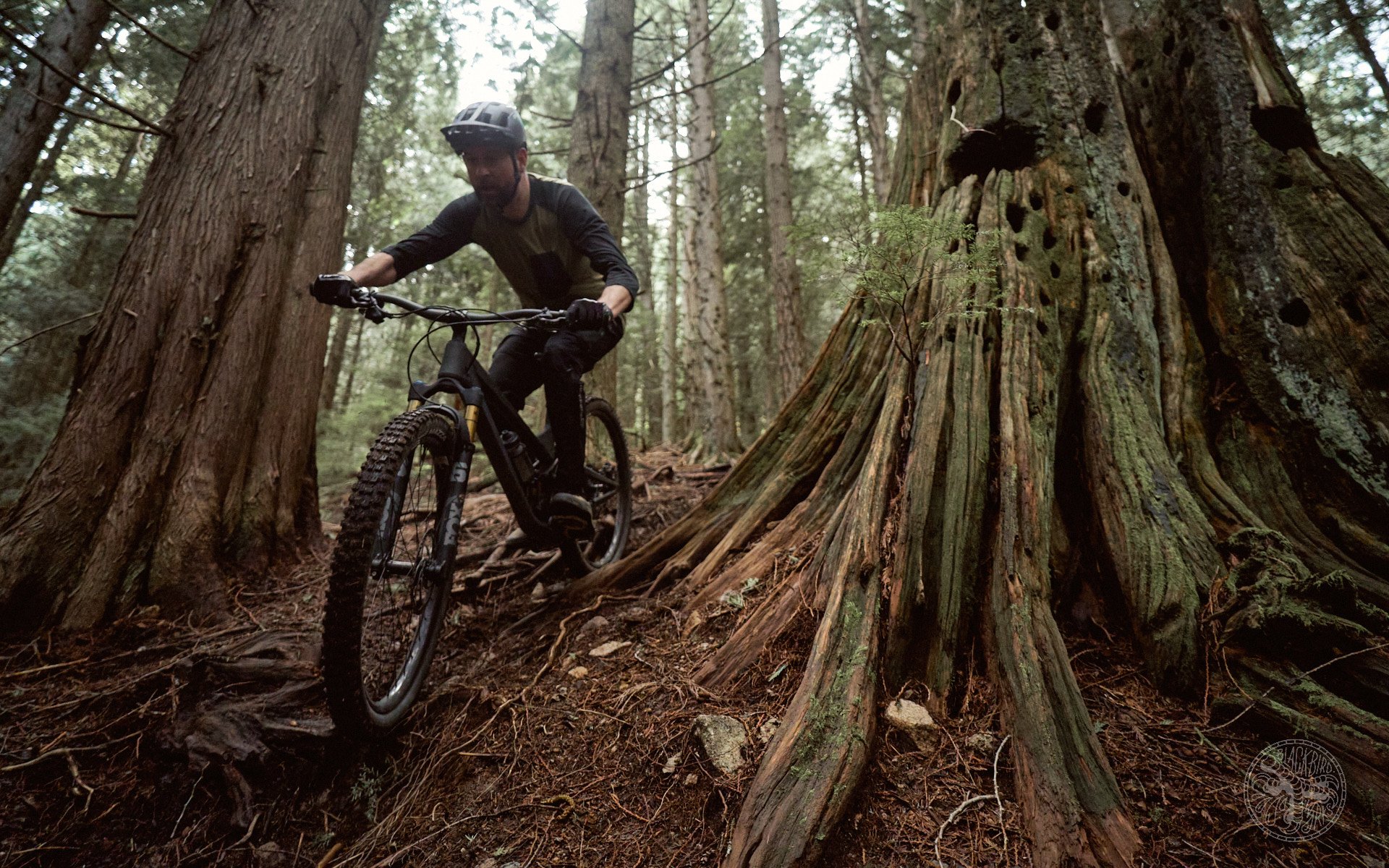 (Uncle Dave) Review
Norrøna Fjora Pants and Skibotn Jersey
Sometimes I feel like I am quite terrible at assessing value in the moment of purchase. My life seems filled with regret over things that I have bought. This is a pendulum of indecision that swings back-and-forth, sometimes feeling like I paid too much for an object, other times regretting having cheaped out. Not many things leave me perfectly content with the ratio of price to performance.
Rainy-season bicycle riding brings a special circumstance of purchasing confusion. It's nearly impossible for my rational brain to justify the high price of wet weather gear that I know will be subjected to soaking and grinding and mashing and falling. Although mid-ride, as liquid meets taint, I absolutely hate that cheap jackass that refuses to spring for the good stuff.
This is the calculation of wet weather riding gear. The price being charged for these things seems like the height of insanity, but once you put yourself in the right frame of mind there's almost no cost that you can't justify. I'm no entrepreneur, but it seems like you could do a fairly lucrative business selling high dollar, grey market rain gear out the back of a minivan at the bottom of Fromme or Seymour.
Reviewing wet weather gear is its own special version of this equation. A parcel shows up at your house filled with material at a higher cost per gram than most precious metals, and you must wrestle with determining the value of these items that you paid no money for. And really, that's what this is all about. It's hard to justify "value" in a pair of pants that cost a few hundred dollars, but if they keep your cheeks dry and last a few seasons, you know there is a version of yourself that could justify that expense.
Let's take a few moments to talk about the nuts and the bolts. If you decide that these pants are for you, the price is 319 CAD or 239 USD. There is no denying that is up there in price, but it does come complete with a 5-year warranty! 7 if you sign up for the loyalty program! Typical "production and material defects" language is applied, but that still sounds pretty great.
Speaking of material, there is only one material spec given but to me it seems like the pants are made of two separate fabrics, or at least two versions of one fabric. There's a lighter weight fabric with a visible ripstop through most of the body, and then a slightly heavier fabric with a tighter weave in areas of heavier wear (seat, thighs, cuffs). Norrøna gives the fabric spec as a 20d Oeko-Tex certified fabric with a 100% recycled nylon face fabric laminated to a printed membrane. That membrane and DWR treatment is PFC free for a minimum 20,000 mm waterproofness.
I'm always a bit curious as to what companies are making this stuff out of, so I clicked a few links on the website and learned that the "Dri1" in the name refers to the fabric that they are made of. Norrøna describes this as:
constructed with face fabric laminated to a printed membrane on the backside. Without needing a liner, it is a soft, ultra-lightweight, low-volume protective material using a hydrophilic system of moisture transportation rather than microporous holes. Suitable for biking, walking, hiking and other outdoor sports where it's important to shield the body against rain and wind. Uses fluorocarbon-free membrane and DWR.
Soft might be up for interpretation, but light feels apt. The pants are light to the point of feeling insubstantial. I'm curious to learn more about a "hydrophilic system of moisture transportation" vs "microporous holes." I'm pretty well versed in the microporous holes method, but apparently there's another way of doing things:
"Water vapour is absorbed on one side of the film and re-evaporates from the other side whilst preventing liquid water penetration."
Well TIL.
Fit-wise, the large worked well for my lanky body, and this is probably the least weird European fit that I've experienced. The pants are quite slender, but there is enough give in the material that running them a bit tighter is no issue. I ran them without pads, as that's what I've been doing lately, but it also worked fine with a pair of Race Face Indy knee pads underneath. Anything larger is going to be fairly tight, although there are cuff zippers that extend almost all the way up to the knee. These don't open fully, but allow you to create some space as necessary in the lower cuff. It's not quite the exact place you would want to open things up for knee pads, but it could create some relief if space is tight.
Construction seems great. All the tape and seams are really clean, and there are nice features throughout. There's a full wrap silicon grip around the beltline, as well as Velcro straps on either side to easily adjust sizing. I found they stayed in place and were easily adjustable. Zippers are waterproof, and come in the form of a fly, vents on the sides of the leg, a pocket on the right thigh and at the lower leg cuff. The lower leg cuff zippers tended to snag pretty easily on the fabric underneath them, but this was a pretty minor challenge. Rounding the pants out are some small reflective bits down the back of the calf.
Durability wise, things are good so far. Every year I make plans to score some new wet weather gear by September so that it's ready for a solid fall thrashing and I can tell you all about it in January. My good intentions failed due to supply chain issues, so these pants showed up a bit later than I would have liked, which limited their winter saddle time. Things have turned to crap though, this fall, so I have a bit more time in them now. The fabric is holding up well in the saddle area, and there have been a lot of sticks and branches jabbing into them in various areas, including a few situations where I thought I was definitely going to cause a tear. The fabric may seem insubstantial, but it appears to possess a durability that belies expectations. I don't think these are the pants for anybody looking for the ultimate in durability, but with so much emphasis on weight and breathability, they've held up well.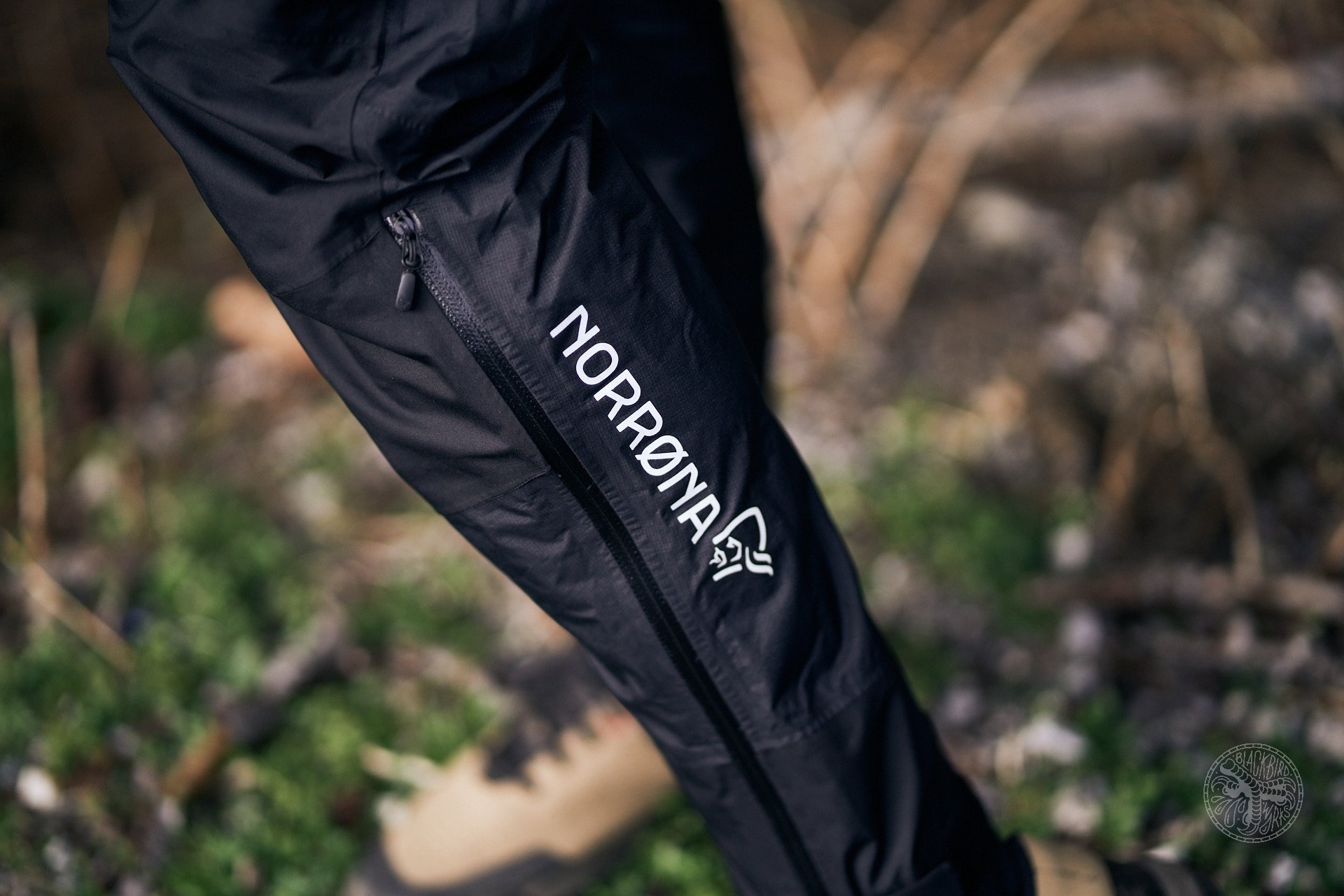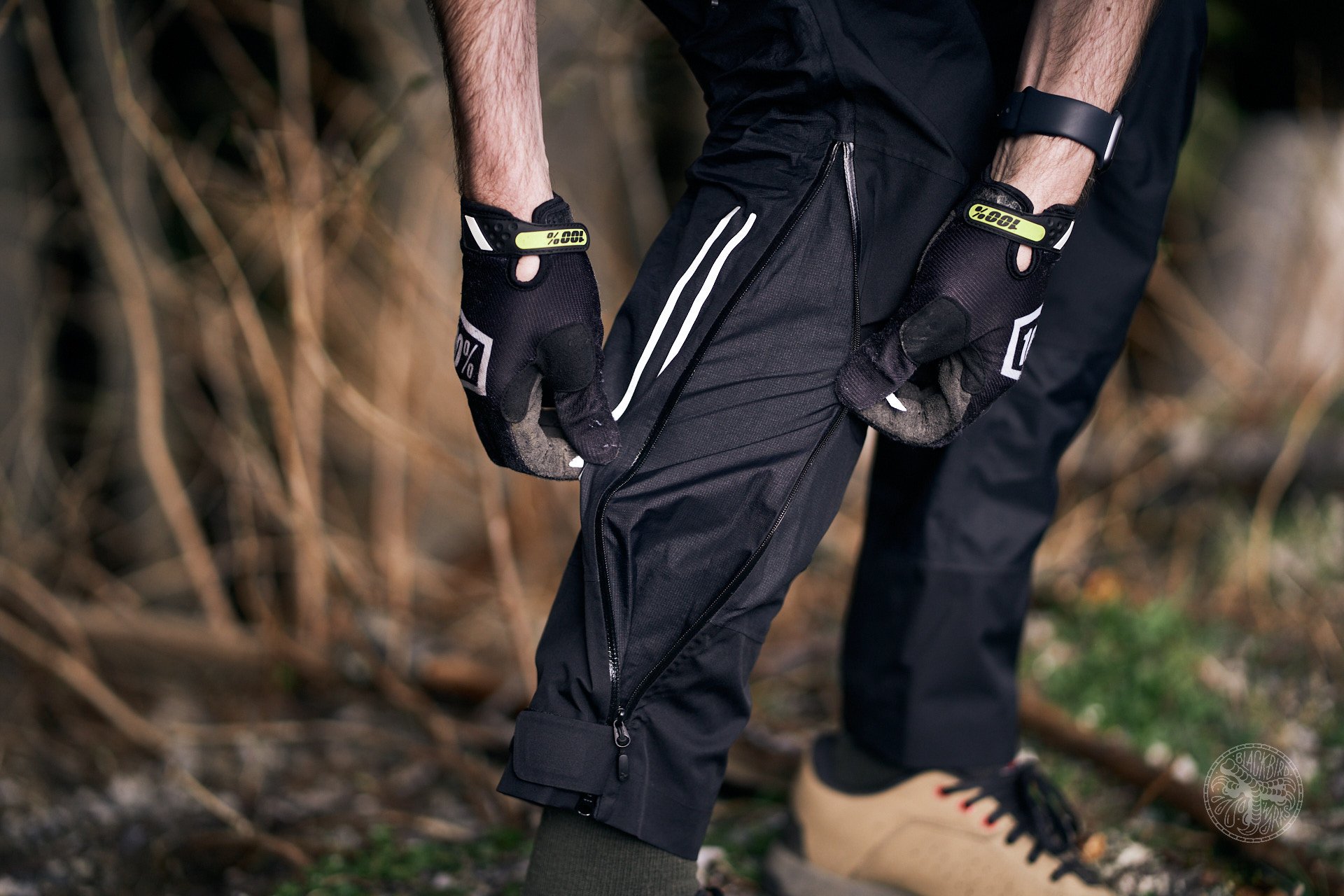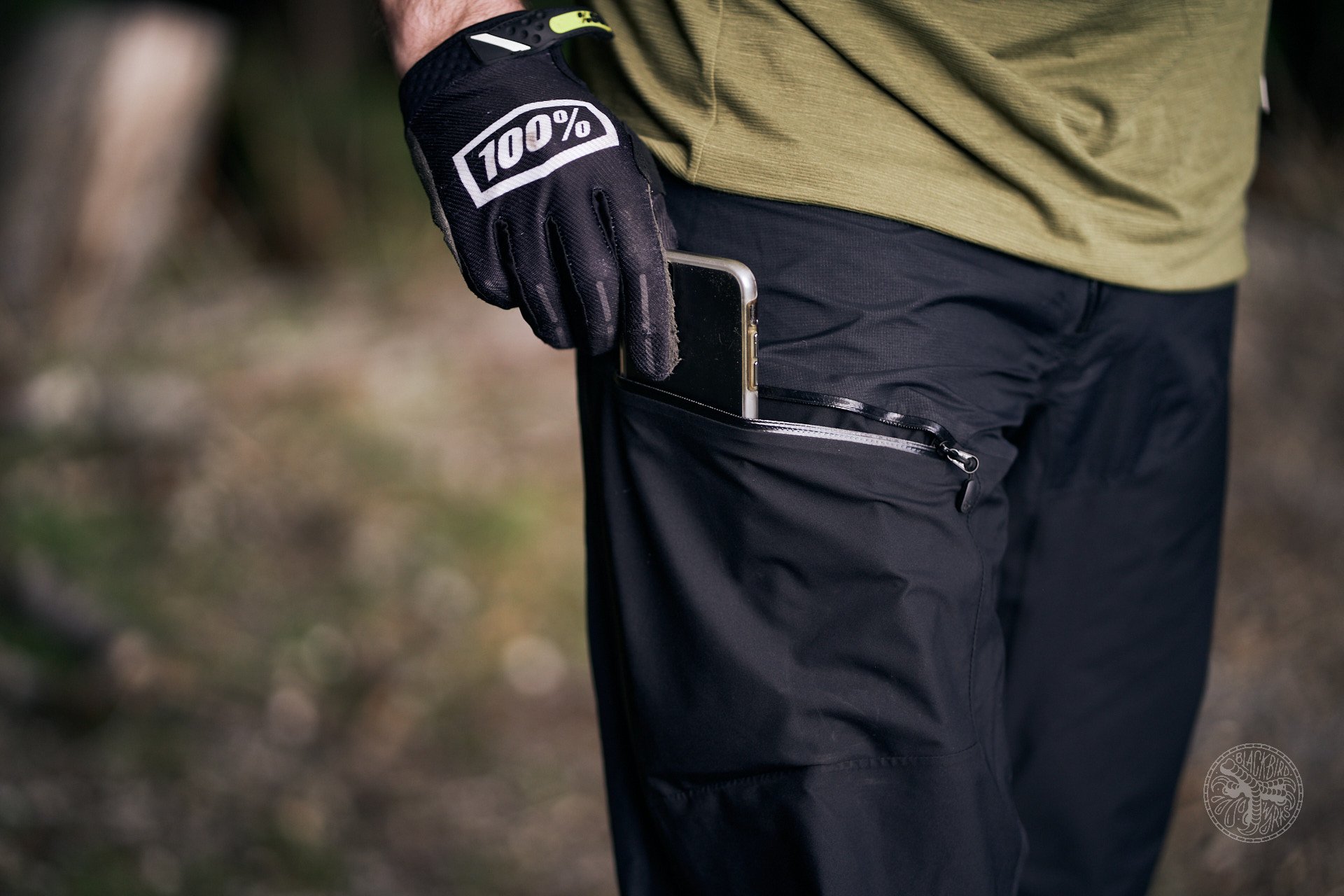 Into the Deep End
I very immediately subjected these pants to a really horrible time. The first day saw a lot of trailside standing on Cypress, waiting for an EMT evacuation. The second day was a long, wet slog through the finest that Squamish has to offer. You can read more about those days here, and see a few action shots as well.
Both days, things went about as well as expected. I'm not going to say I was warm and toasty climbing around in the bush on Cypress, but the pants were certainly the least of my problems. It was quite wet but there was no moisture penetration and I just hosed them off in the hotel shower in Squamish and they were ready for the next day.
The next day also threw a lot at the pants, and they performed fairly well. For the first hour, we huffed and puffed up some hills and splashed through puddles and things felt amazing. The pants breathe really well and the moisture generated on the climb was minimal. Light showers and puddles are cast aside as if they aren't even there.
There is a limit though. Once the rain started…and the snow…and the deep puddles and the soaking, the pants gave up, just like any others would. Mostly in the crotch. There's a point where any waterproof/breathable garment reaches its limit, and these pants are no different. Can I quantify the point where this occurs? No. No I can't. Future rides were similar. The pants had no challenges fending off damp conditions but were overwhelmed by the North Shore's worst. Once overwhelmed, it was a moderate sort of dampness rather than a full soaking. This is about the best one can hope for during the Vancouver rainy season. There are certainly pants that I have used over the last few years that are in this price bracket that have performed worse. I'm not saying the version of me that was quietly browsing through pants on a rack would enthusiastically jump to spend this kind of money, but the guy who has finished up more than a few rides soaked through to the bone might be more likely to, if he knew he could trade a few hundred dollars to merely have a moistened taint.
Last winter was a strange one, with a long stretch of dry weather until things fell apart. This fall has been similar. I've been finding that my perfect cold and dry combo was my NF DP3s and an Icebreaker wool t-shirt. This has taught me the value of a pure wool riding shirt.
The Skibotn takes that Icebreaker shirt, and builds on it (not literally). It adds a little pocket, which is nice. It comes in a cut made for riding bicycles, which is also nice. It also mixes some other fibers in with your wool and chops a few inches off the sleeves, which may or may not be nice depending on how you look at things. Looking at the tag, it states 53% Polyester / 47% Wool.
What I really like about this jersey is the cut. Although my partner started laughing and pointing at me the first time she saw me wearing it. She didn't really explain why. So, it may scream cyclist a bit more than the Icebreaker, but it definitely fits better on the bike. The cut in the back means that it rides up a lot less.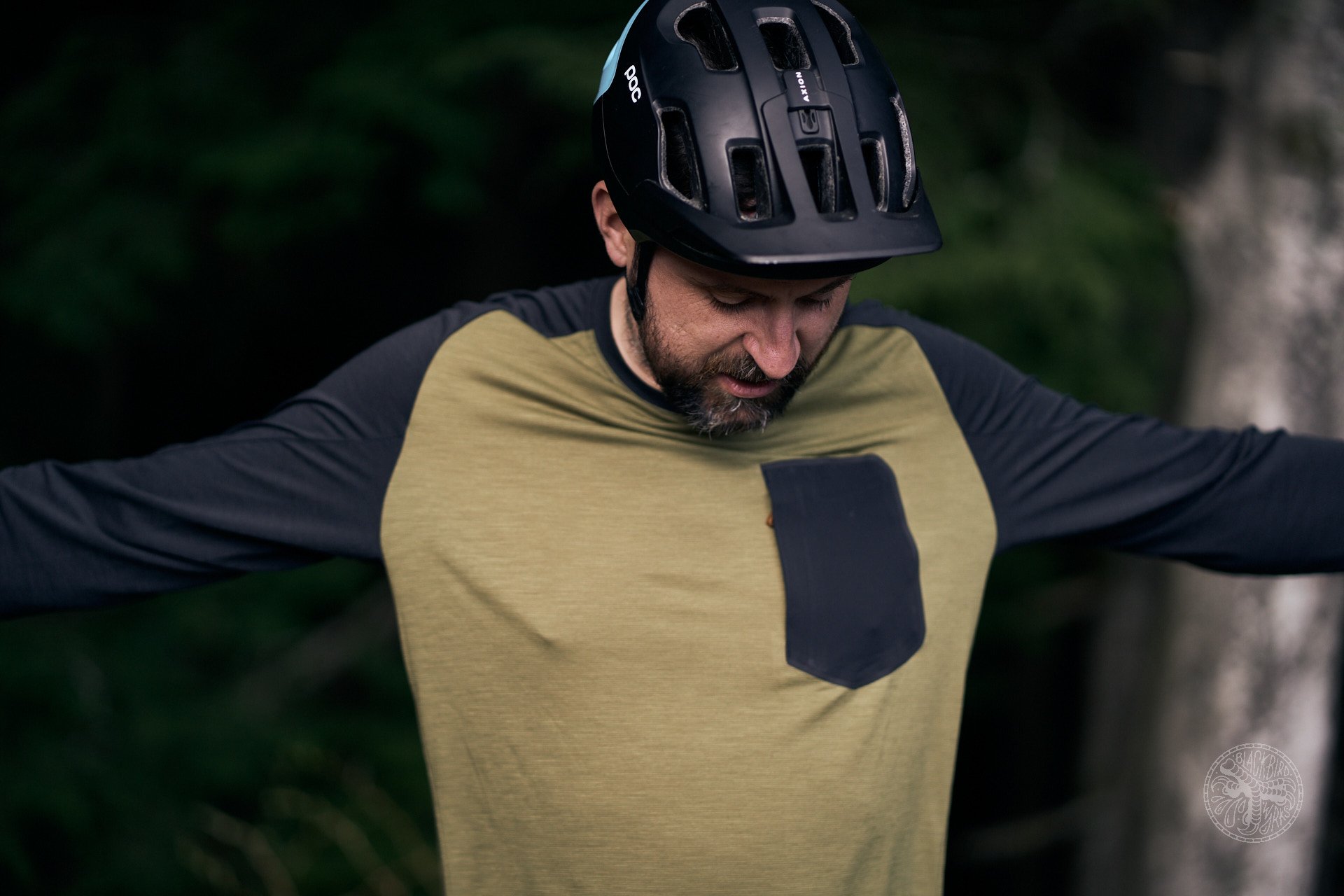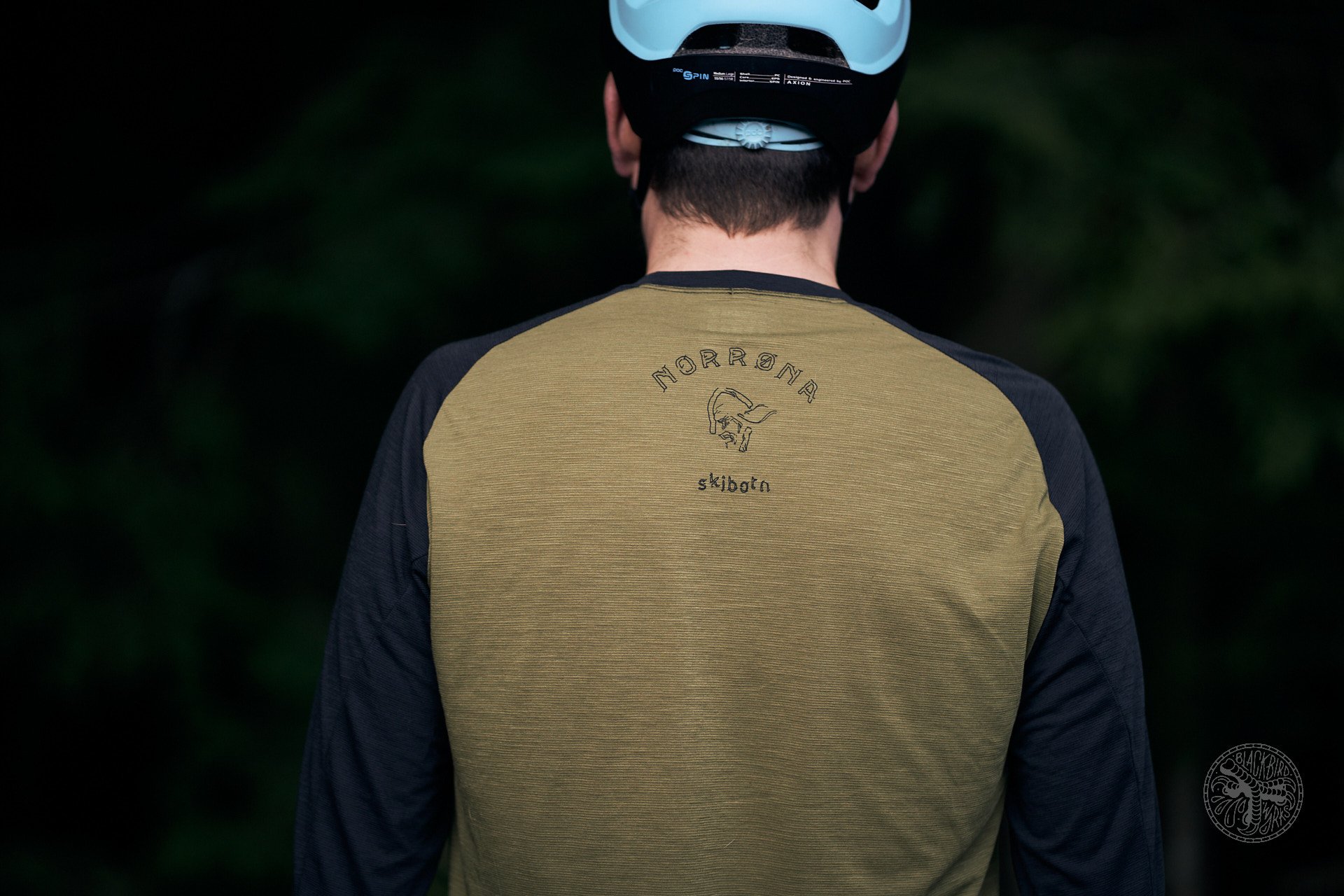 I'm mixed on the ¾ length sleeve. Couple it with the fact that the material is a bit heavier, and this jersey almost drifts into no-man's-land. The fabric is too heavy for warmer days and I want a full sleeve once it gets cold.
The price for this shirt is 119 CAD / 89 USD. If it were my money, I'd probably just buy another Icebreaker for similar money and get the 100% wool and a bit more use out of it for things other than riding. I think a lot of that thought is just how weird I feel in ¾ length sleeves, so if that's not a problem for you, this shirt does fit a lot better on the bike.
If this shirt isn't your jam, Norrøna offers a short-sleeved version of the same shirt for 109 CAD. If you're looking for something long-sleeved, it gets a bit more complicated, as you have to either opt for the much more expensive long sleeve skibotn crew neck wool shirt, or the synthetic Equaliser shirt.
In Conclusion
To wrap this article up in a briefly summarized conclusion of finality…these are some interesting clothes for you to wear on your bicycle. The pants are highly breathable, yet keep the worst of the elements outside. The jersey is cut well for the bike and perfect for the warm-forearmed. I dig the euro chic vibes and both of these articles are going to see a fair amount of use this winter.