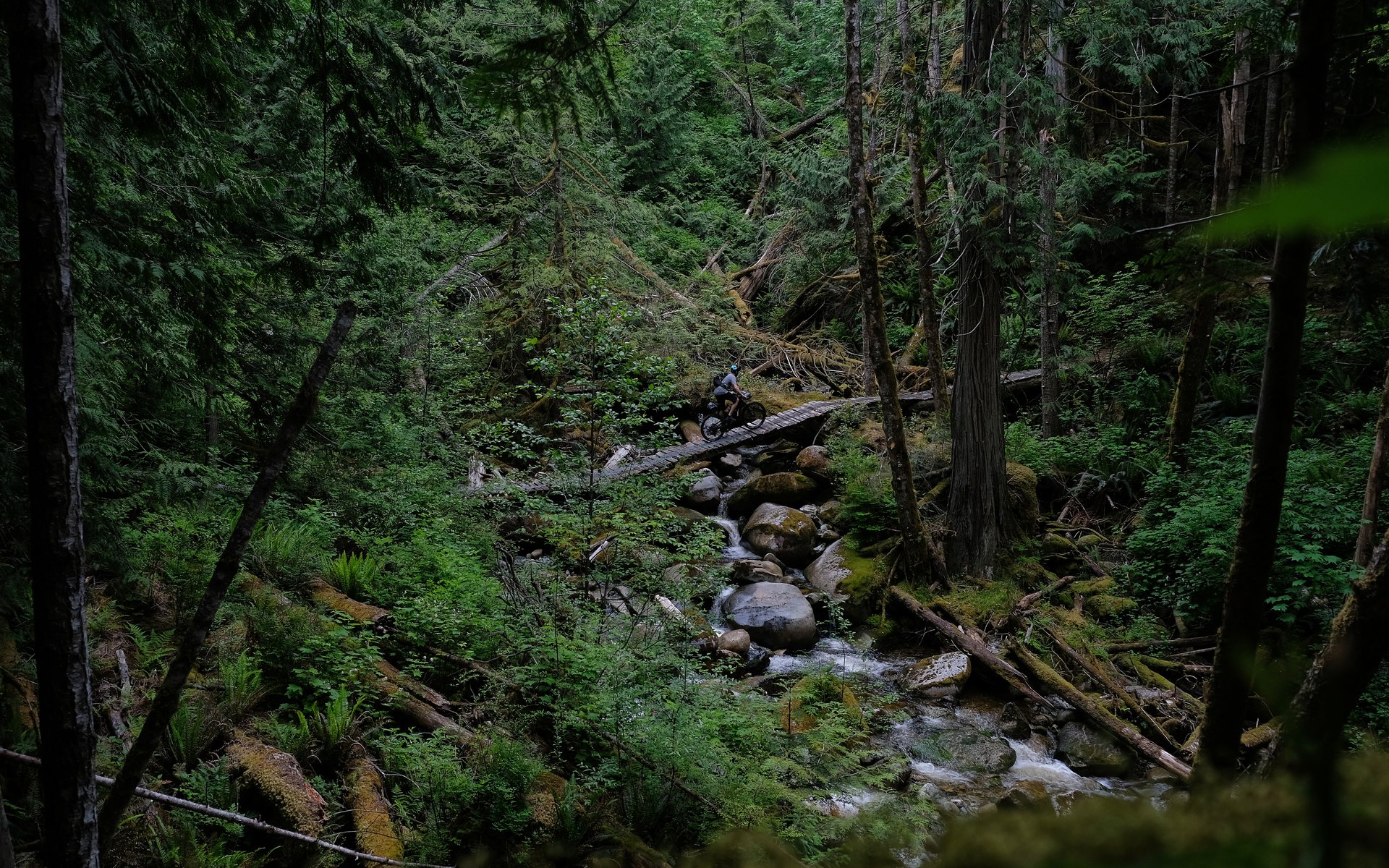 How to pack a bunch of shit onto your bicycle
The Noobs Guide to Bikepacking - Part 1
This is the Introduction...
One of my character defects is that I seem to have absolutely no control over where my interests will take me, or for how long they will last. My general preference seems to be to wade in knee deep, and then to see if I am immediately proficient. If not, I'll pretend that it never happened and quickly move along to something else. If I still have all of my fingers, I'll dive in, but keep myself in the shallower end of the pool, comfortable with neither drowning nor winning the 50m freestyle. This is the true secret to my mediocrity.
These whims come from crazy places, and are often contradictory. I can look at something for years and think that it's kind of stupid, and then it just clicks in my mind and I have to do it. One bizarre example would be the Smokey and the Bandit era Trans Am (2nd Generation). For years I thought this was one of the stupidest cars in existence. Then, somewhere around 2000, I decided that they were amazing and that I really wanted one. I imagined building some sort of matching trailer to haul my bikes around. It was going to be a marvelous, shuttle slaying chicken hawk. I went so far as look at a few in person, but never pulled the trigger.
Bikepacking followed a very similar trajectory for me. Honestly, the whole thing seems a bit silly. Why do you need so much gear? Who has time to ride their bike for days on end? A co-worker bought a gravel bike and asked me about bike-packing, and while we were on the phone I started looking up some routes to suggest to her. And then I thought "Hey, wait a second. That looks pretty awesome!" So there I was, hammering out e-mails trying to shepherd gear and scouting routes in my spare time. Is this shit gonna take? I have no idea. But I've waded in deep enough that I'm ready to talk about what I found out.
Why listen to a noob?
I can already hear many of you saying something along the lines of "Hold on a second. I can just write myself an e-mail if I wanted to read some ill-informed opinions on a topic that I don't know much about." This is fair. There are a lot of great bikepacking resources out there and they have a lot to say (as well as a few that suggest market saturation). However, just like a beginner probably wouldn't look to Thomas Vanderham for advice on the best way down Expresso, I find that it can also sometimes be a bit difficult to unpack the advice given by people who think nothing of disappearing into the wilderness for a few weeks on their bikes. Yes, their advice contains wisdom, but it can also read like an article on how to do backflips. Further, a lot of the general backpacking advice isn't tailored to mountain bikers (or full suspension bikes), and we have some specific needs that can change things up a bit.
I'm coming at these articles from a place of exploration, rather than a place of expertise. So far, I've done a few overnights, a couple of long day rides, and a bunch more short test rides. All told, I'd estimate about 150km ridden with my bicycle under various shades of loaded. This is definitely not enough mileage to make me an authority on the subject, but it is the start of a process. I return from each ride with a bunch of ideas on how I can fix things, what I would change and what I would probably leave at home. By the end of this process I hope to take my continually new-and-improved set-up on a 3 night bikepacking extravaganza deep into the wilderness somewhere. My goal is to have things fully dialed in by the time I hit that point. This is my process to get there, and you're free to laugh at me, or challenge my findings, along the way.
And Now... The Noobs Guide to Bikepacking
We'll start by tackling the most important part of bikepacking (our first two articles are going to deal with this subject, because I couldn't help myself). After all, is it really bikepacking if you don't have a bunch of shit strapped to your bike? That's really just a long ride. Anybody entering into the world of bikepacking should prepare to spend a lot of time stressing out about the best way to carry things, and then (potentially) spending a lot of money to do so.
And while it might not be backpacking if you don't have a bunch of shit strapped to your bike, the next thing you will discover is the importance of how you strap that shit to your bike. It doesn't matter if you have the best camping gear or the tastiest food if you have to spend 8 hours with a seat pack smacking you repeatedly in the ass.
But you don't have to (and probably shouldn't) spend a lot of money to get started. We're going to start small, remember. You should be able dip your toes in by using stuff from around the house, or general purpose gear. If you decide that this is something that you're into, then you can start dropping the serious money. Unfortunately, most bikepacking gear falls into the category of stuff that you want to spend a bit more on now to avoid having to purchase again later. This gear will be subjected to a beating. It will get spattered in mud. It will come in contact with moving tires and branches. It will get tugged on and tightened and pulled and thrown by a version of yourself not all that interested in future consequences. As well, when things go wrong out there, they tend to go really wrong. Don't spoil this all for yourself by setting yourself up for a day or two of riding with aching shoulders and stuff flying off your bike every couple of km.
I've also discovered that it's a bit of delusion to think you can develop a master plan of a packing strategy. Packing efficiently is so gear and bag specific, the only way you are really going to figure this all out is by trial and error. Enter into it with a plan, yes. But be ready and willing to throw it out fairly quickly, as things probably aren't going to fit as cleanly as you expect. There's a million ways to do things, and they all have their limitations.
So, with that, in a loosely ranked order of importance, here is a breakdown of the various ways that you can strap shit to your bicycle. I reserve the right to change my opinion on this as we move along.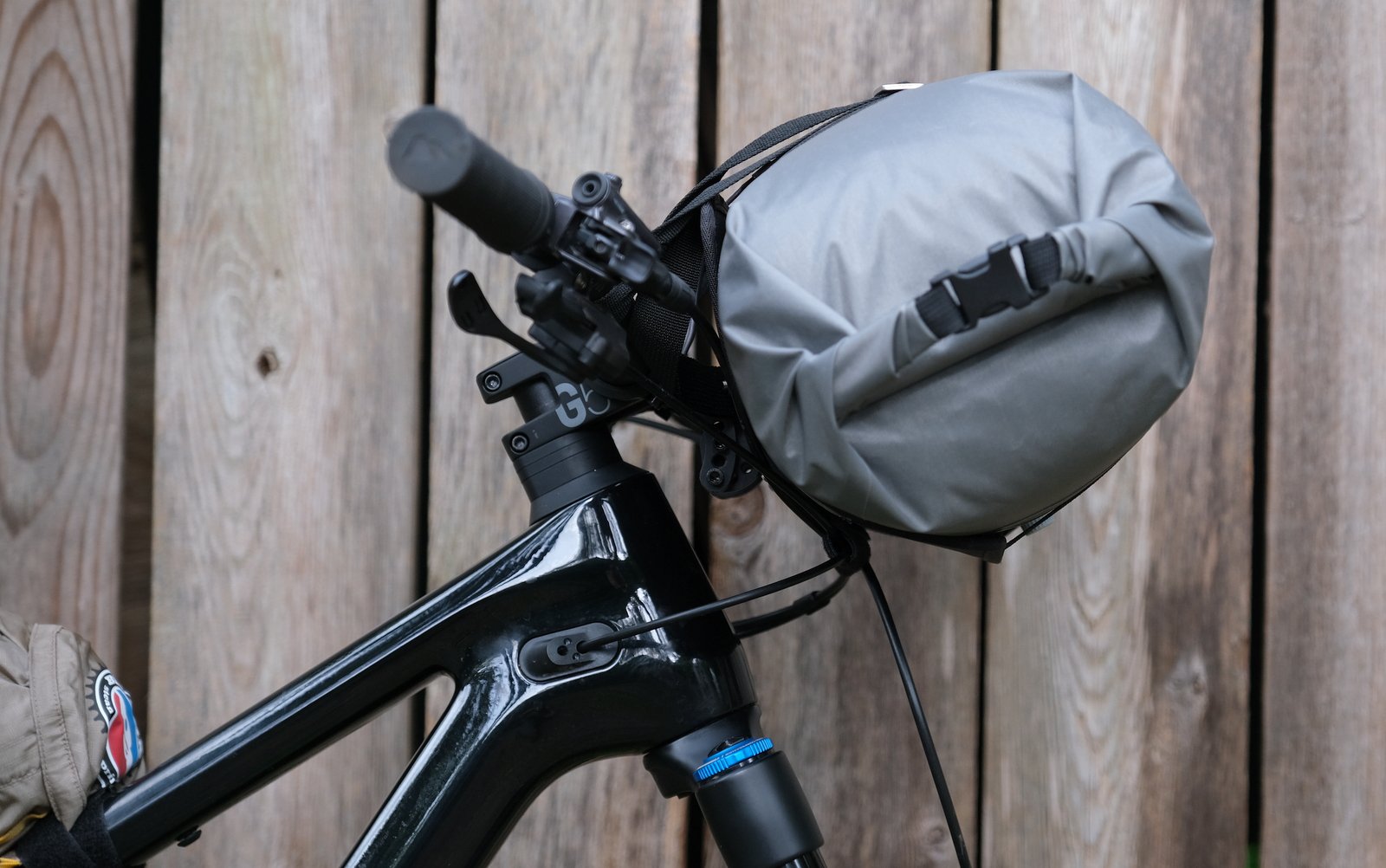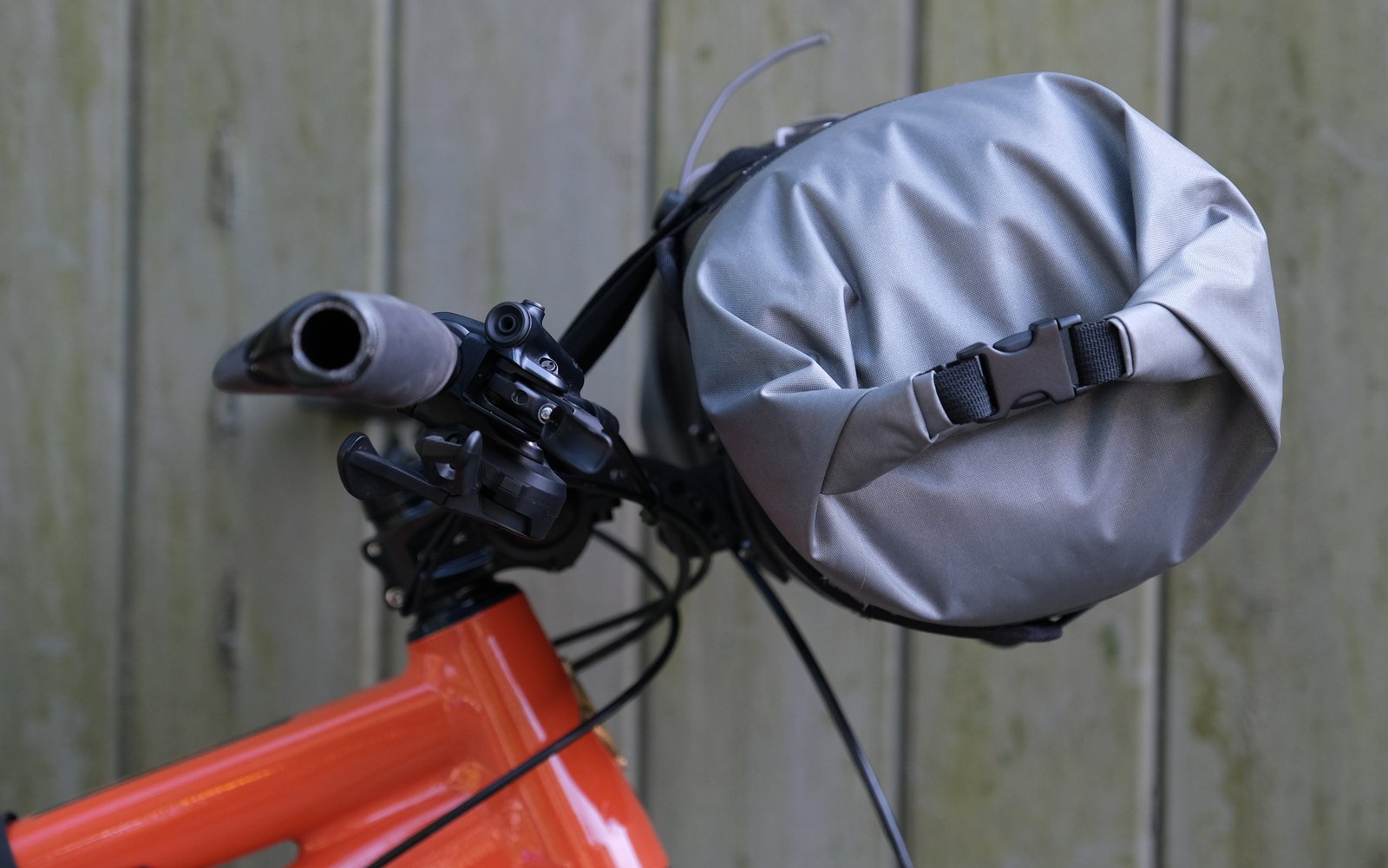 ---
The Handlebar Bag
The handlebar bag is arguably the most important piece of bike-packing equipment. It seems like it would be nearly impossible to come up with an efficient set-up without strapping some sort of large bag to your handlebar. Lucky for you, this is probably the easiest system to cobble together on the cheap. Or spend a small fortune on.
The Strategy – Carry high volume, low weight items in a stable platform on the front of your bike. General guidance is to max out at around 5 lbs. or so, but I think that with our slack angles and short stems, we can get away with a pound or two more without any difficulty. I've filled mine with my sleeping bag, my camp clothes, my tent poles and my ground cloth, but I may play around with heavier items.
The Cheap Option
Strap a dry bag or stuff sack to your handlebar.
My Option
The Blackburn Outpost Elite Handlebar Roll and Dry Bag
Blackburn gear is a common sight here at NSMB. They make quality goods at a reasonable price, with great support available from most shops. This felt like the right call for my first bikepacking bag.
This bag is 2 pieces, really. There's the "Handlebar Roll" which bolts to your handlebar and acts as the receiver for the second part, the dry bag.
The dry bag is well made. It's thick, waterproof coated ripstop nylon. It'll hold 14L/8 lbs. of gear, has openings at both ends, a valve for venting air, a large chunk of Velcro to hold it in place while you strap it in to the handlebar roll, and some cords and lash points if you want to go even crazier (potentially a great place to keep your bear spray handy).
The only small challenge that I had comes while trying to fill it with gear. The opening is just a teensy bit too small for me to get my sleeping bag in a stuff sack through (the body is larger, so it would fit easily if I could get it through the opening). Lots of people tell you not to bother with a stuff sack for your sleeping back and to just cram it into your bag any old way, but the interior of the Blackburn bag is quite grippy, so it's hard to pack something like a sleeping bag very densely. These are nitpicks though, and once packed, the handy vent makes it easy to roll it all up into a tight package.
Moving along, the "Handlebar Roll" portion of the system is where you'll get the most benefit over just lashing a bag to your handlebar. What you end up with is something that looks like a large number plate bolted to your bike with two sturdy brackets. There's a piece of Velcro on the front (which corresponds with the one on the dry bag), and a couple of straps. One end of each strap attaches to the handlebar roll, and one end loops around your handlebars. It usually takes me 2-3 tries to get the right orientation on those straps, but once in place, it's incredibly easy to cinch the dry bag down so that it is held solidly, both relative to the handlebar roll and to your handlebar itself. The straps do need a tug every once in a while throughout the day.
Setting up the brackets is fairly easy, but I discovered that it's possible to mess it up. The first time that I set up the brackets I caused wanton bicycle destruction that pains my soul. The instructions from Blackburn are fairly short, so I was mostly just looking at photos and adapting what I saw to my bike. Simply wrap the two clamps around your handlebar, make sure that you have enough clearance to your headtube and to your front tire (with your fork fully compressed), and you're good to go. Seemingly.
The problem with this method is that the two clamps will then act as steering stops against your frame. Looking back at the photos, it doesn't look like this was immediately a problem, or even noticeable. At some point during my first 60km day, the brackets shifted, and I managed to carve a couple of nice little chunks into each side of my head tube. They didn't shift much, but I was so focused on keeping the weight tight and low that I put them in a position where it didn't take much of a shift to cause some damage. By mounting the brackets at a higher angle, you can put the dry bag in a position where it is the first thing that contacts your bike. Add a bit of extra torque to your bracket bolts, and you should be good to go. Lesson learned by me, and it could be wise for Blackburn to update their instructions.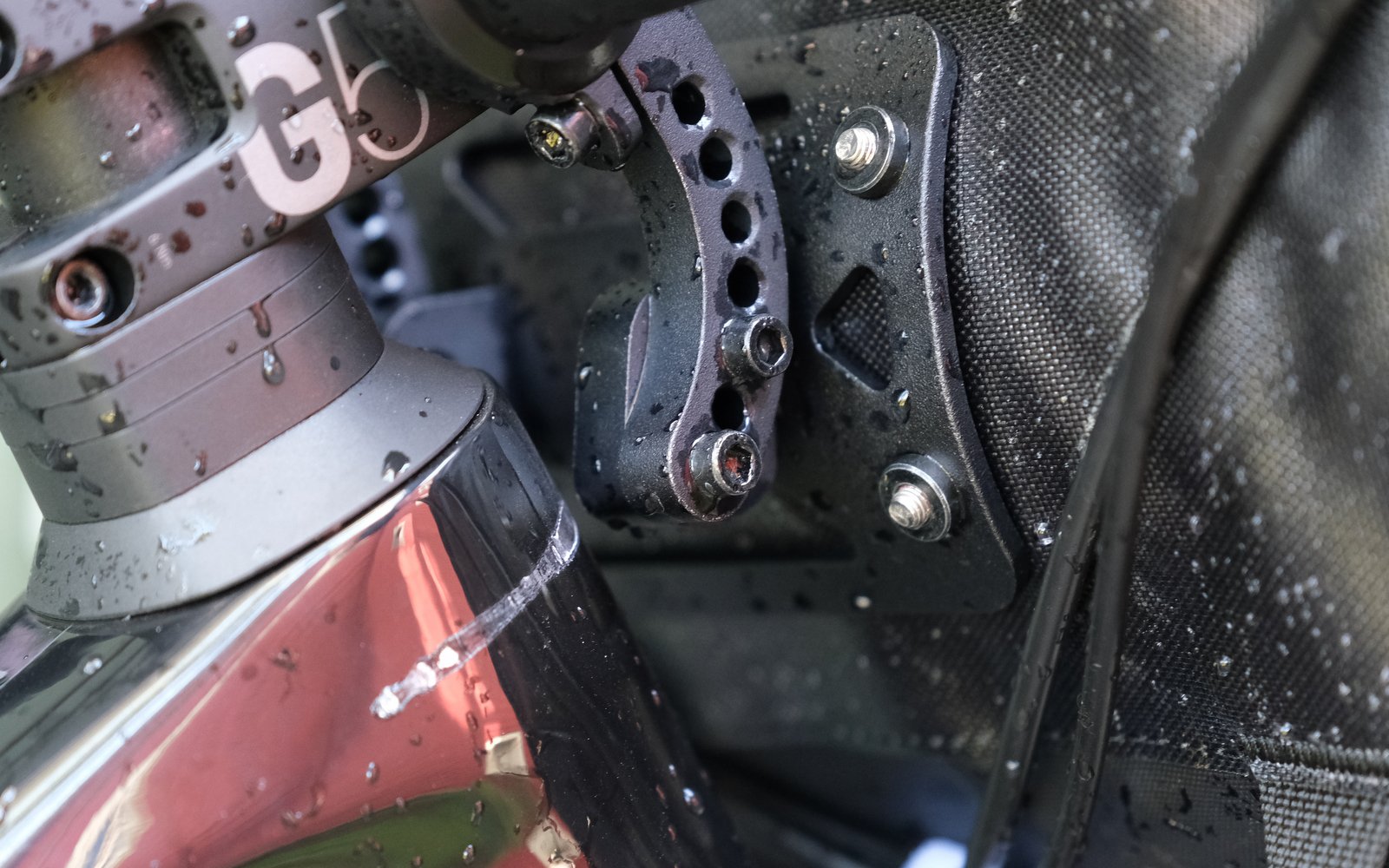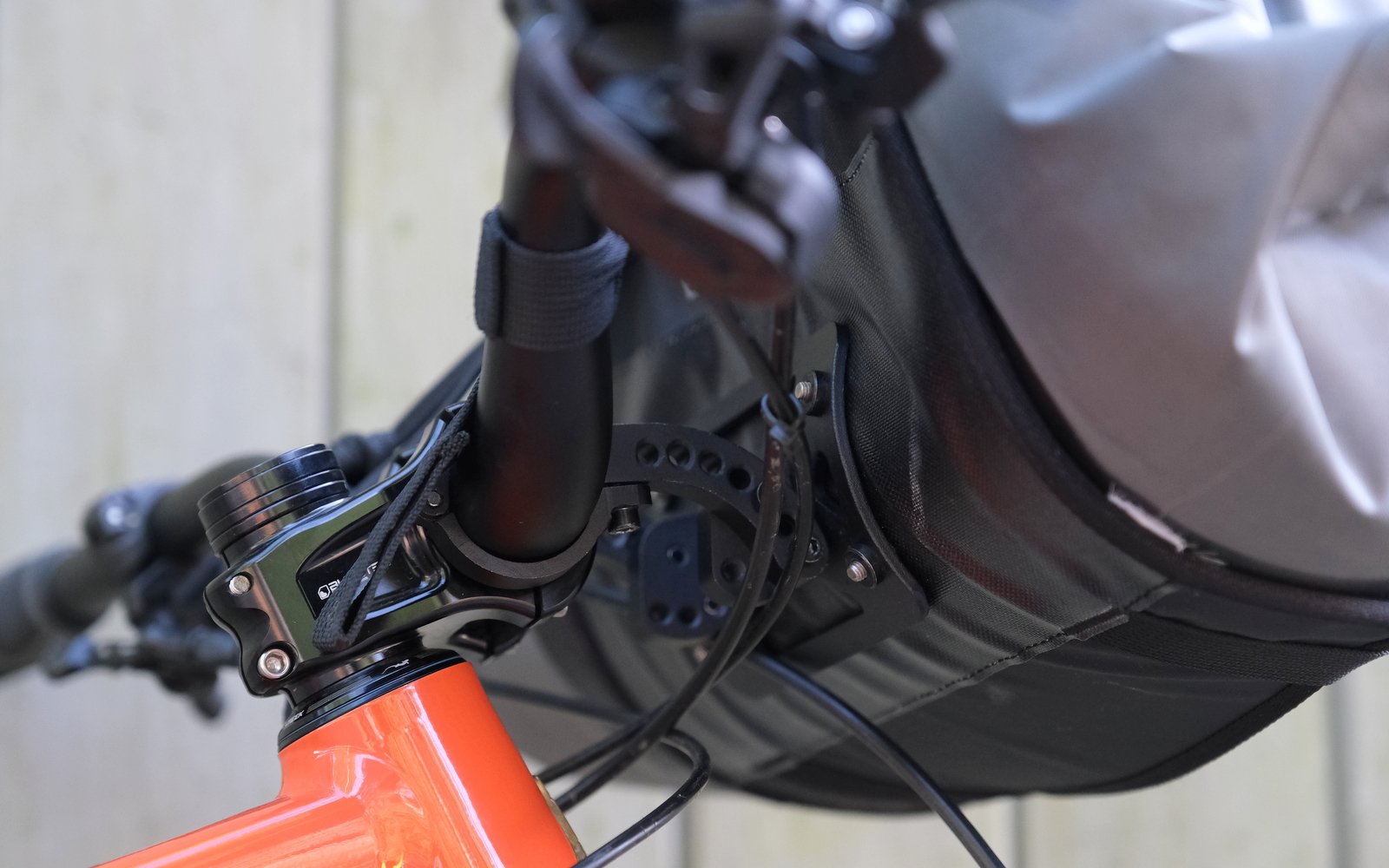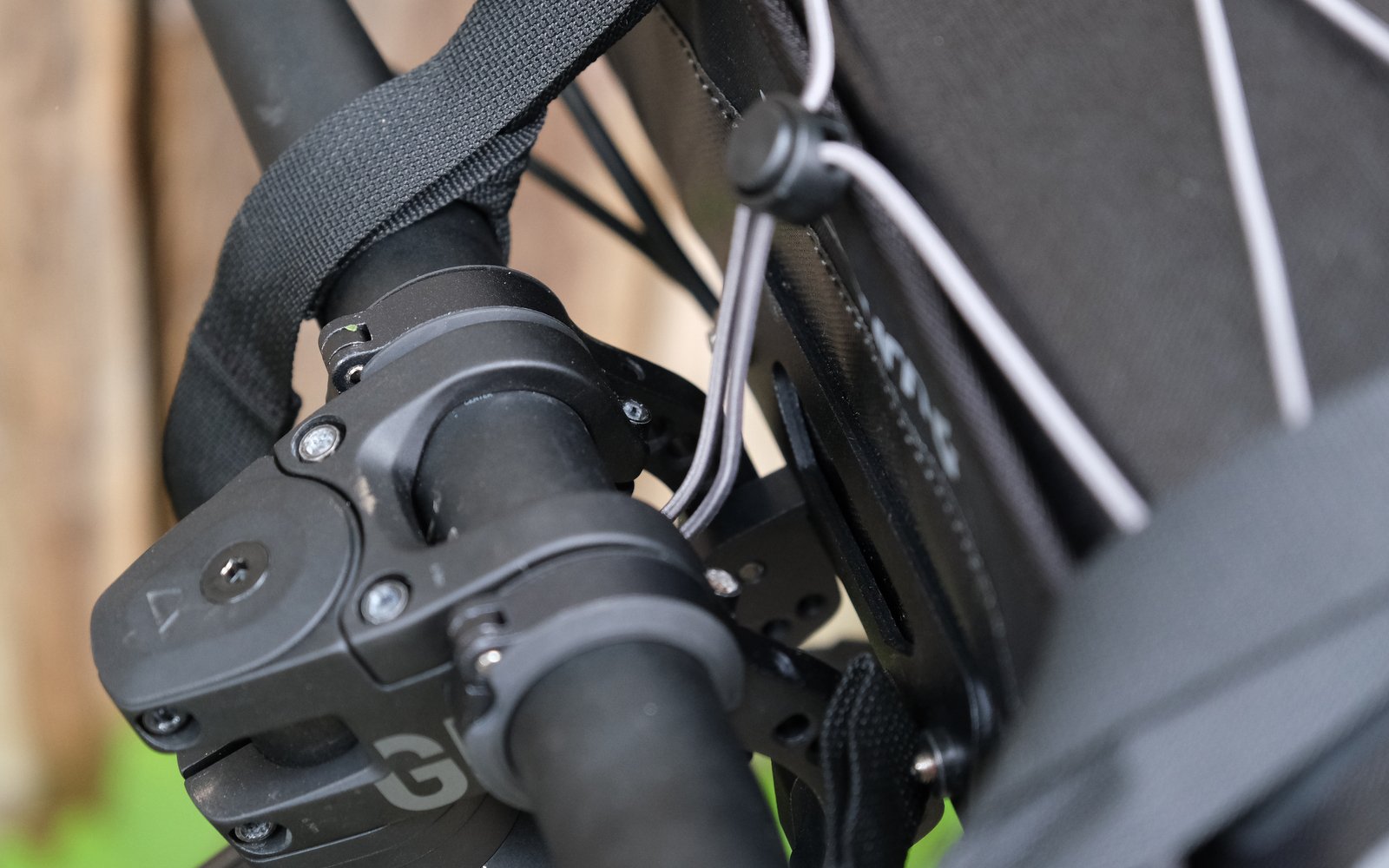 Once set up, this system works very well. Riding with this bag was much easier than I expected. It was rock solid, even through rough terrain. It did slow my bikes steering down somewhat, but this added a lot of stability to the bike. The only time I did notice the weight is when I was off the bike, either while laying the bike down on the ground, or walking with it and/or lifting it over obstacles. The front end definitely flops around a bit and reacts in un-expected ways.
Once I solved my set-up issues, I was really happy with this system, and I can see it staying with me for the long haul. It's very robust, hauls a load easily and securely, and doesn't take much futzing about either at the beginning or end of the ride. This bag will run you US$175.
Lessons Learned
As a mountain biker, there are only so many ways to strap things to your bike. Your frame (probably) has a shock and weird design choices. Your seat is attached to a dropper. The handlebar is the easiest place to move some product, but there's a lot going on up there that is competing for real estate. Cable management and load location can be pretty challenging, so a system that is easy to use and secure, is very valuable. Just be a bit cautious with how you set it up (both with handlebar swing and fork travel). You can probably get away with some basic systems here, but a solid set-up will feel like a good investment as you drop into a fast and rocky trail.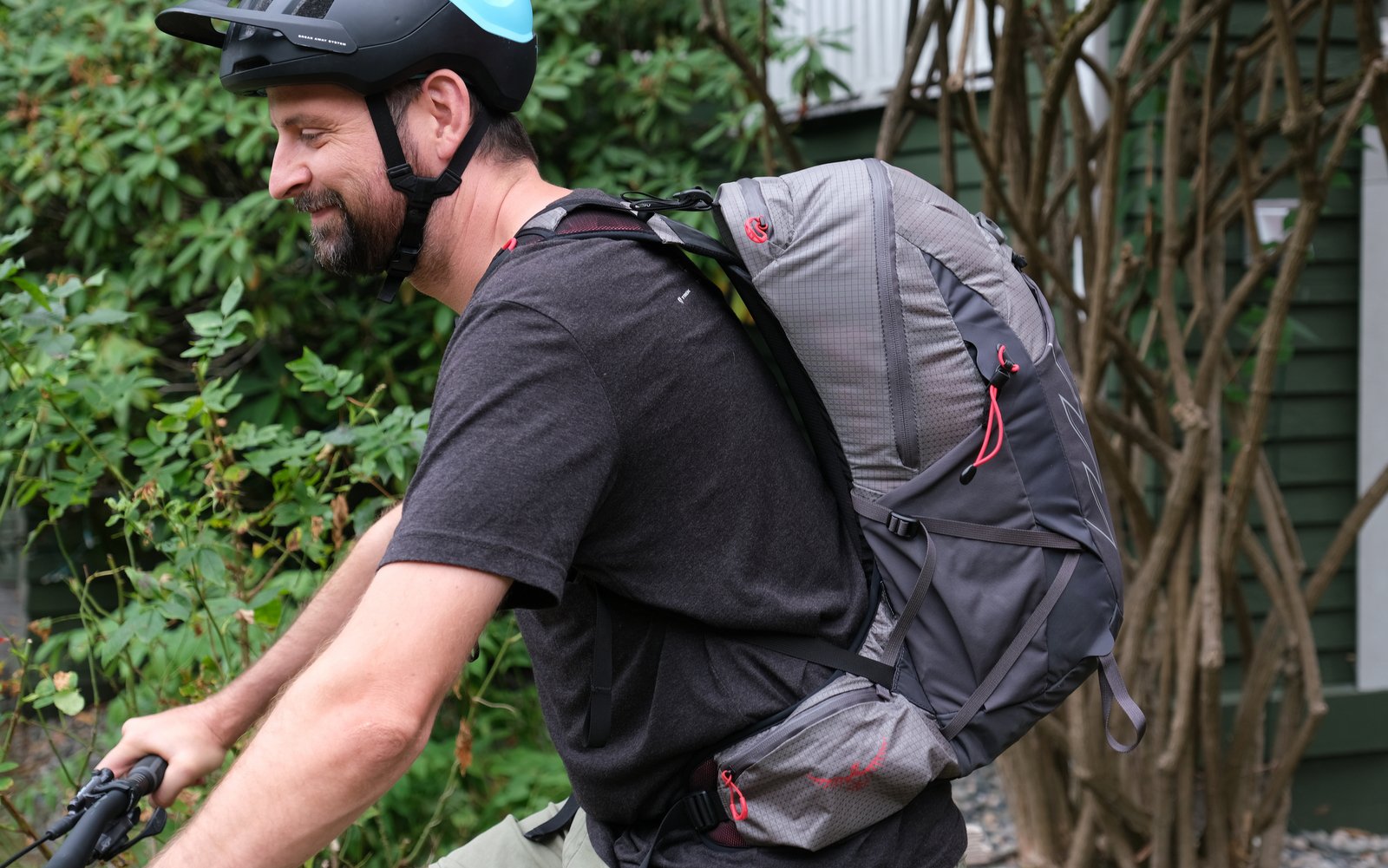 ---
The Backpack
The goal for many a bikepacker seems to be to avoid riding with any sort of backpack. A bum bag may be acceptable, but a full backpack seems to go against the ethos of strapping as much shit to your bike as you possibly can.
I get it. Once you get used to riding without a pack or bag of some kind, it can be liberating. However, if you're doing some run-what-you-brung mountain bike based bikepacking, chances are quite good that you're not ready to splurge for expensive frame bags, so you may just have to accept that you're going to have to carry something on your back. For me, (often stupidly) lugging camera gear around, a backpack is almost a requirement.
Post Covid, I've spent a lot more time exploring on my feet with a backpack, and I've learned a lot about how to comfortably haul a load on my back. I'm starting to think that we cyclists may have a few things to learn from our angry cousins, the backpackers.
The Strategy – Carry all the stuff that you can't fit on your bicycle, comfortably on your back. This might include food, water and electronics. An alternative strategy could see it carrying high volume, low weight items while you strap heavier stuff to your bike.
The Cheap Option – Any one of the backpacks sitting in your closet right now.
My Option
When I received the e-mail about this packpack, I held off on responding for a good week or two. I read so many things telling me not to bikepack with a backpack, and I've gotten in the habit of riding without one over the last few years, that it seemed like it might be an unnecessary piece of equipment. Committing to long days in the saddle with not just a backpack, but with a freaking 20 L backpack, seemed like heading in the wrong direction.
Worse, the first time I tried riding with this pack, it hurt like hell. The straps dug into my neck, forced me into a weird position, and caused me a lot of neck strain. It was great as a day pack for hiking, but there was no way I was going to commit to riding with it on my back for any period of time.
Necessity caused me to re-visit. I was heading out on a long day ride and my 10L hydration pack did not have enough capacity, so I gave the Osprey another shot. The key lied in the adjustable torso length. I not-so-intuitively shortened it up a bit (shorter than what is suggested for my height), which changed the orientation of the straps and pulled the weight off my neck and shoulders. Once I figured that out, things really turned around.
There are several things going for this pack over the average cycling specific hydration pack. First up is that large, backpacking style hip belt (and adjustable torso length) that allows you to cinch it tightly around your hip bones. This keeps the pack tight to your body and takes much of the weight off of your shoulders. This does place the hip belt pockets in a place where they might get in the way if filled all the way, so you may want to keep them relatively empty.
Next, the rigid back panel creates a very solid platform for carrying a load. The bag acts as one solid piece, which keeps your load from flopping around and directs all of the forces to the right areas. Ventilation is great, as well.
After that, you'll notice the simplicity of the pack design. I have several 10L hydration packs that come nowhere close to carrying half the volume of this thing. By getting rid of bladder compartment limiting the amount of secondary pockets (you still have one internal pocket and a few external pockets to choose from), you wind up with one, gigantic compartment that will hold a whole lot of stuff. I can easily get my tent, sleeping pad and sleeping bag into this pack, and carry it comfortably (this weighs about 3.5kg). I would struggle to get even one of those items into my 10L hydration pack.
Even though it's a very simple pack, there are places to carry things. In addition to the large main compartment, you have 2 smaller stash pockets on the side, one large stash pocket on the back, the two hip belt pockets, a zippered external pocket on the top, which shares space with an internal zippered pocket, and lastly, there's even a space to stash a hydration pouch between the back panel and the body of the bag. If I had to nitpick I would wish for a couple more internal pockets to put tools, keys and other small items. These could probably be added without compromising either weight or your ability to haul larger stuff.
This functionality doesn't come cheap though. The Talon Pro 20 will run you CAD$250 or US$180. Osprey also offers the regular Talon for a fair amount less (I think the big difference is heavier materials and a simpler back panel and harness system), and I'm sure if you hunt around a bit you can find a similar 20L day hiking pack in your price range. Honestly though, I get a little bit excited each time I get to use this backpack. It's just that nice.
Lessons Learned
Many of us have gotten away from riding with backpacks. For the average 1-2 hour long ride, this makes sense. However, committing to something larger just might be the ticket for re-considering riding with a backpack. There are lots of other ways to haul water and tools, but there aren't all that many other ways to haul 20L worth of gear along on your mountain bike. A good backpack can solve a lot of your bikepacking problems.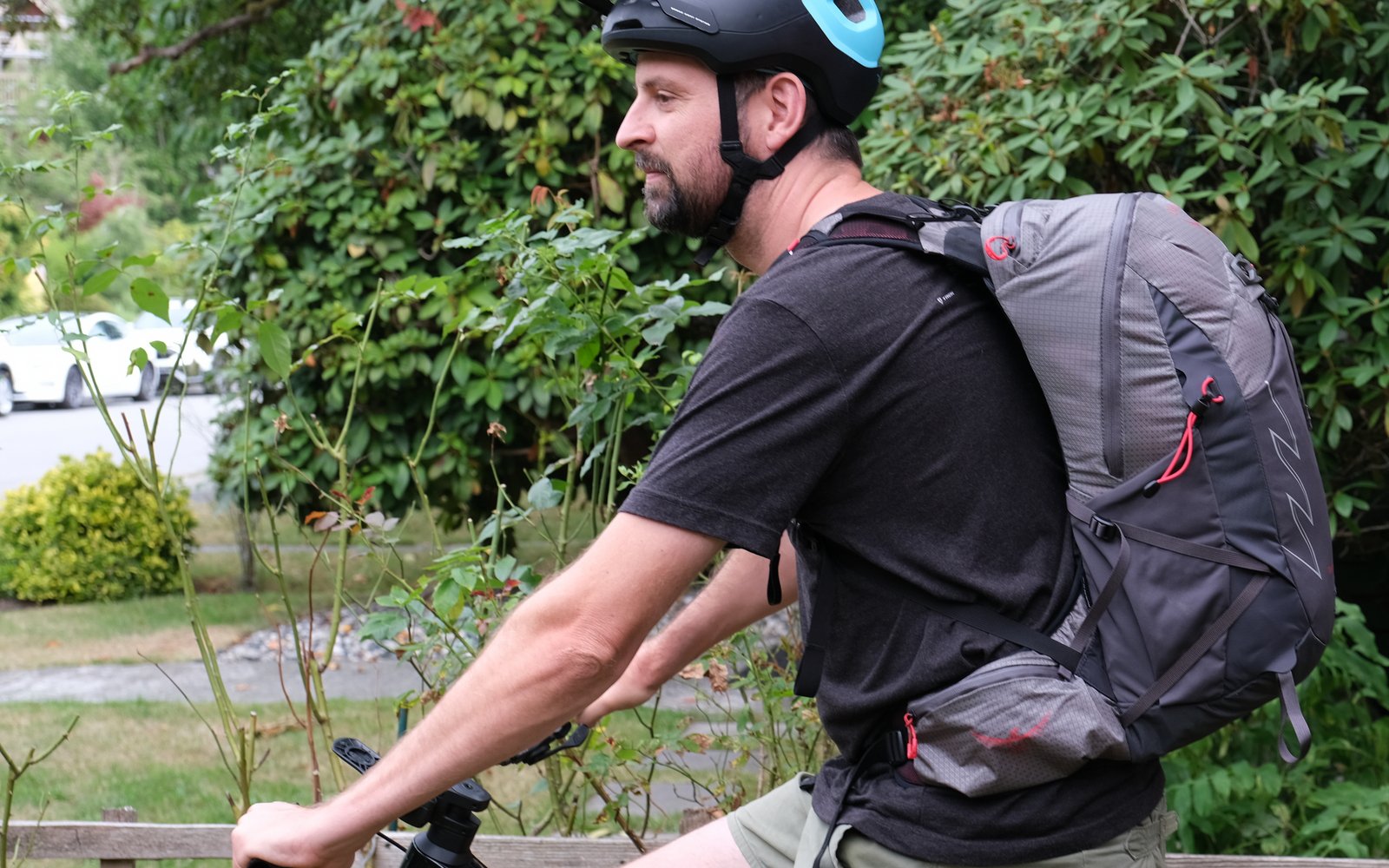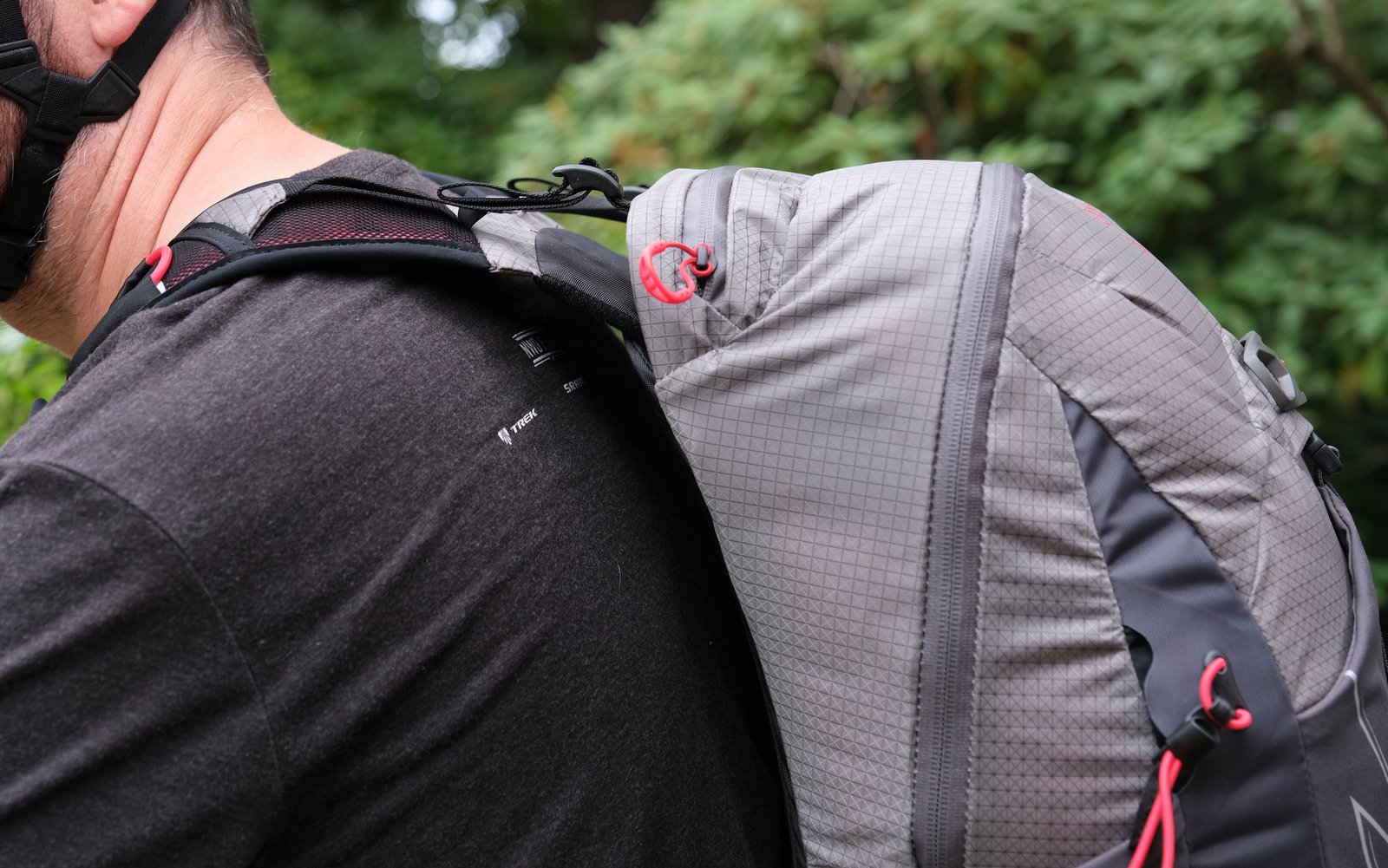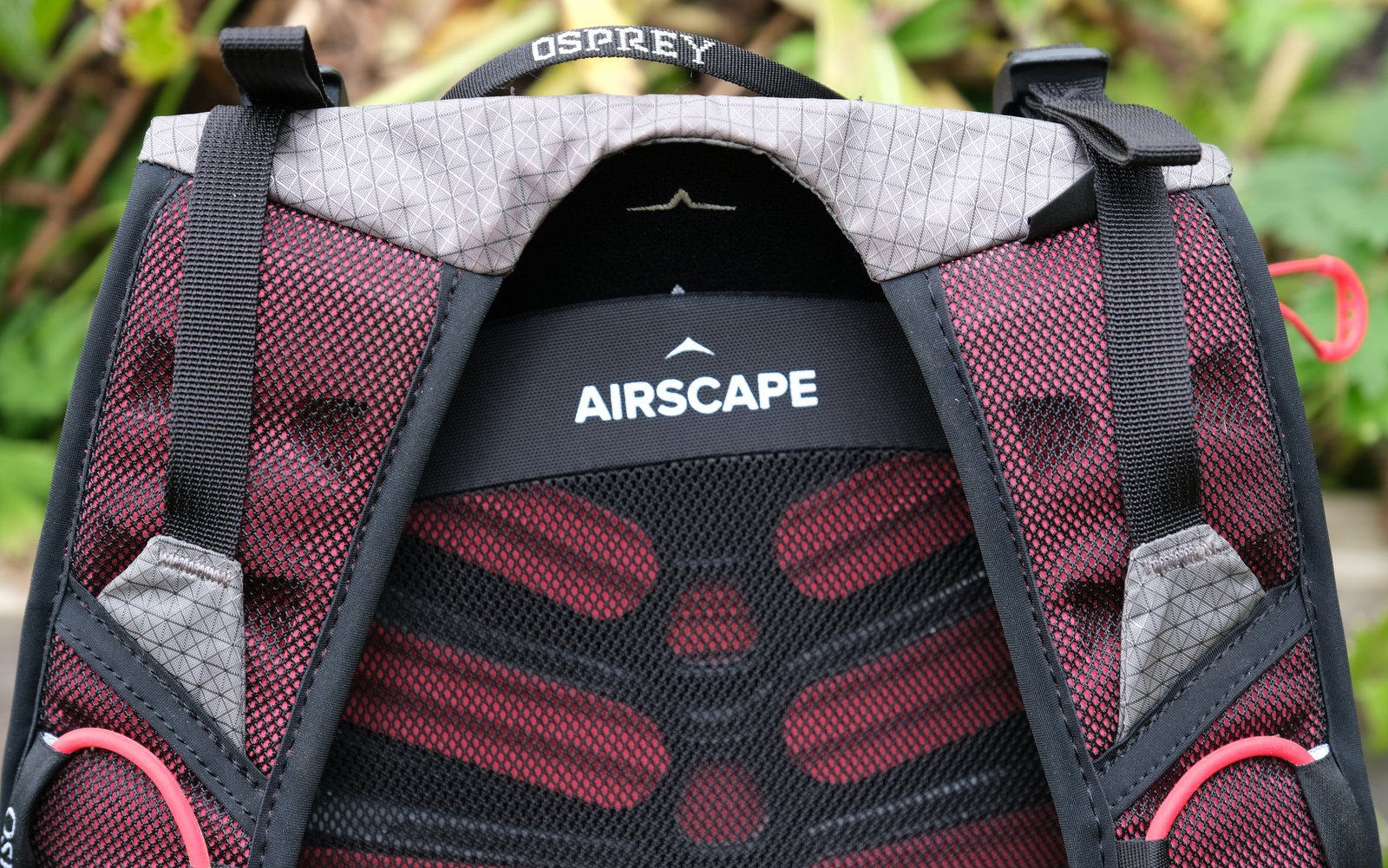 ---
In Conclusion
These two bags (not these two specific ones, but a backpack and some sort of handlebar bag) are probably all that you really need for your first bikepacking trip. Use a largish backpack that is comfortable while riding a bicycle, and then figure out a way to strap some more stuff to your handlebar. Find a nice little route with a campsite somewhere along the way and plan out an easy little overnight bicycle ride.
Summarizing our lessons learned to date, we have:
1 – Start really small.
2 - Bring way less shit than you think you need.
3 – Carry a lot of water.
4 – There is no "perfect" set-up. They're all just trade-offs that make certain things less bad.
5 – Shit can go very wrong, very easily, and seems to at least once each ride. When it does, take a moment, think, then act.
6 – Do not rely on Trailforks for navigation.
7 – Test, and then test again.
Stay tuned for Part 2 where we talk about more ways to strap a bunch of shit to your bicycle.