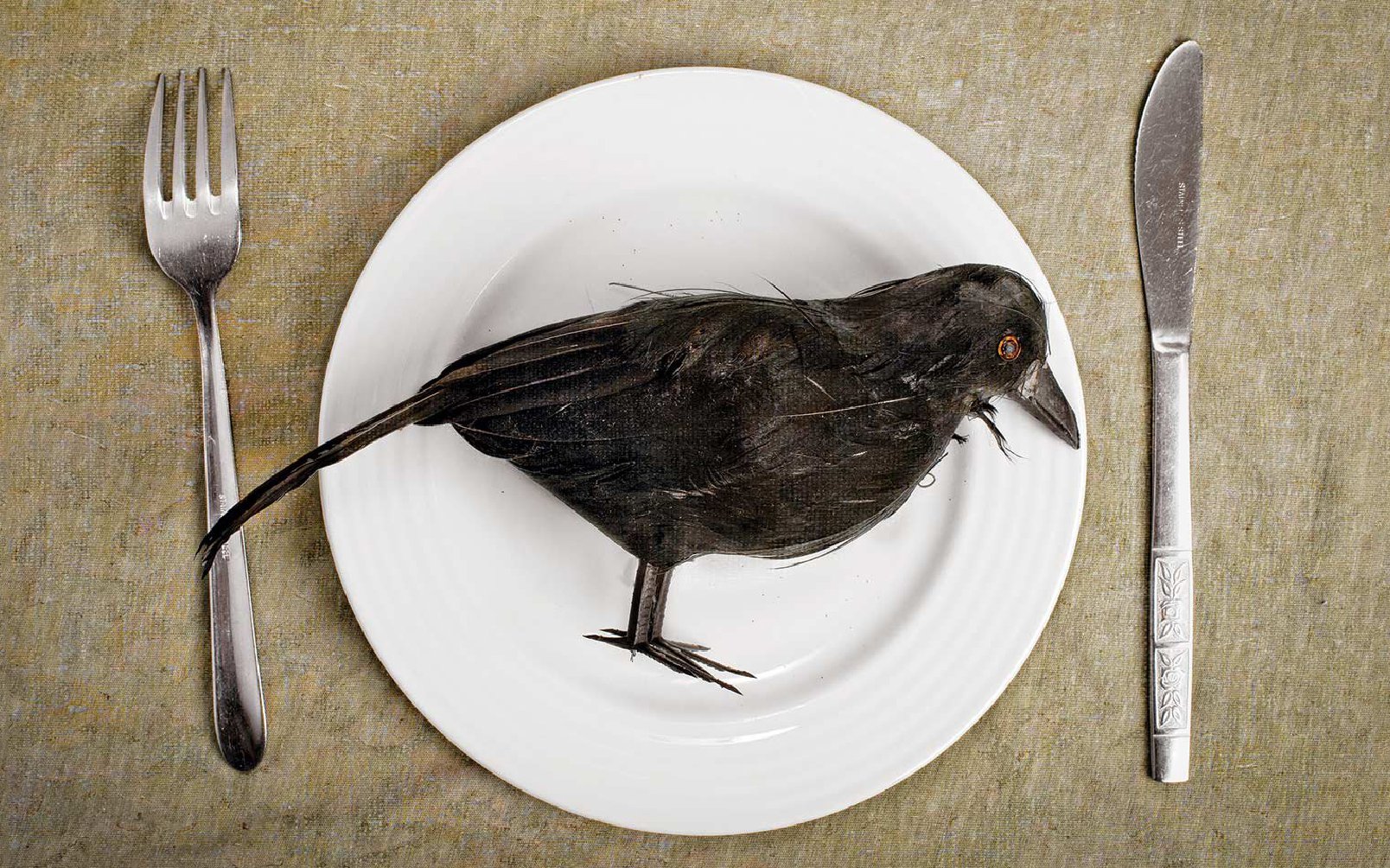 Beggars Would Ride
No Taste For Crow
The phrase "eat crow" is generally accepted not as a culinary exhortation, but an act of humility. To eat crow is to acknowledge one's mistakes, to self-own those embarrassing moments of ego and hubris that we sometimes push out into the world with more braggadocio than consideration. It's an odd phrase. There is something more visceral and unsettling about it than the very similar acts of eating hats or humble pie. Humble pie could be made up of just about anything, and easily palatable. Hats, meanwhile, no big deal there. Could be a bit chewy, might need some seasoning, but it's just a hat.
But a crow? That's something different. Eating a crow, there's a whole lot of superstition and portent in there, along with some heavy cultural baggage. It's a powerful metaphor. And as far as metaphors go, especially with regard to mountain biking, I've eaten a ton of our shiny black feathered friend over the years…
It's 1986. I am astride a shiny new teal colored DiamondBack Apex, and feeling on top of the world. I am, in fact, on top of a wooden deck at my friend Tor's parents' cabin. Both Tor and I have a lot of dirt bike in our veins, and a habit of goading each other into regrettable actions. Mountain biking is brand new to us both. "Bet you can't jump off this deck and stick the landing," Tor says, motioning with his beer can toward the edge of the deck where there's a convenient six-foot drop to flat. "Pffff, piece of cake," I reply, and wheelie off the edge of the deck without hesitation, landing absolutely flat. Brand new bike, fork now comically splayed out several inches, didn't stick the landing. Mmmmm, crow.
Now it's 1988. Look at this kook. Or imagine this kook, because try as I might, the photographic record of this moment has thankfully been expunged from the record. Instead, feast your eyes on the magic that was 1988. Get in the vibe:
Mammoth Kamikaze. Bridgestone MB2, 52 tooth chainring, Brooks sprung saddle, carpenter kneepads, and a tie-dye sweatshirt that had the words "psychedelic-U" blazed on the front above a crest featuring a pair of crossed psilocybin mushrooms. Don't forget those AXO moonboots. Good enough for Tomac, right? Specialized Ground Control tires pumped up to about 45psi, but the Mt. Zefal frame pump is right there behind the seat tube and a fanny pack full of tools is flapping around on my ass as the washboards kick the tar out of me, because obviously we all take the time to fix a flat in a downhill race, right? My frame looks comically small, because everyone rode frames that looked too small back then, because "standover" was considered hugely important and 42" wheelbases were considered long. But still, shudder.
My meal of crow that night was sumptuous and very filling. Ignorance as part of the cultural zeitgeist is allowable, but there are limitations. Carpenter kneepads are not a great idea for pedaling. Especially when they get a handful or two of pumice up in there during one of a few rag-doll moments on the hill that day. Chafe-tastic! Also not a great idea – those AXO moonboots. They were slightly less cumbersome than the old Nike Lava Domes that everyone used to wear, but were also about as supportive as a pair of Chuck Taylors. I had bruises on the bottoms of my feet from that 6-minute session in hell. Didn't need the fanny pack full of tools, duh, because my tires were pumped up to the point of complete and utter uselessness. Two servings of crow in one, right there.
It's 1991. Mammoth Kamikaze again. The kook has learned, but not a lot. Yeti FRO, with a Mountain Cycles Suspender fork. No more Brooks saddle. Sidi Cyclocross shoes with doubled up Alfredo Binda Extra toestraps clamping my feet inextricably into the pedals. A Panaracer Headwall front tire. Jesus, man, get a grip. Literally. The Panaracer Smoke was out by then, everybody was running them at Mammoth that year, and the Headwall was an absolutely horrible tire – some sort of urban/dirt compromise that has been conveniently forgotten on the scrap heap of history. But at least I had some full length pants, had been conveniently gifted a pro number by Paul Chetwynd for reasons that completely elude my memory now, and had decided to leave the butt-pack of spare parts and pump at home.
The crow banquet got served up somewhere in the final mile, at the end of a long fast straight downhill from where the radar gun was usually placed. There was a sweeping left hander with a little compression on the inside apex, and a hillside full of spectators up the huge embankment to the right. Going faster than I maybe ever have on dirt – almost everyone was hitting above 50mph in the speed trap that year – I took the inside line into the compression and felt the front tire just let go completely, drifting across the fire road, sending me up the embankment, where I exploded someone's Styrofoam cooler before slowing almost to a stop in the super loose duff and arcing gradually and pitifully back down onto the fire road. In my memory, it all plays out in slow motion. In reality, it probably DID play out in slow motion. My time at the finish was abysmal, from that one detour. Which, come to think of it, was probably a DQ anyway.
I can still taste that crow. It tastes like Panaracer Headwall, fork elastomer, and the misguided hubris that made me think I could hang with the big dogs. Ironically, the XC race two days before was also my very last race as a Sport class kook, before moving up to Expert, where I would spend the next year getting so thoroughly spat out the back of the pack that it felt like I was choking down shiny black feathers every weekend.
Since then, I've lost count of the crows I've eaten. Crow pies, sautéed crow with stir fry vegetables, roast crow, crow soup, an endless feast… I've endorsed products that history has been unkind to. I've stated in print that full suspension would never really catch on with XC riders, that hydraulic disc brakes would never be as reliable as cantilevers, that head angles would stop slackening out at 67 degrees, that Plus tires would be The Next Big Thing, that 27.5" wheels made no sense, that nobody would ever need bars wider than 700mm. I've opined so many things so wrongly so often that the biggest lesson of all has been to learn keep my mouth shut about the future, or at least bank my thoughts with a little less conviction, a little more "maybe."
The genesis of the phrase "eat crow" is generally thought to be a short joke fable that first appeared around 1850 in a few different publications:
Lake Mahopac was so much crowded, the past season, or, rather, the hotels in its immediate vicinity were, that the farm-houses were filled with visitors. One of the worthy farmers residing there, it appears, was especially worried to death by boarders. — They found fault with his table — this thing was bad and wasn't fit to eat — and at last the old fellow got so tired of trying to please them, that he undertook as the last resource to reason the matter with them.
"Darn it," said old Isaac, one day, "what a fuss you're making; I can eat anything."
"Can you eat crow?" said one of his young boarders.
"Yes, I kin eat crow."
"Bet you a hat," said his guest. The bet was made, a crow caught and nicely roasted, but before serving up, they contrived to season it with a good dose of Scotch snuff.
Isaac sat down to the crow. He took a good bite, and began to chew away. "Yes," he said, "I kin eat crow (another bite and awful face), I kin eat crow, (symptoms of nausea), I kin eat crow; but I'll be darned if I hanker after it."
There's a moral in here somewhere, I suppose. The way I see it, we all have to eat a little crow at some point or another. But that doesn't mean we have to enjoy it, nor should we make a regular habit of setting ourselves up for the meal. And we should probably check to see if some scoundrel has loaded the crow with snuff, just in case.
Like the man says, and I am sure Morrowbie Jukes* would agree; I kin eat crow, but I'll be darned if I hanker after it.
*This is already enough of a long tangent, but a read of Rudyard Kipling's tale – "The Strange Ride of Morrowbie Jukes"– would serve well to drive home that whole hubris/regret/crow diet vibe. Stay salty, my friends.