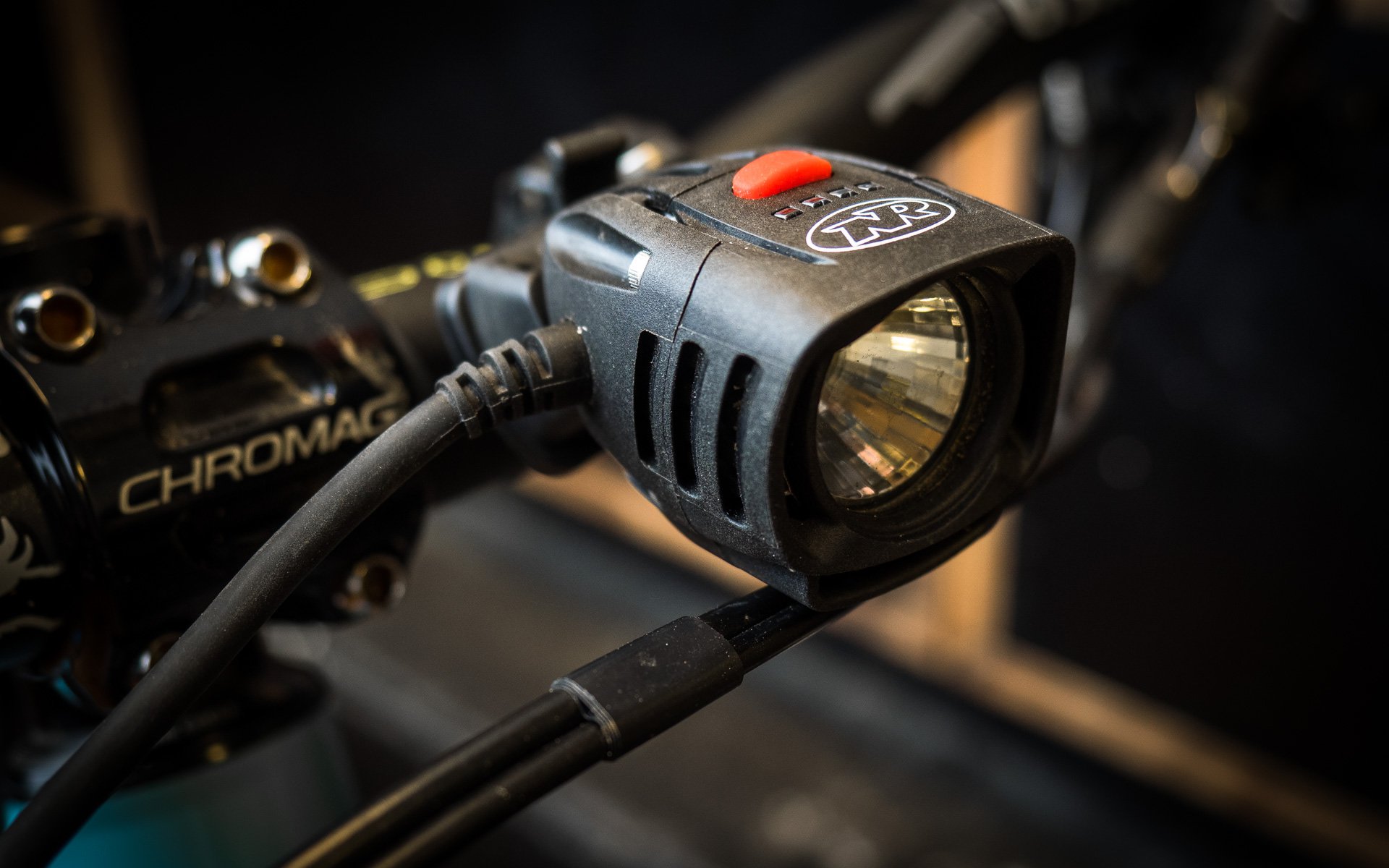 LONG TERM REVIEW
NiteRider Lumina OLED 800 and Pro 1400 Race
A product review is not that valuable unless it takes durability and long-term performance into account. Big ticket items like bikes, wheels, and other expensive componentry require a lot of use before a reviewer should be able to declare it a good value, or in the case of something like carbon wheels: a good investment.
It is also true for lights, which are a special category for mountain bikers. Not every rider needs lights, but when someone decides they want them, the predictable questions always begin about investing in a good set or going for a cheap version. I won't re-open that debate right now, but the preamble is all for this: the lights being reviewed here have been in use for two years. So long, in fact, that one of the two models is no longer available (but has been updated to output more lumens with a similar feature set).
This is all another way of saying that this review is overdue, but the benefit to you is that it is a light review with a lot of runtime built into it, and that makes the conclusions more useful as far as value and durability are concerned.
NiteRider Pro 1400 Race
If you're going to ride gnarly trails at night, you'll need two lights, with a minimum of about 2000 lumens between them, and you'll want one light to perform spot duty while the other casts more of a flooded light. NiteRider's Pro 1400 Race emits a flood light, but with enough intensity in the middle of the field to be very effective either on the bar or on your helmet. The battery and head unit are two separate pieces, joined by a sturdy rubberized cable. An extension cable is included, so you have lots of room to play with, but you can leave it off if you run the Pro 1400 Race on your helmet with the battery in a pocket or pack. Combined weight of the light, battery pack, and bar mounting bracket is a respectable 480 grams. Since most of that weight is in the battery, running the Pro 1400 Race on my helmet didn't feel heavy, nor did it necessitate special helmet adjustments or tightening.
Four LEDs on the head unit provide your fuel gauge in 8 steps, from 4 full green lights (give 'er), to 1 blinking red one (get your ass to the pub, this ride's over). One of the benefits of pricier lights from leading brands like NiteRider is that they seek FL1 certification, which requires lights to meet standards for brightness, consistency (1400 lumens at full charge, but also at lower battery levels), battery performance, and weather sealing. This plays out nicely when you have a fuel gauge you can trust not to run out faster once you get down to 50% charge, for example. If it takes an hour at full brightness to get to 50%, you can expect another hour of use before the battery quits on you. As with the Lumina series light reviewed below, the Pro 1400 Race exceeded NiteRider's claimed battery run time of 2 hours on high (1400 lumens) the last time I tested it, rolling right past 2 hours and hitting 2:15. After two years of use, that is impressive.
In any lighting setup, I certainly recommend the versatility of going with at least one self-contained unit, which will be a workhorse that you'll use for more than just nighttime trail rides if you commute or ride out to the pub at night. But if you need the added power or longevity of a battery + head unit setup, NiteRider's Pro 1400 Race has been very effective both as a helmet or as a bar-mounted light. I don't love running a cable from my helmet light to a pack - it's awkward back there and it sucks if you have to take your helmet off in order to access your pack - but 1400 lumens on your head is a beautiful thing. At USD 249, it's not cheap by any means, but as NiteRider's least expensive Pro series light, the 1400 Race is a very solid choice that has been flawless in my experience.
Lumen Output: 1400 / 850 / 400
Run Time: 2:00 – 32:45hrs
Charge Time: 5:00hrs
Weight: 484g

Battery: 4 Cell Li-Ion
In the Box: Light, battery pack, battery extension cable, charger, carrying case, helmet mount strap, bar mount
Nite Rider Lumina OLED 800
In the case of the Lumina OLED 800, up to 800 lumens are delivered in a spot pattern, with a bit of flood falling off on all sides. At full power, run time is 1h 30mins, but there are two lower settings, plus 4 flashing settings. The OLED in the name refers to the screen, which offers very useful at-a-glance info: light mode, remaining run time, and battery level. It does not tell you the unit's charge status while plugged in, however. While I'm compulsive about keeping lights charged, I really came to appreciate having that info available while riding (especially when alone) but it comes at a 50 dollar premium, so if you can imagine living without it, that's a significant savings.
If you're careful about changing to low power for climbing and whenever you don't need it, there is plenty of run time for a light of this size, since it translates to about an hour or so of bright light (for spicy downhill times) and another hour or more of dimmer light for climbing or fumbling around looking for your flask. For mellow trail riding or commuting, it is fine on its own, but as soon as things speed up or get trickier (or both), you need more lumens as well as the support of flood lighting from a second unit.
The Lumina series of self-contained units can be mounted to your helmet (helmet strap sold separately for 15 bucks, or a GoPro style mount for 20) or to your bar with the included rubber strap that works well and is fast to set up and remove. As a lightweight (170 grams) self-contained unit, it makes most sense to run it on your helmet, but that calls up two problems: first, when it's on top of your head, you can't see the screen, so the value of that feature is diminished; and second, the on/off button is not shaped at all (it's merely a blister on top of the unit), so it is often hard to find and operate with gloves on. The first can't really be helped, but the second would elevate the user-friendliness of this light.
The Lumina OLED 800 is now the OLED 1100 Boost. Retail price has remained the same, so now you get 300 lumens more for the same money: USD 149. Sharp shoppers will find last year's model (the OLED 900 Boost) for less - sometimes considerably less. The non-OLED version of the 1100 and 900 is also out there. Again, hunt around a bit and you'll be getting into one of these lights for less than USD 100.
Performance
As mentioned, I've had these lights for two years, giving plenty of time for problems to appear, but also lots of time to develop familiarity with it in use. Build quality is typical for NiteRider, which is to say it is excellent - this has been true since the first NiteRider I owned, back in 1998 I think (that light lasted me a decade). It has been used in wet weather (it comes with an IP64 water resistance rating), cold weather, tossed in countless bags as an emergency light (it can double as a flashlight) and used on several different handlebars and helmets. I've used it as a commuter light as well and for urban use, it is a more than ample amount of light.
The Lumina OLED 800 is at the minimum light output for a head-mounted unit on the north shore. I prefer more light on my head, which performs the critical 'light up where you're looking' function, but I was able to get away with the 800. The good news is that while the 900 will offer marginally better performance, the 1100 should be noticeable, and that's the current incarnation of this light. The other good news: after two years of use, the light's battery is still meeting or exceeding NiteRider's run time claims: I charged it fully the other day and left it running on high. The screen told me it had 1:30 in the tank (that's the expectation with a full battery), but it went for an incredible 1:52 before finally flickering out.
Over a two-year test period, the Lumina OLED 800 has been rock solid in terms of performance and reliability. The fact that the battery has seen no degradation of performance further points to this unit being an excellent choice for the head-mounted portion of a lightweight setup that will do double duty as a commuter light. If used on a helmet, I would recommend saving the $50 and forgoing the OLED screen version, however only you will know if the information that the screen provides will be useful to you (excursion use, long rides, etc).
If this conclusion isn't yet obvious, I'll make it so: I can fully recommend NiteRider's Lumina series (with or without OLED screen) and feel that it represents terrific value in a quality unit that will last for years.
Technical specs - Lumina OLED 1100*
Lumen Output: 1100 / 450 /225
Run Time: 1:00 – 18:00hrs
Quick Charge Time: 3:00hrs at 1Amp
Normal Charge Time: 6:00hrs at 500mA
Weight: 172g
Battery: Li-Ion

In the Box: Light, charging cable, bar mount strap
*I'm listing the Lumina OLED 1100 specs b/c the 800 is officially unavailable. However the only differences are the runtimes and lumen counts: 1:30 / 3:15 / 5:30 at 800 / 400 / 200 lumens, respectively).