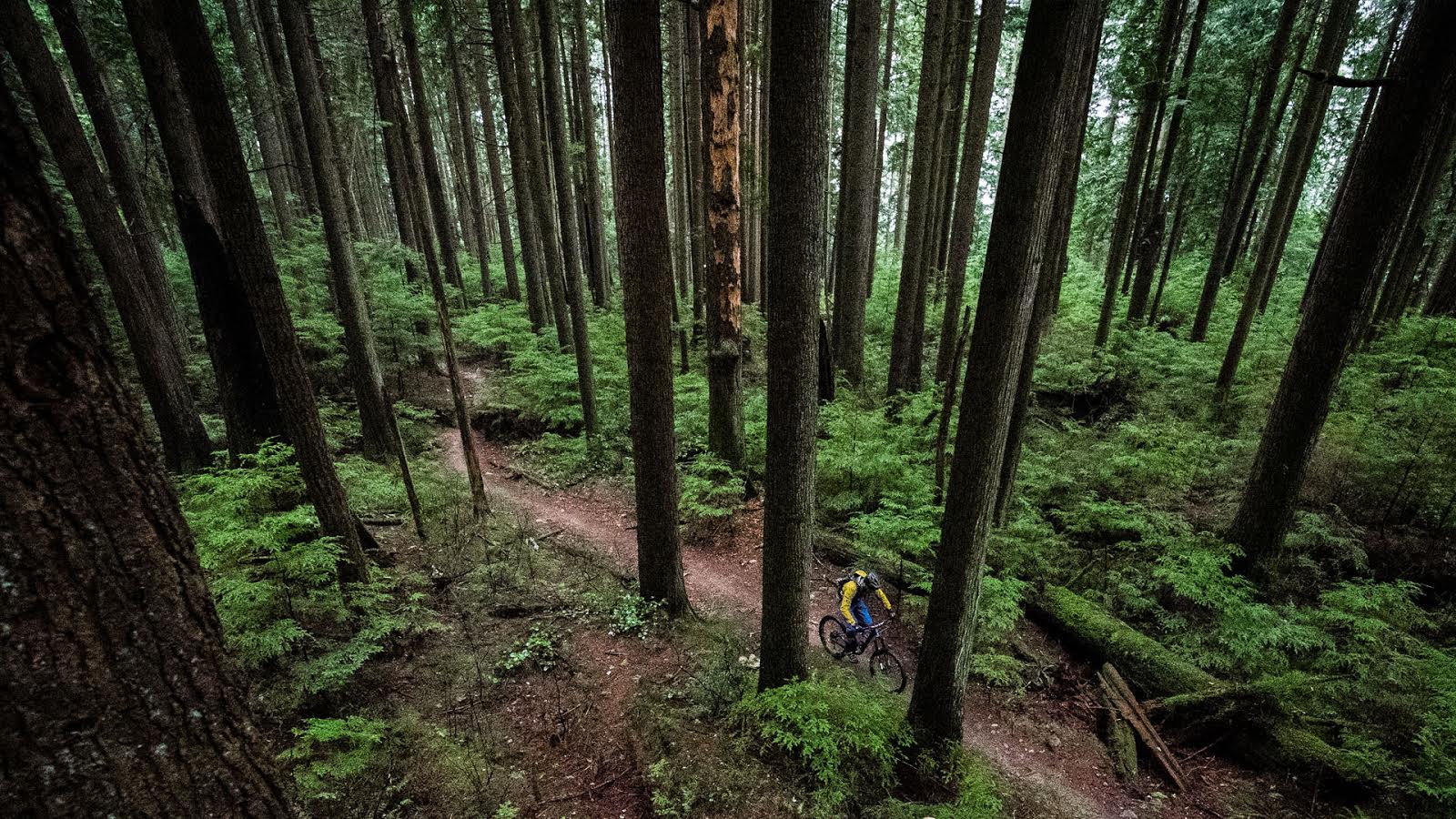 Niner Rip 9 Carbon Long Term Review
Over-forking seems to be an accepted term for mountain bike gear nerds now. What started as a tatic of taking a shorter travel frame and matching it with a longer travel fork to produce a bike with a slacker head angle than stock has been happening for years. It can turn a nimble trail bike into a more capable all around machine, particularly if you match it with a travel adjust fork.
Bike companies have caught up and modified head angles accordingly and many offer bikes with mismatched travel front to rear. The Niner Rip 9 Carbon is one of those bikes with 125mm rear travel and 140mm front and is touted to be one of Niner's most fun and capable machines.
Yes, it is a 29er. Let's get that out of the way. Niner only makes 29″ wheeled machines (and some 700c bikes) which isn't a shocker considering their name. Their range goes from the scalpel like XC rigs ike the Air 9 RDO to the big hitting WFO 9. The Rip 9 sits just below the WFO 9 in aggression level.
The Rip 9 Carbon is a smart looking bike out of the box with nice finishing touches. For a closer look head to the first impressions  article for more details. The Rip 9 Carbon has a carbon front triangle and an aluminum rear end held together with two short links. There is a full carbon-framed option, the Rip 9 RDO,  that is another $700USD if you buy it frame only. The Rip 9 Carbon, seen here with an XT 2X build, retails for $5200USD with the frame only coming in at $2200. There is a budget conscious Rip 9 Carbon available for $3300USD built up with Shimano Deore which seems like solid value.
Those two links connecting front to rear use the proprietary Niner CVA suspension design and although it looks similar to other parallel link designs, Niner claims it's tuned to some of the specific characteristics of 29″ wheel frames. At first glance the lower link hanging under the bottom bracket looks strange and vulnerable. My fears were unfounded and after 10 months of riding I haven't hit the link or had a bearing issue.
Beyond the XT components there is a 140mm travel Pike RCT3, Reverb dropper post, some decent rubber in the form of the version 2 Nobby Nic's from Schwalbe and a Niner branded stem and flat bar. The bike comes stock with a 70mm stem which isn't stupidly long but the change in attitude this bike takes with just a 10mm shortening of stem is distinct. Go all the way to 35mm shorter and life was much happier. I started to feel like I was more within the bike and the slightly rear biased weight distribution helped make up for a head angle that sits at 69.5 degrees static.
The bike fits quite long. My large size has a top tube length of 24.7." That means that the stubby stem didn't cramp cockpit but it should also be noted that the front of the bike feels a little tall. I ran the stem slammed to the headset's top cap and it's now clear why Niner supplies a flat bar on this bike. Thankfully that bar is fully wide at 780mm which made me very happy.
Overall a smart build with one exception. The wheels look like quality items, come set up tubeless and have classy aesthetics. However on one of my early rides I was able to completely blow the front tire off the rim in a bermed corner. The resulting digging in of rim to dirt spat me over the top of the berm and completely wrote off the wheel. On that evidence the 24 spoke wheels aren't as strong as I'd like and certainly not that stiff. I switched over to a pair of wheels built with 32-hole Stans Flow EX rims and the difference in tire stability and wheel stiffness was immediately noticeable and this change enhanced my experience on the RIP 9.
Niner's suggestions for bike set up are worth following. I cockily thought I'd go with my own guideline of 30% for rear sag to suit the terrain I like to ride. It turns out the CVA suspension is quite sensitive to sag settings and it feels very active with 30% sag. The upside of this is that the bike has phenomenal grip on technical climbs. The downside is that it bobs like crazy and feels a little unwieldy. Adding some pressure I settled on 25%, which is what Niner suggests. Funny that. Unsurprisingly the bike took on a more pert attitude when heading up but still had a good amount of traction to rock crawl up step laden climbs and shrug off the chunder on the way down.
The bottom bracket height gets some of the blame for the tall feel I referred. At a measured 13.6″ the bike never feels fully hunkered down in a turn unless you really get heavy on the pedals at the crux, at which point the bike will nicely spit you out as the suspension unloads. The technique of being over the front as you turn in and transferring your weight rearward through the turn is one that works on all bikes but the RIP 9 needs even more emphasis to make it shine.
That bottom bracket height helps with pedal clearance though. In fact the RIP 9 is a really capable climber which is probably its most distinct trait. The CVA suspension provides gobs of traction and it seems like you can just truck through the nastiest sections on a climb. Those 29" wheels help with that obviously but the bike has traction for days.
Pointed down the RIP 9 is a fun bike most of the time. The rear suspension is very good at soaking up abuse and with 125mm of travel, well controlled by the Rock Shox Monarch shock, it is hard to overwhelm it except on the most heinous line choices. I'd use the word plush here. Combined with a 140mm travel Pike up front and you have a bike that is well equipped with quality dampers. The steeper head angle than is currently fashionable does reveal some negative attributes at times though. Steep sections of trail with tight turns and switchbacks are where the RIP9 is least comfortable, with the front wheel wanting to tuck under.
It wasn't an easy transition to life on the Rip 9 Carbon. I tried to take it by the scruff of the neck and rag it down my local rowdiness and it was a fine bike for that, but it didn't instil a load of confidence to push hard. It was on a trip to the a far flung corner of Washington state that I finally realized what the Rip 9 was designed for; long rides into the unknown. A bike with these angles never was going to be most comfortable pitched down something steep and tight.  Sure it coped but it's not at home in those scenarios. It excelled on sublime sections of back-country singletrack where I was following a map (or my nose) and exploring an unknown area.
The supple suspension cossets when you come across a rough rock garden unexpectedly. The ability to claw your way up technical climbs flattered my ego and buoyed my spirits when energy levels were flagging. The sensible angles meant that the bike was a good partner on these types of rides where the trails were unknown and I was constantly scanning the terrain in front. Add to that bottle cage bosses in the proper spot and it all adds up to being the right tool for a long day in the saddle.
Don't get me wrong, this bike likes to let it's hair down. Give it a small roller on the trail this bike will spring into the air with the eagerness of a young lamb. The front and rear suspension provide a nice cushion when your wheels finally drop back to earth. If that roller is up in the alpine and you've slogged for several hours to get there then the Rip 9 is in its element.
On rides like this that I appreciated the 2x Shimano XT drivetrain. While this bike wasn't adorned with the latest XT group, the slick and decisive shifting up and down the block paired with reliable and strong brakes were a pleasure every ride. If you are a bargain hunter you should think about grabbing this group while it's on closeout.
It seems that the RIP 9 design could easily spin off an more aggressive version along the lines of the Evil Following (which is my personal ride) or the Banshee Phantom. Slacken the head angle by 2 or 3 degrees and drop the bottom bracket height to a shade over 13" and you could have a beast on your hands. Having said that the Niner is a very good all around bike and one I'd happily take to explore somewhere like the Chilcotins.
The Niner RIP 9 is a bike that asks you to be honest about the type of riding that you do and that you enjoy most. If the RIP 9 was to have a personal on Plenty of Fish it would read something like this – "Looking for a rider with a sense of adventure. Someone that wants to summit peaks and doesn't shy away from a physical challenge. Looking for long term rides, not a one night stand."
The price point is pretty prime too. A really quality finished frame with a carbon front triangle built with very functional Shimano Deore components for $3300USD is a very good deal in the era of five figure bicycles.
For more head over to ninerbikes.com
---
Are you big wheel curious?