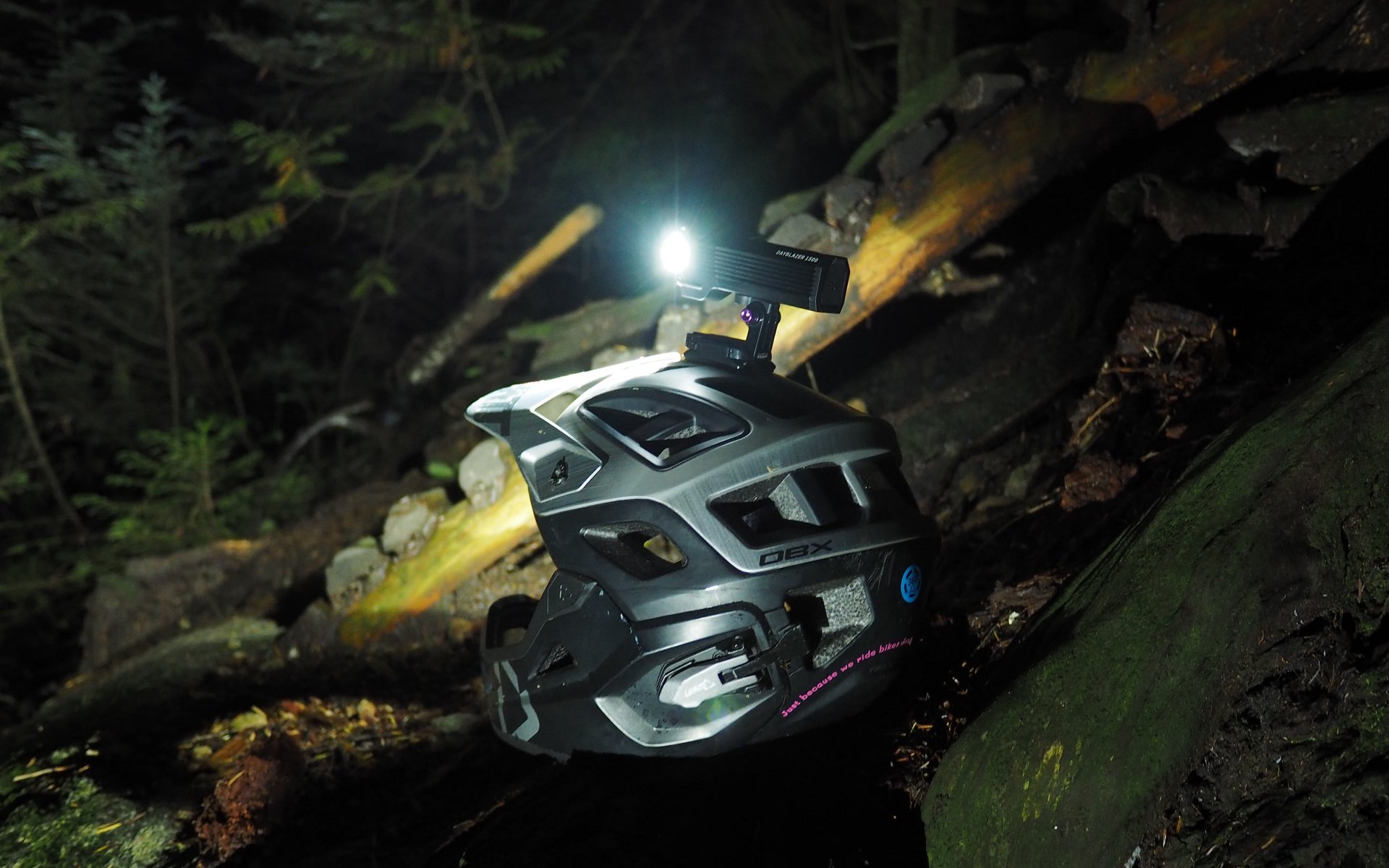 REVIEW
Night Riding Needs: The Blackburn Dayblazer 1500
Promises, Promises
I can taste battery acid. Not because I've had Blackburn's new Dayblazer 1500 in my mouth. This is sadly much, much worse than sucking on plug-in electronics. I just almost typed the word 'disrupting' to describe this light system. Now I'm thinking about burying it on the trail somewhere and denying it ever arrived.
It's not entirely my fault. You see, I've been waiting for this light for a long time. Ever since NiteRider introduced their TriNewt LED to compete with finicky HID systems. Ever since Light & Motion introduced their self-contained Taz. And most especially, ever since I rode Bontrager's Ion Pro RT.
For years, complex multi-part light systems ruled the night for anyone who is serious about night riding. Especially anyone serious about regularly night riding on North Shore trails in the pissing rain. For years, self-contained lights have been evolving toward the point where they would render multi-part systems overpriced and obsolete, for all but the most aggressive 'daylight-at-night' mountain bikers.
Blackburn's new Dayblazer 1500 throws a bold beam with great colour for 95 USD. And it runs on high - or what they call 'Blitz' - for two full hours in the pouring rain at 7°C.
I have a couple of high-end light systems from 3-5 years ago, each with batteries and bulbs connected with a cord. Both have plenty of life in the batteries and the LEDs are good. And the more impressive unit, also rated at 1500 lumens (both ANSI FL1), has a very big beam. Unfortunately, they both have shorts, presumably in the head units, and I haven't managed to sort out either of them. They're well out of warranty, the manufacturer doesn't offer service anymore, and it was a defect in rider skill and judgment not materials or manufacturing that caused the issues. I could purchase new head units to run on the batteries, but I've decided to fix them or recycle them because I'd rather have self-contained units if given a choice.
I've been out in the woods with this Dayblazer 1500 on my head and the solid L&M Seca Comp 2000 on my handlebar and I really can't see spending more on lights. And in a given year, I use my lights more than enough to amortize investing in the right setup.
The Seca has a bright flood beam that complements the more focused light of the Dayblazer 1500. It runs an honest 90 minutes on the high setting where the Dayblazer will pump out 120 minutes. I generally turn off the Seca entirely on climbs and cycle down the Dayblazer, so I have yet to run out of battery on any ride I've done.
If I was buying lights tomorrow, I would have a hard time not choosing a pair of Dayblazer 1500s over my current Dayblazer/Seca setup. It just comes down to a 95 v. 230 USD unit cost or a system cost of 190 v. 325 USD. There's no ride I'm doing where I wouldn't be totally happy with a pair of Dayblazers despite the Seca's broader beam. I hope we see an updated runtime, reduced weight, or lower cost from L&M in the future to reflect updated technology.
With much respect to the folks I know trying to ride after hours at top speed on DH bikes like it's daytime, I night ride as much as most folks and I ride fairly technical terrain (though a step down from my regular daytime routine) and I can't fathom spending over 300 USD for a system again. The Blackburn is bright, simple, durable, and robust, and if I smash it I can afford to replace it.
The light the Blackburn Dayblazer 1500 has largely replaced is my Bontrager Ion Pro (1300 lumen) and it's still getting close* to the specified 1.5 hours of runtime on high, a full three years since I first tested it. I carry it as a spare when my daughter's not using it on the trails.
*I plan to run it out from a full charge to determine exactly how long it runs after 3 years of use.
I would never advocate going out into the woods with one light system. I have friends who don't carry a backup or rely on an old secondary light and they've yet to have a problem but I don't want to spend a night alone in the woods or make a Search & Rescue call, so I always have two systems I completely trust and a third light source - that isn't my cellphone - for hiking out.
Night riding is increasingly inexpensive and it's accessible for folks who don't have the flexible work and family schedules that allow them to get in a daytime lap before dusk when the days are short. I enjoy being in the woods alone at night, but for anyone who doesn't I've never found it hard to find fellow travelers - at least on a nice evening.
95 USD for the Dayblazer is the best value I've found in an offroad light source to date when I consider the quality of light for the runtime. The fact that I can use it regularly for commuting, usually in a lower setting, is a bonus.
More information on the Blackburn Dayblazer 1500