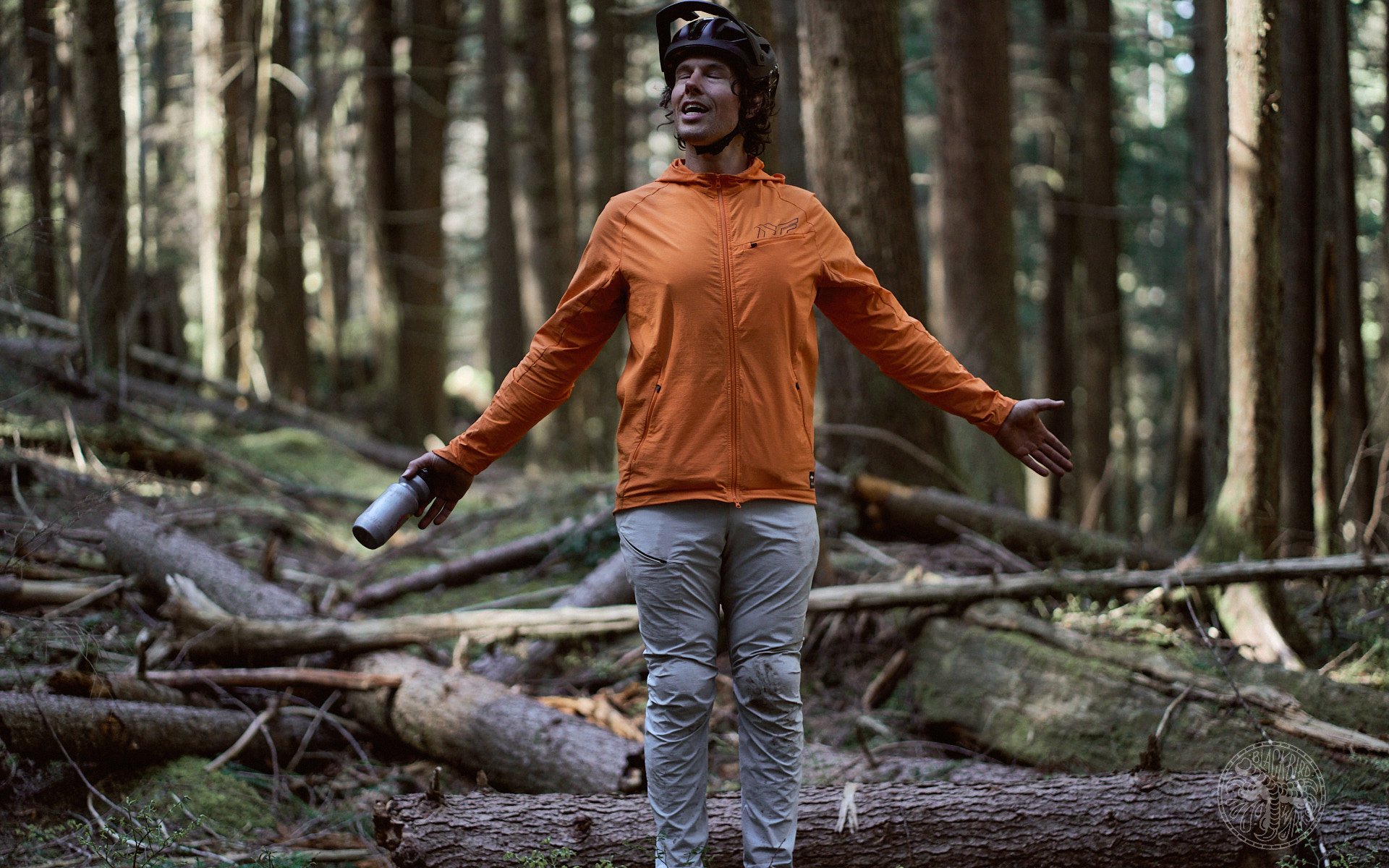 REVIEW
NF Lightweight Pants, Trail Jacket, Trail Shorts and Knee Pads
Based out of East Van, NF has dropped many steezy pieces of outerwear since their inception in 2019. Their understated DP series of riding pants have raised the bar for fit, functionality, and durability. Now that warmer days have arrived, NF sets their aim toward keeping riders cool while that intense ball of fire in the sky blasts its rays down for the next little while.
Lightweight Jacket - Graham Driedger
I'm usually reluctant to wear riding jackets unless rain, snow or sleet is falling from the sky. I run super hot while riding, regardless of the conditions. If the microclimate isn't precipitating on the mountain, it's generated by me. This leads to tough decisions as to what to ride in, particularly if the conditions don't allow me to wear a jersey (or two). I've tried thin windbreakers, but sweat seems to live inside them, mixing with cooler ambient air, leaving me cold from my own sweat. Gross! Merino wool button-ups are amazing, but somewhat delicate (and expensive) for repeated grimy rides. Thicker jackets are too hot. Enter the Lightweight Jacket from NF, the porridge is just right.
The Lightweight Jacket is constructed out of NF's proprietary Zrilix 2 fabric, their lightest weight and most breathable material. It's also a Global Recycled Standard (GRS) textile using 100% recycled or post-consumer material, a blend of 88% Nylon, 12% Spandex. Zrilix 2 is spun at NF's partner factory in China, which implements high environmental and social standards. Though not waterproof, a PFC-free durable water repellent (DWR) coats the outside, beading away mild to medium rains. In my hand, the fabric is plenty stretchy, allowing some give in case you snag a branch or bramble.
The first time I donned the Lightweight Jacket, the athletic fit felt perfect. The hood covered my helmet well, I can turn my head from side to side without the fabric being too tight. A drop hem keeps your back covered in a riding position. Cuffs are longer on the top, keeping wrists warm.
On the exterior, two hand pockets and a chest pocket use reverse coil zippers, meaning the teeth aren't exposed, creating a smooth and hidden look. This also keeps grime out of the zipper, allowing for a longer zipper life. The hand pockets easily stash keys, wallets, tools and snacks. On the interior, two small open pockets afford more real estate if you've squirrelled too many nuts away in the zipped pockets.
I immediately felt the breathability! The steady evaporation of sweat wasn't enough to make me cold, keeping me comfortable in the 10°C range. I can wear a riding jacket and not have it be useless in short order. If things heat up too much, the lower zipper tab can be zipped upward, leaving the collar done up, evacuating stank hot air
The Tang orange is definitely the LOUDEST colour on the Shore as of late. I'm cool with that, it's a nice change from my regularly scheduled programming of full stealth black. I truly appreciate the understated branding, a thinly-lined logo lives above the chest pocket.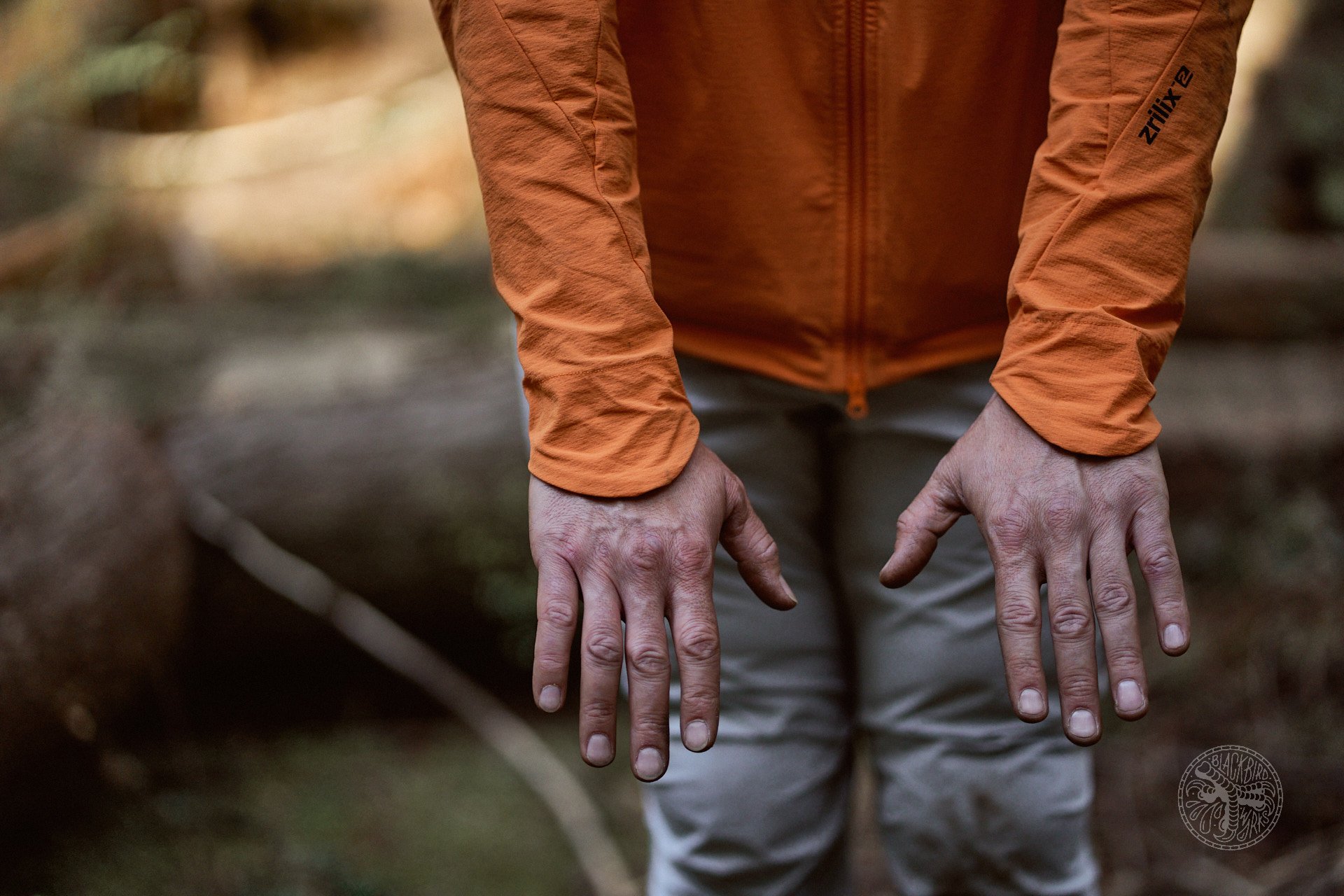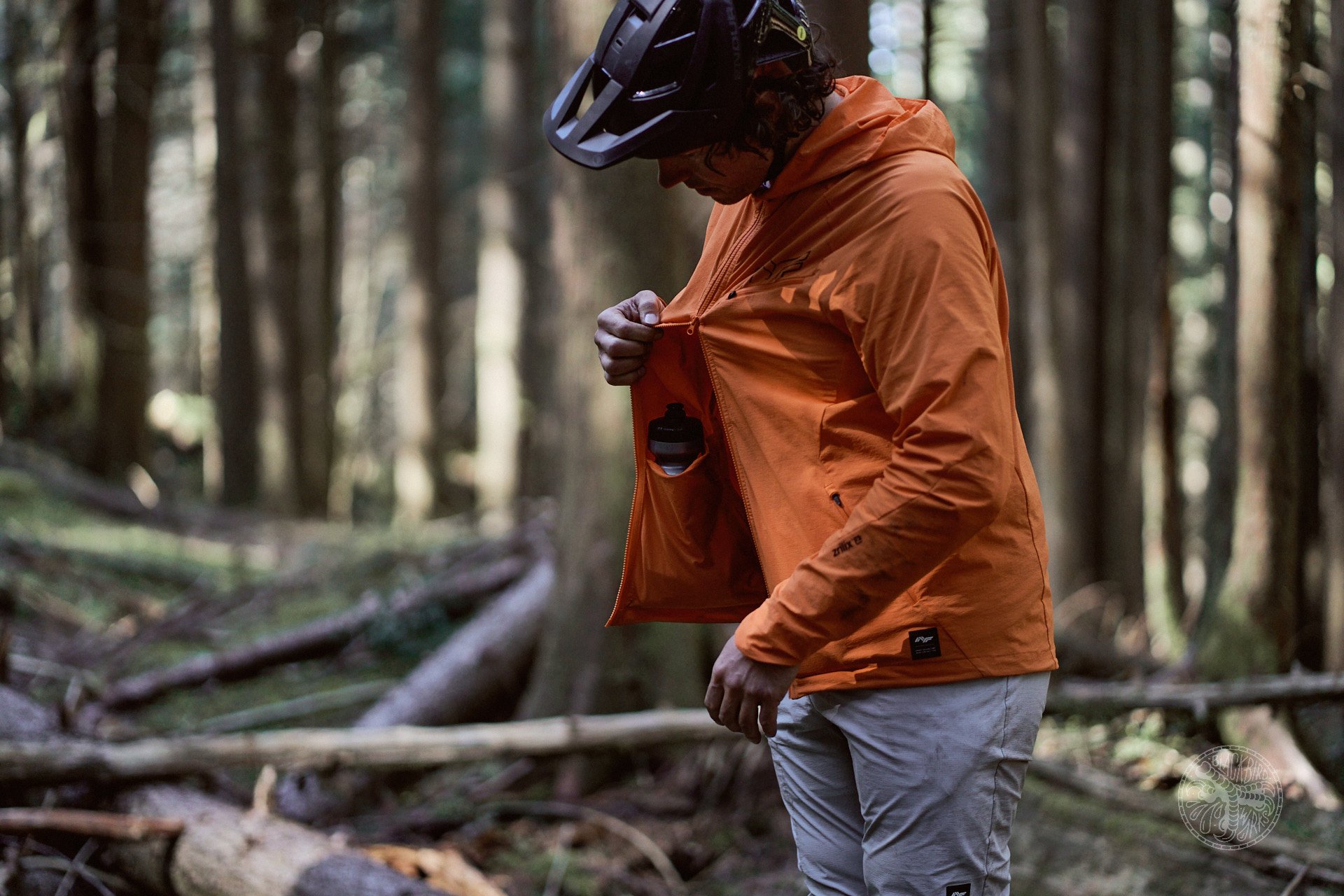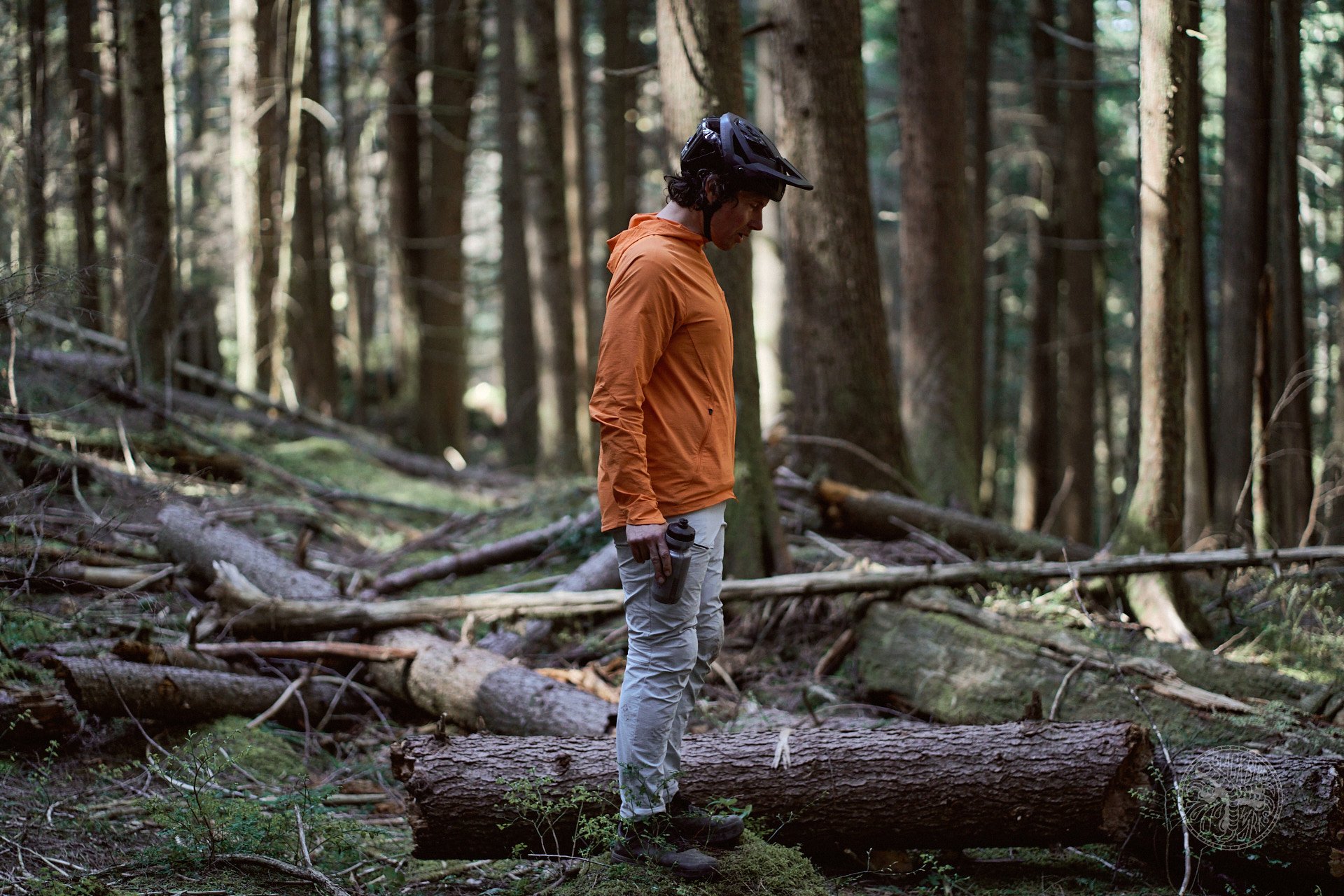 Lightweight Trail Pant - Graham Driedger
I've ridden a few iterations of NF pants, the DP2 and the DP4. The fit has evolved along the way, using more strategic stitching and panels for effortless motion, deep pockets for phones, gaining a better fit for on-bike body positioning. The signature NF elastic waistband has always been crazy comfy, with zero chance of a pressure point from a button or cinch.
The Lightweight Trail Pants (LTP) share every feature of the the DP4, moving from Zrilix 4 on the DP4 to the much more breathable and stretchy Zrilix 2 fabric. Sizing is also the same, but due to said stretch of the material, I sized down from an XL in the DP4 to L in the LTP. I'm 6'0/182cm tall with a size 34 waist and a big butt. Now you know. The elastic waistband also has belt loops (and a weirdo shoelace loop), in case the junk in your pockets pulls them down.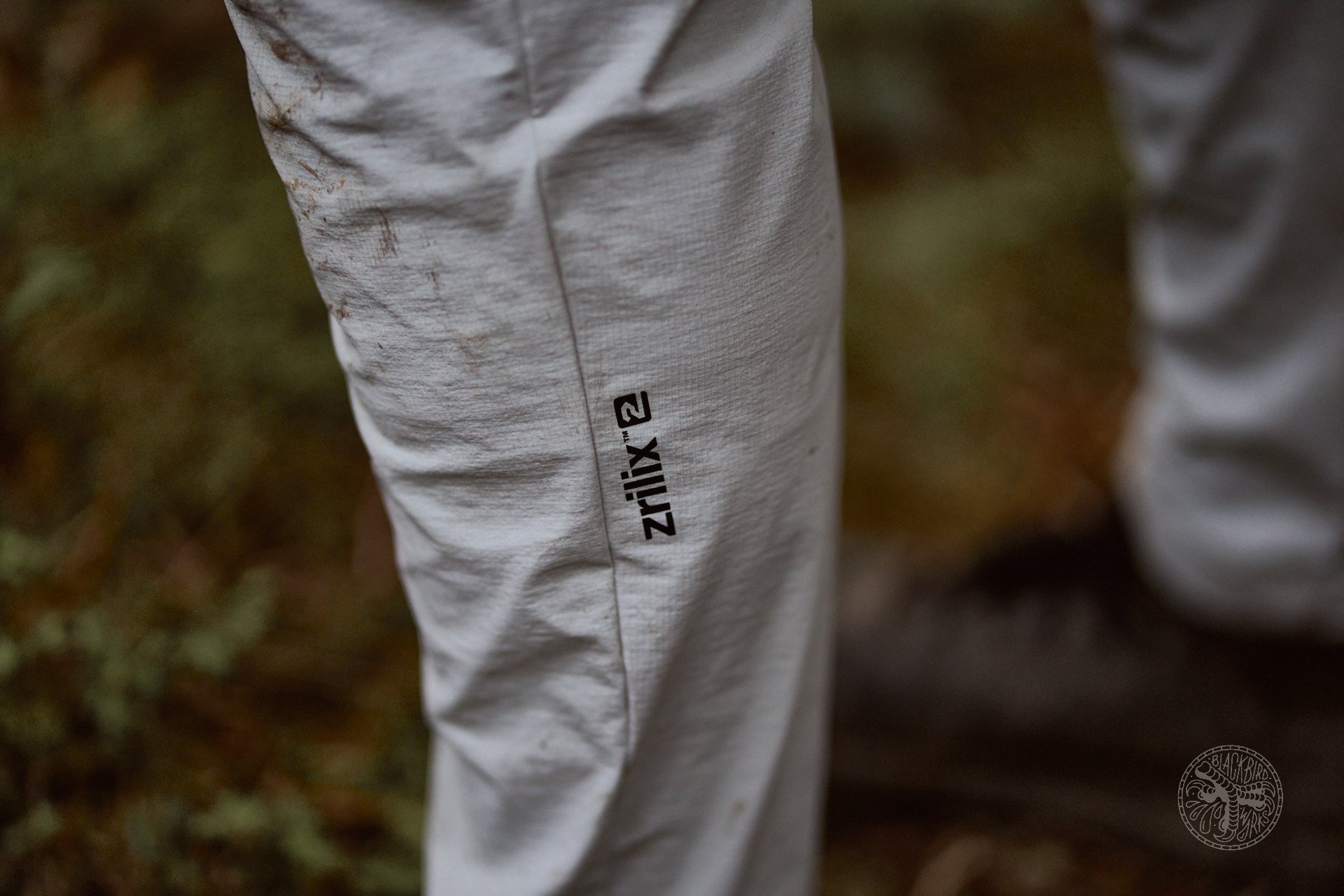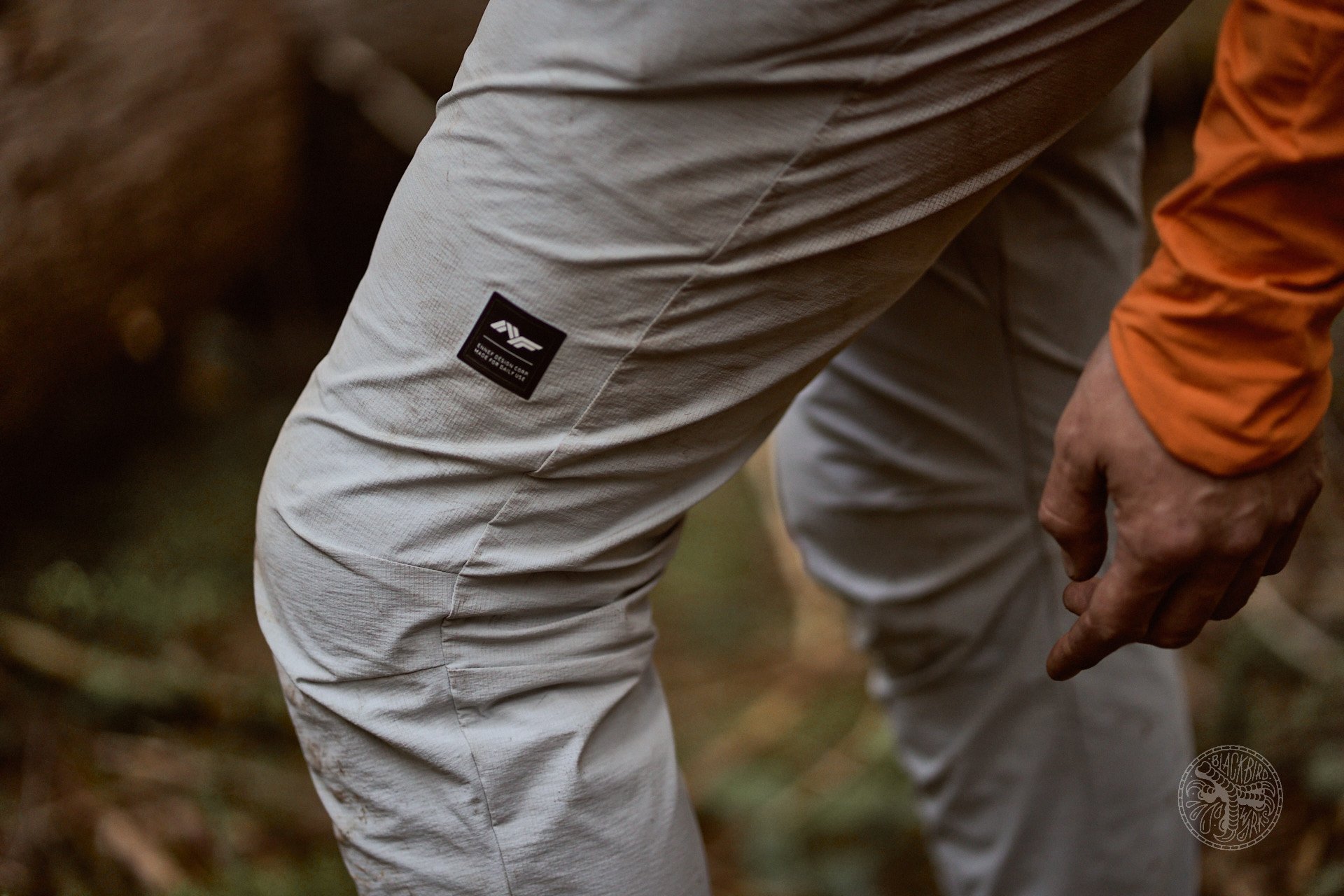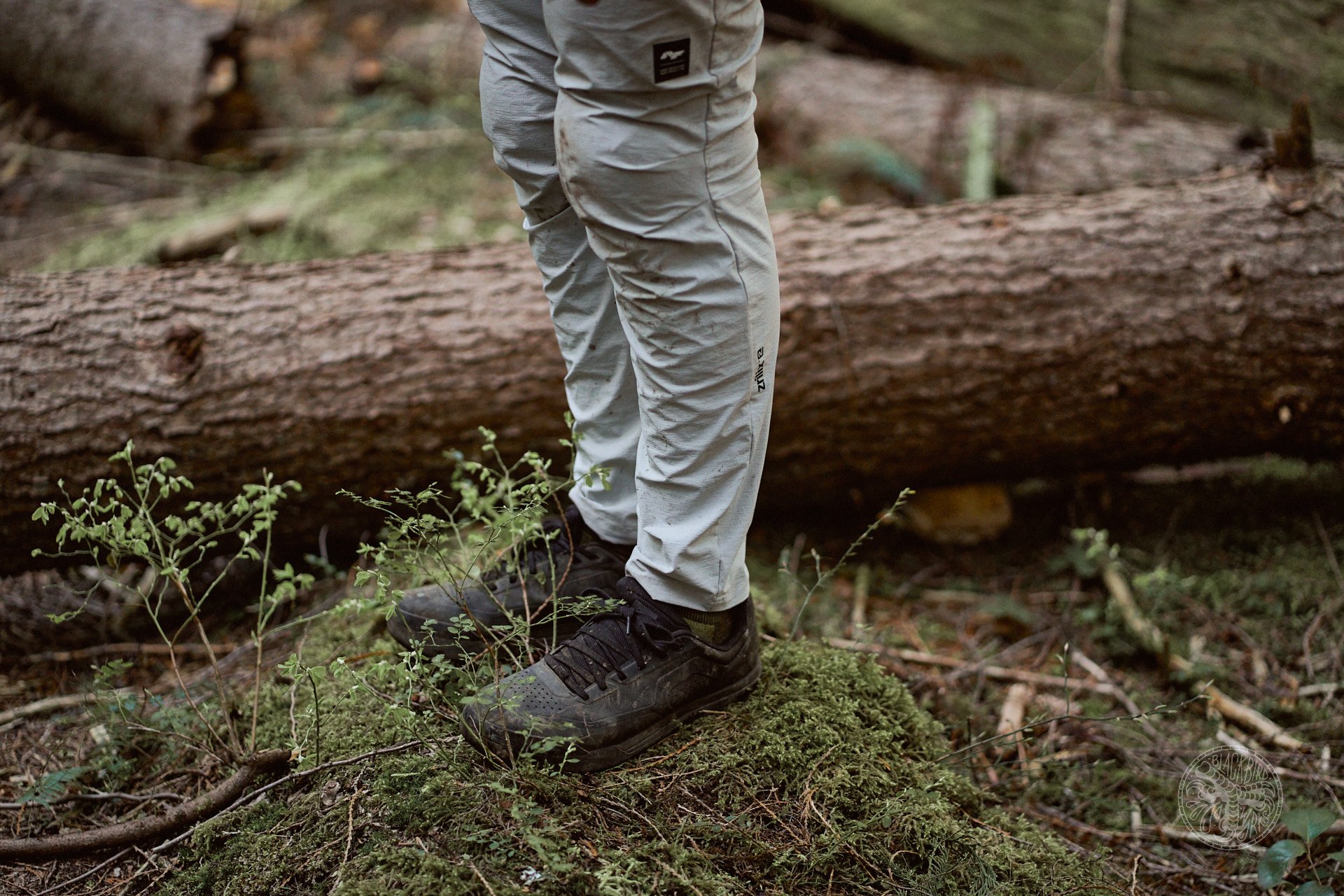 I've pedalled a decent amount of days in the DP4, but I'll now save them for cooler temps of 8°C and below. I want to wear pants most of the time, but again, too hot! Fortunately, Lightweight Trail Pants have changed that, and will be comfortable up to the mid 20's, particularly in the Cool Grey colour. They're super light, stretchy, akin to a fitted MTB pant version of surf shorts. I'm impressed with their durability, I've had a few crashes, expecting some fraying. There's no sign of damage so far.
Cool Grey is a bold colour to rock on slimy Shore days, showcasing max poopy-pants. It's mud, I promise. I tend to save this colour for dry days. They've washed up reasonably well after a soak with some detergent.
Hand sewn in Vancouver, The NF Lightweight Jacket and Trail Pants add much versatility to the NF lineup. Breathability and cool comfort is paramount, and these pieces are some of my favourite pieces of kit as of late. NF's quality is impeccable. Hell, I even traded in a pair of heavier NF Invader World Series shorts through NF's trade-in program, using the credit toward another pair of Lightweight Pants for regular rotation. These are both excellent not only for shuttling, but for long pedals too.
The Lightweight Jacket is $239 CAD
The Lightweight Trail Pants are $165 CAD
NF Lightweight Trail Shorts - Cam McRae
I've worn a couple of different kinds of NF pants and have been very pleased with them. The DP4 is my go to when the weather is fine and I appreciate the blend of protection with decent breathability, excellent fit, nice hand feel, and fabric that has generous stretch and hangs nicely, unlike the rumpled look of some competing garments. 
These take many of the elements I like about the DP4, the nice fabric, generous pockets, excellent fit, and trouble-free waist band, and push them a little further. The Zrilix 2 fabric has some similarities to the cloth used in my recently-tested 7Mesh Flightpath pants but with more stretch, softer hand-feel, and a cleaner and smoother drape (which describes how a material hangs under its own weight). The fabric is certified to be 100% made with recycled or post-consumer material. It's 88% nylon and 12% spandex with an eco-friendly DWR coating which I haven't yet had occasion to check. 
I love the two large slash pockets that allow you to better deal with the inevitable interactions with the civilian population before or after a ride. The lower side zip pockets are modestly-sized and triangular. They will however fit a regular size iPhone, like an 11 Pro, because of the excellent stretch of the fabric. That may be unnecessary because there is also a big ass pocket, just above your ass. It'll easily fit a phablet if that's how you roll, but I'm not sure I'd want to land on one. I haven't yet had to use this pocket but the size will come in handy when I do. 
The sizing is said to be 'race' and NF makes it clear you should size up if you'd like a more relaxed fit. For me it was nice to be able to wear a size medium, with legs of the correct length, after having to size down to small several times in other MTB garb recently. For me the waist is slightly snug right now but it never feels uncomfortable on the bike and there's nothing to adjust; they just stay put for the whole ride. 
If they look a little dirty in the photos, that's because I've worn these shorts almost every ride since they arrived. Without washing them. I have no complaints at all about these, except maybe the price. These are deep into 7Mesh* territory at 175 CAD / 132 USD. That would be harder to swallow if I didn't like them so much. Fox has shorts ranging from 114 to 190 CAD, so it's not like other manufacturers are undercutting the competiton.
*Currently most 7Mesh shorts seem to be on sale at retailers like MEC (the Glidepath is reduced from 170 to 136 CAD and the Farsides from 140 to 112) so you'd currently be hard pressed to find a 7Mesh short that cost more than these NFs. 
NF Lightweight Shorts - 175 CAD / 132 USD
NF x 7iDP Gravity Kneepads - Cam McRae
NF isn't trying to pull a fast one; these are 7iDP Sam Hill pads rebranded with NF logos. They are a sock style pad but with a decent knee cup for stability. I was skeptical when I first saw them because I generally find I need a very pronounced knee cup to navigate my skinny legs, otherwise they just slip down. 
These have no velcro but the cup seems to be adequate and the hems in the socks have effective grippers. Once I pull these on, I almost never have to adjust them during a ride. I generally pull them up after I put my socks on, turning them backwards to get them over my heel, pull them into place, and leave them there until it's time to drink beer. They are comfy for both pedalling and descending. If they are soggy, because of sweat or atmospheric conditions (rivers or otherwise) they are a little clinging. 
In terms of protection, I prefer to have a little more padding above the knee, considering how often I get pummelled there, and the padding that does extend beyond the patellar zone isn't D3O non-Newtonian dough, which hardens upon impact. It's just some low density foam. Overall however, the protection gets high marks from those who certify protective gear: EN1621-1:2012 LEVEL 2, Type B certified. Level 2 is better than Level 1, and Type B is better than Type A it turns out. I've yet to test the protection, but I feel as well-protected in these as I have wearing other D3O-based knee cushions. 
So far it seems like I'll be happy wearing these for any kind of ride that pops up on the schedule.