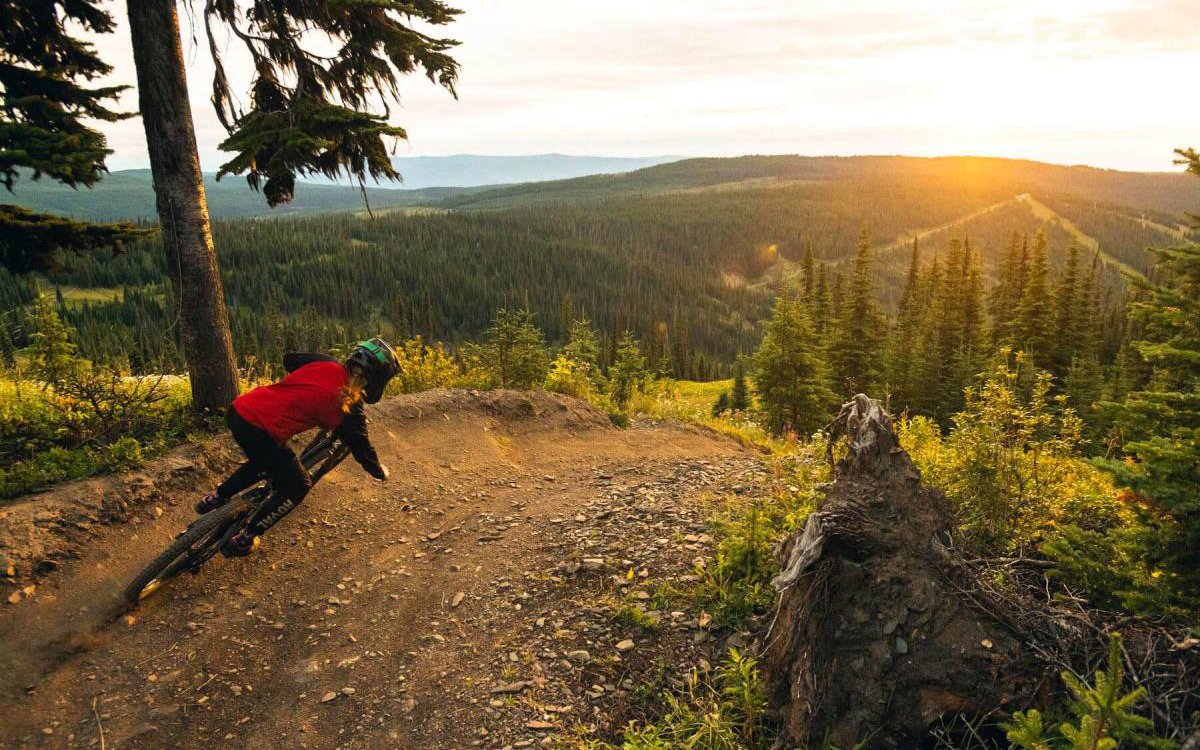 INDUSTRY NEWS
News Roundup - Week of February 23rd
Major Mountain Bike Expansion Set to Open This Summer in Sun Peaks Resort
The gears are turning for mountain biking in Sun Peaks to take on an entirely new scope this summer, with trails and access to world-class riding for the first time ever on all three mountains. This $1.5 million combined resort and community investment is the next phase in a strategic development plan to increase capacity and further diversify the already revered trail network. Sun Peaks has committed to enhancing the guest experience as the evolution continues of world-class mountain biking product for all styles of riding.
The highlight of this summer's projects is a second chairlift access for the Bike Park on Sundance Mountain, including six new trails totaling 19km. This all-new construction encompasses a full range of machine-built flow and jump options for novice to expert riders, which complement the overall trail progression and development of recent years on Tod Mountain.
Built by industry-renowned trail builders, countless hours and a $1 million investment will have been poured into the new trails and chairlift retrofit by the early summer opening. This includes a vital $200,000 of funding through the Targeted Regional Tourism Development Initiative (TRTDI), facilitated by the Thompson Okanagan Tourism Association on behalf of the Ministry of Tourism, Arts, Culture & Sport to help make the overall project a reality.
The Sundance zone of the park will launch with a new black (advanced) signature jump trail designed and built by Landmark Trail Works of Kamloops, a second black trail, two blue (intermediate) trails, and a green (novice) trail built by Lifetime Outdoor Inc., and a top-to-bottom green (novice) trail built by the Sun Peaks trail crew.
"Being part of the team to build the Sundance expansion is a huge responsibility," says Jeff Cook, Lifetime Outdoor Inc. "Nowhere in BC is there blank canvas like this, with lift access, high quality dirt, slope angle, and unique terrain perfect for a bike park just waiting to be built. It had to have something for everyone — progressive and creative. This expansion had to be our best work yet. It's a total game changer."
Accomplished riders will be eagerly awaiting the opportunity to touch down on the signature, top-to-bottom black trail.
"We have always talked about our local bike park getting a track that compliments the high-speed jumping style and flow that Kamloops is famous for," says Ron Penney, Landmark Trail Works. "This trail our crew built is predictable, forgiving, and a straight ripper. It's a great choice to just relax and play around on a bike. When people learn to trust it, it will truly take their riding to a new level. We love where this is heading and we're fired up to be a part of it."
Future phases will see further builds including the addition of single-track technical trails. This will solidify and pay homage to the roots and reputation of Sun Peaks as a Bike Park destination known for rugged, raw trails that have attracted both the core bike market and pro athletes for the past two decades.
Cross country and enduro style pedal access trails are the other important component of the overall growth and expansion of mountain biking taking shape in Sun Peaks. Community-based Sun Peaks Recreational Trail Association (SPRTA) is the driving force behind free access trails in the valley and on Mt. Morrisey. In partnership with the resort, their multi-year plan will provide community and destination riders alike with a thorough network of trail options, both now and in the future.
Funding of $297,875 from the province's Community Economic Recovery Infrastructure Program (CERIP) and a contribution of $150,000 from Tourism Sun Peaks have made possible the new 12km of machine and handbuilt trails opening this summer on Mt. Morrisey. A 6km climb trail (multi-purpose with hikers), 2km viewpoint trail (also multi-purpose with hikers), and 4km downhill trail will open in stages this summer. This will complement the selection of new trails SPRTA has already built in the valley over the last two seasons.
The Sun Peaks Bike Park is scheduled to open on Friday, June 17th and will operate daily all the way through Sunday, September 25th. Extended operating hours until 7:00pm daily will be in effect through Labour Day. Details on specific trails will be released closer to opening day and are weather dependent.
Best Buy Bike Park season passes are now on sale (February 23). Pass quantities are not anticipated to be limited this summer, but dynamics can quickly change and guests are advised to purchase early for guaranteed access. Also new to the mix this summer is a family Bike Park pass product. Please check online for all season pass details and pricing, www.SunPeaksResort.com/Store
For more details on the Sun Peaks Bike Park, visit www.SunPeaksResort.com/Bike
---
Giro Launches New Merit Spherical Helmet
Giro Sport Design, the cycling world's design leader, today announced the release of Merit Spherical, a brand new, high-performance trail riding helmet built for fast, flowy trail riding and hard pedaling. Merit Spherical is built around Giro's market-leading ball-and-socket Spherical Technology powered by Mips and features Giro's dual-density foam liner Progressive Layering technology. It has deep coverage at the rear of the helmet and provides powerful airflow with 15 large Wind Tunnel vents for outstanding comfort. The helmet is available from authorized Giro retailers and www.giro.com
"With the Merit, we wanted to give riders an helmet option with the added protection of Spherical Technology in a compact yet aggressive design. Through strategic vent placement and deep internal channeling, we maximized airflow through the helmet to allow heat to escape with ease—even at the slower speeds experienced while climbing," said Giro Director of Product Development Ben Penner. "It's the perfect helmet for putting in big uphill efforts before pushing it hard on the descent, as well as for trail riders who live for flowy, up-and-down terrain."
Advanced protection is at the core of Merit, with Giro's two-piece Spherical Technology powered by Mips® utilizing a ball-and-socket design to redirect impact forces in the event of a crash. Developed in the Dome, Giro's world-class test lab, and in partnership with Mips®, Spherical Technology redirect impact forces by allowing the outer liner to rotate around the inner liner during a crash. Spherical Technology seamlessly integrates Mips brain protection system between the inner and outer liner while also enabling Progressive Layering, with dual-density foam liners each designed to address high- and low-speed impacts.
In addition to the superior ventilation from 15 large Wind Tunnel vents, Merit also features deep channels built into the helmet's EPS foam layer to assist in exhausting heat out of the helmet. Plush, quick-drying Ionic+™ padding provides luxurious comfort as well as exceptional sweat absorption, odor protection and permanent antimicrobial performance. Additionally, Giro's Roc Loc® Trail Air fit system makes fit and stability adjustments simple and fast while providing added comfort and durability for rough trail riding.
The Merit is also constructed using In-Mold technology, which fuses the tough polycarbonate outer shell to the helmet's foam liner creating a permanent bond, helping to reduce weight and enhance durability. The shell also extends around to the inside edges of the helmet with Giro's lower hardbody construction, to enhance durability.
Merit Spherical is available in size small, medium and large and features six colorways for men; Merit Spherical W comes in size small and medium and in three colorways for women.
Key Features include:
● 15 Wind Tunnel™ vents with internal channeling
● Roc Loc® Trail Air fit system
● Spherical Technology™
● Mips® brain protection system
● Progressive Layering™ dual-density inner and outer layers of foam
● Adjustable moto-style screw-in visor
● Goggle gripper and integrated eyewear grippers
● Ionic+™ antimicrobial padding
● Lightweight webbing
Pricing for the Merit Spherical is as follows: $220 US MSRP / €199.99 / UK £189 / $329.99 AUS.
---
UCI to Partner with Discovery Sports for Promotion of the UCI Mountain Bike World Cup in 2023 and Beyond
At its recent meeting in Montreux (Switzerland) from 10 to 12 February, the Management Committee of the Union Cycliste Internationale (UCI) decided to enter into exclusive negotiations with Discovery Sports for the organisation and promotion of the UCI Mountain Bike World Cup for eight seasons, from 2023 to 2030.
The proposal by Discovery Sports, which was selected by the UCI as part of a tender process, comprises several strands: those relating to sporting and commercial matters, as well as those concerning the production and broadcasting of the UCI Mountain Bike World Cup.
More detailed information on the concept developed by Discovery Sports to further drive the development of the discipline will be communicated at the signing of the contract that will bind the two parties.
The UCI would like to thank Red Bull Media House, the producer and main broadcaster of the UCI Mountain Bike World Cup, who has used all its expertise to satisfy the passion of mountain bike fans around the world for more than 10 years, while significantly increasing the series' audience during this period.
Discovery Sports will get in touch with the 2022 UCI Mountain Bike World Cup organisers as well as all the organisers that expressed their interest in hosting a round of the series for 2023 and 2024.
Meanwhile, all rounds of the 2022 Mercedes-Benz UCI World Cup will be available for viewing on Red Bull TV (RBTV) and on the UCI Mountain Bike World Cup broadcasters' channels.
---
Etnies Deliver New Clipless Shoe - The Camber CL
This week etnies launched the Camber CL globally! The first etnies clipless MTB shoe is built for riders that prefer the power, efficiency, and overall connection to the bike that clipless pedals provide. Starting from the bottom of the Formula G rubber outsole to the top of the Exo-Shield upper, this high-performance shoe is lightweight, breathable, durable, and offers the rider protection where it's needed.
The etnies Camber CL's outsole has a pedal specific tread pattern created with Formula G, an MTB rubber compound that is two times more grippy than standard rubber and provides a specific grip for enduro and downhill mountain biking.  It also has a nylon clipless pedal shank optimized for pedaling efficiency and off-bike walkability.
On the inside it has a lightweight STI Evolution Foam midsole that provides superior cushioning and comfort that won't pack out.  The shoe's upper features the lightweight, breathable protection of Exo-Shield, and a Repel treatment to block moisture.
The Camber CL's System Flo2 Compression tongue airflow keeps the foot cool and debris out.  It's Lace Lock asymmetric lacing protects laces from pedal hang ups, and an adjustable Power Strap ensures a secure fit and easy on the fly adjustability.
The Camber CL is now available in most countries and is coming to Europe in March.  It is sold at better retailers globally and on etnies.com for $185.99.
---
Bas Van Steenbergen Signs with ilabb
The ilabb family is beyond stoked to announce our partnership with this elite rider. Bas Van Steenbergen brings his elusive speed and distinctive style to our expanding team.
Though Bas grew up in the mountain biking playground of British Columbia, rumour has it Queenstown is his favorite place to ride (but, we don't play favourites). Having earned the King of Crankworx overall title in 2021 and being on the Crankworx scene since 2011, Bas continues to showcase his dedication to the sport and hasn't looked back since.
"I am so excited to be riding for ilabb, seeing their gear in New Zealand a bunch got me super interested in the brand and after meeting with Seadon and hearing the direction they are taking I knew this aligned perfectly with what I am trying to do." I can't wait for the years to come with ilabb and you'll be seeing a ton of cool projects from us!" - Bas Van Steenbergen
"After getting to meet Bas in person late last year when he was out in NZ competing at Crankworx I knew right away that he was the guy I wanted to help lead ilabb's campaign into the Global markets. Being able to work together on continuing to develop some of the best product in the world along with supporting Bas in his quest to win further championships is a true honour and I know all of the team at ilabb are incredibly excited to race the world together.  We welcome Bas to the family and know this is just the beginning of a long and successful partnership."  - Seadon Baker, Owner & Fearless Leader
Check out the lineup at https://ilabb.ca/