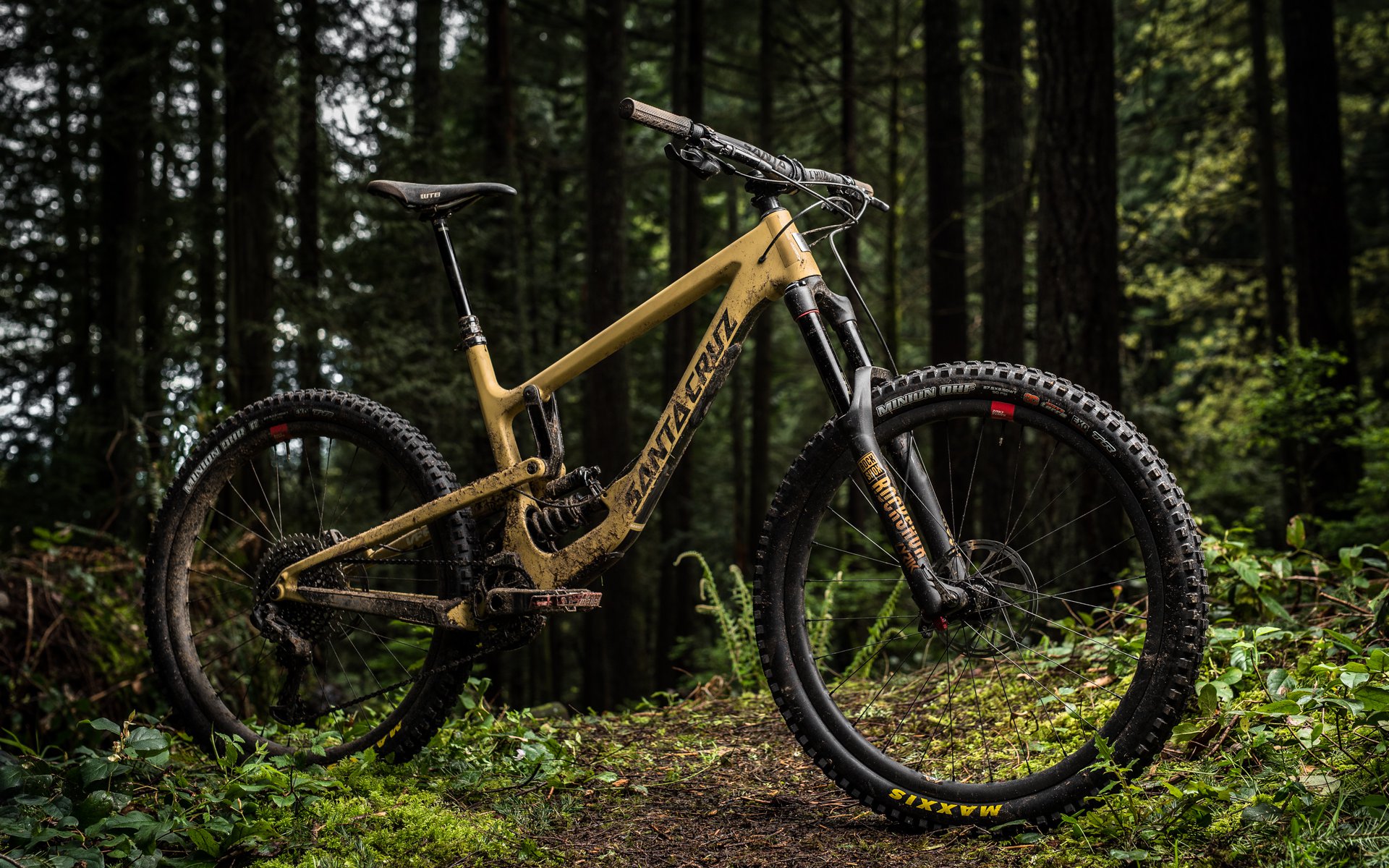 DETAILS AND RIDE IMPRESSIONS
The New Santa Cruz Nomad
Just over three years ago, the Mk III Santa Cruz Nomad made serious waves, and deservedly so. It was a confluence of technology, trends, and timing that seems serendipitous in retrospect. 
Carbon technology had hit a maturity level that enabled an aggressive platform like the Nomad to be released without uncertainty about durability. Big can air shocks paved the way for a generation of bikes that required consistency on long descents paired with enough support to be pedaled once they hit the bottom. 
Geometry among brands still varied more than it does today, but the trend was aimed firmly at longer reach, lower BBs, and slacker head angles, with the widespread adoption of steep seat angles so that the new bikes could be ably pedaled for long distances from a proper position. 
All of these factors came together as a racing format became a loathed buzzword, but it didn't matter: Enduro had arrived, and the Nomad along with it, seemingly at exactly the same time. The good timing was even more fortunate because the Syndicate was winning races on a 27.5" carbon V10, and the recent introduction and unexpected smash success of the Bronson with the Goldilocks wheel size on top of all of that had the Santa Cruz brand hitting yet another heady peak (have there been many valleys?).
It was the age of the 27.5" Carbon Superbike, and the Nomad 3 was the herald of an era.
If that preamble seems long, it's because it is difficult to overstate the impact of the last Nomad, which already had very large shoes to fill when it came along. For the last three years, even as other Santa Cruz models have chipped away at its sales and relevance to certain riders, the Nomad has remained a standard - maybe the standard - by which all other AM bikes are judged. Only the arrival of longer travel 29ers and the galvanized opinion that longer reaches are preferable have quelled the squawk about this Nomad killer or that one. But it wasn't wheel size or a short reach that did it. In the end, the only thing capable of killing the Nomad 3 turned out to be the Nomad 4.
Forgive the long wind up, but we've had a new Nomad in our possession for two weeks now, with permission to ride granted, but also with a fear of it being seen or photographed and splashed across social media. So, early morning missions or the judicious use of sheets and other tricks kept our bike's cover intact while we plundered sneaky laps in places we wouldn't be seen. Break out your small violins, I know. However, it really is tough finding high-speed trails in the Sea to Sky corridor that aren't rammed with riders eager to shake off the longest winter ever, that can't also spot a new model from 200 heavily forested yards away.
We have ridden it, though, and we'll get to that. But first, let's pluck a little meat from the bone and dissect the changes that Santa Cruz brought to bear on the 2017 Nomad.
Designing the Santa Cruz Nomad 4
If you found yourself pondering what this iteration would bring, you might have wondered about 29" wheels, but Santa Cruz had other ideas, bucking the trend towards removing 10mm travel but going up a wheelsize. Instead, they added 5mm, taking the Nomad to 170mm of VPP travel, complemented by 170mm forks on all trim levels. Interestingly, the Nomad now sits in the 27" row with the 150mm travel Bronson, but flanked by the Hightower and the very new and still rare 29" V10. The reasoning goes back to the design brief for the bike.
For this Nomad, Santa Cruz decided that rather than messing with the formula, they would double down. If the last version was thought of as a mini DH bike, this one is even more so, but with a few tricks up its sleeve. Here are the salient points from the design brief:
Descend like a V10, climb like a 5010.
Be able to handle Alp-style valley-->peak-->valley rides. In other words, climb a long way and descend really steep, chunky stuff.
Work well with either a coil or air shock.
Sizes XS through XL and oh, yeah, there is a Juliana version as well, called the Strega, which also launches today. We have details on that here.
At the heart of the design brief, according to Jack Russell, a Senior Industrial Designer at Santa Cruz that worked on the Nomad, was to create a bike that "went down like a V10, but felt like a 5010 on the way up". If that sounds like the kind of hyperbole we've become familiar with from other brands, that's understandable, but these ideas are important when hammering out a brief. Of course, it doesn't descend as well as a V10 or climb as well as a 5010, but they didn't miss those targets by that much either.

The first thing a keen eye will notice is that the new Nomad borrows the V10's lower link shock configuration. To some, it is not as attractive as the consistent and well-loved design ID we've come to expect from Santa Cruz's other trail bikes. If you aren't familiar with their colourways, it's very easy to confuse a Tallboy for a Hightower or a 5010 for a Bronson. There is a very important reason for this change, which is that it allowed Santa Cruz's engineers to decouple the anti-squat from the leverage ratio. Why that matters is that the bike has a very similar leverage ratio to the V10. Great for smashing things at high speed, not as great for pedaling. Add to that the VPP system's generous anti-squat, but disassociate their impact on each other, and you get the picture. That step was essential in order to fulfill the primary design goal.
As for handling really chunky descents and then turning around to climb back up, well, that's similar to every AM bike out there, including the outgoing Nomad. The new one just happens to go down better. It pedals better, too, but let's save that for later.
Coil shock or air shock, then? Lots of riders out there are experimenting with shocks that weren't intended for the bikes they're on, but a lot of those bikes weren't designed around those choices. That doesn't make them less viable, but Santa Cruz's approach is a tacit nod towards ride tuning. The leverage ratio is what they call "linear progressive". It sounds a bit contradictory, but what they mean is that the base rate is progressive but on a straight line - the progressivity doesn't change, but it's certainly more progressive during the end stroke than it is at the beginning. Just like the V10. Want a more progressive feel? Go air. Like that DH-like spring rate that is more consistent, or are smashing things at super high speeds for 1,000+ meters at a time? Coil shock for you.
Geometry
The Nomad 3 came near the forefront of the Lowering. Or the Slackening. Or the Longening. Its supposed long reach was quickly overtaken by other brands, and indeed by Santa Cruz itself; a size Large Nomad 3 has a stubby reach of 438mm. The reach of the Large Bronson and 5010 both measure 445, Hightower and Tallboy both come in at 450. So it's no surprise that the new Nomad's reach (also size L) is now 456 or 460mm, depending on whether you position the link's flip chip in the Low or High setting (respectively).
Here are the notable geometric comparisons between the Nomad 3 and 4: 
Reach increases from 438mm to 456 mm / 460mm (Low / High)
Stack increases by 5 or 2mm (Low / High)
Head tube angle remains at 65º in High mode but drops slightly to 64.6º in Low

BB height is 339mm in Low (1mm lower) and 344mm in High (4mm higher)
Wheelbase increases from 1195mm to 1218 / 1217mm (Low / High)
Standover decreases from 732mm to 720 / 726mm
Size range expanded to include XS 
Other Notes
Accepts metric shock sizing
Comes with bolt on shuttle guard (protection near head tube/down tube junction), downtube protector and shock fender
180mm post mount rear brake
Available in CC and C carbon versions
Lifetime warranty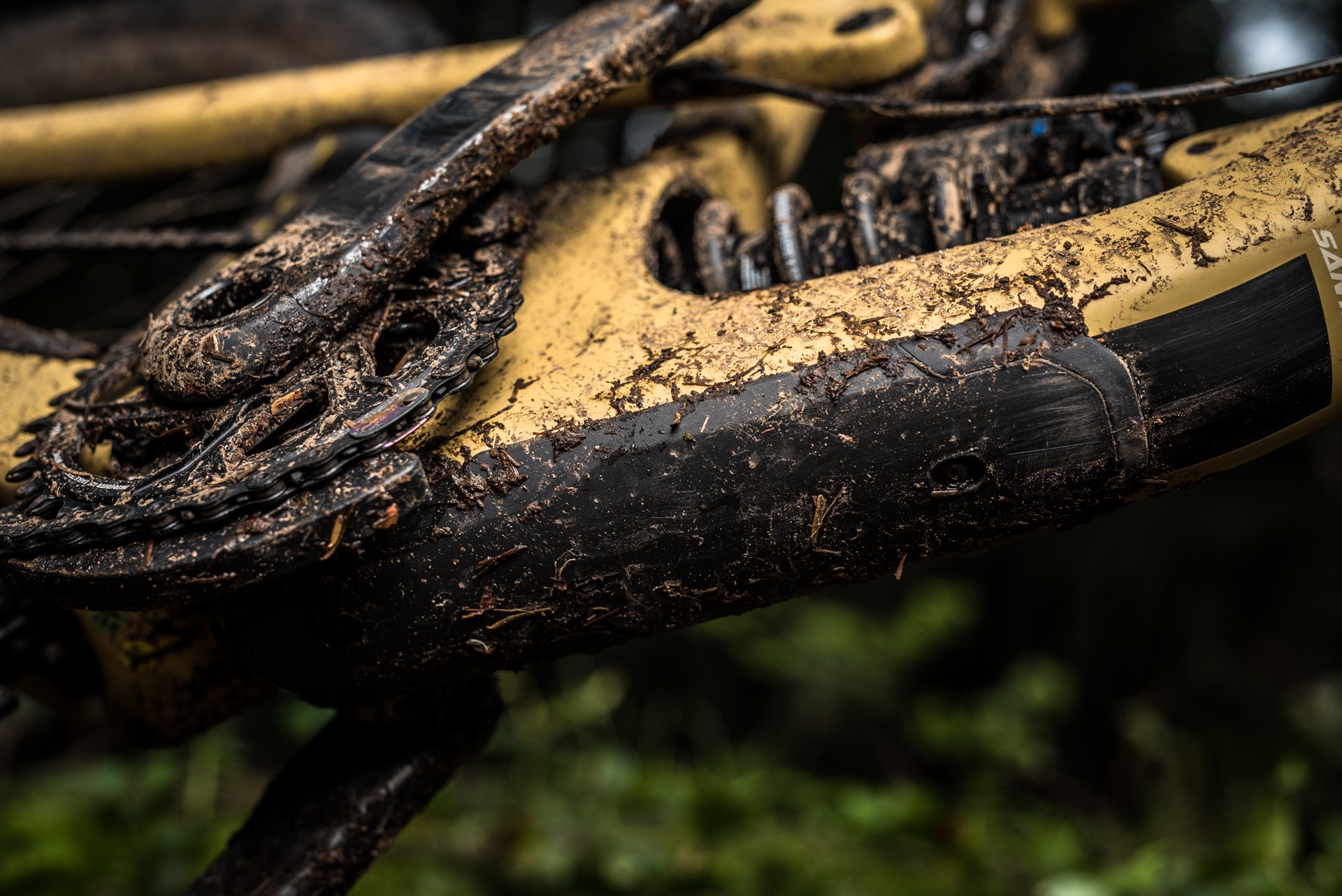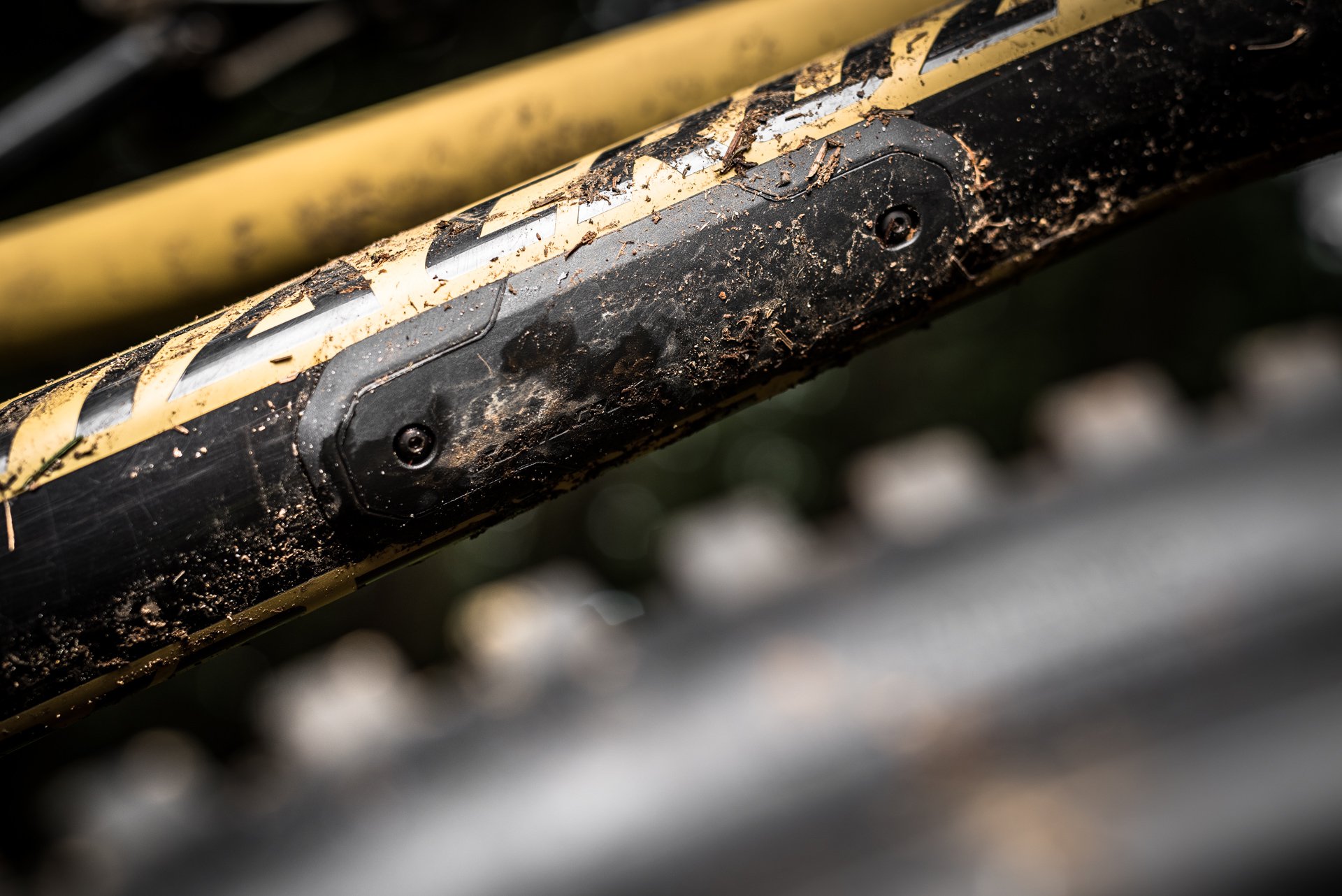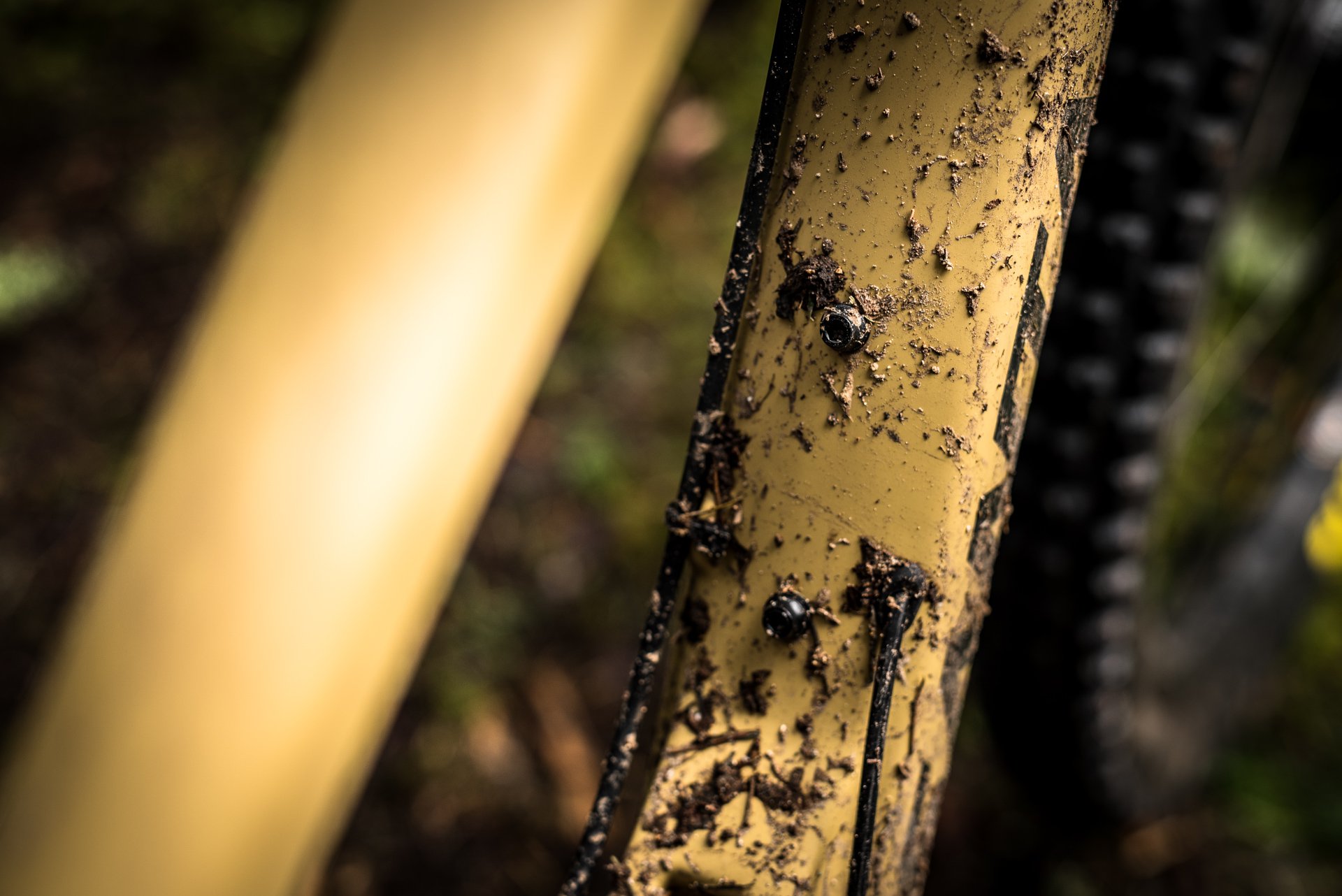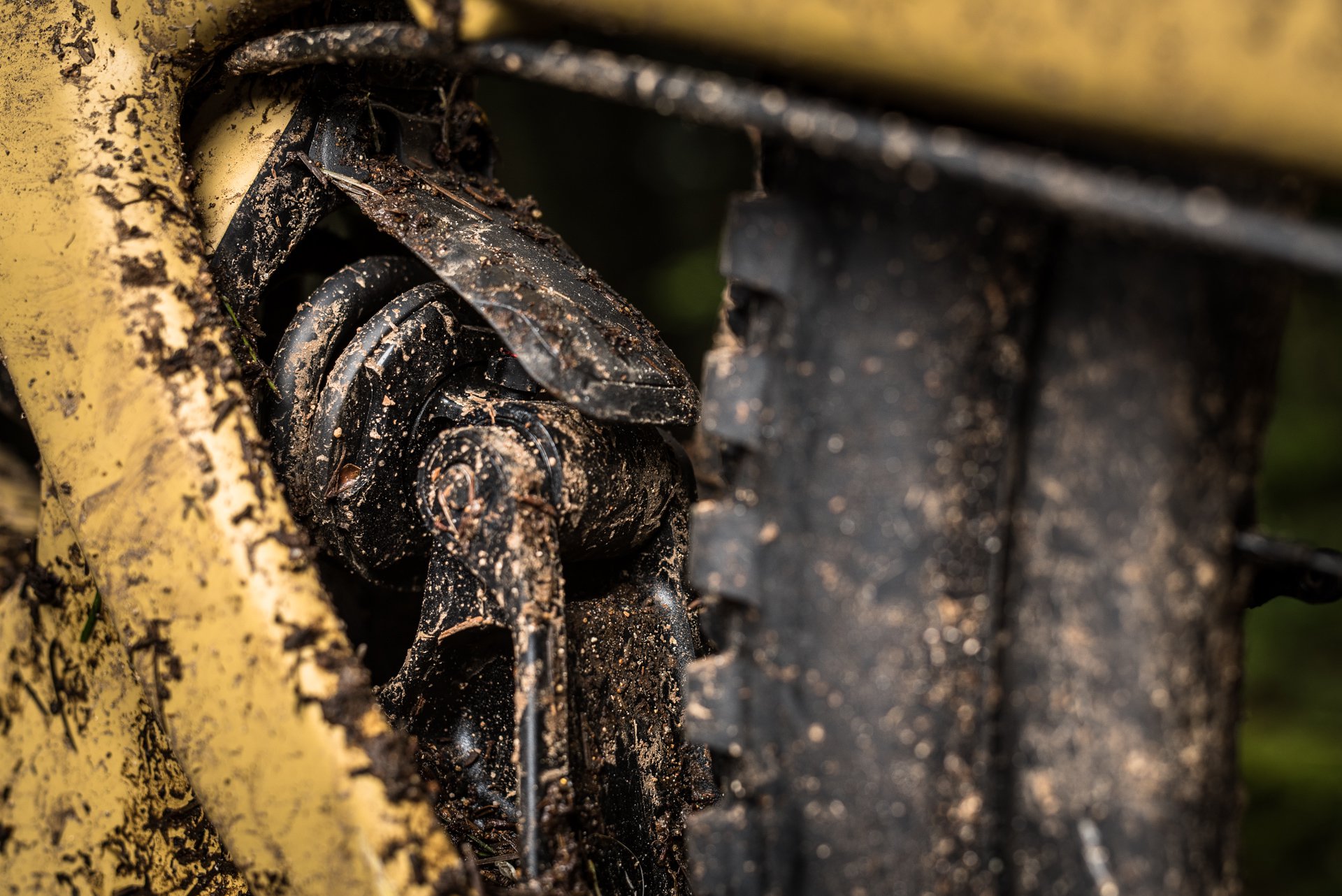 Riding the Nomad
A bunch of other press were carted off to Italy for the launch event and, don't get me wrong, a trip to Italy would have been great, but we got the VIP treatment: Canadian Brand Manager Seb Kemp rolled up on a Monday morning with a Toyota Tundra fully laden with secret bikes, as well as Jack Russell and Geoff Casey from the industrial design/engineering and design departments in Santa Cruz. The plan was to spend a few days riding and getting to know the bike, and then we'd have another couple of weeks with it until the embargo.
The North Shore rolled out its best monsoon and our visitors got to test out their rain jackets. And within 100 meters, those brand new bikes were coated in west coast mud and loam. It was wet and greasy but we soldiered on. Day two was drier. And the moment they left, it hardly rained again. Thanks for stopping by, guys.
The double-edged sword that is trying to test a secret bike in a heavily populated and bike-crazy zone is that you really have to pick your spots. In other words, we'll have a lot more to say after the Nomad has been ridden more widely on trails it was really made for, but here are some early thoughts.
Descending. Let's just get it out there: the 2017 Nomad goes down like a homesick mole. It took a few days to get to that point, but it has stiffness and stability in spades. I've spent more time on the Rock Shox Super Deluxe (and another yet to be released air shock) than the Coil, but so far have found I prefer the air spring's progressive nature and support, and it also feels more responsive and playful on the upstroke. More like a trail bike, in other words. Not surprising for a guy that doesn't ride downhill nearly as much anymore.
I've played around with the Lyric a bit, and it currently sits at three tokens and 65 lbs. It still feels a bit stout up there and I haven't nailed the balance with the back end. Less air is probably going to be the ticket. The back end is quite remarkable, though. The traction is phenomenal, helped by the 2.5 WT Minions mounted on Santa Cruz's new 30mm wide Reserve carbon wheels (for more on those, head over here). Due in part to the front end being a bit oversprung (despite repeated air pressure drops), I have found myself riding with a slightly rearward bias, which has been rewarded with plenty of supple, gooey travel.
Set an edge over slimy roots, or hold a line on damp rock, and so far the Nomad is unfazed. In fact, not unlike getting on a DH bike again for the first time in a while, it's taking a bit of time to sort out the limit of my capability + the bike. This will really fall into place after a few more shuttle days or time in the bike park.
Climbing. Here's where things start to get interesting because it wasn't a surprise that the Nomad descends capably - that is the visual indication from the moment anyone sees it and digests the V10 pedigree. Turn it upwards, flick the shock to lock, start turning over the pedals, and up you go, with a lot less sluggishness than I expected. The wheels and tires are not svelte, nor are they heavy, but they don't make you feel like you're about to sprint effortlessly away. And it's still a 170mm bike, so we need to remember to check our blind spots for reality, but damned if I didn't find this bike climbing the nastiest uphill we've got on Mt Fromme - the No Quarter climbing trail - as well as any bike I've ever taken up it. 
No Quarter is notorious: everyone has a love/hate relationship with it. There are sections that, ridden clean, will make you feel like a hero. Come back tomorrow with your B game, though, and it'll take away your will to live. It is steep. It is long. It can be relentless. In other words, a perfect place to test a bike's climbing chops. And what struck me the most was not the Nomad's efficiency under load (which was surprising) or its balanced feel in the switchbacks (impressive) but the way the back end scooted up and over chunky, technical sections like a kicked dog. What I felt over and over was an absence of feedback at the pedals, despite the Nomad's anti-squat. Many times I thought I was out of momentum, but one more half turn would bust the back wheel up and over the rock or through the hole, and I'd be free to be on my way.
There hasn't been a chance yet to put in a long day of pedaling, or to take it to the bike park. That'll come. But the early returns show that "descends like a V10, climbs like a 5010" wasn't just hyperbolic bike designer brief-speak - it's actually pretty close to the truth.
Here is some basic 2017 Nomad build kit and pricing info in Canadian dollars. For the complete picture, including USD pricing and maybe a sneak preview of a certain anticipated 2018 component, head to the Santa Cruz site. Reserve denotes Santa Cruz Reserve Wheels upgrade.
Strega/Nomad C | R | RockShox Super Deluxe R | RockShox Yari RC 170 | $6,449 
 Strega/Nomad C | S | RockShox Super Deluxe R | RockShox Yari RC 170 | $7,599 
Strega/Nomad C | XE | RockShox Super Deluxe RCT | RockShox Lyric RCT3 170 | $8,449 
Strega/Nomad CC | X01 | RockShox Super Deluxe RCT | RockShox Lyric RCT3 170 | $10,249 
Strega/Nomad CC | X01 Reserve | RockShox Super Deluxe RCT | RockShox Lyric RCT3 170 | $11,949 
Strega/Nomad CC | XX1 | RockShox Super Deluxe RCT | RockShox Lyric RCT3 170 | $11,649 
 Strega/Nomad CC | XX1 Reserve | RockShox Super Deluxe RCT | RockShox Lyric RCT3 170 | $13,349