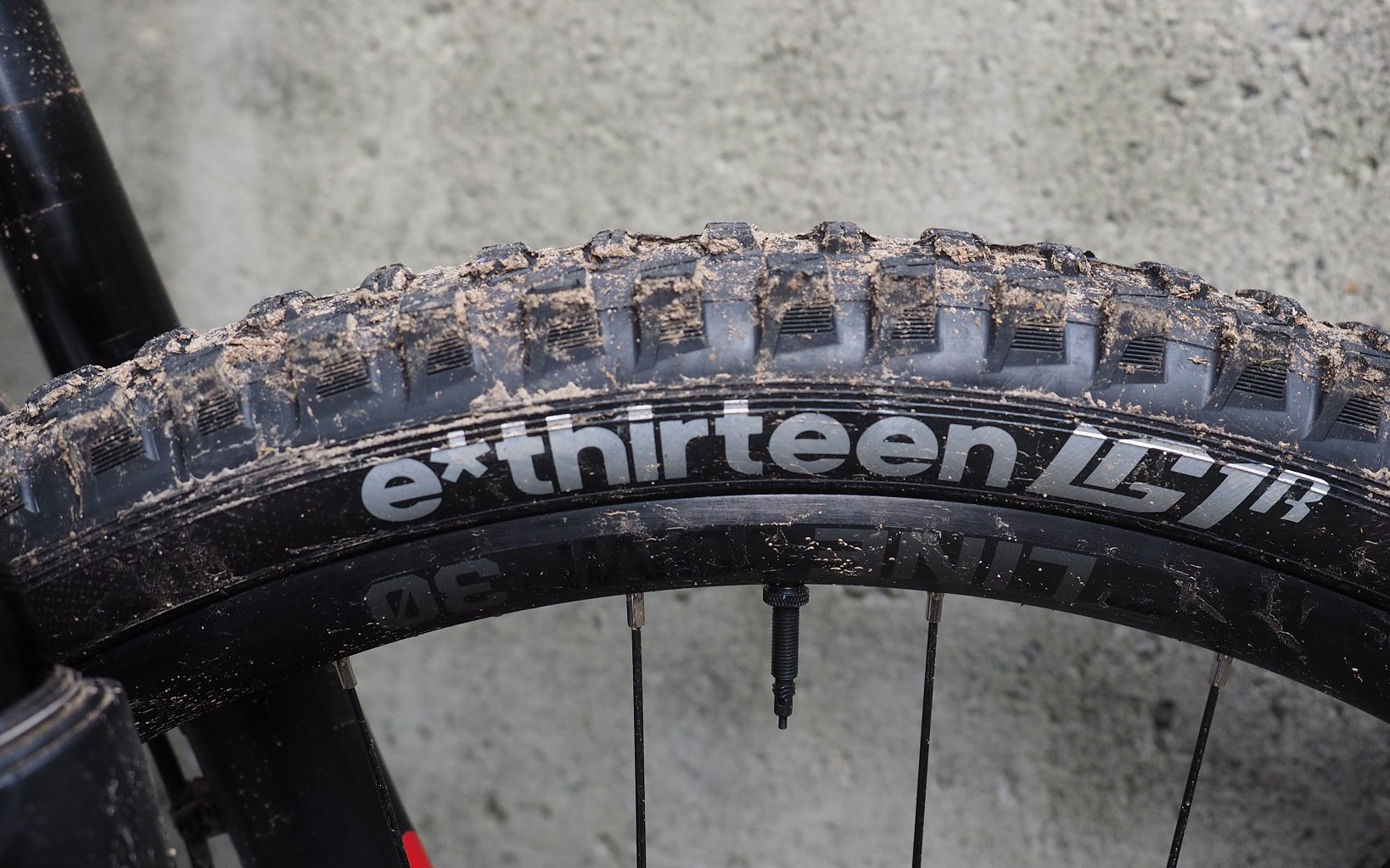 RELEASE | FIRST IMPRESSIONS
New e*thirteen LG1 29 & 27" DH Tires
Rubber
Nine years ago Jeff Steber showcased a 29" prototype of Intense's popular 951 DH bike. It had a 64.5° head tube angle (hta), 463mm chain stays, a 1220mm wheelbase, 180mm travel up front via a modified Manitou Dorado and 190mm of rear wheel travel. With all due respect to Alex Morgan, it was the first production ready 29" DH bike. 
Looking back at photos it's still a thoroughly modern machine. Until this year the same thing holding it back in 2009 was a barrier to racing 29'ers on World Cup DH tracks and the toughest EWS courses. That's of course a lack of suitable rubber.
Good, aggressive, 'Shore-worthy' 29er trail rubber has existed since around 2012 when Maxxis released the Minion DHF 3c. These days our cup runneth over with awesome tires like the Schwalbe Magic Mary, e13 TRS, Bontrager SE4, Maxxis DHR2, etc. But with a plethora of mega aggressive Enduro and DH 29ers hitting the market in 2018 there is still an obvious dearth of true 29" DH tires.
Enter the new dual-ply LG1 Race from e*thirteen, a 1260 gram 29 x 2.35" DH tire that sells for 70 USD.
Tread
The LG1 Race and Plus models, in 27" and 29", share the identical dimensions and tread pattern with e*thirteen's TRS tires. The TRS is a very popular choice with the crew here at NSMB: Cam, AJ, and Dave all love them. 
In my limited experience, they thrive in all the conditions aggressive North Shore trails deliver. The sticky compound grips wet rock faces and armoring as well as anything I've ridden and the tread pattern digs in sensationally braking or cornering in loose conditions even in steep awkward turns. 
All the tires, Race and Plus, share the same slow-rebound tacky rubber compound down the center. It's plush rubber, and certainly not fast rolling, but everyone I know who has used it is impressed by how long the tires last given how sticky they are on the trail. 
Speaking of rolling resistance it's not a total exercise in self-flagellation to pedal the e13 tires uphill but the very square profile puts a lot of rubber in contact with the ground. For comparison's sake, up and down, it's very similar to riding around on a pair of Schwalbe Magic Mary Super Gravity or Maxxis DHR2 Maxx Grip tires. 
Both the LG1 Race and TRS Race tires use a softer rubber compound on the outside knobs. With a very square tire this will maximize grip through multi-directional wet roots, off camber drop-ins and any cornering situation where my bike is leaned over. For the extra 10 USD over the Plus models it's a no-brainer upgrade for me. 
Casing
For the new year, e*thirteen has re-engineered the single-wall TRS tires to improve puncture protection and casing stability and recognized the demand among the class of riders going harder, faster, longer and sicker for a true DH version of their "True 2.35" tire. 

My Marin Rift Zone is a very confident short-travel Shore 29er but I think the 120mm bike actually peed itself a little when I mounted up the dual-ply LG1 race tires. They're mean meat. I've never had an easier tubeless mounting experience than airing these tires up on a pair of Bontrager Line Comp 30 wheels. I just pumped them straight up like I was running tubes and the SNAP as the beads seated up shook my windows. 
The big focus with the new tires is the 'tapered Apex inserts' which make the tire tread more flexible. The idea is that it will increase grip, braking, and cornering in irregular trail sections. The Apex inserts add around 1mm to the thickness of the sidewalls which will also improve durability. The Race tires also have an Aramid layer in the sidewall to prevent punctures and tears.
Apples-to-apples it looks like the extra protection features add about 70 grams over a previous generation 27" TRS Race tire. 
With both tires using a folding bead, the dual-ply construction of the LG1 Race 'only' adds about 160 grams per tire over the 1000 gram TRS Race. Neither is a light weight tire, but anyone pedaling the LG1 uphill is justified in considering a SRAM Eagle upgrade. 
First Impressions
My main barrier to enjoying the LG1 Race tires has been the cold weather. The casing stiffens up considerably when it's chilly and that requires me to dump air pressure to keep them feeling decent on the trail. Locally, I prefer a higher volume 1.5 casing tire in the winter for a more supple feel on the trail. I'm really looking forward to getting out on these tires on a long travel 29er when we get up over 10°C. 
The 2.35" TRS and LG1 Plus tires sell for 60 USD each in both 27" and 29" sizes. The Race versions of each tire come in at 70 USD. Look for a full review of the updated TRS and the LG1 in the future. 

For more information please see e*thirteen 'Wheelgoods' here.