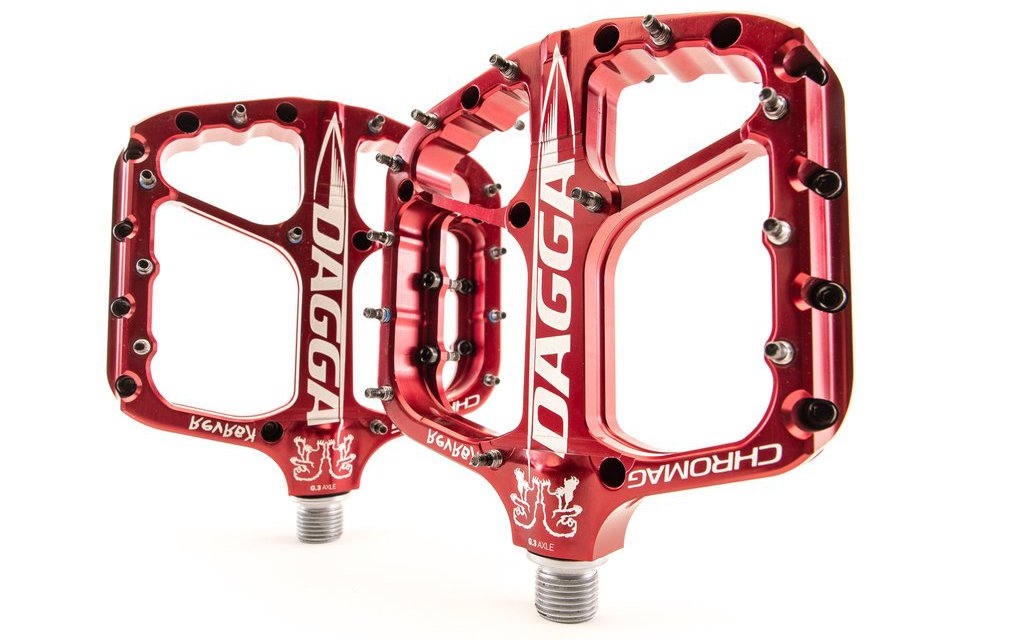 Kovarik Signature Pedal
The New Dagga Flat Pedal from Chromag
Chromag have released a new signature pedal, this time with flat pedal legend, Chris 'Karver' Kovarik. The Dagga model pedal is the first completely new alloy pedal in some years from Chromag and it looks to be a proper flesh eating piece of artillery.

It's a DH pedal at heart that excels in high impact and demanding conditions where traction, size and durability are an asset. – Chromag BIkes

Kovarik approached Chromag to make a pedal that incorporated elements he felt were missing from today's flat pedals. The Dagga features an "extra large Q-factor" and the largest platform in the Chromag line, measuring a whopping 120mm x 115mm on paper. It's made of alloy, has a concave profile and 24 "shin-bitingly long" pins.
The long back mounted pins feature a two-step design that tapers to the tip, which should help them to break off rather than bend and become next to impossible to remove. More important for Kovarik is the traction the pin profile provides, with the narrower tips allowing the pedals to bite into the shoe better. This helps prevent the pins from making feet feel like they're elevated up on top of the pedal.

The body of the pedal is said to be concave, with a narrow point of 14.3mm at the center. The long length of the platform is said to improve fore and aft pressure dissipation while the width provides a stable, wide stance on the bike. They're also recommended to be ridden with thicker soled shoes—think 510 Impact/Pro versus the Freerider line. Of course, there aren't any rules though.

Chromag have used the guts of the rest of their line. The G3 axle system has a hardened, precision ground chromoly axle and wide positioned sealed bearing and DU bushing combination to spread the load. They're also double sealed to help keep muck out from the important parts, helping prolong the life of your investment. All those pins and metal weigh in at a claimed 480 grams, which is very reasonable for a pedal this size.