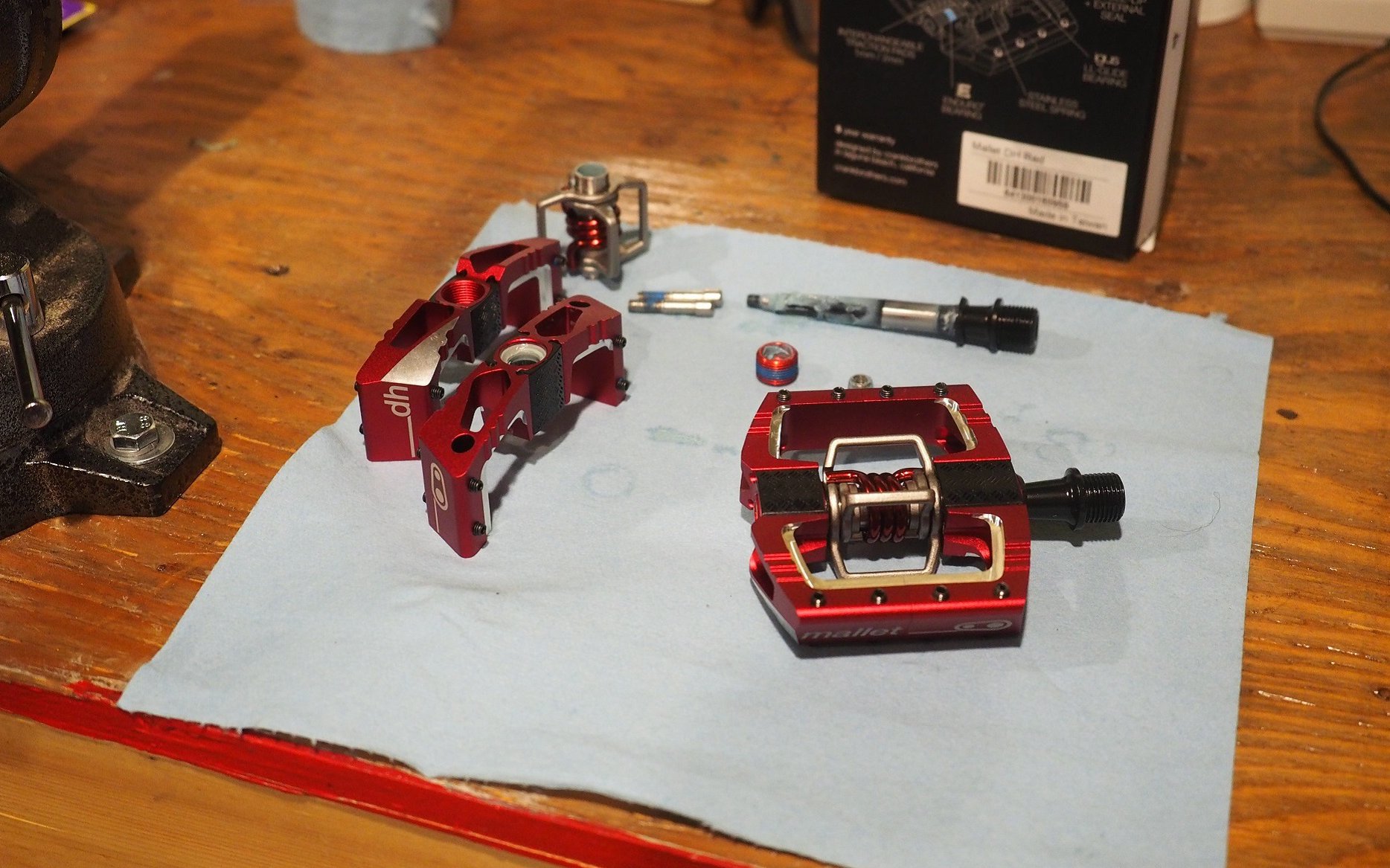 First Look | Teardown
The NEW Crankbrothers Mallet DH Pedal
The New Mallet DH
Igus bushings, Enduro bearings and axles forged from a high quality alloyed structural tool steel, SCM435. Crankbrothers' new Mallet DH pedals aims to combine the fast and simple service of their past clip-in pedals with the quality of the competition.
The pedals feature a concave shape and 8-pins for support whether clipped in or in those un-clipped survival situations. Also new is a three-stage (0, 1mm or 2mm) rubber insert system on either side of the signature stainless steel wing design allowing for macro customization of release traction.
I had sworn off ever again trying a Crankbrothers pedal, or any of their other products years ago. I'm as guilty as anyone of making jokes about what a great job they do with the packaging. But something changed with the opportunity to long-term-test their Highline dropper post. It is still working perfectly on the original seals, key-ways and cartridge with only two <5-minute re-lubes over a couple hundred hours of riding.
I believe the Highline is the overall best dropper post on the market and my experience dictates another look at the other products they are making.
Grievances
I've never loved Crankbrothers more naked Eggbeater design but I rode Mallets for a few years when they were first released. I appreciated the intuitive release and additional foot support. The body of the pedal makes reassuring contact with my shoe when pedaling, and unlike the more diminutive models, I never had an accidental release as a result of an errant rock opening the retention wings.

Unfortunately, I had numerous bearing issues and a couple of sheared axles which led me to avoid the Mallets and refrain from recommending them to customers in the shops I worked at.
That decision was reinforced multiple times by dissatisfied customers; premature wear and even a few ugly failures were the name of the game. Of course mountain biking is a rough game and no pedal design is perfect. I've had more than my share of failures with Shimano pedals in recent years but I certainly haven't witnessed a similar litany of grievances.
I'm not giving Crankbrothers a pass on previous failings. My bias makes me wonder if these pedals will be toast before I need a new set of cleats but I'm also cautiously optimistic after my forementioned Highline experience.
North Shore Pedal Prep
As I demonstrated with the HT X2 pedals I reviewed, I prep all of my pedals for a life of abuse here on the North Shore. Sustained, punchy, often standing climbs, pounding down lots of amazing technical single track and of course the extended wet season with gritty crap that manages to penetrate the tightest seals. At times this has invited debate about what is fair from a review perspective but in this case I feel additionally justified in my diligence because of how damn easy these pedals are to take apart and pump full of grease. Even with repacking the bearings the process took five minutes total while taking photos and with my toddler "helping."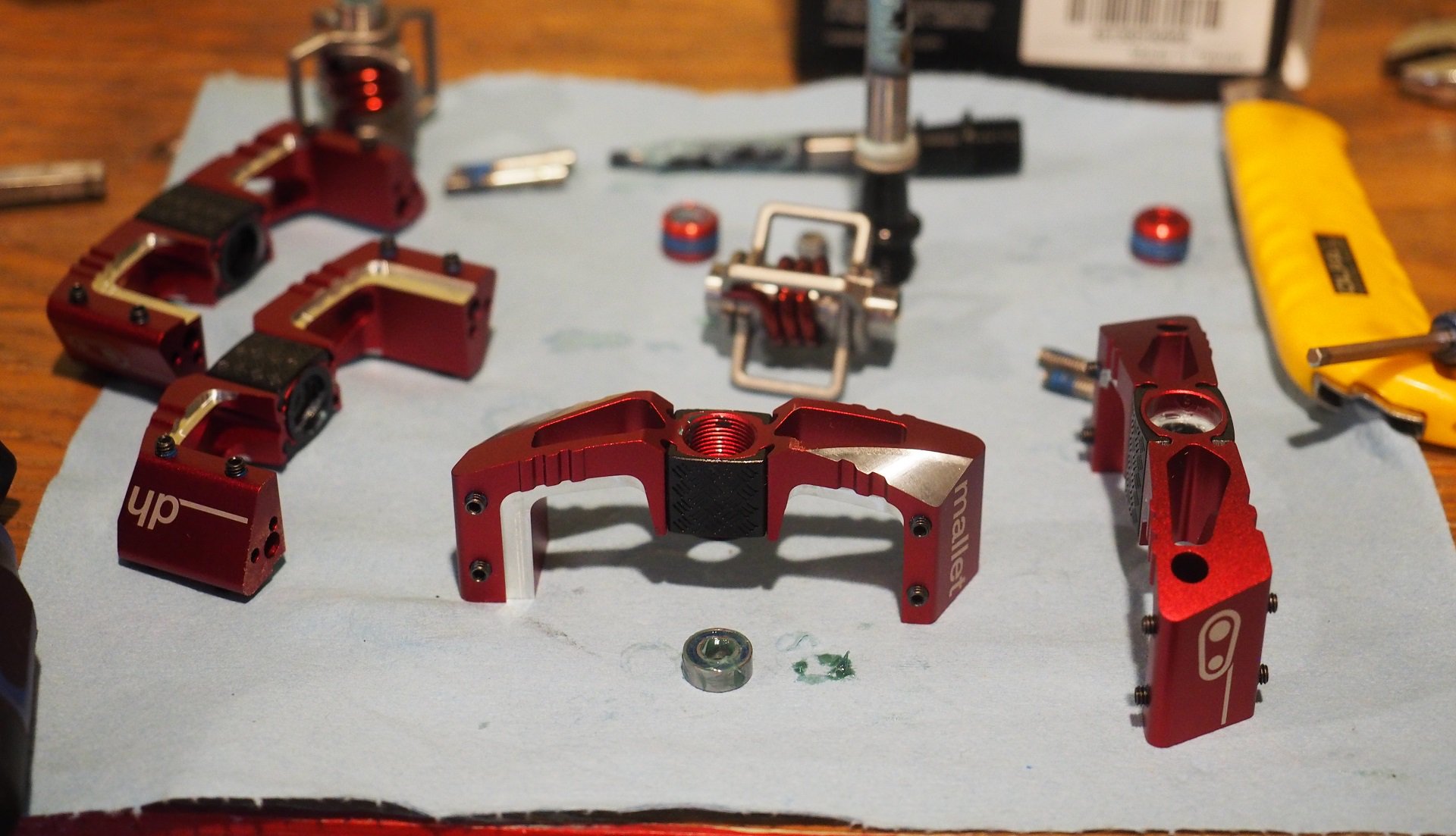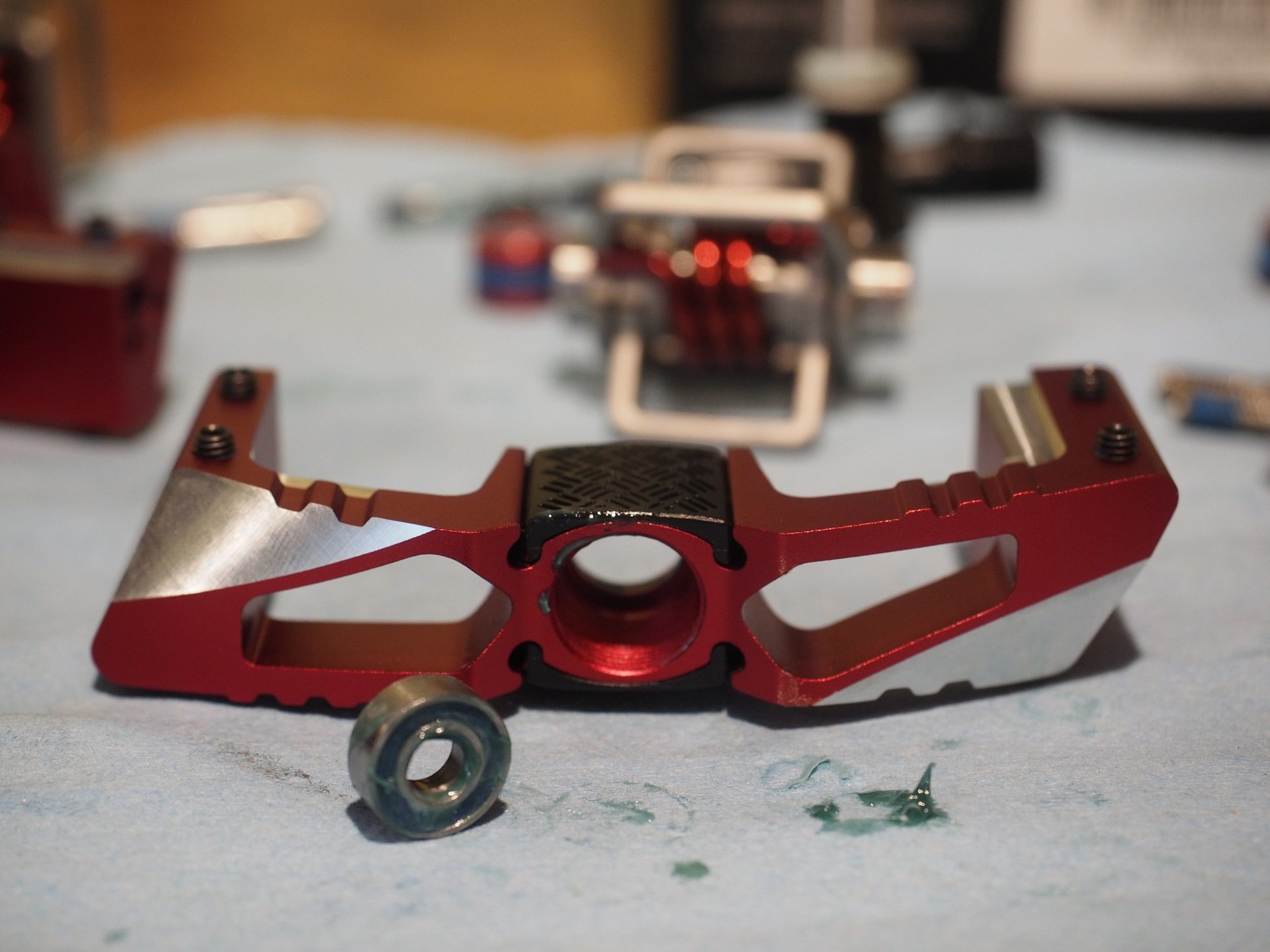 A 6mm hey key removes the end cap. An 8mm socket removes the axle nut. Two T-25 bolts separate the body and a Crankbrothers rebuild kit includes a shaft for pressing in and out the bearing with no damage.
Both the bearing and IGUS bushing ("LL Glide Bearing") are contained within the Mallet DH's outer body halves. The clip-in mechanism itself consists of a set of stainless steel wings and a stainless steel spring mounted on a stainless steel shaft which interfaces with either pedal half and then the tool steel axle travels through the entire assembly.
First Impressions & Expectations
Engagement is significantly more positive than I remember from Crankbrothers pedals I've ridden in the past but the release is still instant and intuitive. It takes some getting used to compared to my almost-maxed tension Shimano M540 pedals or the minimum-tension-is-still-firm HT X2s but I've had no accidental releases and I'm happy with performance to date.
I've left all the traction pins in but that may change once I try a few different shoes with the Mallet DH. I've tried removing the traction pads, the stock 1 mm model and the 2 mm and I'm currently running the 1mm. The traction pad uses friction to add a bit more retention before the spring releases and it's a welcome improvement.
The pedals come with additional traction pads and with past pedals and as in the past, replacement parts are readily available. Crankbrothers can't be faulted in this department.
The pedals are covered by a five-year warranty for pedal components that aren't consumables so my expectation is that the clip-in mechanism, axle and body will last five years.
The bearing and bushing are very easy to replace and the refresh kit is inexpensive. A big part of my review will hinge on how often those parts need to be replaced vs. how easy it is to do. Personally I'd prefer easy service more often (and parts being available) but I know for a lot of riders the preference is to ride a product until it dies and then replace it so I will look at the Mallet DH from both perspectives.
I'll follow up when it is time to install the first rebuild kit.
The Mallet DH sells for $165 USD and weighs (claimed) 479g. .
The Mallet DH 11 boasts titanium wings and sells for $350 USD and weighs (claimed) 445g.
For more information please check here.