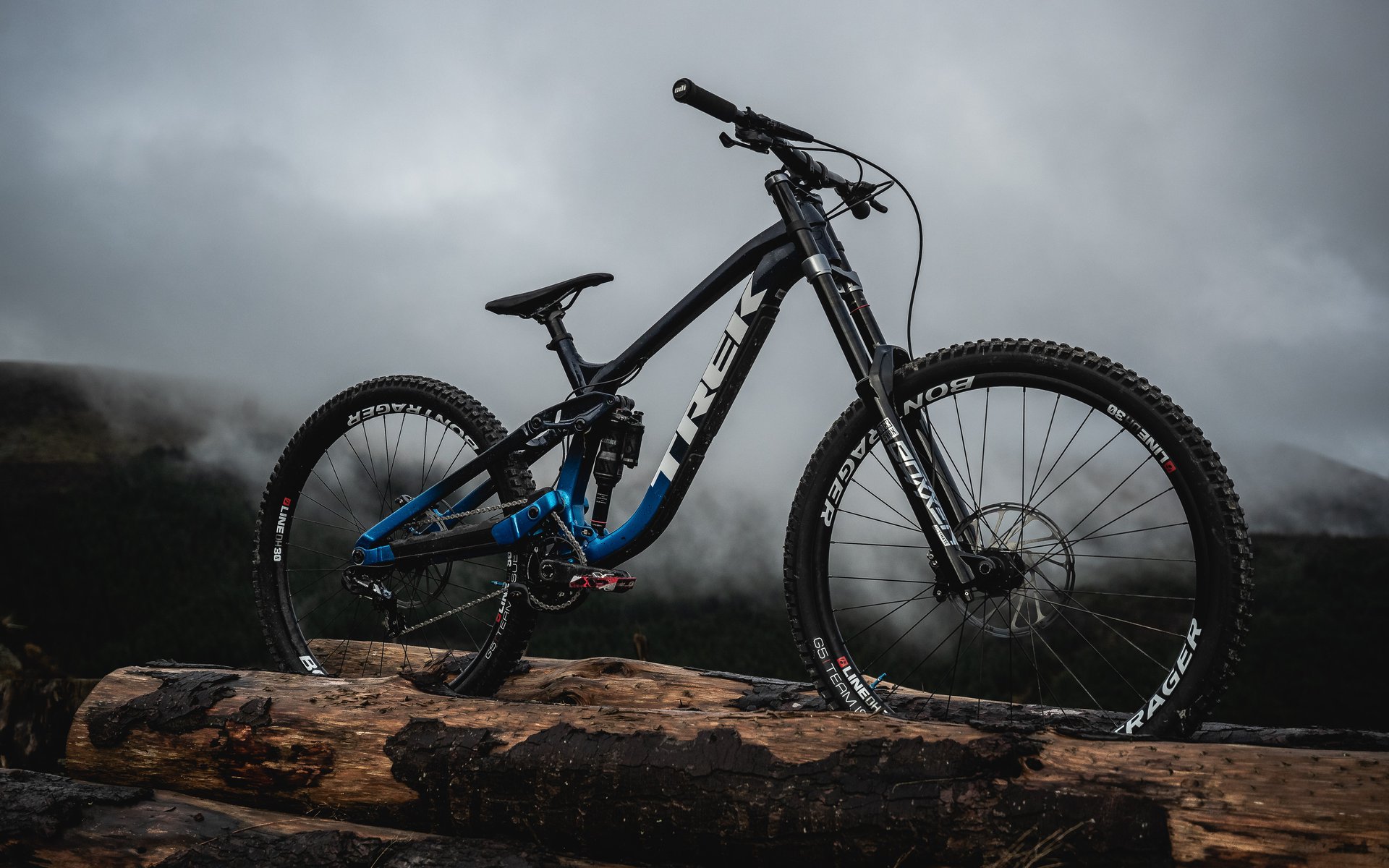 FIRST LOOK
The New 2022 Trek Session
Big news today folks: the King is dead. Trek has finished production of the most successful downhill bike ever created. But don't panic, they're replacing it with an all new Session. This isn't one of those 'all new for 2022' bikes that's just a fresh paint job. Oh no, this is for real. This time it's an all new for 2022 bike, and it looks good. Long live the King!
Coleman's Notes on the 2022 Trek Session
All new downhill bike with 200 mm travel.
High pivot, idler pulley layout.
Longer wheelbases, with both front and rear center increasing with each size.
Wheel size options: full 29er, mullet or full 27.5" all with the same frame.
Adjustable progression and BB height with Mino Links.
Available in aluminum only.
Compatible with internal and external cable routing.
But first a bit of history. In the marketing blurb about the new Session, Trek got a bit nostalgic. Trek took us for a walk down memory lane starting with some of Trek's downhill bikes from the early 2000s. Back in 2003 Trek had a downhill bike called the Diesel, which was a high pivot bike, and had an idler pulley. North Vancouver's own Andrew Shandro rode one to second place at the Red Bull Rampage in 2003. I remember lusting over one of those. Fast forward on to 2006 and Trek releases the Session 10, once again high pivot with an idler pulley. Come the late 2000s Trek developed the Active Brake Pivot (ABP) downhill bike we'd all say, "looks like a Session". At this point Trek leaves high pivots and idler pulleys behind. Trek hasn't come out and said it, but I get the sense they've brought up this legacy of high pivot idler pulley bikes because they don't want folks to think they're just jumping onto the idler pulley bandwagon.
So if Trek's done all this rearward axle path and idler pulley stuff before, why the big change then, and why now? I mean, the old Session was plenty capable, and won more World Cups than anything else, so why fix what ain't broke? Trek explained that they'd taken the current Session as far as it could go. They were looking for a downhill bike that had better square bump compliance and better traction without giving up any of the other qualities that make the current Session the fantastic downhill bike it was. For 2022 the Trek Session merges the existing ABP layout with a high pivot, and an idler pulley. Trek has placed the idler pulley off the axis of the high pivot such that there is a mild stiffening of the suspension due to chain tension, which is used to limit the amount of bob as you pedal the bike. With ABP still being used, the 2022 Trek Session should have more neutral braking characteristics than other high pivot idler downhill bikes currently on the market. I think it's an elegant layout that gives Trek a lot of flexibility in tuning the character of the new Session.
Geometry
The 2022 Trek Session will come in three sizes: R1, R2 and R3. As expected the wheelbases have grown and they now measure 1,255 mm for the R1 up to 1,321 mm for the R3. The head angle is a hair slacker at 63°, and bottom bracket height remains at 350mm. The big story, however, is that the chainstay length changes with each size. The R1's chain stays measure 439mm, for the R2 they're 445mm and the R3 has a 452mm chain stay length. I think this makes loads of sense, and I think Trek have picked good numbers that should result in all the Session's sizes feeling well-balanced.
Wheel Sizes
The 2022 Trek Session can be run as a full 29er, a mullet 29" / 27.5" or 27.5" front and back. The complete builds will all come built as full 29ers. To convert the bike to mullet, you replace the rear wheel, and flip the Mino Link in the seat stays to accommodate. To convert a complete bike to full 27.5" you'll need to replace the wheels and purchase the lower headset cup extender (you'll keep the 29er fork). The framesets will come with the lower headset cup extender. I really like the idea of being able to run the bike in full 29 or mullet with an easy switch just requiring you to change the rear wheel and flipping a chip. It sounds like Trek's Factory Team were liking the mullet option in testing. Both Reece Wilson and Loris Vergier commented they'd likely be on the mullet option at most of the races this year.
Adjustable Progression
Trek talked about how the Factory Team were often changing links on the existing Session to tailor the frame progression for different types of shocks, different riding styles, and different courses. Trek has implemented a Mino Link into the lower shock mount that varies the frame progression between 20% and 25%.
Frame Material
Trek has made the decision to offer the 2022 Trek Session in aluminum only. I thought this was a surprising move. Trek claims the Factory Team was so impressed with how this bike rode as is, that there was no burning desire for a carbon version. Apparently Trek was happy with the levels of stiffness the aluminum material offered, liked the ride quality, and decided to move forward with just the aluminum version.
Frame Details
As to be expected from Trek the new Session has all the bells and whistles you'd want to see. There is allowance for both external and internal cable routing. This can be handy for that privateer racer looking to slap a spare rear brake on their bike at a race without needing to bleed the brake. The chainstay protection looks nicely implemented. There is a replaceable downtube protector that looks slick as well.
Session 8 Build and Pricing
The Trek Session 8 build will have a Boxxer Select, Fox Coil shock, Bontrager Line DH 30 wheels, SRAM GX DH drivetrain, and Code R brakes. Pricing for the Trek Session 8 is $6,499 CDN or $4,999 USD.
Session 9 Build and Pricing
The Trek Session 9 build will have a Boxxer Ultimate fork, Super Deluxe Ultimate air shock, Bontrager Line DH 30 wheels, SRAM XO1 DH drivetrain, Code RSC brakes, carbon cranks and carbon bar. Pricing for the Trek Session 9 is $8,999 CDN or $6,999 USD.
Session Frameset
The frameset appears to come in the dark blue paint scheme with a Fox DHX Coil shock and the lower headset cup extender so you can run the bike as a full 27.5" if you choose. Pricing for the frameset is $3,999 CDN or $2,999 USD.
There were plenty of spy photos of the new Trek Session out before the launch, so we all sort of knew this was coming. But I'm going to say I'm pleasantly surprised with what Trek is launching. The devil's in the details, and without having seen one in the flesh, it looks like Trek's new Session has a ton of great features that should make it a versatile downhill bike. I really like the concept of rearward axle path bikes, and I think the way Trek have combined a milder rearward axle path than some of the other high pivot bikes, with their ABP system to ensure neutral brake performance is a well-balanced and smart play. I like the details implemented like the rear center length increasing with frame size, and the adjustability on geometry, wheel size, and progressivity. I think it looks like a slick overall package, and I certainly hope I get to try one out.