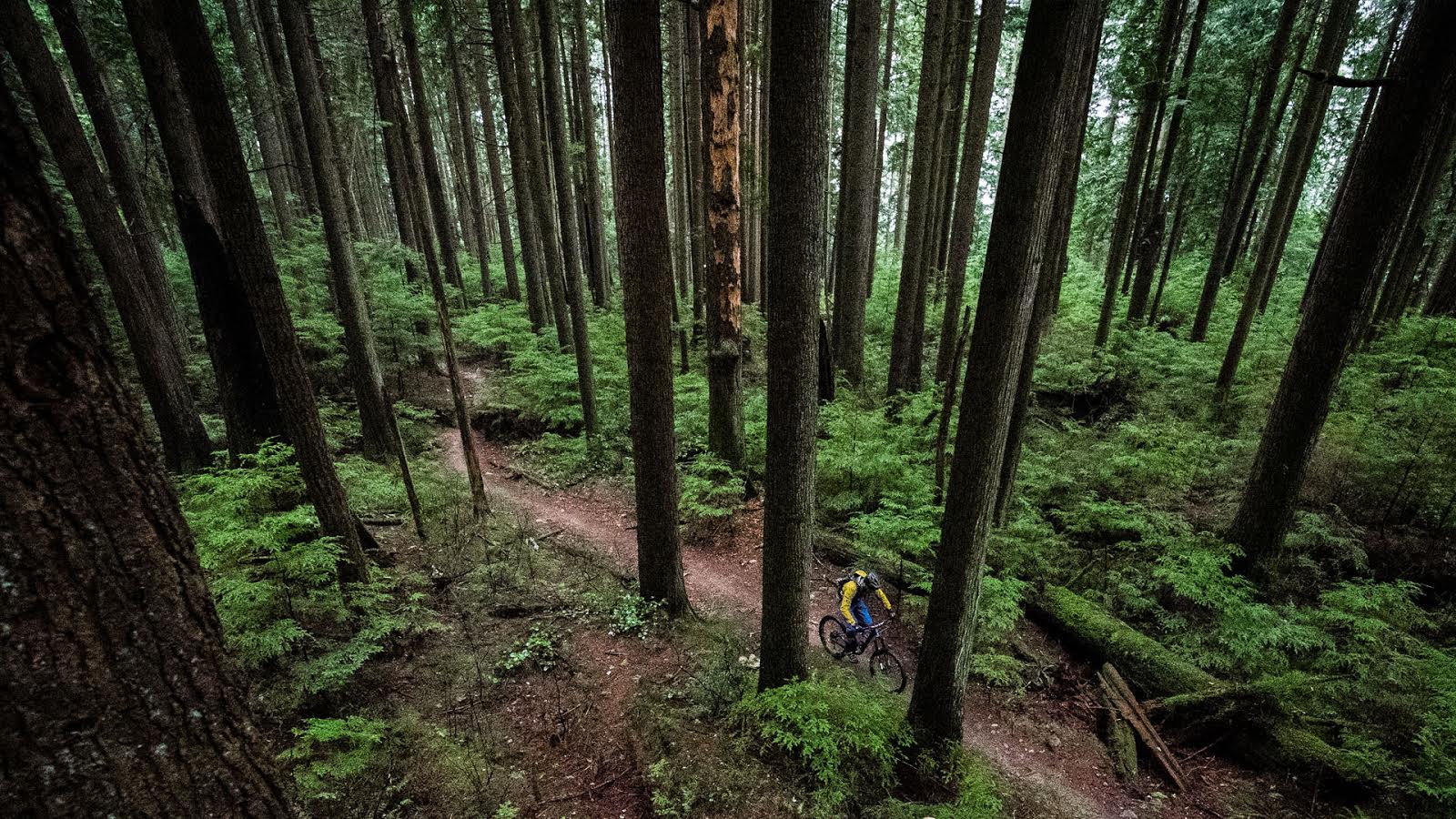 Naked on Quadra
When we were planning our trip to Quadra, the anticipation of getting some brown pow had me pretty psyched but what really fascinated me was a little framebuilder located out in one of the quieter coves. "This guy Sam Whittingham and Naked Bicycles, you gotta check it out" is all my buddy told me, in an almost cryptic way. And sure enough, Sam's not only an accomplished framebuilder, but he's taken home multiple trophies from the North American Handmade Bicycle Show, and he holds even more bicycle land speed records. When you start looking into it all you start to wonder how deep the rabbit hole goes. So, needless to say, I was stoked when Sam offered to show us around his home trails and crack some cold ones for a little Q&A.
NSMB: So where did this all begin? Where did you begin?
Sam: Quadra Island is where I was born. Andrea was born across the water in Campbell River. The shop that I build bikes out of was my father's woodworking shop 20 years ago. It is a fantastic place to live, work, and ride. I have access to hours of wicked single track straight out my back door. We are definitely secluded here but many of our customers seem to like the adventure of coming for a visit and a bit of a holiday. No plans to move at this point.
NSMB: But your profession as a framebuilder was hatched when you were living in Victoria. How did that come about?
Sam: I always had it in my mind to build bikes but had no idea where to start. It wasn't until I had a part time job at Fairfield Bikes in Victoria about 16 years ago that I really started to make a plan. They had an old jig gathering dust in the basement. A few of us shop monkeys started tinkering and making a few frames. I just kept going after that.
NSMB: Went for professional training at that point? Or just went for it?
Sam: I'm mostly self-taught. I asked a lot of questions early on and still do. I love discovering new ways of doing things. I think what I love about working in any craft is that I continue to learn every day. Always trying to make the next bike better than the last.
NSMB: So a bit of trial and error, probably with plenty of error. Thinking back, what was the first bike you built that you'd consider a success? Any idea where it is today?
Sam: My best friend in university, Neil Carson, has the very first bike I ever built. I didn't even have the money for a tubeset so Neil financed the materials and paint. I got to practice and he got a new bike. He still rides this bike almost daily and it's still going strong 15 years later.
NSMB: Nice! The timelessness and durability of steel does give it great longevity. Quite a contrast to some of the industry 'innovations' that get phased out before they even get dialed in. So does that mean fewer repeat customers, or more? Ever had a dissatisfied customer?
Sam: Most of our customers have become good friends and many have become great friends. I try very hard to bring peoples' bicycle dreams to reality. Building bikes has become the fast part. Working with each client and developing a good working relationship is the real art. Because we build a small number of bikes, and all of them custom, this is the real service we offer. Every once in awhile mistakes happen, this is human nature. This is sometimes my fault and sometimes the customer's. If the relationship is already healthy then we resolve it in the most common sense way and move on. I don't believe the customer is always right just as I don't believe that I am always right.
NSMB: And that really is a personal touch that's vanished from many areas of our consumerism, not just bikes. We barely have any connection to the origin of many of our goods, let alone a relationship with the people making them. So with that level of service and customization, you must end up with some eccentric people wanting eccentric bikes. Anything in particular?
Sam: The most unique project currently is a 29+ hardtail using the new 29 x 3″ massive tires and rims made by Surly. These tires open a whole new door of fun and ride potential. I can't wait to shred some trail with these monsters!
NSMB: I don't even know where to go with that. I still have some 3" Gazzi's in the closet! What about the Gates belt drive? A one-off, or does it have some merit for Joe Mtnbiker?
Sam: The Gates belt drive is a great product. Definitely not a one-off. This is a brilliant solution for everyday commuter bikes especially. We are doing quite a number of these now. I run this on my SS mountain bike and love it. http://www.carbondrivesystems.com/
NSMB: Yeah you do seem to haul ass on that. But I noticed that you didn't attend NAHBS this year (North American Handmade Bicycle Show). Are you getting burned out on what is effectively becoming a tradeshow?
Sam: Bike shows are fun but they eat up a lot of time. We had some great success with awards and making a name for ourselves over the past few years but it feels like a good time to buckle down and get some customer bikes out the door.
NSMB: So what kinds of customer bikes are rolling out your door these days?
Sam: We build a pretty broad mix of bikes but some models seem to be extra popular. Our curvy single speed hardtail 29er is definitely a leader. Probably because this is what I really love to ride. I have spent a lot of time tailoring this machine to be fast, flowy, and fun. Especially in our gnarly west coast single track. I do a lot of road adventure bikes and cyclocross bikes as well. Bikes that are built to be your faithful companion no matter what kind of riding.
NSMB: And what's your typical price range, if you don't mind me asking? I've never had a custom frame made so I really have no idea.
Sam: We usually build about 50 bikes per year and price ranges from $2000 for a simple frame or about $3500-5000 for a complete bike and of course going up from there depending on choices.
NSMB: That's a lot more reasonable than the price I had in mind. I'm guessing that's for steel. Do you make many aluminum frames? Titanium?
Sam: Steel is definitely the main material we build with. It still remains the strongest and most versatile option. We are building with a lot with the new super high strength stainless alloys. This has similar properties to the very best steel alloys but without the need for paint. We also build with Titanium which requires much more care in welding. The process required to weld Titanium is about 3 times as long as for steel.
NSMB: Why is Ti harder to weld?
Sam: Ti is a wonderful material but VERY temperamental. Steel requires basic equipment and pretty simple cleaning before welding and such. In contrast, Ti requires perfectly cleaned material inside and out. Also there can be zero oxygen present in the weld area while any part is over a certain temperature. This requires an elaborate setup of purging lines and heat sinks to deliver purge gas (argon) to the weld area. Titanium also is much more prone to warping while welding and so has to be done in stages to allow cooling.
NSMB: Just wait until customers start asking for carbotanium…
---
That's it for Part I of our interview with Sam Whittingham. Stay tuned for Part II, where we get into Sam's pursuit of speed and his title of "Fastest Man on Earth"…