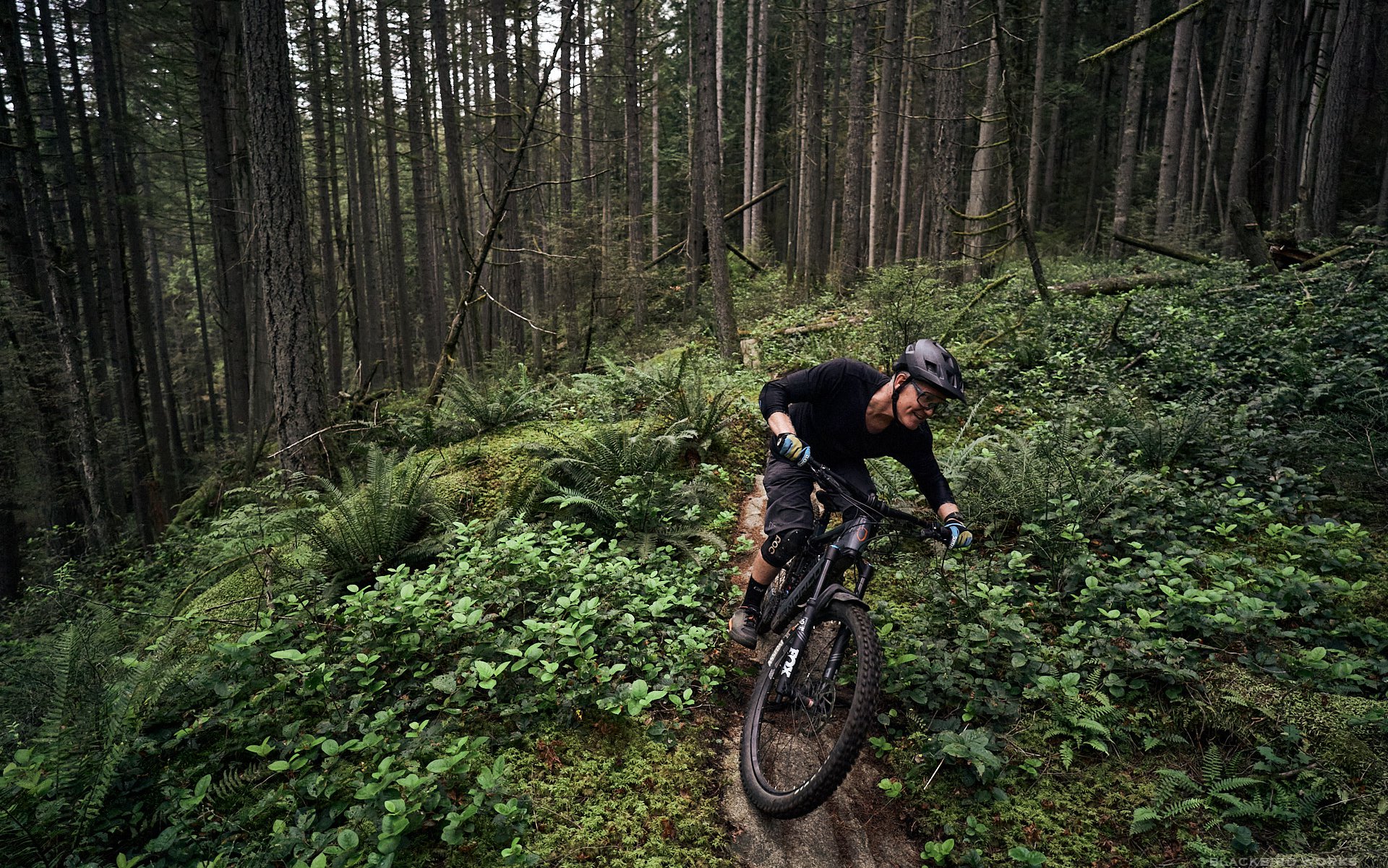 LONG TERM REVIEW (sort of)
Norco VLT C2 eMTB Ridden
E yes – E no?
When the 'brain trust' at nsmb.com had two E bikes in the test fleet, I wasn't the slightest bit interested in riding them; not that they were letting me pry them from their tiny clammy hands. When I started to do maintenance on trails that take about an hour to climb to from my house I started to think, Hmmm, maybe a little E bump, as my friend Swayze says, might give me more energy for trail work and the ride down afterwards. When more bikes showed up I got my paws on the Norco. I seemed to spend more of my time on the Norco Range VLT C2 even after those arrived, mostly because Pete and Cam ride XL which doesn't fit me.

I don't like eMTBs sheepishly nor do I like them unabashedly so I guess I am somewhere in between.
Cam and I feel mostly the same way about E mountain bikes. His take from his 'not a review' of the Santa Cruz Heckler E-bike:
I love mountain bikes. I don't love e-bikes. I enjoy riding eMTBs because of what they offer; more speed climbing and more range, and sometimes rides that take less time so I can shoe-horn one in as a bonus. I am a mountain biker who sometimes likes to ride an eMTB, but mostly I prefer riding under my own meagre power. I reject the prediction I've seen in some other publications that eMTBs are going to make mountain bikes obsolete. I'll be turning the pedals with my own power for as long as I'm able, but I may continue to occasionally ride an electric bike off road.
If you don't like eMTBs, I'm fine with that. I only like them sheepishly anyway.
My take:
What he said but I am more interested in how it helps me with trail work. At one point I was climbing the Range VLT up a fire road with a bucket hanging on one grip filled with an axe, loppers and pulaski, and against the grip in my other hand was a shovel and rake. Without the boost of the Range VLT there is no way I would attempt that. The usual way to get that kind of load to the trail work location is to hike it up and down. But why hike up and miss out on riding down? I also used the bike to tow my son up to the top trails on a local mountain as he was just getting back into riding and his fitness wasn't up for that kind of cardio. Another time I drove up with him, we rode down, then I E-biked back up the road to retrieve the car. The motor helped us get more trail time, but were we more fulfilled? I doubt it but more on fulfilment through technology later (kinda feels like an Uncle Dave rant waiting to be written). I don't like eMTBs sheepishly nor do I like them unabashedly so I guess I am somewhere in between.

It was a great novelty to fly up the fire road and climb singletrack leaving a trail of vapour drops behind as we passed the plebeian masses with middle finger raised in our E-salute.
The Ride Up
I used the Range as a ride-only option* a few times. The first was a 2.5-hour epic e-fest involving as many trails as possible with Cam. I couldn't believe how exhausted I was and how hard it was to keep up to Cam on his E Heckler. We realized later that we needed to change the settings using Shimano's E-TUBE Project app. After that I was a bit closer on rides with him but he was still having an easier time of it, and he is a lazy ass mofo who has no right to beat me on climbs. Let's see if he leaves that in when he edits this mess. Or what acerbic wit his red English teacher correction pen bleeds on it.
*with trail building involved
It was a great novelty to fly up the fire road and climb singletrack leaving a trail of vapour drops behind as we passed the plebeian masses with middle finger raised in our E-salute. Actually, we were always waiting for the right moment to pass, greeting riders pleasantly, laughing at their comments and being nice with our guilt. One day Cam and I had the E-bikes and two of our buddies had their mountain bikes. We hooked ropes to the seat posts of the E-bikes and towed our buddies up the road. Cam's battery was not working properly so I transferred his rope to mine and I towed my two lazy friends (no names mentioned but rhymes with Bavin Bennedy and Bike Ballace) up the road with ease. It drained the battery much faster than normal but it was a fun novelty… for them.
On another ride Cam and I started at his place, rode through neighbourhoods, back alleys and pathways for about 30 minutes to and from the trails. It was such an enjoyable experience to access the trails that way. It reminded me of how I used to bike to the Shore and back. My first Shore ride was 26 years ago with Cam and Mike Wallace. We started near UBC and rode to the 11 km mark on Cypress Mountain, rode down the trails and back again. The 60-ish km ride was probably 3 hours of road and only 30 minutes of trail.
I'm not saying I miss all that road time but it is a nice way to get out of the car: looking at the picture through a windshield vs being in the picture. From one of my top 5 desert island reads:
In a car you're always in a compartment, and because you're used to it you don't realize that through that car window everything you see is just more TV. You're a passive observer and it is all moving by you boringly in a frame. On a cycle the frame is gone. You're completely in contact with it all. You're in the scene, not just watching it anymore, and the sense of presence is overwhelming.
― Robert M. Pirsig, Zen and the Art of Motorcycle Maintenance: An Inquiry Into Values
And finally, my favourite E-ride was a classic version of what is often a Shore shuttle to the top of one of our local mountains and down a classic trail. The drive up and then retrieval up and down amounts to about an hour of driving. With the E-bike it was an easy, but fun, 26 minutes to the trailhead and then 10 minutes back to the car. That is not such a huge savings but (and who doesn't like big buts) the ride down is nowhere near as good as it is on my mountain bike. To make matters worse, the Norco slid off a greasy green cedar bridge, throwing me like a skipped stone along the rungs dislocating my finger in the process. My buddy called it E-karma. I agreed.
I have taken to doing the no shuttle way up to this trail on my Specialized Enduro by hike-a-biking up the access fire road then climbing back to the car afterwards. It takes an hour and a half but I avoid driving for an hour and riding down from the top parking spot on the crappy access road to get to the trailhead (15 minutes). This full human-powered method is about 15 minutes more than the drive and is both better exercise and mentally beneficial - and I am in the woods as opposed to in a vehicle on the road.
Other than these rides and a few times towing guys, the majority of my rides on the Range VLT were for trail work days. I was hyper-aware of passing others on climb trails by not pressuring them to pull over. It is so much easier to restart on an E-bike. Similar to how it is easier for a hiker or runner to step to the side and allow a biker to pass than for a biker to do the same.
I got a lot of comments, mostly "I wish I had one" a few "cheater" but the best was a snide comment about the motor taking away from the biking experience. I had my builders pack on and pulaski handle sticking out the top and as I passed I said, "Yes, I agree, that's why I usually just use it for trail work." To which he replied, "OH…well that is different. Thank you for the work." I found that it was nice to E-bike up to get to the top of the trail I was working on without having to change sweaty clothes and to have energy to work and then to enjoy the ride down.
The Ride Down
This is where E-bikes need major work (well, the three I rode, anyway: Norco Range VLT, Rocky Mountain Instinct Powerplay and Trek Rail 9.8 XT). The weight is great for staying planted to the ground, offering up considerable traction, but it makes it hard to maneuver when compared to a mountain bike. I found the bike cumbersome on the steeps as I got used to the extra weight getting away from me.
It didn't take long to rein that in and I started to enjoy the downhills more. I found my shoulders and elbows would hurt if I did 3 or 4 E-rides in a week. I heard from a friend who rode an e-bike exclusively for at least 2 years that he and another mostly E-biker were back on their mountain bikes due to associated shoulder and back injuries from E-riding. Joint pain aside, the Range VLT felt clunky, I don't know if that is the right word but put another way it was fun going down but nowhere as fun as my Enduro. It lacked playfulness, without the ability to easily change directions, jump and maneuver through tight spots. The suspension did not feel right as there was a CSU issue; so much so that I thought the lowers were loose.
I sent the bike back to Norco to get it checked and they did a full tune and sent the 180mm Fox 36 Performance Elite to Fox where Naz worked his magic. I asked Naz what voodoo he performed to make such a difference and this is his response: "Just the standard service bro, I would love to tell you that I did some magical stuff but it was just the CSU, seals, foam rings and love."
I had Tim Coleman set up the fork and 170 mm Fox Performance Elite DHX2 shock. The combo of Naz's tune and Tim's settings made it feel like I was riding another bike. The fork made the ride more like my Enduro, it was plush, absorbed hits smoothly and allowed me to ride way faster and with more control than any rides I'd had on the Norco beforehand. I got one more ride on the newly tuned bike before I gave it back to Norco and I rode my usual trails with extra speed and control. It amazed me how the tune changed the ride and also my mind. I could definitely enjoy owning one of these rigs.
Tech Stuff from a not so Techie
Head unit - the Shimano Steps E8000 display was excellent, battery power and ride modes were well displayed and changing power modes was simple.
Walk mode – it did not work even after much Googling and trying the advice listed. It seems like an issue with this motor. It was definitely a beast to push up but manageable. Carrying it on my back uphill for ten minutes so that Deniz 'Paparazzi' Merdano could get his precious pics was a spine crusher but one must suffer for his art.
Startup error – I had the same problem that Cam did on his Heckler where the bike would not start and the error code could be rectified by ensuring feet were not on pedals during the start-up process. Simple enough fix, but slightly annoying.
E-Tube settings - The Shimano E-Tube app helped me adjust the settings to the highest rate possible. The Norco was slower than the other E-bikes in the stable. I get that the Heckler was faster as it is 10 pounds lighter but the Trek and Powerplay were just as hefty so the only conclusion I could get was the Norco's 27.5-inch wheels were that much slower than the 29-inch Trek and Rocky wheels. Perhaps some tech savvy commenters will enlighten us to other reasons. Or in the end does it matter how much faster one can cheat?
N + 1E?*
Yeah - in a heartbeat - if the price was right. I told Norco I would buy the Range off them for 2K (MSRP is $8499 CAD). Laughter ensued and I have been pedaling like a human since. Until the next E-ride shows up in the stable I'll just have to suffer on my $7000 carbon dream machine Enduro. I was thinking I could rationalize it (from my elbow pad article) if I used it to commute to work but the entry cost is just too high to offset the car savings. As for the extra trail work I get done, well that is definitely a factor but really, it's just an extra bit of hiking instead. Until the costs come way down, or Sieneke at Norco realizes I deserve this rig at a low budget rate, I'm doing what I have been enjoying for over 25 years: riding mountain bikes and loving it.
*N+1 is the number of bikes you should own, where N = the number of bikes you currently own. 1E is one with E-roids. Ed.