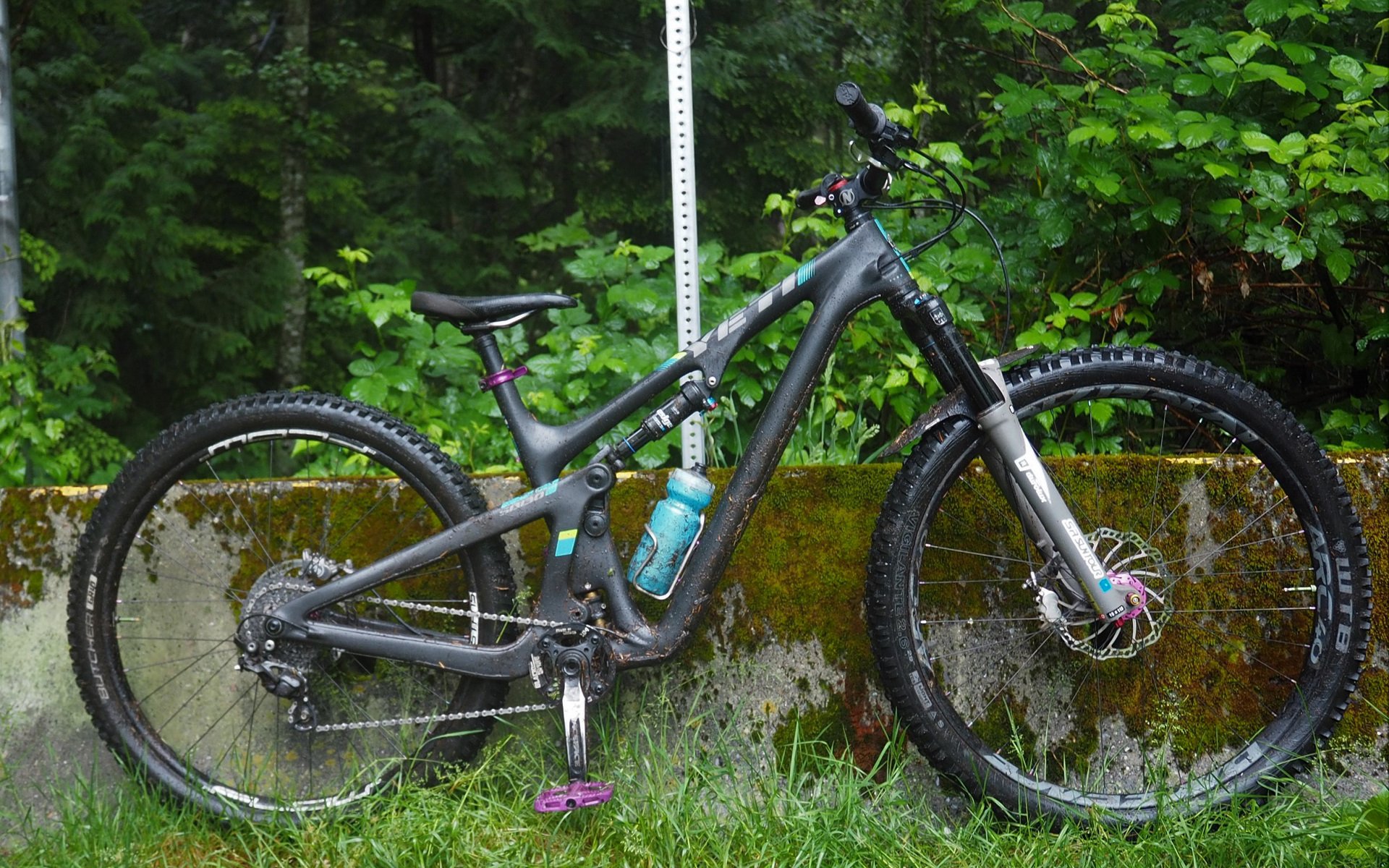 EDITORIAL
My Yeti SB104 - Sheared Pedal Pins & Terrified Grins
Dreaming Before Brunch
Long, long before Intense blenderized the Tazer name, it was a badge worn by the sweetest short-travel slalom & 4X bike ever produced. It combined the aggressive lines and manners of the famous monocoque M1 DH-bikes with a Horst Link suspension configuration. It was worthy of lust even for the masses of riders who would never want something so purpose-built and the few folks I know who owned one still wax poetic about them today.
And, if my Yeti SB104 Before Brunch Ride (BBR) seems like a ridiculous hodgepodge of ideas then let me begin by saying that it was that lust for a past bicycle experience that pushed me to undertake this project. I think of it as a happy failure. It was an experience that was at times terrifying for me and hilarious for my compatriots. I smashed the sh*t out of a 28t bashring that was missing more aluminum after a week than years of prior use. I trashed my favorite OneUp Composite pedals. I laughed a lot and screamed a little.
The SB104 BBR started life as a used Yeti SB130 frame that I borrowed from the shop I was turning wrenches at. The goal was to build an aggressive, low-slung, short travel 4X-style bike for riding North Shore trails. I had just come off of testing the Banshee Titan as a mullet and I wanted to get the same experience out of a bike with 4-5" of travel.
The project started with the high-functioning, budget-friendly SR Suntour Edge shock I was testing. The 190x40mm short reduced eye-to-eye which slacked out the head tube angle (HTA), lowered the bottom bracket, and decreased the rear travel to somewhere around 100mm. Yes, the 104mm moniker is pulled straight out of my ass and absolutely mocking companies that list hilarious travel numbers like 134mm or 167mm in their bike model names.
Throw on the SR Suntour Durolux EQ off the front of my hardtail, dropped to 120mm, the mullet rear wheel I was running on Titan, and an IS Slack-R Angelset (-1.5°) from 9Point8 and Yeti got low, low, low, low, low, low, low, low. It was necessary to run a micro-drive setup with a 28t ring up front and a bashring just to make climbing possible and I routinely scraped the pedals any time there was a technical element on climbs. That's running less than 20% sag but then the bottom bracket height was a CM lower than my hardtail at 305mm, static.
My first ride was dizzying deliria and a definitive example of why you never jump on Oprah's couch before taking a second sober look. I cruised up a semi-smooth single track that I know too well and then flew down an equally unobtrusive downhill jetting through corners while 'Danger Zone' played in my head.
Truthfully, it set the tone for my entire experiment. Whether trails were smooth, or technical, I could rocket down them with a big smile on my face, for most of the run, as long as my trail knowledge was at the intimate level. While the low-low bottom bracket became more of an issue on trails I was riding blind, I would somehow get down them relatively unscathed. A combination of having my brain fully engaged and running at slower speeds.
Where the SB104 was truly a fright was on any trail that I was only mostly familiar with. For example, a rock roll at Woodlot where I thought I knew the line and then clipped my bottom bracket on a hump at the mid-point and careened down with my mulleted tire wedged between my cheeks while my brother laughed at me. Actually, I was laughed at a lot riding the SB104, even on trails I know well. I think it's the only time my friend Toucan has ridden Pangor where he almost died laughing instead of from his own bike handling.
It didn't take many rides to realize I was going to get hurt on the SB104 but if I lived somewhere that the trails are significantly smoother it would have been the jump point for a galaxy of exploration. The bike was slack enough in the HTA that running a 29'er rear wheel would have bumped up the bottom bracket, provided a 29'er cleared at the bottom out - I never investigated. Likewise, a slightly longer eye-to-eye shock and a 130mm air shaft in the Durolux may have just taken me over the line from terrifying to terrific.
Yeti's warranty states "FRAME LIFETIME WARRANTY. No Fine Print. No BS." But, if you've gotten a bit bored with your SB130 and you figure a Before Brunch Ride is exactly what you need in your life, I'll note that short stroking and short shocking the frame is probably not included. At least confirm before ordering a shock, lowering your fork, and slapping in an angleset. As much as I love mullets, I'd probably leave the smaller wheel off the list for your reborn carbon rat rod. That said, warranty aside, the SB104 will put a smile on your face and if you need a modern 29'er 4X bike in your life it's a place to start.
Rat Rods
There was plenty more I could have done to make the SB104 more all-around rideable but that wasn't really the point. I'd created the rocket ship of my daydreams (daymares?), using a borrowed frame and a collection of parts I already had access to, and I'm much happier for the experience. Like my single-speeded Marin Rifty, it's a project I felt compelled to investigate with the upfront knowledge that the end product probably wasn't going to be a long-term ride or have any influence on bicycle spec and design.
Armed with space, time, and a budget, my hobby would be perusing the buy-and-sell looking for interesting used bike projects. Not as a collector looking to restore anything to its past glory but rather, like all those folks who flipped the links on their Giant Faiths to make them decent DH bikes, trying to creatively turn them into something different. Bikes are adult Lego, and like all Lego, the real fun starts when you put the instructions away. Well, except that your bicycle is much more likely to slaughter you than your Lego collection.
There are some machines from deep in the past and the nearly present, that sweat Rat Rod potential from every orifice - press-in or threaded. Admittedly it would be a constant battle of axle standards, hub widths, and wheels sizes to really play with these projects but that doesn't stop my mind wandering. I can't see a 2014-2017 Kona Process 153 or 134, with their bigass bearings beautifully shielded, and not wonder what sort of mullets they'd make with a -2° Angleset and a 1cm reduction in fork travel. The 134 Supreme I reviewed in 2015 seems like a lifetime ago now with a sweet aluminum frame, XX1 build, and Hope hubs for 6000 CAD | 5500 USD. I can't help but wish it was hidden away at NSMB HQ.
When you know what you're looking for, this is simply an extension of Buying The Bike You Already Own. It's just someone else's used rig. I always have my ears open but as we all know, the used market has been insane the last couple of years with roached rigs selling, sans warranty support, for monies approaching new bike pricing. Case in point, buying a used carbon SB130 to investigate the 104BBR concept wouldn't have been prudent.
It isn't about restoring a classic or keeping a solid rig running well past trendy, though I think those are both excellent pursuits. I'm talking about the desire to mullet, angleset, over-fork, big brake, single-speed, fewer-gear, and generally experiment with making new or old rigs a bit, or a lot, different than the manufacturer intended. I imagine most of the time the end result will be a mixed bag like the Before Brunch Ride but then my angleset equipped, mulleted, edition of the Banshee Titan was the most fun I've had on a long-travel trail bike, so the potential exists to eke out additional excellence.
In a world where $10,000 superbikes seem normal, and often not all that super, I'm hoping to see a lot more handy riders' takes on making older rigs interesting. I'll be certain to share my ideas, and real projects when the stars align, and I'm keen to see yours.