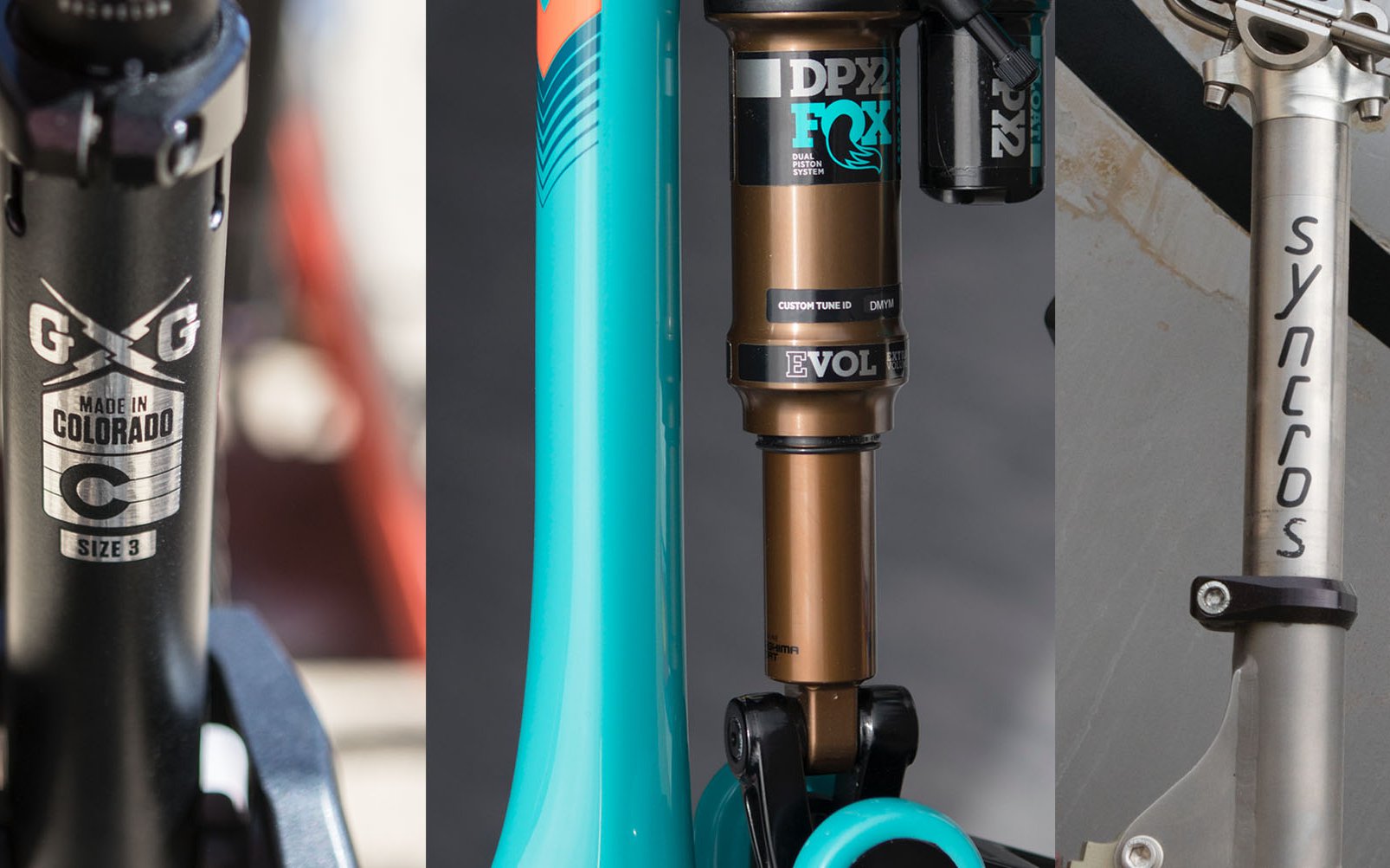 Sea Otter 2019
My Three Favourite Bikes from Sea Otter
Sea Otter is filled with bikes obviously. Race bikes, regular bikes, quirky bikes... you'll find a bit of everything. I didn't see everything however and much of my time was spent in meetings, but of the bikes I saw and got photos of, these topped the charts.
Ibis bow-ti
I remember a bow-ti hanging on the wall of my local shop sometime a little before Y2K. I was in awe of the design and workmanship but I don't think it was on my list for whatever reason. Maybe price? Looking at it today it would be easy to dismiss its pivotless URT design, but context is everything. MBA said "Otherwise, the Bow Ti is arguably the smoothest riding, most efficient, long-travel suspension bike you can buy."
The first proto was made in 1996 and production started in 1998. By 2002, when Ibis went dark for a time, 269 frames had been produced. In their day these were outrageously expensive. I found a Canadian reviewer on MTBR who paid 8000 USD for his which at the time was 11000 CAD, and this was 20 years ago.
The frames were said to 'stinkbug' under braking, meaning the wheels would pinch toward each other sending the saddle skyward, but there were upsides to the 5" travel design. There were no pivots to wear out and it was said to be quite stiff laterally. Travel was facilitated by the flattened tube that extended from the bottom bracket to the top tube just ahead of seat tube. It would flex when a force was applied. Looking at the bike it seems that 5" of travel may be hyperbole, or perhaps that was the travel on paper?
It's pretty easy to call this the golden age of mountain bike in some ways, but designs that are completely out of step with the mainstream don't have much luck today. Back then, when there was no mainstream for duallies, the sky was the limit. The bow-ti wasn't exactly ahead of its time, because its time never returned, but it offered something that was in very scarce supply at the turn of the century; a functional dual suspension design.
Yeti SB13(6) Lunch Ride
Specialized has a lunch ride that is pretty legendary; it's intense, well attended and no prisoners are taken. Unfortunately it happens on the road because that's what you get in Morgan Hill. Yeti's lunch ride in Golden CO is all about trails and dirt and this bike is a reflection of what some of the staff has done to their SB130s.
It's actually the bike I was dreaming of when the SB bikes came out. I figured the SB130 was a little small and the SB150 was a little big (I was wrong it turns out) and this bike was just right in my imagination. Removing a spacer bumps travel from 130 to 136, the fork goes from 150 to 160 and gets the GRIP2 Damper.
Lots of details have been tweaked. Bars grow 20mm to 800, the XT brakes get swapped out for Code RSC and the front rotor boosts to 200mm. Even the seat post drop increases with size M going from 125 to 150mm while Lg and XL go from 150 to 175mm.
Weight climbs slightly from 28.9 to 29.3 lbs and the price grows by 4 hundo to 7599 USD. You can choose between the weekend models or the LR SB130 on yeticycles.com
Guerrilla Gravity Smash
I've heard and read a little about GG bikes, but this was my first in person encounter. I'd heard about the made in CO quality and the frame only price of 2195 and a complete for 3795 USD or about the price you'd pay for a carbon frame from many companies. And yet GG claims to be using carbon tech that is ahead of the rest, their bikes are littered with unique features and adjustments and people like the way they ride. It's all sounding pretty rosy.
There's not another bike I know of with so much adjustability. You can swap out seat stays* to change the bike from one model to another (longer or shorter wheelbase) or to choose a different wheel size. and you can alter reach, front centre and wheelbase by 10mm by using the Geoadjust headset. You can alter the leverage ratio with a flip chip at the shock mount, going from Crush mode to Plush mode. These are truly modular frames.
*The seatstay kits are 445 USD and they include everything you need to make the swap.
Other details are equally impressive. To access the internal cable routing on the downtube there is a panel that extends the length of the side of the tube that is removable. This means you can remove or swap your rear brake without having to bleed or disconnect any cable.
The top of the line Smash Race, which is a legitimately sweet build, will lighten your wallet by a surprising 5995 USD*. It makes you wonder what's going on with some of the other manufacturers whose unit costs are lowered by high production numbers and who have frames made in China, Vietnam or Taiwan. Are they gouging us?
*I realize that 6G US for a mountain bike is absurd and it's even more absurd that this is considered reasonable. How did we get here?