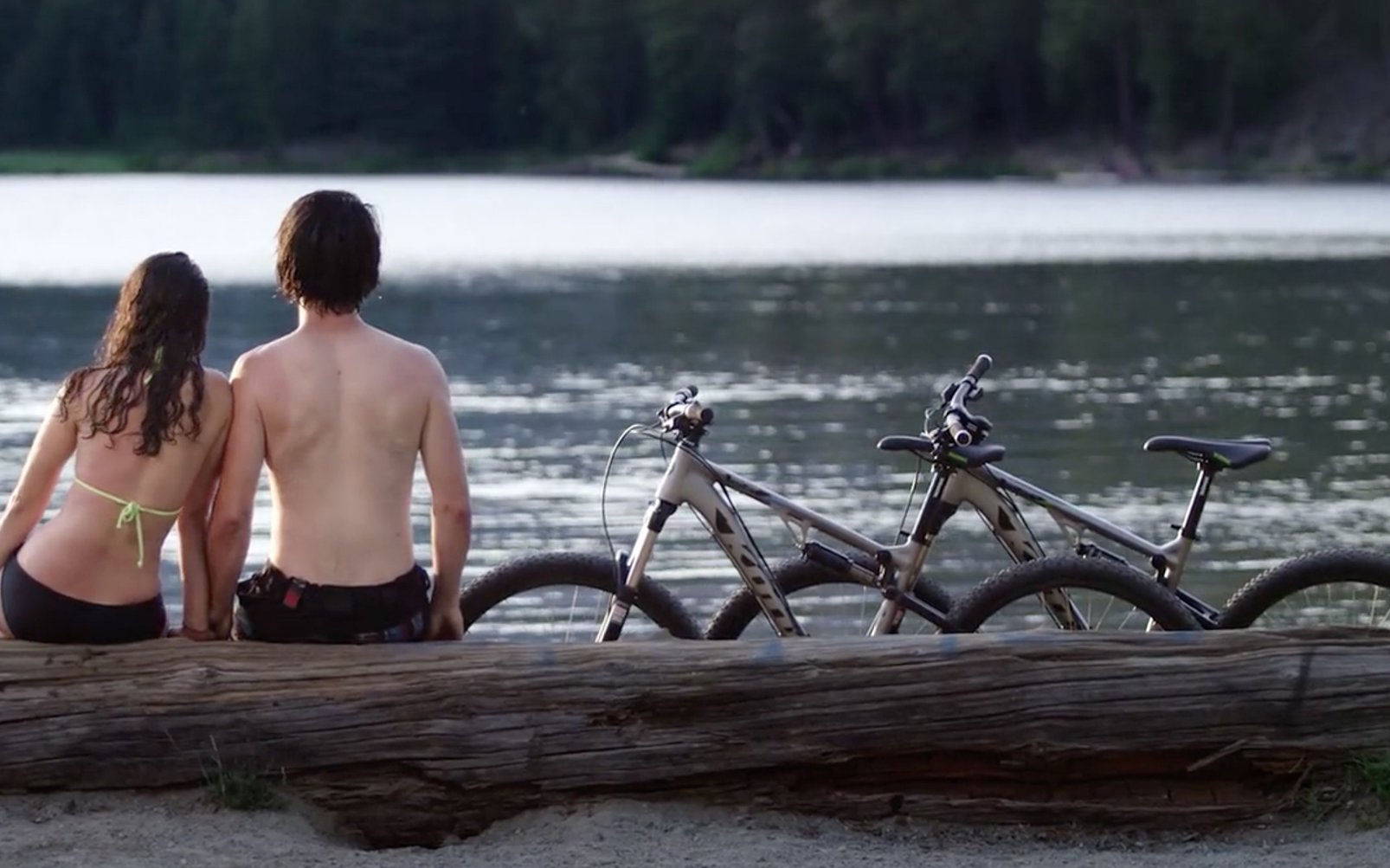 Ask Uncle Dave
My Girl Rides like Crap and Wants to Come on Every Ride...
Dear Uncle Dave, (Originally published 2018-08-09)
I got myself into a relationship at the start of the year and its been going great but now she has taken interest in mountain biking. I used to ride about 3–4 times a week usually training and PR chasing during the week and fun leisure ride on Sunday with some friends. Most mountain bikers would think that having a significant other who enjoys the sport is a major plus but it's been really holding me back on progression and sucking the fun out of it. She wants to ride every time I do and her progression is non-existent. 
We alternate between two trails that are 90% flat, with a few sections sprinkled with loose rocks. She walks the bike at any sign of rocks or uneven terrain. It's a constant stop-and-go hike-a-bike on every ride and it's very frustrating. I encourage her and give her tips but she just doesn't commit to anything and it's driving me up the wall. She is riding a very capable Specialized FSR XC from early 2000s with surprising well functioning Manitou Fork and Fox Float. 
She has about five months experience but still doesn't know how to shift the gears after explaining to her just about every ride. I have been very good about hiding my disdain of riding with her and very supportive but I feel like I may be reaching a breaking point by writing to you. Between work and riding with her, I now have about one day to ride on the weekend, which I feel she wants to be included in. What should I do?
BTW #Lunacam is great 
Thanks,
Dogfan
*with here?
---
Dear Dogger:
Thanks for the Instagram promotion (hey, they have Instagram on computers now!). I'm really bad at drawing people in to those sorts of things, so well done on your product placement.
Moving along. We've actually talked about relationships here, once before. It took me a while to dig it up, but here it is, and I'm really happy that I did. For two reasons.
I talk about my visit to Croatia, where we hiked and ate and drank and plotted our trans-Atlantic move while obliviously wondering if there is any mountain biking in Croatia, literally standing in the dirt on the other side of the ridge that would very shortly host the Losinj World Cup DH.

It's not half bad advice.

Unlike this list numbering, I'm not going to directly contradict myself in the immediate future.

Managing Life's Priorities
I get it. I've gone through phases in my life where I couldn't imagine not riding my biking or skiing in the winter. It takes a lot of concentration and energy to find those feelings in myself these days. It's not that I don't like doing those things. It's just that as I age, there is less time for them. Less energy. Less capacity for dealing with soreness and injury. They'll always hold a place in my life, somewhere. But I'm sort of okay with drifting on a bit in life and finding other things to hold portions of my attention span. Like hydroponic vegetable gardening or taking photos of dogs.
This will be you at some point in your life. When you will look back at those days of riding 3-4 times per week fondly. Oh, sure, you might be one of those guys that ride every day and still spanks the twenty-somethings even though he is caressing the beginnings of 60. We all know a guy like that. But it's one guy. Literally, one guy, out of the hundreds of thousands of beer-bellied has-beens that ride occasionally and get really stressed out about how it's not enough.
There is nothing wrong with this. It is inevitable.
Making the Big Decision
That's the context I want you to hold while you think about this. How much of a compromise is this for you, right now? How much does this relationship add to your life in all other aspects, save for this one? Ten years from now, as you stare at your broken, muddy, obsolete bike that seldom gets ridden, will you feel pangs of regret over the-one-that-got-away-because-she-wasn't-a-good-enough-bike-rider? Because 30 years of getting screamed at to "take out the fucking garbage you lazy piece of shit!" is probably a lot worse than a few crappy bike rides every once in a while.
Managing Realities
Trust me, I hate talking about relationships. Talking about relationships sucks. But you need to talk about your relationship. With your partner. Not some jackass on the Internet. This could be anything from:
Direct: "It's so great that you are into riding bikes with me, but every once-in-a-while I need to get away to ride with my buddies."
The bait-and-switch: "You've been working so hard this week! I booked you a pedicure. Me? Oh, don't worry about me. I'll figure something out."
The less direct: "I've got to work really late tonight. Why am I taking my bike? Oh. I just have to drop it off at the shop for some stuff. Don't wait up!"
One way or another, you need to bring up the fact that, even though you really enjoy your time together, you want to sometimes ride your bike without her. Once you get to that point, you can work on some ways to better manage the logistics of how that occurs.
Shifting Issues: Buy her a bloody 1x drivetrain! Don't expect her to spring for that nonsense herself. Upgrade your own bike and swap your old parts over to her bike. Done.
Progression: You're probably a really shitty teacher. No offence. We can all be kind of bad at coaching people that we know. Expectations are set too high. Past frustrations bubble to the surface. We don't actually know what we are talking about. Standard stuff like that. Talk her into taking a lesson. Or a camp. She will improve much faster than by listening to you scream "push the lever! No! Not that one! Not that hard!" from the side of the trail. Maybe she'll even meet some new riding buddies?
Ride Management: Okay. You have to ride a crappy trail every once in a while. Chances are she's feeling gassed once you reach the end, and you're not? How about "You're feeling tired? Why don't you head back to the car and crack one of those cold beverages I brought along. I'm just going to head up for a quick lap on my own."
Bike: Wait a second. I just went and actually read through your entire question.*  "She is riding a very capable Specialized FSR XC from the early 2000s". This is a joke, right? You've spent all this time writing out this question, and you thought you would inject it with a bit of humour? Scrap my advice on the shifting issues, buy her a new bloody bike! What are you riding? Is it some 26-inch wheeled, steep angled, XC monstrosity with first gen disc brakes and a 3x drivetrain? No? You wouldn't ride that shit? You wonder why she's struggling on easy trails while you bomb ahead on your carbon framed 29er with custom tuned suspension and a well-lubed dropper post? Come on, man! Take her bike shopping immediately, you cheap bastard.
Jesus.
Sorry,
Uncle Dave
*This isn't some kind of clever writing device. I honestly barely manage to read through these questions before I answer them.
---
Congrats Dogfan! You've won a monogrammed prize pack from Lizard Skins. The grips will be etched with the message of your choice* (up to 14 characters). Also included is one pair of gloves of your choice and Lizard Skins frame protection - with a custom NSMB.com logo. Send us 
an email
mailto:cam@nsmb.com
 and we'll get you hooked up!
*Perhaps something about your girlfriend and her rad skills? Just a suggestion. 
Uncle Dave's Music Club
A few weeks ago, I had one of those events that shakes your very soul, and causes you to question everything. This was unexpected. Indeed, it was an event that I referred to in this very space, not that long ago. It was the Supersuckers 30th Anniversary Show.
I mean, any band that is around for 30 years, let alone putting on an anniversary show to celebrate that event, should at the very least be questioned. Any band that starts that tour in Kamloops should be intensely interrogated by a team of professionals. But I still really, really love Must've Been High. I've caught snippets of those songs live from them over the years, but a chance to see a "mini country set" reeled me right in.
Don't get me wrong, the men can still play. Indeed, Marty is much more of a guitar virtuoso than I remember. But at his advanced age, I would be happy that he could still hold a guitar, let alone let loose like he did. He appeared almost ghoulish up there on the stage. Like...cross the street if you see him coming down the street scary. As did Eddie. It was like somebody rolled into the Home for Old Aged Rock Lifestyle Victims and wheeled out the two sketchiest and decrepit residents to front a band (the drummer wasn't any fresher, but that's about what you expect out of a drummer).
And the crowd wasn't too far behind. I mean, jesus. I'm used to being the oldest man in the crowd, not the youngest. The beer bellies and the bald patches and the socks and sandals were absolutely distressing. It was a strange combination of rock meets orthopedic comfort. I felt a bit silly wearing my millenial camouflage outfit.
How did it get to this? I mean, how am I listening to a band that is celebrating 30 years of existence? I missed the first few years, but still. How did I end up going to shows that are so far off the radar of pretty much everybody but a bunch of 40/50-somethings living out past glory days? Why was I out so late on a school night? What the fuck happened? What am I doing here? Do I have any right handing out musical advice?
Not this week, I don't.
And, all things considered, it was a pretty great show!
---
Got a problem about your love life for Uncle Dave to solve? He actually loves answering those kinds of questions
so send him one...