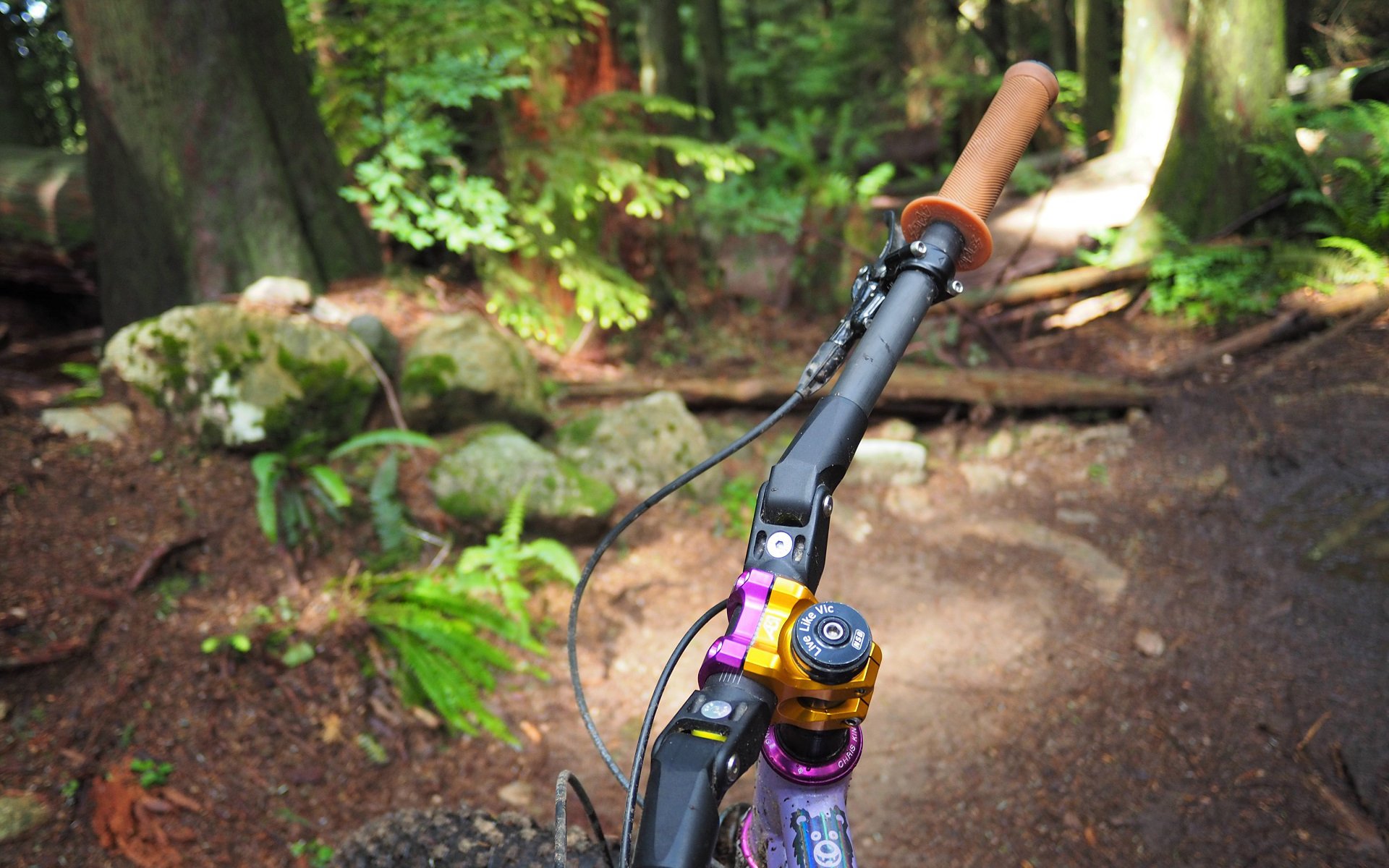 REVIEW | EDITORIAL
My Favourite Push-On Grips
They're All The Best
When I'm out on the trail dirty dancing, my first choice for grips has long been the push-on Sensus Swayze. I don't see any challenger that's going to change that either. Touching the wavy flagella invokes a powerful image like Maximus gently caressing wheat for twenty five seconds when he dies in Gladiator. The 30mm width compresses perfectly to reward a light grip on my bar. They're 13 USD of luxury that will make any bike that comes stock with cheap lock-ons feel like it's received a $1000 upgrade.
That does not mean they'll be the best push-on grip for you. Personal preference is the absolute rule when it comes to bike fit. But, and this is a huge but, if your favourite grip is a lock-on, then I'll stick my neck out here and contend that the only personal preference you're demonstrating is for convenience. And if you're going to debate that point, I'm happy to hear you out as long as you've tried a couple of push-on options in the last decade.
Push-on grips eliminate the hard-plastic core necessary for lock-on grips to function. That means they offer significantly more cushion, and noise-damping, as well as increased pattern and shaping options for a given width. They open up different material options as well. All of this is particularly noticeable in the thinner widths of grips that I prefer.
Even the fanciest options, like SQLab's ergonomic 711R, are not expensive compared to an equivalent lock-on and as experimenting with your mountain bike goes, trying a few different push-on grips is a cheap adventure in learning what works best for you.
I've tried a lot of different push-on grips. Some I've reviewed on their own, some I meant to review on their own, some I've been using for years, and some were just given to me for feedback. I'm a true believer that push-on rubber is the best option for everyone. Or at least nearly everyone, with limited exceptions for Rev suspension grips and anyone who needs super-ergonomic grips with massive support paddles.
Where to start on your personal journey? It may seem a bit overwhelming so here are a few of my favourites and why you might consider them.
Wolf Tooth Karv v. Razer
My Wolf Tooth experience was originally intended to be an NSMB Mano a Mano piece but I hit a snag. I really loved the round grips but did not appreciate the Cam ergonomic model so the review sort of fell by the wayside. I have a friend who loves their 40mm diameter Mega Fat Paw Cam grips, so you may as well.
On the other hand, I am quite enamoured with the thinner, 30mm diameter, round Razer grips. The 100% silicone material is very nice against bare skin for long climbs and tacky-enough to ride without gloves until I really get my sweat on. I installed them with isopropyl alcohol as per the instructions and had zero slippage. If I was putting on a fresh set I'd just shoot some spray paint in for good measure. I generally don't remove grips until they're worn out.
I fall off my bike too often to expect a really long life out of silicone grips. Like my experiences with ESI and Supacaz silicone options, a crash tore a hole in the Razer grip and it came apart shortly after.
I would have no hesitation putting these on a flat bar gravel bike or a mountain bike for tamer trails. I actually do my best to keep the rubber side down all the time, but sh*t happens often enough that I'll be sticking with rubber for bikes being ridden down North Shore trails.
Pricing varies by thickness from 19 USD to 33 USD for round and 22 USD to 33 USD for the Cam ergonomic options. I know that's into lock-on territory once you're buying the 40mm width grips but there are not a whole heck of options out there for folks with huge hands. Apparently some people with really small hands also love the 40mm grips so strike that stereotype. Here's the whole lineup.
Renthal Ultra Tacky
When a pair of Renthal's Aramid-compound grips approach their half-life, the combination of feel and grip, with gloves or barehanded, is special. How does something so smooth deliver so much traction? I doubt I will ever experience them again, not because I won't run Renthal push-on grips, but because their Ultra-Tacky model offers more grip right out of the box.
This is easily the grippiest grip on the market and they feel a bit gunky against bare skin. To the ironic effect that they're the one grip that someone with super-sweaty hands, like me, could use year-round sans gloves but I don't love touching them without my palm-protectors on.
It's all about the rubber compound here as Renthal doesn't make their cruel Traction Grip in a non-locking version. It's for the better though, because this is all you, Cecile Ravanel, and Danny Hart need to hold onto those bars in any DH situation.
Instead of offering up five different compounds, it would be nice to see Renthal focus on the two that matter - Aramid & UltraTachy - and add some additional widths. I am perfectly happy with a ~28mm installed OD, but adding at least a 33mm-ish option to the line would really open this grip line up to a lot more riders. If thin grips work for you and you're chasing all-the-grip check out the full lineup. The Ultra-Tacky are 16 USD and the Aramid are 20 USD.
SQLab 711R
Of the push-on grips I've tried, the SQLab 711R model is the most interesting. I don't count grams at all but the design goal is to combine the ergonomics some riders need with a light enough grip that even a true weight-weenie will take notice. I've used the medium and small sizes and they come in at the claimed 79-grams and 59-grams, per pair, respectfully.
I quite like SQLab's 70X lock-on grips, I'd put them in my top two lock-on options along with PNW, but I can only ride them on a full-suspension bike with a great working fork or I find myself lamenting their rigidity. With the 711R I get, essentially, the exact same shape and high-end rubber feeling combined with significantly more give and vibration damping.
The 711R uses a silicone-rubber compound so it's not surprising they're as comfortable against naked skin as any grip I've used. In hot climates, the rubber seems to 'breathe' more for lack of a better description and my hands never feel as hot as they do running the Swayze or Renthal.
Going back to my 100% silicone grip experiences, the 711R has survived a few solid bike-body separations on the trail and they've proved durable to date. Traction is good with bare hands until the taps turn on and then they don't match the Ultra-Tacky by any stretch of the imagination. Likewise, if it's raining I'm wearing gloves any time the trails get technical.
Compared to SQLabs much-loved 70X grips, I think the 711R is better in every way. They match up ergonomically in terms of support while also delivering enough squish to be much more comfortable. They are significantly less expensive at 25 USD per pair compared to 38 USD for the lock-ons. What's not to like?
The only issue is finding the perfect position without the advantage of being able to micro-adjust the position of the 70X. I had the luxury of being able to exactly match my preferred position with the lock-ons but the home experimenter will want to find the sweet spot before attaching them with permanence. I would recommend installing with isopropyl or even just air (using a compressor with a blow gun accessory), finding the sweet spot, and then removing them and gluing them in place.
In typical SQLab fashion, they have a sizing chart to help figure out what grip you need. I measure out as a medium-towards-large and they recommend sizing down one step for technical mountain biking so that fits perfectly with my personal preference. Also in typical SQLab fashion, there is a tonne of information on their website.
Race Face Chester - RIP
A whole 12 USD used to score you a pair of Race Face's best grips. Calling them a 31mm diameter doesn't really sum up the size as they swallow my hands up to feel a couple mm smaller. If I had known that Race Face was going to kill Chester I would have bought a couple of extra pairs. I can't say that about many other dead products but there are a few.
I won't go into great details about a product you can't buy anymore but these were an easy gateway grip for local folks thinking about trying push-ons as many shops around Vancouver carried them. They feel a touch thicker than the my beloved Swayze and make for a nice, neutral, change up when I'm riding back to back days and want my bike to feel a bit differently.
Sensus Swayze
Before I rediscovered push-on grips, the Swayze was my favourite model of lock-on for years. I couldn't count the number of pairs I wore right down to their hard plastic core. Needless to say, it isn't at all surprising, to me, that it's also my favourite push-on. Compared to the lock-on it has better traction, better trail-noise damping, and less than half the price at 13 USD v. 28 USD.
Would I change anything about it? From it's 30mm diameter to 148mm length, I say "heck no!" Traction is good, comfort is excellent without affecting my connection to my bicycle, and the rubber compound is the perfect mix of friction and feel.
Should Sensus change anything about it? I can't understand why they won't let baby out of the corner by expanding the size range. They make the 34.29mm (1.35" if you're Kyle Strait) Meaty Paw lock-on so it isn't a case of not recognizing a market for thick grip. I would love to be recommending a 33mm, and even 35mm, Swayze to my bear-pawed riding friends. And Sensus, they don't care about colours. Black grips that fit would be awesome.
The Swayze is the most comfortable grip I've tried, and a great starting off point if your sweet spot is around 30mm and are thinking about trying push-ons.
Whether you're looking for a comfort or performance upgrade or just want a relatively cheap option for faffing about with your bike, if you haven't tried push-on grips in recent memory, you're missing out; no matter how much you spent on your last pair of lock-ons.