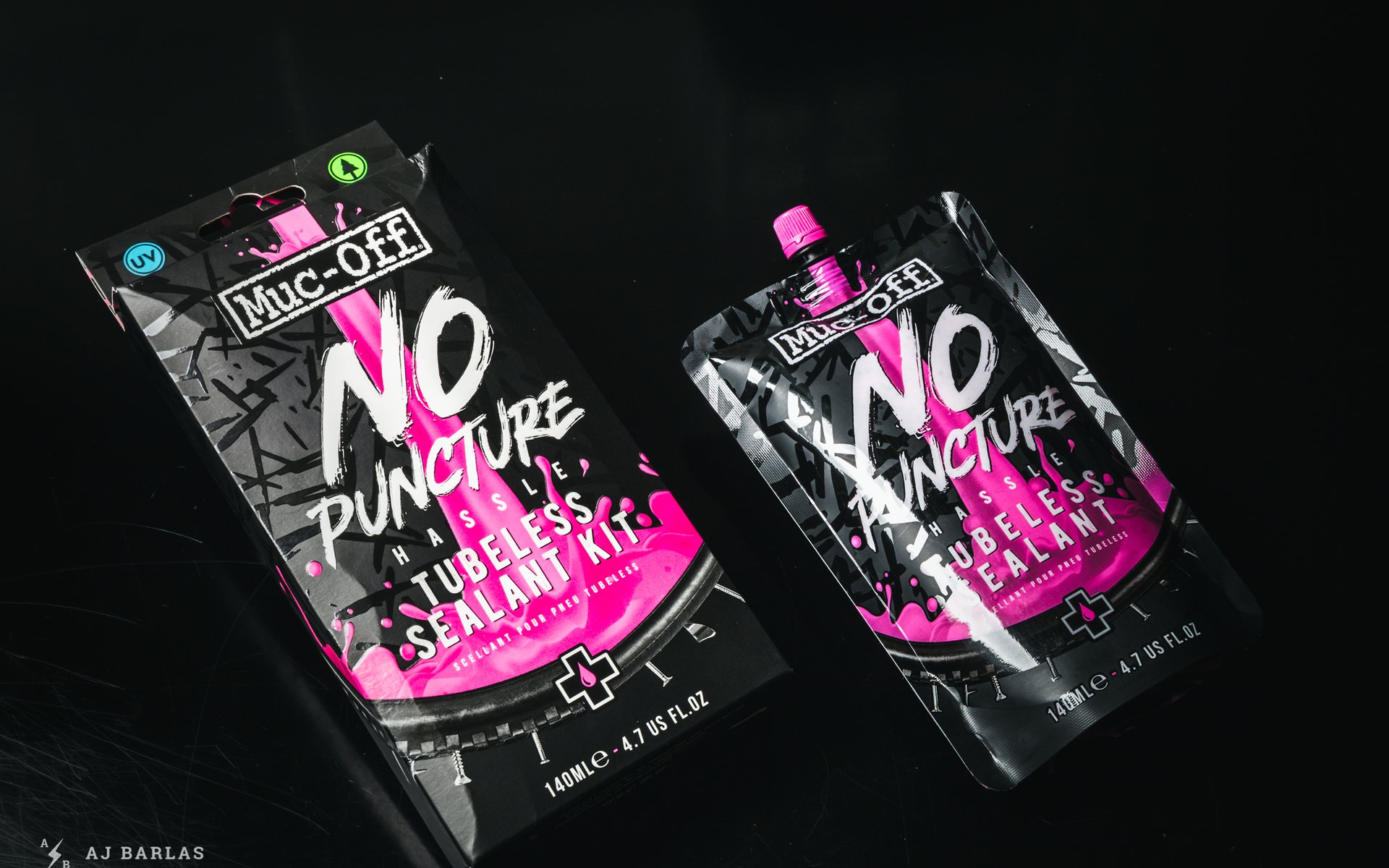 Tire Sealant Review
Muc-Off "No Puncture Hassle" Sealant Review
Tubeless sealant is messy to work with but it's a small price to pay to get away from using tubes. I've used a few different options over the last couple of years and while they've been fine, I usually fall back to my homebrew. Because of the latex, ATV sealant and water mix, it stinks but costs heaps less and I haven't noticed a large enough improvement from the others to sway me. But this bright pink sealant from Muc-Off may change that.
Highlights
Ammonia Free
Contains a UV Detection Dye
Muc-Off claims it's biodegradable and non-corrosive
Easy to wash off with water
Works from 15–120psi in temperatures between -20ºC–50ºC
MSRP: 140ml pouch – 9.99 USD / Kit – 12.99 USD / 1 Liter Bottle – 39.99 USD
It's available as a 140ml pouch, a kit that includes 1 x 140ml pouch, UV flashlight, top-up cup and valve core remover, or as a 1-litre bottle. For 29-inch wheels the recommended dose is 80–100ml, enough for a single use with some left over for a top up down the road. Installation is made easy thanks to the spout being sized to fit snug over a tubeless valve. There's also a measuring window on the back of the package so you know how much you've used. Removing the valve core and filling the tire took a couple of minutes and was a clean, hassle-free process.

Using a brand new set of Maxxis tires and new Specialized Roval wheels, I had no issues with installation. Removing the much-abused tires months later and attempting to reseat them proved just as easy. I didn't experience any noticeable punctures during testing and while I considered blowing a hole in a tire to test the sealant further, I decided against it. Purposely putting a hole in perfectly good rubber isn't something I can bring myself to do.
The Muc-Off sealant coats the tire's inside wonderfully. Alternatives I've used recently lean more to the runny side, leaving little on the inner walls. This stuff forms a thick coat all the way around and there is no pooling at the bottom of the tire. Removing the tires after a winter of riding and a period of no use, I was surprised to find no clumps at all. It had dried some resulting in less active sealant and a need to top up but typically after such a period, I'll find nothing but dry sealant monsters.

Issues
When I removed the used tire, it pulled up the rim strip because of the bond between the sealant, tire and wheel. Investigating further led me to believe this began on the trail. The rim strip on one side had been pulled away and twisted toward the center of the rim. I haven't had any issues with Specialized rim strips before but I'm willing to bet the tape wasn't bonded as well as it could have been to begin with. Nevertheless, this issue, while not unique to the Muc-Off sealant, is something to consider.
It's not really a knock against Muc-Off, but it's worth mentioning that the biodegradable claims made are only applicable in Europe. In the U.S. the synthetic latex used doesn't pass current regulations.
Verdict
After months of riding, a portion of which was in cold, snowy conditions, the Muc-Off sealant still fills my tires. While it did dry out a bit during that time, a quick top has the tires ready to go for another few months. The top up was also quickly done with the tubeless valve removed. Pricing is similar to Stans and Orange and while I don't have experience with Orange, Muc-Off has lasted longer than Stans, my home-brew and comparable products from Slime, e*thirteen, and others I've used over the years. It's also ammonia free.
Will it replace my own concoction? I'm leaning toward yes at this point. The thorough tire coating and longevity are beginning to win me over.
Click to learn more about the Muc-Off No Puncture Hassle Tubeless Sealant.