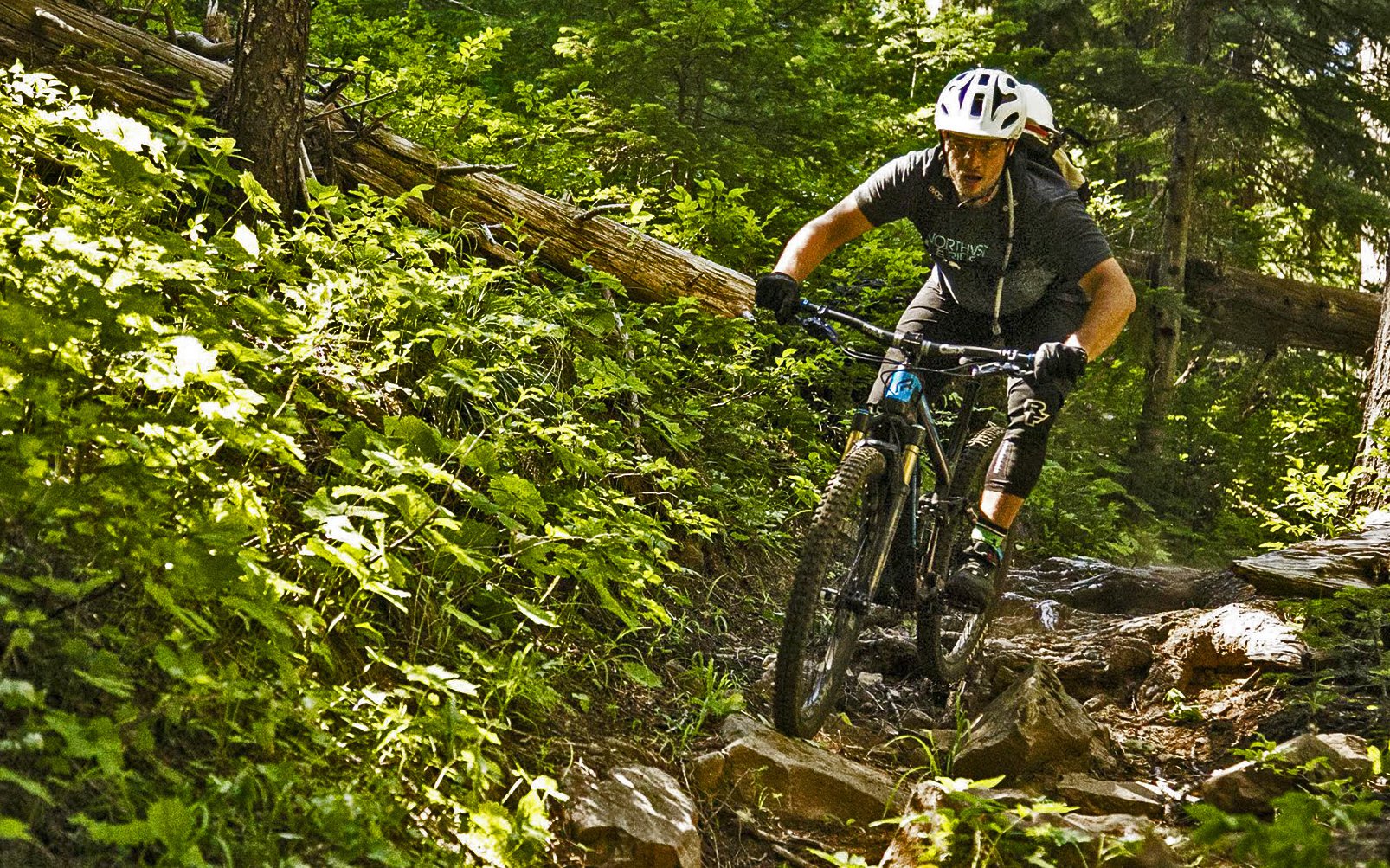 Interview
Is MTB Ready for Full Custom Shorts and Jerseys?
You stop on the trail and after catching your breath you realize you've come upon a rider dressed just like you; same jersey and same shorts. Or worse, the same scenario in the lift line at a bike park. Not someone on your team, just another regular Joe or Josie in the same original, expensive apparel. Some riders wouldn't care much but others would be gutted. We like to think of ourselves as unique snowflakes, each with a style all our own, despite buying everything off the rack by necessity.
Seattle-based Northwest Tech (NWT3K) hopes to turn that experience inside out, give you some choice, and make it almost impossible for the scenario above to play out. The company started in the snow space offering custom jackets and pants for skiing and snowboarding and they are about to launch their model for mountain bikers.
Nick Marvik, founder of NWT3K has deep roots in both snow and MTB. I asked him some questionsn about how his ideas would translate to the world of mountain bikes.
Cam McRae - Northwest Tech does something very unique. Can you tell me what lead you down this path? Did you feel like something was missing in snowsport apparel?
Nick Marvik - Style, whether it be how you "tweak" that mute grab or what gear you're wearing has always been driven by individualism. Action sports enthusiasts (as well as many other industries) strive to create their own one-of-a-kind style, and in my opinion, it's always been a contributing factor to the growth of our sports today.
Every season it's the same story - each brand crafts their product portfolio, manufactures a whole bunch of units, and eventually sells them at wholesale to retailers. The result you get is the marketplace being saturated with similar looking, if not the same products. I remember it like it was yesterday, I had just purchased an $800 name brand ski outfit and ended up sitting on the chairlift with a skier wearing the exact same outfit - damn! I never wanted that to happen again which led me to start sewing my own custom outerwear that no one else had.
Looking back at why we got started we felt there was a void in the existing market place for winter enthusiasts, skiers and snowboarders specifically, to outfit themselves in one-of-kind waterproof outerwear. In fact, I personally validated this theory over the course of 2-years throughout my Junior and Senior years of college by sewing and selling
custom jackets
to skiers and boarders in Bellingham, WA.
CM - What were some of the hurdles you encountered setting up to sell your snow gear?

Nick Marvik - The two biggest hurdles we had to work though initially were materials sourcing and custom manufacturing. We order materials that need to be custom dyed to match our color pallets as well as order in small quantities. Finding the right suppliers that would 1. Supply us with the quality of materials we desired and 2. Allowed us to break their minimum order quantities was a big challenge to solve.
The custom manufacturing process is inversely different from any traditional manufacturing process. Every order is traced out, cut and then sewn based on the color specifications and features the end user selects. This takes time and creating manufacturing efficiencies becomes more difficult. Over the years, we've built a deep partnership with a local manufacturing facility here in Seattle, WA that has been the backbone for our custom products. A quick drive to the factory versus a flight overseas has allowed us to be super nimble and quick on our feet when it comes to product development, user feedback and shipping direct to our customers.
CM - Has anything surprised you about how consumers have designed their gear?

NM - Haha yes! I would say what originally surprised me the most was how many customers designed custom jackets/pants that we're all black, no colors. Looking around, it's difficult to find a completely "murdered out" jacket/pant so it makes sense now.
CM - Tell me about your history as a mountain biker. 

Nick Marvik - I grew up riding dirt bikes and BMX as a kid up through high-school in Gig Harbor, WA. A good friend of mine and pro downhill racer, Matt Orlando, got me riding mountain bikes my Junior year of high-school. Eventually I got into downhill racing and ended up racing the Northwest Cup series here in the Northwest for a few years, ended on a good note, and eventually cut my ties with racing. I've always been a big skier and felt that going on a ride with your friends was like going on a ski tour with your friends.
Living in Washington we have access to arguably the best mountain biking in the world - from community support to the ongoing trail development and advocacy that exists, it's exciting to live here right now. Whistler, Bellingham, Glacier, Exit 27, Tiger Mountain, Tokul, Stevens Pass, Duthie, Capitol Forest, 360 park, Leavenworth - the list goes on of incredible shred locations in or around Washington. Getting to experience the Cascade and Olympic mountain ranges on a mountain bike puts a whole new lens on The Great Northwest and has been a key driver in my personal addiction to the sport.
CM - Can you tell me a little about your trail project and how you got involved? 

NM - As I mentioned above, the trail development and new riding locations popping up in Washington right now are exciting. A recent addition to the map of world-class riding locations in Washington is 360-park located in Gig Harbor. Long story short, I grew up behind the park and decided to get involved helping with trail design and development of new mountain bike trails. I've operated machines for years, building different jump lines throughout my parent's property, and got approval from the local park board to design and build the first machine built, expert jump line. The trail is expected to open to the public mid-April. Not only are we invested as a business in the mountain bike space, but we're also super passionate and will continue to invest in growing our bike riding locations and communities.
CM - Are there different challenges involved in setup? And perhaps sizing?


NM -Sizing presents its own unique set of challenges away from our snow product sizing. Bike shorts and jerseys are worn closer to the skin (less layering) and require a more fitted approach when comparing against our snow products. In addition, we will not be going to market with women's specific sizing for our first season - don't worry though, it's in the pipeline ladies!
CM - Why do you think mountain bikers are ready for custom and self-designed shorts and jerseys?
NM - The demand for "one-of-a-kind style" clearly exists today within mountain biking. Whether it be individuals who want a unique kit, your weekend racer that is tired of seeing the same name brand outfits, or teams, clubs and companies that want to get outfitted with a unique look, there are many use cases that exist today for customizable mountain bike apparel.
Another key trend that has been emerging over the years, and further implies consumers want unique selection, is the use of new, vibrant colorways amongst the biggest bike brands today. We're seeing more and more brands offer fun, different color options. We're also starting to see brands use professional imagery within their product designs. I.e. Dye sublimation of a rad photo on your bike jersey etc. These are just some of the signals further validating that consumers want custom options.
Nick tells me NWT3K jerseys and shorts will be priced comparably to other popular brands and will come in well under some of the new premium opitions. Once we get some custom designed NWT3K apparel we'll be able to let you know more about the process and the product. NWT3K hopes to launch this summer. 
To be informed and to receive 15% off your first order, sign up for the email list here...