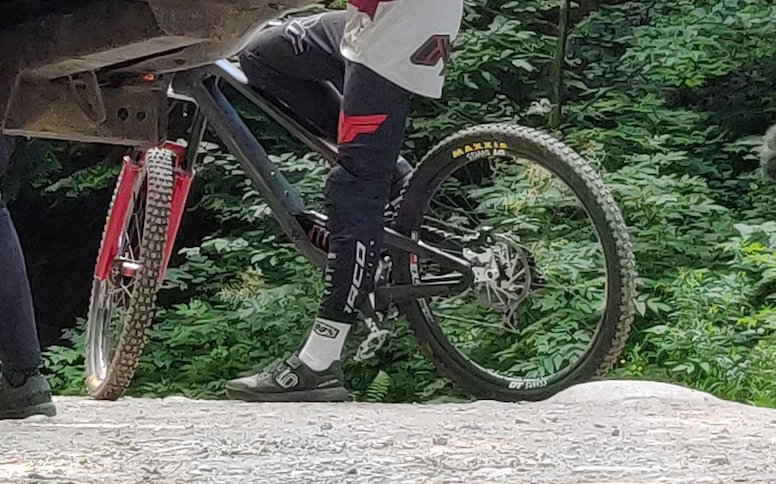 Editorial
MTB Media and Spy Shots
Those of us who work in mountain bike media often see new products before they are released to the public. Companies find it useful when we publish accounts and opinions of new products after "putting them through their paces" or in extreme circumstances even "putting them to the test," and not only because we love clichés. We strive to make these accounts useful for riders who might want to pick up these products.
Occasionally I've signed an NDA, but for the most part it's an unspoken agreement to respect the embargo date in exchange for this advance look. We have occasionally mixed up a release time, or shown something inadvertently, in the 20 odd years we've been doing this, but we take the confidence we've been entrusted with quite seriously, and do our best to respect the company's release date.
When we have screwed up, we have mostly been politely asked if we can fix the problem or to endeavour to prevent similar mishaps in the future, but we've also been chewed out like 4th graders caught pulling the fire alarm. Independent of the response, we generally feel quite sheepish about releasing early, and not just because most of us are men.* We also know it can be a pain in the ass for those in charge of releasing the information and it could have a lasting effect on our reputation in the industry. And frankly, we don't like to be dicks, even accidentally.

*to be clear this was perhaps a too-veiled reference to poor male sexual performance, rather than some male code
It gets a little trickier when a user uploads or embeds an image or video and a manufacturer asks us to remove it. Luckily that doesn't happen very often to us, but when it does we generally ask the user if they wouldn't mind taking the image down. We can't be much more persuasive than that because it doesn't contravene our forum rules, and taking it down without asking them would be unethical.
Pinkbike has to deal with this more often, and recently a user posted an image of a bike he didn't recognize on the back of a vehicle in the Parkgate Mall parking lot at the bottom of Mt. Seymour, an area that's often crawling with smelly mountain bikers wearing flat brims and flannel.
The image was apparently posted on the weekend and by Monday morning word is Devinci, who it seems were the manufacturers of the outed bike, were alerted about the photo. Presumably Devinci asked that the image be kept off the PB front page, but in the end there was an article written about what the bike.
Most of the content involved educated guesses, and this is further speculation, but it seems likely this is a bike eventually headed for production, rather than an early mule being used to evaluate kinematics for some far-off model that may never reach the showroom.
The question within media circles is, does Pinkbike do anything wrong when they ignore the unwritten agreement that has more or less always existed between bike companies and media outlets? In an era when it's virtually impossible to create content about mountain bikes without having a cozy relationship with those who work to produce the products we ride, it's a little refreshing from my perspective to see a media outlet go against a company's wishes. On the other hand, if companies who drop the biggest ad dollars are spared this sort of treatment, that doesn't seem fair. I also have no knowledge of whether or not this is the case. Undoubtedly, it's kind of interesting when the boat gets rocked, but the collateral damage is certainly unfortunate.
The dude* who took the photos and posted them on the internet didn't break any laws, and if you aren't in the industry you likely think he's done nothing wrong, despite the undeniable stench of TMZ. The bike was being ridden by someone I know, and he concedes he didn't do enough to conceal it, but it also may be the photo was taken before he was able to get out and remove it from the rack, rather than the bike having been left for some time. If that's the case it feels a little predatory, but again, entirely legal.
*he is a dude and someone did some sleuthing and unearthed his name and photo
You might wonder why most bike companies care so much about release dates. A few, like WeAreOne seem to follow their own rules, but most find it essential to be able to control the message, which necessitates controlling the timing. Since Pete Roggeman has worked in marketing, both at what was then Ritchey/Syncros, and at Rocky Mountain, I asked him to present that case.
---

Bike release dates are carefully planned for a variety of reasons, some of them unforeseen, unless you've been privy to the dynamics that exist between brand, distributor, and retailer. This case is a bit different since a test mule doesn't necessarily mean a bike is close to production, but the impact can make its way through the chain, starting with the retailer, whose inventory of a given bike model can be rendered stale by a leak and therefore loses value (except right now, when Covid has all of a sudden elevated the resale value of 26ers to Tacoma-like levels). A similar impact is made on the distributor (if there is one), who has to help manage those retailer relationships, and the brand, who might suffer an erosion of trust with either or both of the other two.

Also, and this is where I realize I may lose some of you… I like to think that our little industry still respects the people doing their best to bring us good bikes to ride, and that sometimes adherence to an unwritten code may be one of the things that separates us from some of the cynical and selfish actions that spoil other relationships and industries. Call me naïve if you like, but I prefer to cling to an ideal construct of an industry still full of people who start businesses in garages, where relationships outweigh quick wins.
I wouldn't judge you if you think everything that happened was as it should be, but I will say that if that's the way we're all headed, you'd better buckle up for increased prices, less pre-production quality control and durability testing, and an erosion of trust between brands and media. Bye bye colourful personalities and bikes, hello platitudes.
– Pete Roggeman
---
For our part, it doesn't seem like much hardship for the riders who consume mountain bike media to wait to see bikes that may be destined for production, while it seems to be a royal pain in the ass for the company whose product was compromised. And it's also not great for those who are employed evaluating early prototypes, if they think they have to be on high alert for spies at every moment. A photo the same PB user took, of another pre-production bike, suggest that he was lying on his belly underneath a truck when he took the photos. Really? This seems a little much to me. Does mountain biking really need paparazzi? Beyond that we're leery of doing something simply because it will generate clicks.
Another sticky point, at least from a media perspective, is the fact that we are at any given time concealing products that companies have given us, which makes this feel a little hypocritical to me. If you are willing to disregard a company's desire to conceal a product, because a consumer posted a photo, why not post the stuff you are holding? You know, revealing the products you've been trying to ride and evaluate, while at the same time keeping hidden from consumers?
The area at Parkgate, referred to as 'the dumpsters,' often sees prototypes and is heavily frequented by industry types. Generally everyone's okay with turning a blind eye, which might explain why the rider entrusted with the Devinci felt a little too safe. I can understand it though and it's amazing what people miss. The local SRAM marketing staff were riding AXS on the North Shore for months and they'd often get questions about their bikes. The funny thing was, they were riding Zipp carbon wheels with the Quarq TyreWhiz, and everyone was so mesmerized by the blinking red light, not a single rider noticed the wireless derailleur.
If I'm riding something before it's released and someone asks me about it, I will generally do my best to answer questions I'm able to, without compromising anything sensitive, and I've never had to dive on a bike to prevent a photo being taken. Sadly, I may have to start doing that.