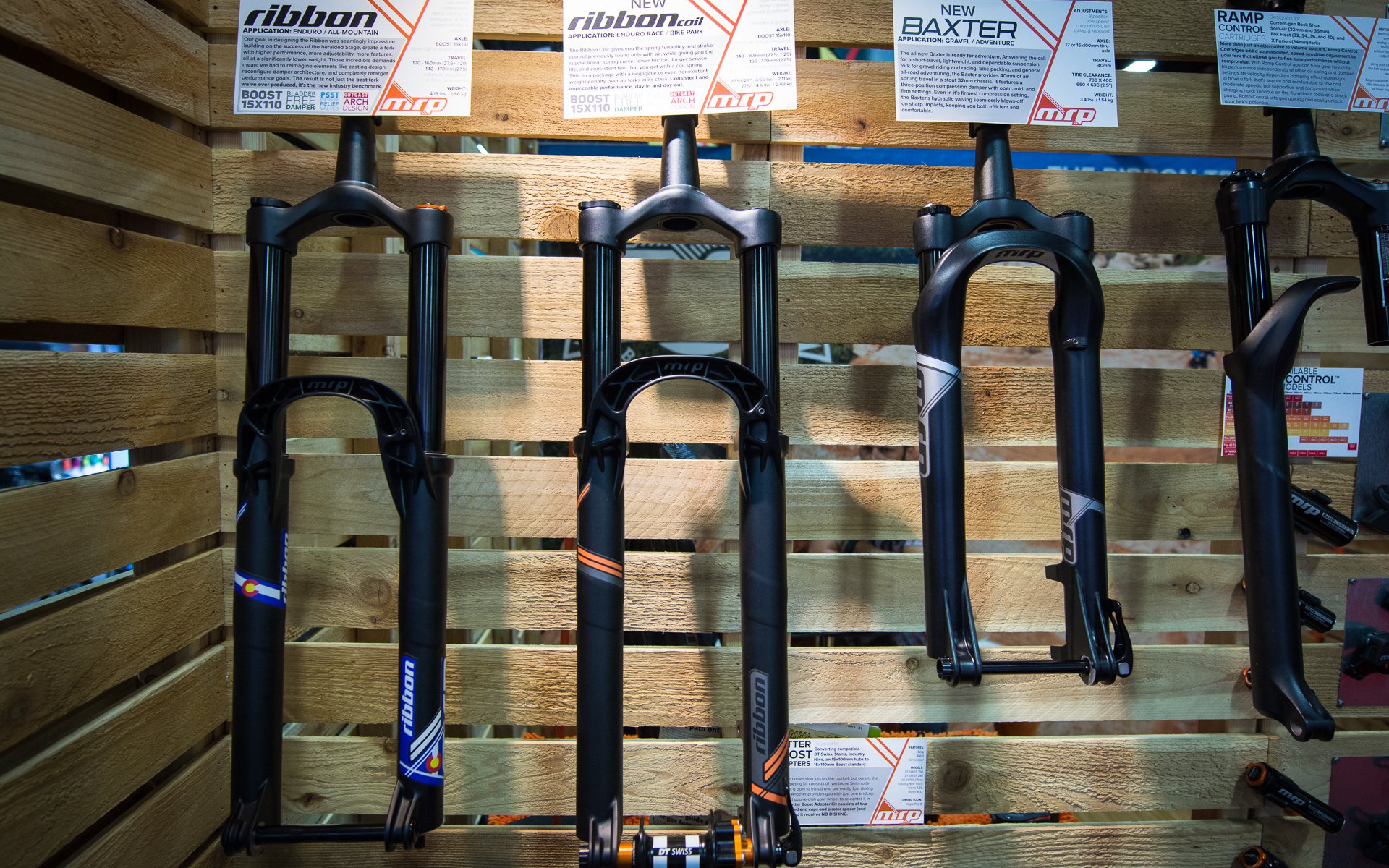 And Other 2018 Stuff
MRP Ribbon Coil
MRP has been busy with a smattering of cool little adaptive-style products, which could technically include their new Ribbon Coil fork. Using the same chassis as the air sprung Ribbon introduced earlier this year, the coil version essentially drops a coil spring in the air chamber and replaces the air valved top cap with a valve-free version. Sound like a simple process to produce another marketable product? Yes and no. MRP spent plenty of R&D hours perfecting spring rates that would offer a proper performing fork, and ultimately ended up with 5 different spring options that can be tuned to rider weights from 125lbs to 250lbs. Each fork comes with three springs - soft, medium, and firm - with an extra soft and extra firm option being à la carte options. The Ribbon Coil keeps its Ramp Control adjustment in the lower leg, allowing adjustment of the ambient air captured between the lower leg and stantion for what's said to be a noticeable difference in ride quality throughout said adjustment. In case you're wondering, that coil-specific top cap omits the ability to run a hybrid coil/air tune. 
Ribbon Coil Fork
Available sometime next month, the Ribbon Coil will be offered in 27.5" with a 44mm offset, and in 27+/29" with a choice of 46mm or 51mm offsets. Travel is internally adjustable on both models, with a range of 140-160mm for the 29er, and 150-170mm for the 27.5. Target weights are 4.6lbs/4.65lbs for 27.5/29, and retail is $989.
Ramp Control for X-Fusion
MRP adds X-Fusion compatibility to their Ramp Control cartridges for 2018, allowing speed sensitive ending-stroke control as well as bottom-out force adjustability. Weighing in at a claimed 55-grams, the drop-in unit replaces the stock top cap on X-Fusion forks and weighs about as much as two Fox tokens. They're available this fall and will retail for $140. 
Boost Adaptors
There's a lot of nice wheels lying around these days thanks to Boost spacing, but MRP is trying to fix that with their Better Boost Adaptors. Consisting of a rotor spacer, longer rotor bolts, and two end caps that actually capture in the hub, the conversion kits are available for I9, Stan's, and DT Swiss hubs currently, and will be available for Chris King and Hope sometime this spring. Pricing is $45-50. 
Race Axles
MRP's Race Axles offer a low-profile option to typical QR's thru-axles, and at 36-46gms, generally weigh a bit less, too. With nine axles to choose from, including Syntace systems, the alloy axles require a 6mm allen to operate. Retail is $40, and $45 for the Syntace version.