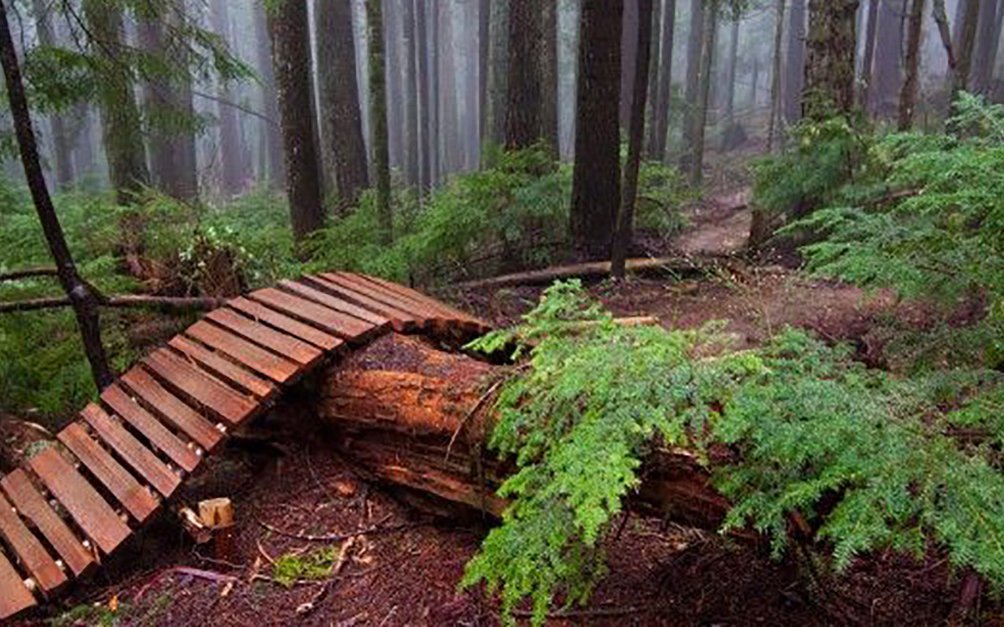 Mountain Biking's Worst Enemy
Originally published 2016-07-29
When parallels between the mountain bike community and US politics emerge, it may be time to re-examine how we interact. Both Republicans and Democrats down south are used to encountering hatred and vitriol from the other side of the aisle, as we are from the most rabid opponents of our sport. A glimpse at the venomous commentary on social media makes it clear that even rank and file voters have a deep distrust and no respect for those on the other side of the red/blue divide.
In this election cycle new fractures have emerged. Chasms of opposition have appeared within the two parties. Some Democrats hate their chosen candidate so much they have decided to vote for… Donald Trump. And the reverse is even more likely. There are even high profile members of Dubya's administration who have publicly declared their support for Hillary. From the outside it feels like the apocalypse is nigh.
"As it stands, UDale is well built but it's a fucking snooze!"*
* UDales refers to Upper Dale's trail. 
This section of trail was one we worked on for several years and it was very erosion prone. In heavy rain it became a torrent and was a nightmare to maintain. The landowner (Metro Vancouver in this case) paid a significant sum to have it realigned and built with a succession of berms, by Paddy Kaye's company, which also builds the Joyride slope style course each year.

We have factions within mountain biking that are as dissimilar as Louisiana Republicans and California Democrats – but there isn't any need for animosity. Dirt jumpers and XC riders have so little in common they may never meet, except by chance at the ER. Instead, the divisions we are dealing with come from riders who are hewn from the same stone.
"….now it has been mostly watered down to the same shit you can ride anywhere….most of the soul is gone."
One example is the way the dumbing down crowd sometimes launches offensives against those who do much of the trail work and advocacy. To be clear I often lament the loss of character that can accompany trail work; roots covered, mandatory airs decommissioned, and tech climbs 'paved.' I prefer it natural and gnarly most often, but I've also come to appreciate variety. And with NSMB.com having adopted trails for four consecutive years, I have some perspective on the realities of trail building and dealing with landowners.
Our bulletin board has been a battleground for some of these discussions. So much so that Mike Vandeman and our local mountain bike hater, Monica Craver (known as the Frog Lady) both lurk and poach comments, often altering their context to paint us in a negative light; all to further their anti-mountain biking agenda.
"After 25 years of riding here. I feel part of my roots and soul have been taken."
Discuss. Dissent. Have opinions. These are fundamental to keeping this thin veneer of civility from collapsing into mayhem. And never in history have regular people had the opportunity to be heard as they do now. I'm happy we provide a place where people can have a voice. My stoke is more muted when I see how dissenters sometimes express themselves.
"So I am probably not the one to complain since I have only done limited trail work in my life…"
Our local trail association, like most across North America, is governed and run mostly by volunteers. There are a few paid staff but the rest sacrifice time that would be otherwise spent with family, working or riding trails. Despite this sacrifice, they are called dictators and accused of having a secret agenda to destroy the soul of the North Shore in the name of populist approval.
"The Shore used to be the Shit. Now it is simply the shits."
The Evil of The Net
The internet turns us into monsters. Or perhaps it releases the evil creature that exists within all of us. I know it's true and I am also vulnerable to keyboard rage. If my life had gone a different way, and I didn't have a somewhat public profile on this medium, I might have become a full time troll. My first instinct is often to lead with F-bombs and insults. I blame (and give credit to) my Scottish blood for the online battles I still sometimes find myself in. Thankfully I'm getting incrementally better at taking the high road. So I get it; our worst selves come out online. And sometimes I love it. If it's Richard Dawkins schooling an evolution denier, the more guns blazing the better. But when it's mountain bikers hacking on volunteers who do vital work to preserve and expand our access to trails, it makes my Scottish blood boil.
"a part of my soul has been bruised, perhaps removed for good"
Yes – the Shore has changed. There was a time when there was very little trail maintenance and the trails were slowly disintegrating – which is a sure way to preserve the gnar. Except that some of the disintegrating gnar was made of wood and nobody stepped up to fix it. And other zones were eroding to the point of no return. Back then there were a few flat crushed gravel trails and many black diamond lines – with virtually nothing between. Beginners and kids were faced with an almost insurmountable barrier to entry.
"New dales is crazy boring, what a waste of elevation."
There is still challenge aplenty on Fromme, Seymour and Cypress but the busiest trails are those that can be ridden by everyone. There are 72 singletrack trails on Fromme according to Trail Forks. Of those, 7 are rated as green, 19 as blue, 30 as black diamond and 14 as double black. And these are ratings that take the difficulty of the North Shore into consideration. Leppard would be a black diamond trail virtually everywhere else and Expresso, which is marked as green, has at least two moves that confound many expert riders.
A catalogue of dumbing down.
" If threats of lawsuits are what dictates current MTB trail ethos, then the NSMBA no longer has any real purpose and is obsolete."
But I digress. My point isn't that trails aren't getting easier. There are more accessible lines in our riding area than there have ever been. And I'm not saying people shouldn't have opinions. I am trying to make two other points.
Don't Be a Dick
A mountain biker crapping on the volunteers who build, maintain and advocate for the trails we ride is like sh!tting on your doctor because she isn't saving your life in a way that pleases you. Have opinions. Express them. But get off your condescending horse to express them, and have some perspective and gratitude for what these people do on your behalf. For f*ck's sake.**
** as mentioned – prone to keyboard rage

Provide an Alternative Way Forward
I have ridden with several past and current NSMBA board members and many of them are better riders than I. They appreciate challenging trails and I know they work hard to preserve them and to maintain the audacious creative spirit builders like Digger and Dangerous Dan embedded in our mountains. The harsh reality is there are landowners and their lawyers to wrestle with. The days of building whatever you want are gone. Great strides have been made because the bureaucrats and politicians who grant access have come to trust our trail association. That trust was hard won but it would be easily lost. Lamenting the changes, blaming the NSMBA, and providing no alternatives, is the strategy of the professional complainer. It is of absolutely no use, and yet it does damage. If you have some mystical power that would convince landowners to build new gnarly trails – exactly the way you want them – let us in on the secret. Otherwise have some respect for their effort and realize that you are hacking on people who are working on your behalf. Many of them working for free.
By all means, lament the loss of trails and distinct sections you love. There are times when the loss of a single root has felt tragic to me. Sing their praises and express your desire to preserve them, but recognize the realities that accompany legitimacy. And then have some gratitude for the work done to allow us to ride our bicycles on challenging and interesting trails that literally cast a shadow over one of the largest cities on the west coast of North America. Or wherever you happen to ride.
While our sport is gaining traction in the mainstream, it remains a misunderstood fringe activity with an identity problem in most contexts. We are seen either as reckless daredevils or lycra-clad leg shavers. Those who fail to recognize that riding bicycles in the woods is a healthy pursuit that allows us to move through the wilderness with very little impact, will continue to do what they can to damage our reputation in an attempt to restrict our access.
Don't shut up. Continue to express opinions. But for the love of Jeebus, let's recognize that the internet tends to make us a-holes – even to each other - and take a deep breath before putting those damaging fingers to keys.
FFS
Long Live The North Shore.
---