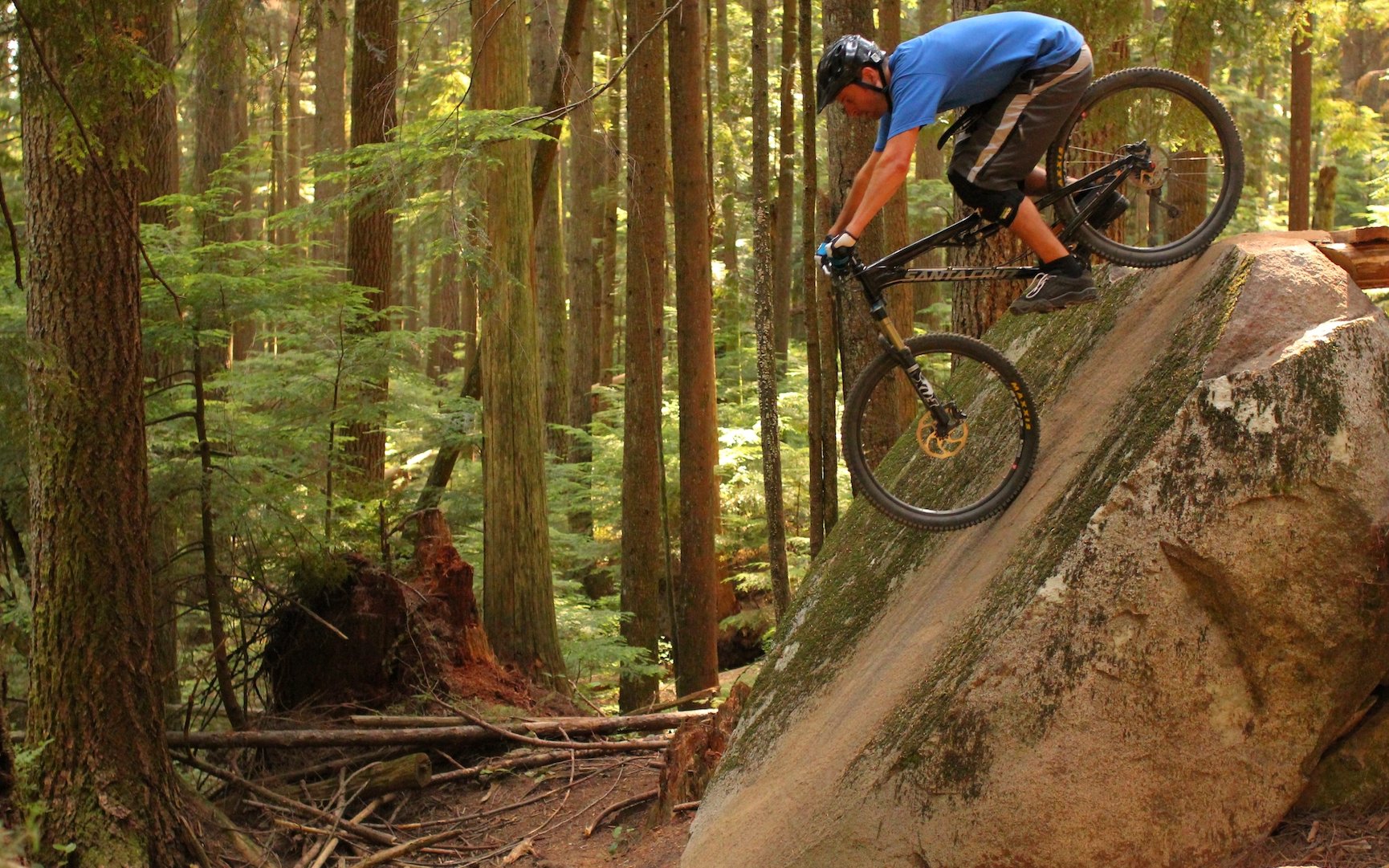 Uncle Dave
Mountain biker, or one who rides a mountain bike?
At work the other day, I was talking to a co-worker. She was explaining to me how she had just bought a pair of new climbing shoes and was heading out that evening to try them out. For her, this was a fairly new pursuit and she was plunging in head first. I asked her at what point she thought she might transition from being a person who climbed into a "climber." The look of disgust suggested never, and she asked me if I described myself to people as a "mountain biker".
The pause that followed was long and awkward. This proved to be a question that I had to put a lot of thought into answering. Am I a "mountain biker," or just someone who mountain bikes? Over the course of the day I interrupted her several times to insert fresh nuance into my answer to a question that she almost immediately regretted asking.
For some, this definition is easy. One example happened earlier that same day, when I bumped into a guy that I encounter in the bike room at work every so often. I say that like I bump into him occasionally when I ride my bike to work, but it's more like I occasionally ride my bike to work and when I do, I bump into him in the bike room. He rides to and from work, every single day. By my math this is at least a 40km round trip (and quite possibly more). On top of that, I think he rides his mountain bike when he gets home, more days than not. In one of our conversations he dropped that his wife rides as well, and they use much of their vacation time riding bikes. When talking to him about riding bicycles I feel fraudulent and inadequate. I'm confident of what his answer would be to the mountain biker question.
This is a similar experience to how I feel during most media launch events. These leave me gasping for air, as much during the post ride conversations as on the ride itself. My strategy is to tuck myself at the tail end of the climb and then try to wrestle some self respect back from somewhere mid pack on the descent. Once the ride is done, I'll hide out in a corner and quietly listen to a dozen people who have ridden everywhere and everything. You could be standing down the block and you'd be able to make the call that all these people are "mountain bikers".
Shit, even my average North Shore ride has the same effect. Just this past Wednesday I hitched myself to the back of a shuttle and halfway down as we paused at a trailhead, somebody asked me if it was my first lap. It's 5:00 on a Wednesday! What the fuck else could it possibly be? Total "mountain biker."
According to mountain biking, these are the people against whom we are supposed to judge ourselves. Find the fastest, the fittest, the strongest, and then line yourself up beside them and come to the conclusion that they're better than you. Chew on that for a while, and then you're supposed to wonder where you went wrong and what it is about yourself that prevents you from living up to these ideals. Once we process that and scrape ourselves off the couch, even if we manage to close that gap a little bit, all that extra riding we're now doing just brings us in touch with a fresh bunch of people that ride even more and make us feel even worse about things. Eventually, there's only one conclusion. If these people are "mountain bikers", perhaps we are not.
Maybe it's time consider that our terms of reference and our measuring sticks are just a tiny bit flawed? What value is there in judging yourself against the best and the brightest? I've never lined myself up beside the best in anything and come away feeling like that had been a fantastic idea. Post-ride dick-swinging contests are seldom the key to a healthily balanced mind state. You just get a bit sad and then you head home and sit in front of your computer and feel like an imposter with nothing interesting to say about riding mountain bikes. Though, that could just be me.
Maybe we need to take a broader look at things, rather than focusing on one isolated little category? Perhaps these insanely fit, talented and opinionated bike riders are really bad at their jobs or take horrendously smelly shits at awkward moments during the day? Maybe they would be in awe at the professionalism that we bring to the workplace, or our odourless, metronome like abilities in the bathroom? Why would we choose only one hyper specific category for reference?
I think what it is, is that we're always driven to be the something-est. If we're not the fastest, we can be the toughest. If not that, we can be the most dedicated or fastidious. Shit, there's probably even something in being the most callous, or disinterested. I guess it makes sense that we want to stand out in a group, but it's strange how powerful that urge can be, and how awkward it can feel if you're clearly not the something-est at anything. Perhaps I'm only asking these questions because I hope to be the most cerebral, or neurotic?
Why I ask these questions is that as I get older, I'm starting to feel both more uncertain and more confident in what I am in this life. I'm uncertain because I'm discovering that I'm not really these things that I thought I was, and more and more I'm leaving behind that picture I had of myself in my 20's and 30's. So where does this leave me? What am I exactly? The confidence comes because the further that I get from these really specific definitions, the more likely I am to have a decent answer to those questions.
There's danger present though, too. It's far easier to shirk off riding for a week if you're just a guy who rides mountain bikes, and not a "mountain biker." If you're not careful, you can find yourself a hop, skip and a jump away from becoming guy-with-a-fancy-bike-that-rides-twice-per-year. There's not necessarily any shame in that, but there are years of ingrained mountain biking reflexes that insist we need to be anything but that guy.
Because that's the problem, isn't it? If an outsider asks us if we're a "mountain biker," it's impossible not to think about all those other "mountain bikers" out there who would not-so-silently judge us on our answer. It's like introducing yourself as an "investor" at a Berkshire Hathaway AGM, or a "golfer" at whatever Saudi Arabian breakaway golf championship they've rolled out this week. Most people don't want to put themselves above their station, but neither are they too keen on giving the impression that they're some kind of jackass that uses their long travel ebike to duff around on concrete walking paths, scaring small children and ducks.
So, depending on who is asking and when, my answer to the question of "mountain biker or guy who rides a mountain bike?" will likely be different. At times this answer will trouble me, and at other times it won't. It's near certain that I'll sound like a bit of an idiot as I work through it.
More importantly, I feel like I still have enough authority to write about bikes and pretend that I know what I'm talking about. For now. But in turn, that becomes a question for you. Is there an audience for a guy who rides a mountain bike to talk about mountain biking? Or should websites like this be the exclusive domain of the mountain biker? Or are you all just secretly guys-with-fancy-bikes-that-ride-twice-per-year?
Sorry,
Uncle Dave
Uncle Dave's Music Club
This is probably a bad time to bring this up, but I feel like I'm slowly becoming a back-in-the-day listener of music. You know. One of them "These new bands are just ripping off X!" or "I saw them back when they were just buskers down at the train station and they didn't even have real instruments to play!" types. So, it gives me great pleasure to bring you a motherflipping, honest-to-goodness, heartstopping, hot off the presses bit of new-ness. Is this a new band? No. But it is a new song, and right now, I'll take it. Better than that decade old shit I've been pushing lately.