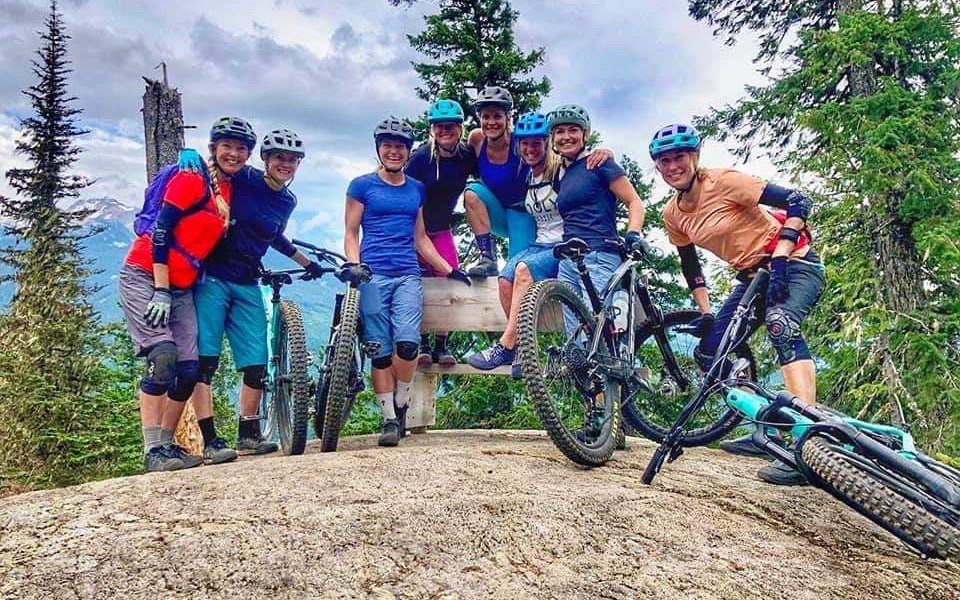 Motherhood And Sports
Mothers Who Ride
There's a lot of meaningful conversations happening in the world right now, thrusting us forward as humans, and seemingly for the better. But one of the more recent ones that has received some, but not nearly enough limelight, is that of motherhood and sports. I grew up separating female athletics from motherhood. With few examples, it seemed that you either did one or the other, but not both. In the mountain bike world, we have now seen Rachel Strait and Rachel Atherton normalize the journey into motherhood and back into sport, openly discussing their experiences. In my own riding community, I'm surrounded by women that do not let societal norms define them. In fact their norm is to regularly defy them. They are strong, powerful, and face challenges head on.
Knowing this, I shouldn't have been surprised when I learned of a group of women who ride together, many of them mothers, cheering each other on as they tackled some of Whistler's most challenging terrain. I watched and admired as videos would pop up on my social feeds of them yelling words of encouragement as one of them took on the infamous Green Monster roll, or pictures of them all out for a climb, one of them sporting a baby bump.

"Biking makes me feel like myself. Without my kids, my partner, without a job, It's nice to do something that challenges me."
They didn't skip a beat, showing that it is in fact possible to embark on different life journeys while still continuing to develop as a rider. I was lucky to sit down with Belinda Hughes and Ainslie Conway, two women who are part of this incredible group of friends, and discuss how they manage motherhood and sports, and what it means to have a support group who all share the same passion for the trails.
Belinda and Ainslie have known each other since their pre-kids days and like many of the ladies in their group that ride together, they were in the same community or worked together at previous jobs. But it was biking that brought them closer, and when progressing careers and children made connecting harder, it brought them back together yet again. Through kids groups at the library, social media, and school pick-ups and drop offs, their riding group grew substantially. Criteria of belonging was not exclusive to mothers or to have a certain riding level, it was just a shared love of bikes.
10 years later, their group is many members deep and a quick "who can ride in an hour," message on Facebook at 6am leads to at least 6 women able to ride by 9am. They work around schedules, family life and pregnancies, riding all over the Sea 2 Sky. No trail grade is off limits, it's just a matter of what the group is feeling that day, making it not unusual to see their crew up Howler or on Business Time. Heli drops, trips into the interior and to Vancouver Island are scattered through out the bike season, either with kids in tow or just the girls. The social element continues to help them make riding a priority but it's so much more than that. According to Belinda, "when we had kids we didn't want to forget about ourselves and our passions. Planning and supporting one another helps in maintaining passions which results in being a better mother and better partner because you're getting what you need, too. If I tell my kids they can dream big, I have to prove that as well."

"Biking is a huge outlet, a connection to women, to nature, re-creating community, laughter, trust."
I had one more question. One that I have wondered about for a long time. How do they continue to push themselves on their bikes and take risks with a family at home? According to both women, of course there is a time when pulling back is necessary but with the support of the group, confidence as well as the desire to take on risk returns. Unconditional trust helps them follow each other down lines, honesty about how each is currently feeling takes away any pressure to push too hard, and the most important ingredient, just having fun with their friends, makes anything possible. They didn't go out of their way to make bold decisions on their bikes, they are just doing what they love alongside people that they love, and the result is natural growth.
Sports and motherhood can go hand in hand and groups of women like the one found in Whistler make it possible.