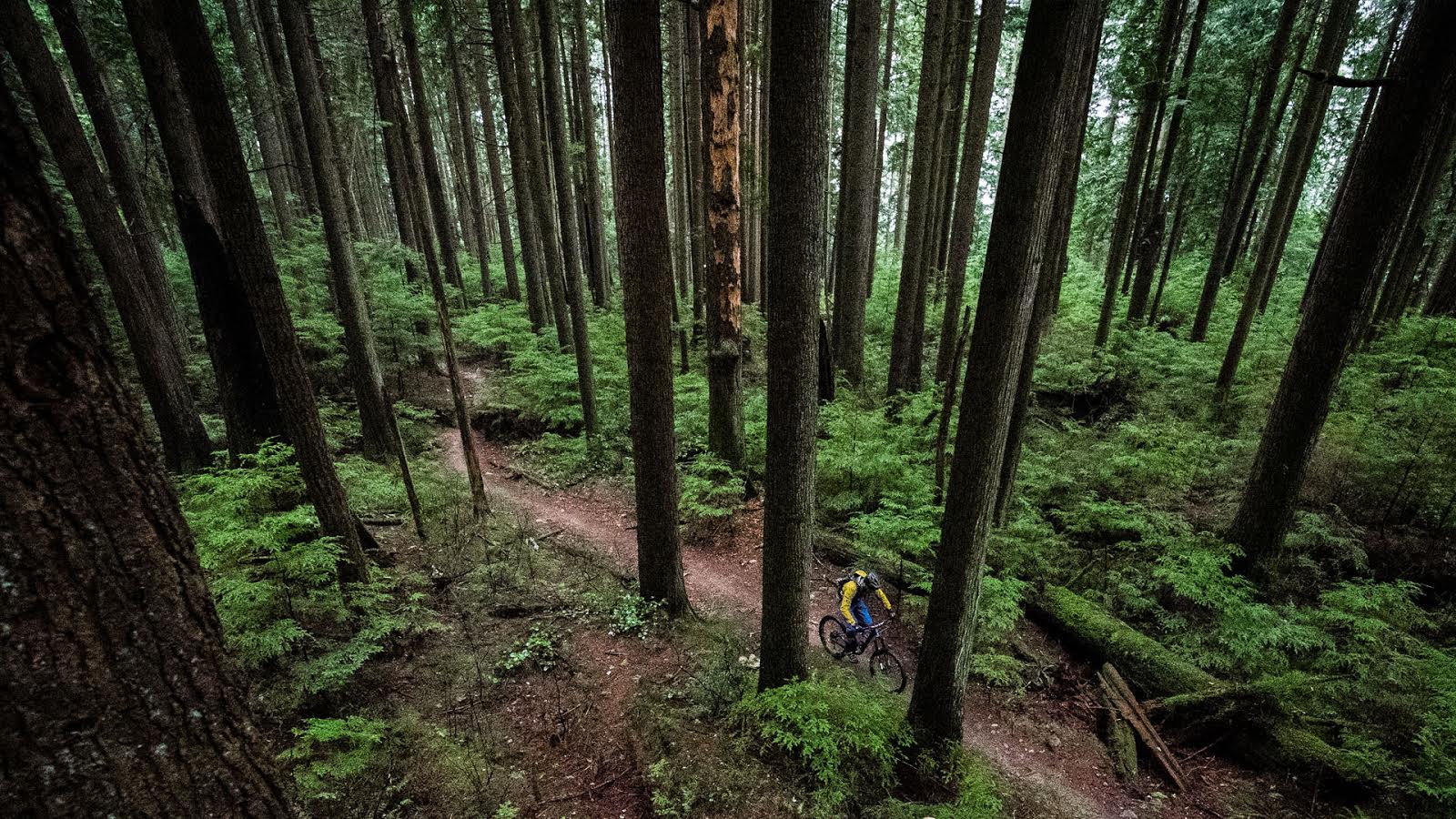 The Mossoleum
We've recently gone through some back end changes here at NSMB. You may have noticed our comment system has changed on the articles, and that you can easily share our content to various social media. That's all well and good, but we'd love to keep your eyes peeled on our pages right here – which is why we're excited to roll out some formatting updates that up the visual quality of our content.
For our first feature exploiting the new goods, we're happy to bring you some big photos from Derek Dix: Kevin Landry riding the 2013 Banshee Rune at "the Mossoleum" outside of Squamish, BC. Make sure to click those photos, and leave a comment!
---
Fresh Tracks and First Descents
Putting the very first tire tracks on a new line is one of the purest experiences you can have on your bike. Finishing the final rake sweep, kicking your pedals to rid your shoes of the excess loam, and contemplating whether the feature is going to work at all. Sometimes it is a long, technical freeride line, or a recently cut section of hand built trail, or a new clean line through the moss on a large rock. Whatever form it takes… the first time you accomplish it, first tracks on a brand new feature or trail becomes the new unicorn, the new dragon you chase.
These almost transcendent experiences require a large amount of commitment, not just to ride the line, but even to be at the line… to simply be at a virgin line represents serious dedication to mountain biking. Immersed deep enough within the culture to have either picked up a chainsaw and built a line, or better yet to collaborate with a crew of impassioned builders and win the Rock, Paper, Scissors toss. Riding a brand new line represents the entire culmination of skills accumulated from every trail, feature and jump you have ever ridden up to that point… it is the ultimate form of expression on two wheels.
Blah Blah Blah, that little diatribe above is going through my head as I push to the top of a huge, wet, moss covered rock that photographer Derek Dix found far up the Squamish Valley. 'Transcendent Experience' 'chasing dragons', 'Unicorns'…utter BS. I look down the line; it drops away 3 times, each segment getting steeper, longer and more exposed, the forest floor is roughly 30 feet below the final rock roll, 80 feet below the drop in point, and has a small step down waiting for you way down there as well. I look at the line, thinking of my braking points, hearing Derek Dix and Taylor Loughran discuss optimal light angles and best places to shoot from.
I visualize the dirt packed into the bottom of the final rock roll. I was pleased that the previous season's snow pack compressed the transition far beyond the capabilities of a shovel. I start to think about worst case scenarios: "worst case, things start sliding and you 'no brake' it into the bottom transition". The hard dirt transition gives me confidence in the run out, however, leaving me questioning how the first two steep and slippery pieces of trail are going to go leading into the rock roll. Precariously perched atop the drop in, I think about the recent weather – I wonder if the 5 hours of sunshine have done anything to combat the recent weeks of rain…
"Ready" Shouts Derek, "Ready" echoes Taylor; knowing they are good to go I start rolling down the line, thinking "well 5 hours of sun is significantly better than no sun". Dropping into the line, with full traction on the first section, slow into the next roll, surprising amount of traction, stay hooked up, drop into the final rock. Fully pinned into the transition, slight brake check, step down, still pinned, full brakes.
"Mountain bikers are weird, snowboarders play rock, paper, scissors, to avoid hitting the sketchy jumps first, not for the privilege to guinea pig them" Taylor says. High fiving Derek for a stellar build, and thanking him for showing it to me reinforces that first tracks on a brand new line is one of the most fulfilling experiences on two wheels.
'The Mossoleum'
Mossoleum was a line found and built by Derek Dix and Connor McLeod, a ways up the Squamish Valley. The giant rock which composed the area's most prominent feature was blanketed in thick moss, quickly becoming referred to as 'The Moss-oleum'. Which in the context was significantly funnier, as not just the rock but the entire zone is covered with a thick, luxurious moss. The line snaked its way along the edge of the rock feature, making two steep descents before dropping into the rock's face.
The first roll looked relatively benign, while the second, a steep convex sliver of dirt wedged between the outside ledge and the rock itself presented the crux move. After this roll was less than a bike length of flat terrain before a 30ft long, almost overhanging rock roll which runs out immediately towards a small mandatory step down. I wondered whether the 5 hours of sunshine was enough to combat almost 2 weeks of rain – the crux move was steep, and if you didn't nail it (technical term) you would be in serious trouble into the rock roll.
The search for virgin lines and new terrain is a common thread between all action sports: a skier searching for fresh tracks; climbers looking for new rock; surfers for new and exotic breaks. For a skier to enjoy fresh, untracked snow it just has to snow again, for climber to send a new route it simply has to be found and cleaned. However it is not that simple for mountain bikers, which contributes to its allure and satisfaction when accomplished on two wheels. First the terrain needs to found, scouted, then a line needs to be cut and built, any features need to be designed and constructed, transitions and drainage added… on top of that it will need to be of a certain length.
Pulling all these factors together makes for a rare opportunity. Our advantage over the skier and climber – who to pull off a true first descent require a face never before ridden, or a rock never before climbed – is that we can build a new line almost anywhere.
---
How do you like the new format? Stoked on Landry's waxing about first tracks? Drop a line below…