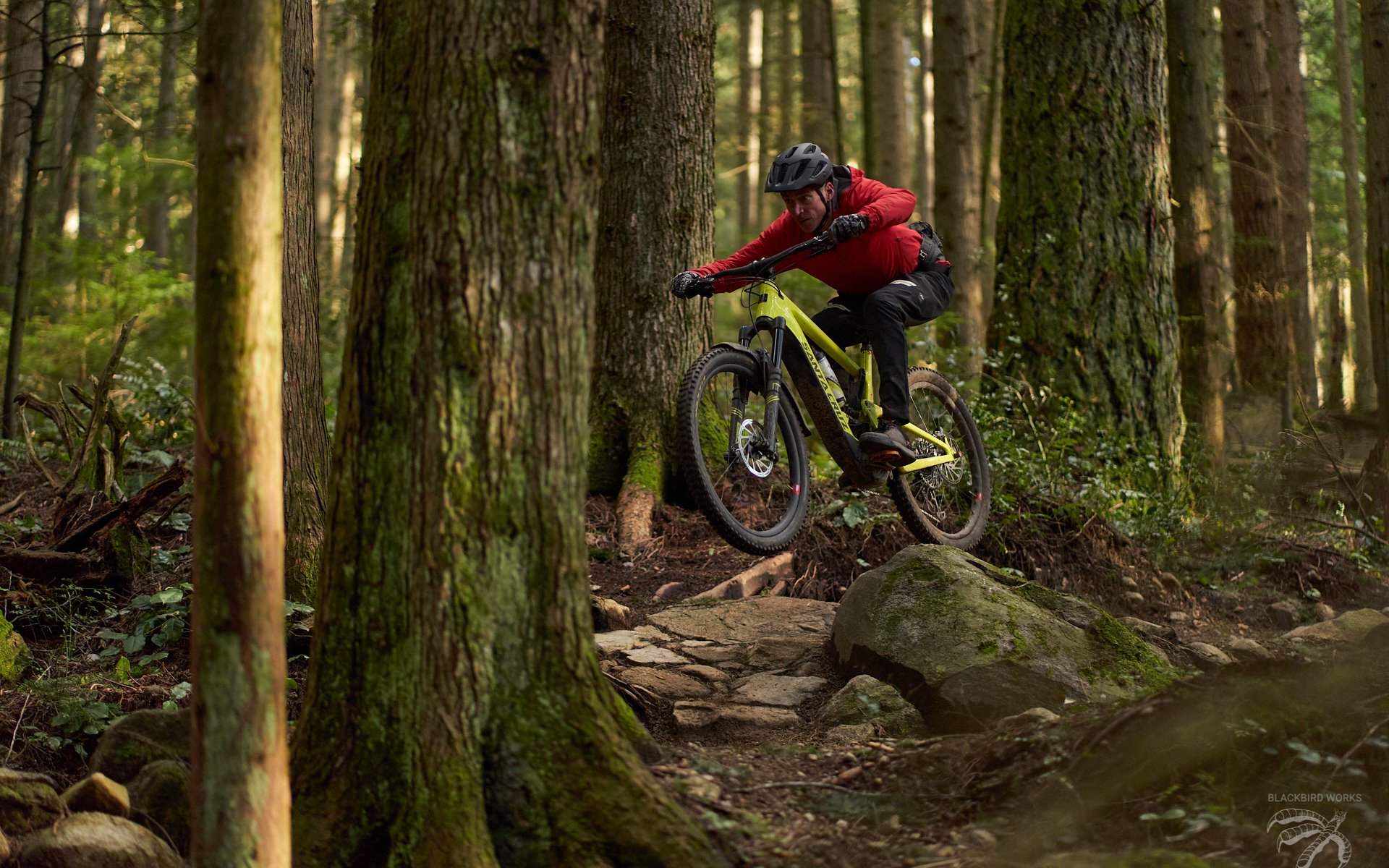 Not A Review
A Month with the Santa Cruz Heckler E-Bike
I wasn't sure what to expect. Would an e-bike ruin my desire to power my ride with only my own paltry engine? Would my riding patterns change? Maybe I'd get hooked on the narcotic of watts as others have? I had an idea of what climbing would be like but not descending and I hadn't spent time on an emtb since 2014, when I rode a Haibike Xduro. It rode surprisingly well, with lack lustre components, a Fox 32 and sketchy geometry. Things have changed a wee bit in that time, and having Santa Cruz enter the market was an interesting milestone. Trek, Specialized, and Giant have been making e-bikes for years now, but as a boutique brand with a loyal clientele, Santa Cruz wasn't about to plunge until the water seemed safe. Or maybe somewhat safe is more accurate. Is it safe for us? Probably not, but we're one ankle into this fetid puddle already so let's get wet, before we even have a menu dropdown for e-bikes.
The Heckler
Santa Cruz did a stealthy job making the Heckler look like a bike. As in, a bike without a motor. A close look reveals the Shimano power plant mounted at the bottom bracket, and the fat, battery-filled downtube, but well-placed black finishing conceals both quite successfully. The naked eye might miss the 650b wheels as well, which was an interesting choice. Santa Cruz sales hit another gear when the Tallboy was launched. One of the first 29ers that was universally praised, it sold better than all other Santa Cruz models combined. Santa Cruz opted for tweener wheels here to generate a livelier ride that compensates for the extra heft (46 lbs). I'll bet you a set of Reserve wheels there's a big-wheeled version on the horizon.
The power made available by the Shimano E8000 drive unit is vastly superior to what I experienced on the Xduro six years ago. It struggled when things got steep and needed high cadence to get really going. So far only skill has prevented me from getting up any hill I've attempted on the Heckler. Fromme's climbing trail, which I have only attempted at non-peak hours, is certainly faster, but the frequent switchbacks make the difference less pronounced. If I was short on time I took the fireroad.
Ride Selection
I stayed close to home on my first rides, and going too far wasn't an option in the age of COVID-19, but I went for longer rides and in less time. Heading up the fireroad on Fromme at 20km/h (12 mph)* was quite comfortable and it made the temptation of more laps hard to resist. Which means, there is no question that e-bikes increase wear and tear in areas that can't be shuttled. I ride from home sometimes on my usual rides, but on the Heckler it was automatic. Ripping on the road and arriving at the trailhead in a third of the time, is a seductive revelation.
*I caught up to a group of women who were formerly XC racers, one sponsored and on the national team, and they were going about 7 km/h - but just toodling along and chatting
Another ride I started doing involved riding over the Cleveland Dam and into West Vancouver to an ugly climb. It's a steep double track with occasional rock features to climb and lots of rocks strewn everywhere. It's a brutal challenge normally but with the electric boost it becomes fun, but still very hard work. I particularly enjoy getting the front wheel up in the air and powering up something ridiculous like a trials moto. There is skill and finesse necessary to get up challenging sections and it's incredibly satisfying when it goes well. Going for longer adventures in less time is one of the bonuses of an ebike. On my old legs, the fun to effort equation doing the same ride unassisted is less compelling. That isn't necessarily worse, but for me it's the difference between doing a ride like that a few times a year or a couple of times a month.
Covid Pal
As a pandemic bike, the Heckler and e-bikes in general, make a lot of sense. It's easy to stay 2 metres away from others, and to ride from home, and it makes riding alone a little more fun. Despite the downturn, I wouldn't be surprised to see a bump in e-bike sales based on the reality show we're all currently starring in.
E-Down
Descending on the Heckler was quite surprising. On smoother bermy trails I was generally faster. The low slung weight, much of it below the front axle, seems to propel you forward and sink confidently into corners. At times it feels like a stabilizing gyro in the middle of your bike, and I often found a next level of comfort and confidence in the air. There were even times when I felt like I could move the bike around a little. I noticed this particularly on trails with gap jumps I sometimes have a hard time making. On the Heckler, without any pedal strokes, I seemed to always hit tranny. A bonus is that this confidence transfers nicely back to other bikes I'm riding, which I didn't expect.
Getting up and over things, despite Danny MacAskill's brilliant displays, is generally a little harder. Sometimes extra speed closes that gap, but in the real jank, where speed and momentum are in short supply, the Heckler can feel a little unwieldy. At around 46 lbs, it's not as porky as many others though and in many situations I was surprised by the bike's agility. Often the aforementioned mass below the front axle height, seemed to allow me to push through rough bits that would have stopped lighter machines.
It's easy and often preferable to turn off the motor on the descent, but occasionally I left it in boost to mainline some extra torque. Battery life takes a little hit this way, and I did manage to almost kill the 504 Wh battery a couple of times, but not quite.
Shimano E-Steps
Occasionally there would be a startup error on the E7000 display. With the help of Jeff Bryson I learned that one issue was powering up the bike with even slight pressure on the cranks. The computer would detect this and, rather than shoot you into the traffic, disable the motor. There was another error I had a few times that seemed like a glitch, and once the battery had to be unplugged before everything fired up again.
Other than those minor issues, the Shimano system worked really well. Unlike other companies, who substitute components of the Shimano drive system for cheaper generic bits, Santa Cruz went for the entire system. The plug is much better than another we've been riding lately, as are the connections at the head unit. Another bonus is that Shimano's diagnostic tool will be able to ferret out any issue, which isn't the case when cheaper wires, plugs, and connections are used. The Shimano Etube app (I have no idea what Etube means) works well and allows you to choose three levels for each power range; Eco, Trail, and Boost. I went full moto and put each at the highest level, and the Heckler really moved. In fact it was so much faster than other e-bikes that I had to sometimes ride in Trail mode when they were in Boost. And the difference wasn't my superior fitness.
Riding Habits
Choosing a riding partner (one only - at 2 metres currently) is trickier. Riding an e-bike when your riding partner is not kind of sucks, for both of you. It's fine on the way down but in most other situations the e-bike is so much faster that riding together is either painful or impractical. The nice thing is that you can ride with faster people and shrink the difference as long as you are both on e-bikes. I went for a ride with Seb Kemp, and while the pace could have been a little slow for him, particularly on the way up, he could stay in trail and if he got too far ahead I just slipped it into Boost without telling him and closed the gap. While we had two e-bikes around I would disinfect the bike, in a very large autoclave, and invite friends to saddle one up.
Over the course of a month, when I was riding 4 to 6 times a week,* I generally rode the Heckler once or twice a week and other bikes the rest of the time. I didn't keep a scorecard but I'd guess it got between 25 and 30% of my attention. It certainly wasn't the happiest concubine. That number may have dropped a little were it not for COVID-19, but a lack of group rides changed my habits significantly. No shuttle bumps and no rides with more than one other person made for fertile e-bike attraction.
*the testing schedule has been heavy
Ruined by Electricity
My biggest worry was that my affection for the elegant simplicity of the bicycle would be compromised. I wasn't sure if I would saddle up without power and discover the most efficient vehicle known to man had lost some of its magic and feel sluggish and slow. Occasionally those first pedal strokes back on my usual bike felt like pedalling through glue, but only when I started on a steep climb, and the sensation always faded. Thankfully, the silence and agility of the mountain bike hasn't lost any of its allure. I imagine it's like a backcountry skier rides the lifts on a powder day, (since every day on a mountain bike is a powder day) and then goes back to skinning for vert. Both experiences are sweet and have distinct attractions, but for me it feels like one won't ever replace the other. There's likely a Tinder analogy in here, but an e-bike never turns my head or makes me catch my breath like the distilled mechanical perfection of the bicycle, but the access and speed of a bike like the Heckler is undeniably seductive.
Like a Harley in a Graveyard
E-bike etiquette is something I worried about. I tried to slow down when passing other riders climbing, and I always made an effort to say hello. Sometimes I just said, "sorry," like a true Canadian because I felt rude and entitled passing riders under their own power. I was hoping someone would say something confrontational, so I could engage them and ask a question or two, but it never happened. The Pandemic likely had some influence on that. If an F-bomb had been lobbed my way, I'm sure I would have sympathized and aligned with at least a portion of their sentiments. Mountain bikes already have a PR problem, and e-bikes are bound to sully our reputation further, at least to begin with. While many who own an e-bike are long time riders who understand how hikers, dog walkers, residents who live near trailheads, and the public in general often see us, and govern themselves accordingly, those who are new to riding and start off with an e-bike don't know that history. Being surrounded by a community that can demonstrate good behaviour is very helpful, but new riders may not have that access. The road ahead looks a little bony, but not unrideable. At least I hope not, because electric mountain bikes seem to be here for good.
In Closing
A conversation started on the way up the fireroad today. I helped an Italian on a Levo with a Trust fork, navigate a little and we merged with another pair. One of them asked if we felt bad passing riders (I do), and a conversation started. The Italian talked about having an e-bike four years ago and almost coming to blows when a rider tried to prevent him from riding down a trail. One of the other pair said, "I don't get it. Mountain biking is supposed to be fun, and these are really fun." I looked over my shoulder and said, "I'm not sure that's the best justification." He gazed back at me puzzled and asked what I meant. "Well," I said, "I've heard the same thing about crack."
I've used that line before, but it's no less true now. If we aren't examining the net impact of a new way to ride bikes, and failing to mitigate potential negatives, simply because it's fun, we are putting our sport, and frankly, our way of life, in jeopardy. Vigilance is key and bike companies, and media companies like this one, need to take the lead to ensure we don't ruin what many have fought hard for years to achieve.
Personally, I've come to the conclusion that I'd appreciate having a bike like the Heckler around all the time. The ability to get out for a quick ride that that ticks many boxes means I ride a little more. High speed climbs allow more vertical and more trails. And finally, E-bikes are superior in every way to shuttling, heli drops or riding a chairlift. Today, carving out some extra time on the way up opened my schedule for an hour of trail work that wouldn't have happened otherwise.
That's where I stand. Heckle away.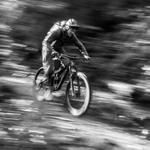 Cam McRae
Height - 6'/183cm (mostly legs)
Weight - 170lbs/77kg
Inseam - 34"/86cm
Ape Index - 0.986
Age - 56
Trail I've been stoked on lately - Boogieman
Bar Width - 760mm
Preferred Reach - 485-500mm (longer with 27.5 wheels than 29)