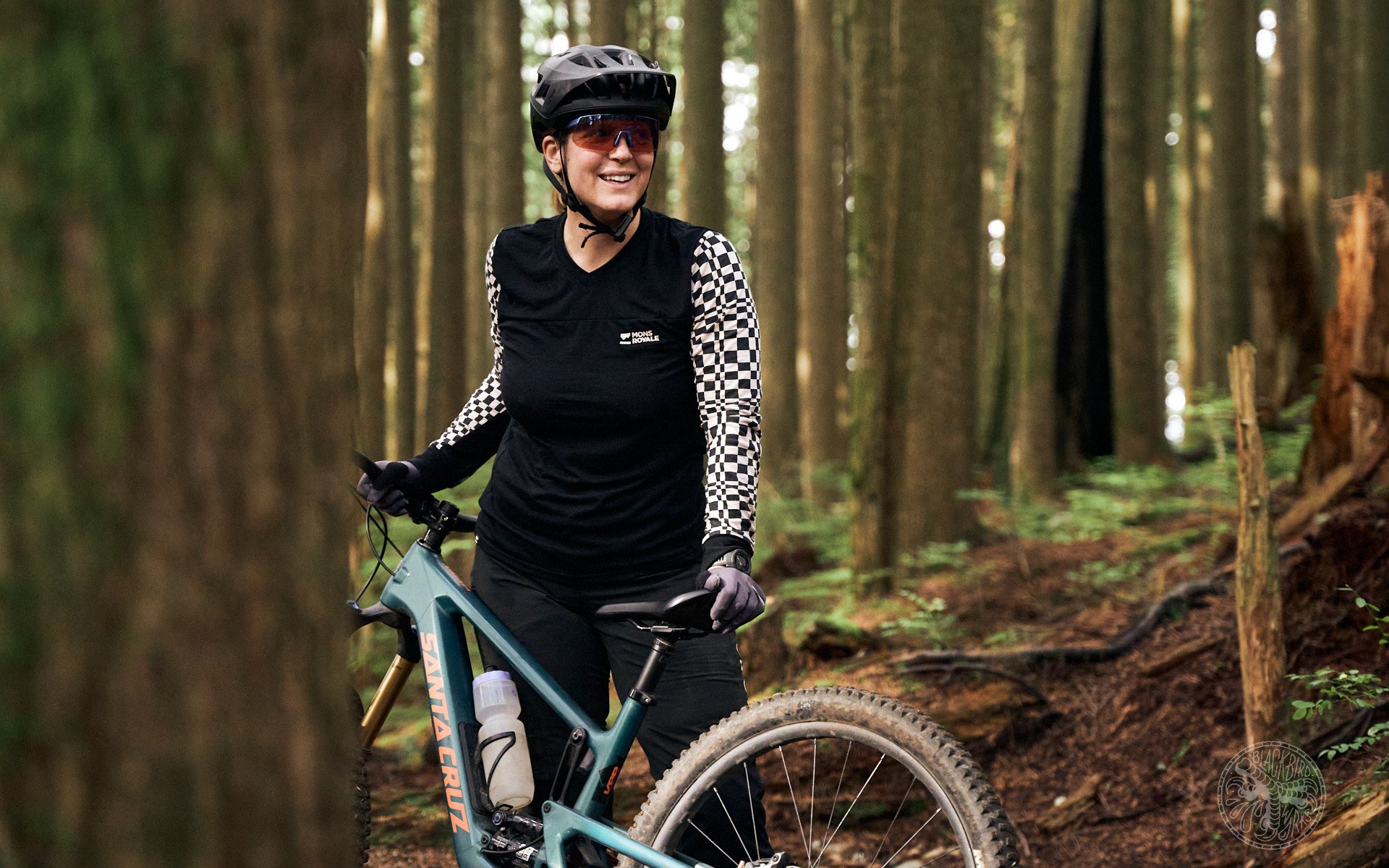 Review
Mons Royale Fall/Winter Riding Gear for Him and Her
The Merino Effect
It is remarkable that a species of sheep famous for its wrinkly skin and fleece can provide the raw material humans can extract, process and sew into garments that keep us alive in the mountains and adverse weather.
The wool and the sheep primarily come from Australia. This once European animal got themselves a work permit and now contribute to 80% of the world's merino wool production.
Mons Royale has partnered up with ZQ Natural Fibre to produce the wool required for all their garments in environmentally friendly ways in New Zealand. We were surprised to learn that Merino sheep only account for 10% of the species in New Zealand that produce wool. As the quality and use case scenario of different grades of wool differ from one and other, the the ultra fine thickness of Fine Merino wool places its feet firmly in the luxury and ultra performance categories. This categorization bloat the MSRP numbers of these fabrics to high values but the ethics and practices behind the ZQ produced fabric seems to be helping sheep live better lives and the farmers that take care of them through guidelines intended to be friendlier to our 4-legged pals.
The sheep that work for Mons Royale live a free range life, roaming as they normally would, hoping the leader does not drag them all off of a cliff. Rather than being held to a strict diet that can stress them out, they can forage on their own, eating and drinking as much as they like and living pretty decent lives. It is looking very appealing to be a Merino Sheep in ZQ at this point. ZQ farms also state that the process of Mulesing (removing part of the skin to prevent bug bites) is strictly banned in their herds. The goal is for these sheep to live stress- and abuse-free lives. If knowing the animals used to produce the materials that go into your gear are kept ethically and live happily helps you choose your next piece of clothing, that's great - we can be friends. Let's look at what Mons Royale sent us to try out on the North Shore trails and in our rapidly changing weather.
HIS and HERS
Here's what Mons Royale sent to us to test:
Tops
Redwood Merino Air-Con VLS Jersey
Tarn Merino Shift Wind Jersey (previously reviewed HERE)
Bottoms
Virage Pants (previously reviewed HERE )
Momentum Pants
Merino Bike Short Liner in 3mm and 9mm padding
Just for Her
Stratos Merino Shift Sports Bra
Stella X-Back Bra
Sierra Sports Bra
Redwood Merino Air-Con VLS - Men's Medium , Women's Large
Deniz
This jersey is a semi-relaxed fit, 140gsm, 83% Merino Wool / 13% Nylon / 4% Elastane blend fabric. The Air-Con VLS is comfortable and as soft as it gets for when you are putting wool against your skin. It is designed to be a baselayer for colder missions or a stand alone layer for when the temperatures are below 12°C (54°F). The arms are long for plenty of coverage. For a shorter person with a long wingspan like me, it covers the glove gap adequately. The cuff is tight but flexible, doesn't flap around in the wind but allows for easy access to a watch. The fabric is soft but durable as my recent meeting with a tree would attest. There is no visible sign of the crash on the wool while my shoulder and its insides are beat to shit. Kudos to Mons for that. No visible fraying on the stitches either.
The checkered pattern of the arms are a great visual separator. Louder than most of my bike wear, it gets compliments constantly. Bonus part is when Karin wears hers, we look like team riders.
Mons Royale Men's Redwood Merino Air-Con VLS jersey - 159.95 CAD
Karin
I also really like the checkered racey pattern of the Redwood jersey, but I (not so secretly) try to avoid the team look that Deniz seems to enjoy - I like our riding friends to work just a bit harder for their teasing material.
Of the two jersey fits that Mons sent us to try - the Redwood and the Tarn - the Redwood is the more fitted of the styles. The Redwood jersey follows the line of the body to be figure slimming, but still offers a relaxed silhouette. This is a "standard fit" in Mons lingo. The Redwood features a lightweight and ultra-breathable panel up the side of the body, under the arm pits and all the way down the arm to the cuff. This panel is closer to a merino mesh and helps contribute to the jersey's excellent heat management features. I used the jersey on some of the cooler days we've had so far as well as a long 6-hour ride in warm fall weather and the sweat wicking and fast drying properties kept me at just the right temp and stink-free.
The jersey is also long enough to keep your lower back and butt crack covered, but not long enough to get in the way.
Mons Royale Women's Redwood Merino Air-Con VLS jersey - 159.95 CAD
Tarn Merino Shift Wind Jersey - Women's Large
Karin
This jersey is a relaxed fit, 140gsm, 52% Merino Wool / 35% Recycled Polyester / 13% Nylon fabric blend. The front of the jersey has a ripstop panel as a second layer that acts as a wind shield. This panel is made from Pertex Quantum, a proprietary technical fabric designed to trap air and improve the efficiency of insulation. Pertex Quantum is windproof and water repellent to offer increased weather protection and help keep the rider warm in colder and damper conditions.
Mons describes it as being a "relaxed fit" and I agree - I found the fit of the Tarn Jersey to be a looser and straighter cut than the Redwood. If you prefer a fit that is roomier and less body skimming, this is the cut! The Tarn also has a rounded neck and doesn't have the air-con strip on the side of the jersey like the Redwood. The Tarn is more suited to cooler or inclement riding conditions and will keep a rider a bit warmer and more protected than the super breathable Redwood. So far our weather just hasn't been cool enough to really see how the Tarn Wind Jersey holds up in those conditions, but I'm excited to check it out and report back!
Mons Royale Women's Tarn Merino Shift Wind Jersey - 179.95 CAD
Momentum Pants in Men's Medium, Women's Momentum & Virage Pants in Large
Deniz
These are the all day, all weather pants from Mons. Merino Micro Grid fabric is 255gsm and is a blend of 52% Polyester / 39% Merino Wool / 9% Spandex. They have plenty of stretch and space to move around. The waist belt is adjustable via 2 velcro tabs on the hips and mine are showing no fuzzy velcro for my 31" waist on this Medium size. Which means I am halfway in the adjustment zone for these pants. There are two pockets on the sides of the legs below the hips, right where most companies are putting the pockets these days. They're spacious enough for phones, wallets and packaged snacks, but I'd still like curved inset pockets on the front for putting my hands in. However, inside of the pockets is a durable merino weave and not mesh like some other pants. There is far less chance of a rip causing content loss down your legs. I much prefer this construction.
The waist band is super comfortable and for my build, tall. Great coverage in the back and plenty of room in the crotch makes them very comfy on the saddle all day. Double snap buttons backed by velcro makes for a very secure enclosure on the front. This takes the strain off the zipper which is short. When it's time to relieve yourself in the woods, you'll have to undo the buttons as well as the zipper. A detail worth mentioning. If I was to compare these pants to an existing product in the market, it would be the NF DP4 pant. Similar fabric weight, similar stretch. The Mons pants feel slightly more technical and rugged, especially around the knees. The Fasthouse Hopper Kneepads fit fine underneath. These pants will see a lot of use this winter I am sure.
Mons Royale Men's Momentum Pant - 299.95 CAD
Karin
Of the two mountain bike specific pants that Mons Royale offers, I expected to prefer the Virage Pants over the Momentum pants given the heavier duty look and weight of the Momentum pants, but the Momentums are my winner! Mons describes both of the Virage and Momentum pants as being a "standard fit". I would instead describe the Virage and being a standard fit and the Momentums as being a more relaxed fit. I found the Momentum pants to have more room for knee pads and greater size adjustability. The waist tabs make for an adjustable size, whereas the Virage pants have a fixed waist size and an elastic back. The biggest difference I found between the two is the rise. The distance between the crotch and the waistband for for the Virage pants is effectively much shorter. I have a long torso and I've struggled with the fit of the Virage (nothing against camels here.. but not in my pants, thanks), but the Momentum pants don't have that issue. If you are a rider that prefers a higher rise pant, I'd suggest the Momentum.
I used the Momentum pants on some long early fall rides and while I think they will shine in the cooler weather we have coming, they were still highly breathable, functional and kept me dry. Wool cannot be beat for its fast drying, stink free nature, and breathability.
Mons Royale Women's Momentum Pant - 299.95 CAD and Virage Pant - 249.95 CAD
Merino Bike Short Liner in 3mm and 9mm padding in Size Medium
I have been liner short free for the last couple of years. Once you find the saddle that works for you, it is easy to ditch the diaper. The lack of the sweat sponge makes the post ride beers more comfortable and general odour emanating from you more pleasant. What if there was a material that killed nasty odours and was extremely comfortable to the skin? Mons answered that call again with the Merino Liner Shorts. No, I won't be reaching for these in the heat of the summer. Hot days are for riding in your comfy underwear and jumping in lakes or rivers mid-ride and nothing is worse than having to deal with shammies when that is the plan, let alone a heat-preserving wool one. Merino's ability to keep you cool in the heat is only evident if there is airflow around it. Trapped inside the shorts or clamped down by a backpack or hip pack, it does not breathe well enough.
I had a couple of big rides coming up that would tip the scales of 3000m in elevation gain and 12 hours of saddle time so I figured it would be a great opportunity to test these liner shorts. I picked the 3mm thick liner for these rides for some reason. The shorts stayed in place and there was no chafing or need for cream. My derriere was as happy as it could be even with the slightly less accommodating saddle on one of my test bikes. Looking forward to using the wool liners more in the winter to preserve core heat when the temperature dips into the single digits. Comfort combined with warmth sounds like a winning combination to me.
Mons Royale Low Pro Merino Air-Con MTB Liner (3mm padding) - 139.95 CAD
Mons Royals Merino Sports Bras
I've heard the old adage "there's no bad weather, only bad gear" many times, but I'm not sure that applies so strictly when it comes to boobs. No matter the layers I try, at the end of a cold winter ride I come home with round balls of ice strapped to my chest - there is nothing that makes you colder than two frozen boobs strapped against our bodies' most sensitive internal organs. I haven't tried wool out of fear of the itch factor, but I've yet to find success with any synthetic bras out there.
Mons Royale has three bras in their range, all of which have removable cup pads. The Stratos Merino Shift, a racerback bra which is described as providing medium support, the Stella X-Back bra and the Sierra Sports bra, both of which are described as having light support.
I tried all three for fit and for my D-sized chest I found they all fit quite differently:
The Stratos certainly offers the most support, but has a very thick and firm band at the bottom. I found the band to be too much for riding; I like support but I felt like it was too restrictive on my ribcage and I prefer a bit more movement in my bra. I feel like the Stratos would be a great bra for trail running where support is more important.
The Stella X-back was my favourite and I've been wearing that one on the bike a lot. I find this bra actually has a decent amount of support that is perfect for riding. The band is elastic and not overly thick so it moves well with the body and isn't too restrictive.
The Sierra bra is a more classic racerback style, but I found support lacking in this bra. I would consider this very light support. I found the fabric to be almost too light to support my chest, but it would work well for women who need less support and are seeking more of a baselayer style bra.
So far, the Stella X-Back has been my go-to and I have found that its fast drying and wicking properties mean I'm not racing to get my bra off when I get home from a ride. I'm looking forward to checking out how that translates to my colder winter rides and I will report back on my findings. If other women out there have any great go-to suggestions for cold weather bras, please drop them in the comments!
Mons Royale Stratos Merino Shift Sports Bra - 109.95 CAD
Mons Royale Stella X-Back Bra - 79.95 CAD
Mons Royale Sierra Sports Bra - 79.95 CAD
As our biking gear drawers get busier and busier, we tend to favour more wool blend garments on our outings. Sure, on the hot days of summer there are plain t-shirts or sleeveless Rapha gear to choose from depending on the mission but the versatility and owned-for-life character of well made merino gear is hard to argue against. There are a ton of producers out there that will be offering better deals when it comes to consumer cost but a few who will openly talk openly about their environmental ethics. We applaud Mons Royale for taking care of their animals and farmers when they are producing their goods. It may not be a deal breaker for you but we absolutely love the philosophy behind the production and the quality of the clothing we live in day in day out.
Previous season's products often go on sale at Mons Royale, so make sure you visit their site often.