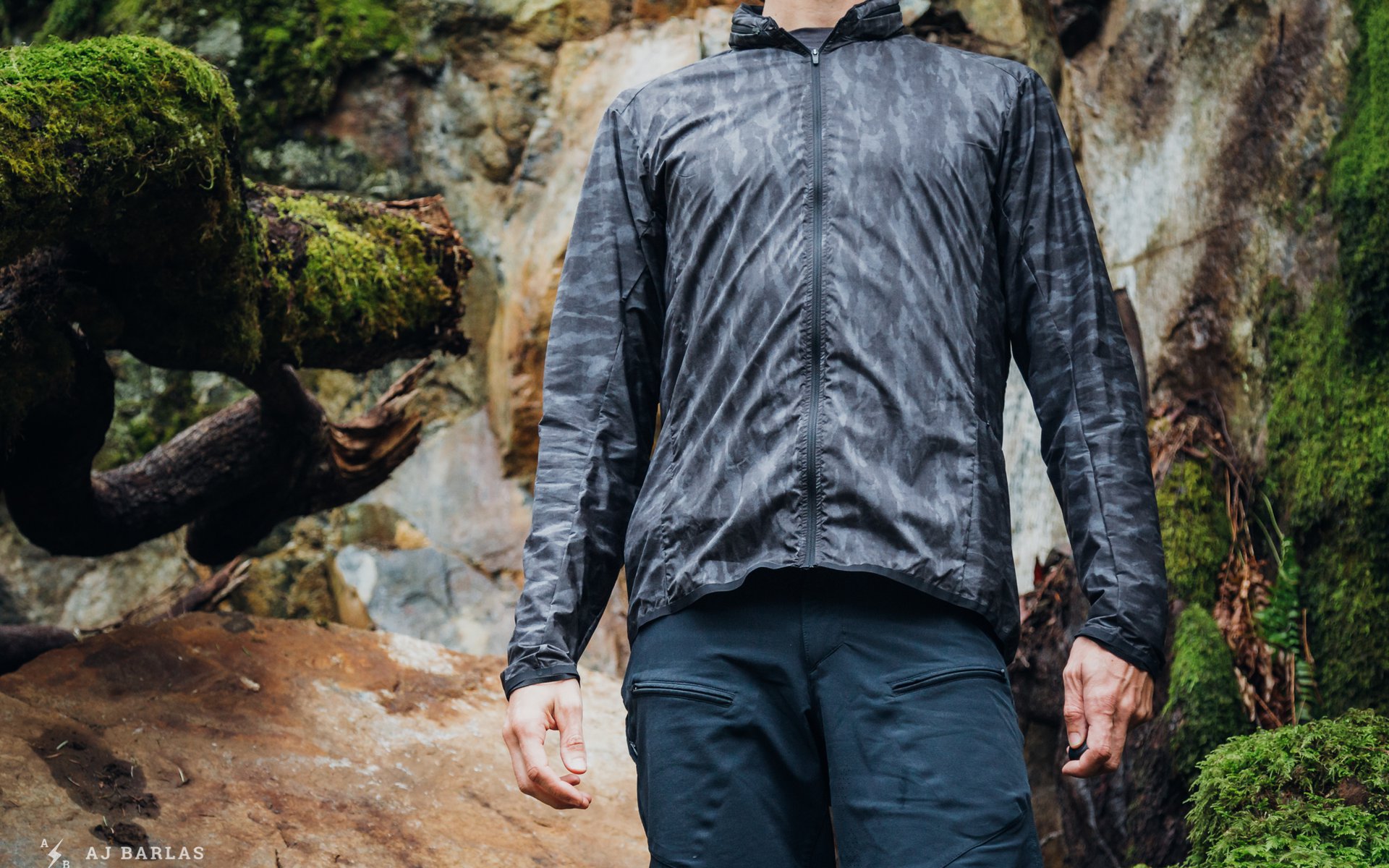 Product Review
Mission Workshop Interval Jacket Reviewed
Soon enough we'll be riding exclusively in rain jackets here in B.C., but now is the time for windshells with the cool air and high alpine riding available.* Mission Workshop is synonymous with top-shelf design and the Interval microlight jacket fits that mold. Claiming both wind and water resistance in a super lightweight shell is a bold statement. Add the 225 USD price tag to the mix and Interval has lots to live up to. 
*Recent snow has affected this a bit but it's still go time 
Highlights
Fabric: 89% Nylon / 11% Spandex

Claimed Weight: 140g / 5oz

Anti-odour and Anti-static

Wind Repellent

Water Repellent

Stash-able Zip Hood with 3-point adjust

Thumb loop

Welded cuffs, hem, and hood

MSRP: 225 USD


Weighing a claimed 140 grams puts this firmly in the featherweight category, up against jackets like the 7Mesh Northwoods windshell. The Interval packs down really small, includes a hood that folds into the collar and one zipper pocket on the left side. It also includes thumb loops, which skiers or snowboarders may be familiar with.

Jacket Fit
Slipping the size large jacket on my 191cm frame revealed a near perfect fit. It's not as form-fitting as the 7Mesh Northwoods, as one example, but there's a great balance of roominess and fit. The waistline is where the generous cut is most apparent and there isn't any form of adjustment to compensate. Thankfully the extra material around the waist doesn't snag or buffet. 

In riding position, the longer back provides ample coverage from wind and roost off the rear wheel. Sleeve length is long enough to comfortably reach my wrists with my arms extended,* which comes in handy on the bike, and the elasticized thumb loops easily hook on when they are needed. 

*My ape index is 1.037


On the Trails
I've been riding in the Mission Workshop Interval jacket for the better part of six months. The jacket quickly became a go-to thanks to the stash-able hood, which I'm a big fan of. It easily packs into the collar and is even simpler to remove. Hood coverage is excellent and there are no problems getting it up over helmets like the TLD A1 or the Specialized Ambush.


I was always a massive fan of thumb loops on snow jackets and I really appreciate the added security they offer. There is one downside though. Riding gloveless as I do, the loops are easily noticed and distracting on the grips, but I doubt they'd cause issue with gloves. 


Thanks to the Interval jacket's light weight, the pocket on the side is best left to small objects—a credit card or driver's license. Even a key becomes immediately apparent, with the weight of the object tugging and causing the jacket to sit strangely. It performs very well as a windbreaker and will keep brief, light showers away from skin and base layers but if it ever rains properly, I'd reach for a designated rain jacket. 
The jacket is expensive and is considerably more than the 7Mesh Northwoods.* It does include a stash-able hood, which is a bonus, but lacks some of the adjustability—the waist and neck adjustments on the 7Mesh jacket are nice. It's also better at repelling water and doesn't sweat up inside as easily as the Northwoods jacket. Do these points make it worth the price? I'd be hard pressed to say yes, especially when a $100 Royal jacket with similar construction is close to as comfortable, even though it misses some of the features. 
*The Northwoods jacket retails for 175 USD



Mission Workshop's Interval windshell fits in perfectly to their product range and comes with the associated cost. They're well made, include some unique design cues and function very well. Can you get the features in a lower cost alternative? Most likely, but if you are into anything that Mission Workshop does, you will be very happy with the jacket. 
Head to the Mission Workshop website for more on the Interval Microlight Windshell Jacket.
---