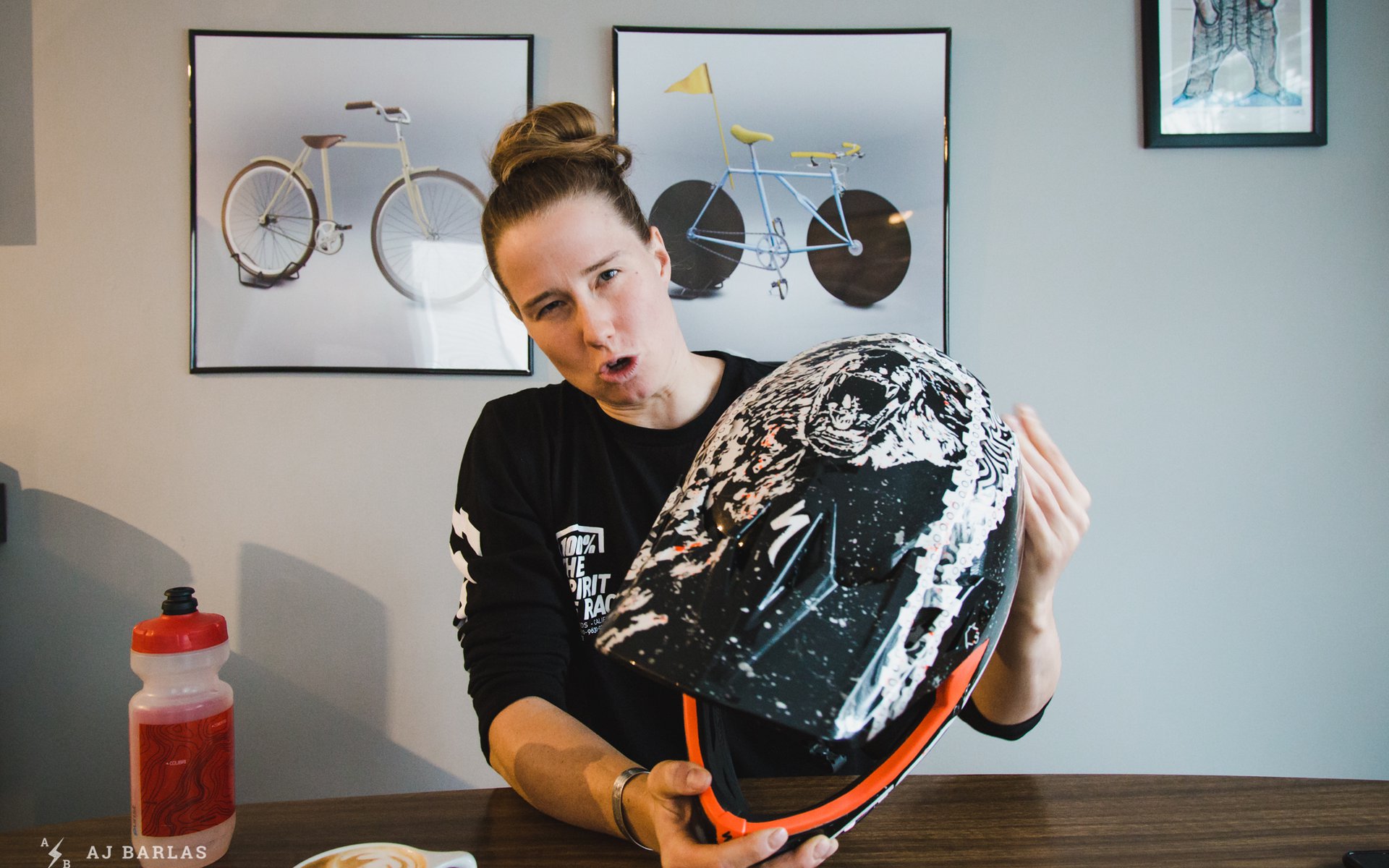 INTERVIEW WITH THE CHAMP
Miranda Miller – Women's 2017 DH World Champion
For Miranda Miller, 2017 was a season of all-time highs and some pretty deep lows. After some great results in 2016, including two top-five finishes, Miranda landed a position alongside Loïc Bruni and Finn Iles on the Specialized Gravity Team. It was a dream come true but Miller took it in stride and went about the new season quite pragmatically. 
Her 2017 race season started out well but in Fort William, a track that has dished out its fair share to Miranda, she was struck with injury. This led to a beat up mentality that was hard to overcome, but then she turned it around and kept it together at the biggest race of the year, the DH World Championships in Cairns, Australia. I caught up with Miranda early in the new year to find out how she turned things around and what it was like to win arguably the biggest race in any racer's career.  
---
So Mir, World Champs is an obvious highlight for you from 2017 and we'll get stuck into that in a minute, but how was your year otherwise?
2017 started well in Lourdes and Madeira. I felt pretty good on my bike and I was riding well. I didn't feel like I was riding out of my comfort zone at all and I was making little steps forward. 
Then I got injured in Fort William, which was kind of stupid. It was one of those things where I was actually having a really good weekend, which is rare for me there. I think it's one of those tracks where you should never just do one more run. I feel that for me in future, if I have a pretty good run, I should probably just leave it there. There was one section of the track that, right before qualifying, I was thinking, "I can get this part better" kind of thing. That's when I crashed and got hurt. 
I partially tore my PCL and bruised my tibia. I missed Fort William, Leogang and Crankworx Les Gets, and then I came back for Andorra and Switzerland but I wasn't really riding very well. Andorra was my first day back on my downhill bike—I did one day in the (Andorra) bike park before practice. It was okay but I wasn't riding very well and I had to ride in this big knee brace, which probably didn't do me any favours (in terms of riding success) and it kind of makes you feel handicapped. 
It's restricting?
Yeah, but at the time I didn't feel like my leg was very stable so I opted to run it. 
You were at least able to ride (with the brace).
I was able to ride, just not very well. It was frustrating because I was able to race and I was qualifying, but even though I felt like I was trying hard, I wasn't riding well. 
Let's talk about your nemesis, Fort William. Do you believe in superstitions or anything like that? Does anything like that come to mind there?
I don't and not really. I just seem to have… 
Is it just bad luck?
Yeah… well, not really. Obviously it's me making mistakes. I don't know what it is… Maybe it's because I get hurt there that I tend to dislike Scotland more and more, so every time that I go I am definitely not looking forward to it. I'm like 'you're going to stay somewhere shitty because that's all there is. There's going to be no hot water, it's going to be dank and dark, and the food's bad'. That's pretty much how I sum it up, so I'm going in with the wrong attitude. 
Last year I was actually enjoying the track—except for the woods, the woods were kind of a joke. 
It wasn't in the bog that you hurt yourself, was it?
It was just after. I made it through all of that and then there was a little quad path with a small gap over it. After that there was a hole and you had to stay high above the hole, but above the hole was a root. You had to kind of lift the front wheel, hopefully not slide on this root, and then it went into the next road gap section. I lost my front wheel and landed with my knee on a rock. 
But yeah, I remember Jill Kintner telling me that she had this reading done where they got a map of the world and certain places had, like, good juju and others had bad. I remember I think Fort William, that strip of the globe, was not ideal for her or something. Maybe I should get one of those juju maps done… 
[Laughter] 
Do you feel that, as a result of all that, you ride a little more tense there?

Yeah, I think so. Definitely for the first few runs, because… the thing with Fort William is no matter where you crash, it's high consequence— it's a handmade rock path the whole way down, right. There's not really natural dirt to fall in or anything. 
So yeah, I'm probably not riding the same but for me, before I got hurt last year, I started pretty tense but then I was able to relax and work myself into the track a bit better because I was approaching the weekend a little more tentatively — I was trying to be smarter with things… Not smart enough I guess, haha. 
So Fort Bill knocks you back a little and you leave there with a nagging knee injury. How much do you think that affected the rest of the year? Mentally or riding-wise.
Physically and mentally. By the time Crankworx Whistler rolled around I was pretty over it. Just… I didn't want to race Crankworx at all, did terribly in the Enduro, didn't do that well in the Garbo race. Yeah, I just wasn't… I was pretty tired, I wasn't riding well and I was kind of sick of repeating myself. I felt like each race I'd go to, I would go in with a new mindset. 'It's a new race, I'm a bit stronger than I was last week', things like that. But it never really picked up. 
Going into Crankworx, I had a sort of shitty race in Mont Sainte-Anne — same thing, and you know I remember thinking, "f*ck, I don't want to do Crankworx". I kind of felt like I didn't have a choice and then… Italy was kind of the same thing but then we had a big break between Italy and World Champs. We went to Australia and we hung out, had fun and went to the beach, played a bunch of frisbee, things like that. I don't know but I felt like my knee was drastically better than it was three weeks prior and things like that, so…

"I've only had that feeling three times and I've won those races... That's a pretty cool feeling and it's something that you can try and replicate but it's fake. I've tried to pretend that before but it's not the same feeling. That feeling just comes to you."
You'd had some good time to recover?
Yeah, I had time to not race and just hang out. It (the knee) still wasn't perfect but things were spaced out a bit more and I had more time.
Coming from all of that, you know, rough experience, mentally kind of challenging — more-so than usual — do you feel like a positive out of it all is you know you can perform better if there isn't a shitty nagging injury every race?
Yeah, exactly, because at a point you're like, "well shit, is this just me?"
[Laughter]
But then you have a couple of better results, you feel better, you ride and you get those old feelings back. You realize that it was just the injury… But at a time I really was just like, "f*ck, maybe this is just me now." You do slowly get over it and realize that you're better than that. 
Aside from World Champs, are there any other achievements from the year that stick out?
In Madeira (for the EWS) I won one of the stages and why I kind of like that so much is the first day I had ridden half a lap of that stage and I remember thinking to myself, "yeah I'm going to win this one". Very few times have I had the feeling where, like, I one-hundred-percent believe that I am going to… It's happened to me at Garbo one year and National Champs one year. I was just thinking there's no way, no way I can lose!
I have to mess this up pretty bad kind of thing?
Yeah, I have to mess this up pretty bad… You're just so confident in that. So, I've only had that feeling three times and I've won those races. That stage was one of them where I was like, "yeah, I'm going to win this one" unless I really f*cked it up. That's a pretty cool feeling and it's something that you can try and replicate but it's fake. I've tried to pretend that before but it's not the same feeling. That feeling just comes to you. 
When you try to replicate it do you feel like you just end up putting pressure on yourself?
No, I just feel like I'm faking it…
[Laughter]
Because that feeling just comes to you out of nowhere, where-as if you're trying to manufacture it, it just feels fake. 
So in your head when you're on a stage with that feeling, you're just going for it, you know you're good, confident, happy…
Yeah. I don't know, you're just…
There's no pressure? 
Yeah, I think, especially on that stage, because it was maybe more of a downhill oriented stage—it was maybe a bit shorter in length. I remembered it really well, too so I knew everything that was coming and I actually enjoyed practicing it, yeah, it was cool. And when you finish an enduro you have no f*cking idea what just happened. You're like, "yeah, I could have just got last for all I know".
How did going into the season with a factory ride affect your goals for the year?
I think they would have been the same goals that I would have had without the team but it just seemed more realistic to me, or more achievable maybe. My goal was to always start the season and build into it. At Lourdes I was kind of right on target — I was sixth, a second or two off the podium and that's kind of where I thought I would be, maybe fifth or sixth there and like I was saying, I wasn't riding over any limits — I practiced well and the weekend had gone well. That was kind of my plan, to figure out how to set up my weekends with the team and it had gone really well there. The idea was to slowly keep building on that and be consistent, you know, top five kind of thing, throughout the whole season. 
Yeah, don't force the issue.
Exactly, and not to come out trying to win a World Cup when I've never won a World Cup, it's not realistic. Laurent, the manager, was on the exact page. At the end of the weekend, he was like, that's exactly where I thought you would be and next weekend we'll aim for this…

That's cool. Everyone being on the same page makes you more comfortable too.
Yeah, and like, Finn and Loïc had different goals. For them, its win every race but you know, I'm not quite there yet.

"He (Miller's mechanic, Kevin Joly) was saying that at the top of my run for Worlds he changed my setup based on how I was acting at the top of the race."
How much of a difference did being on a factory team make to your race prep?
Everything you do different, really. First of all, I don't have to travel with my bike. You show up and your race bike is on the truck and it's well taken care of — it's in perfect condition. Every day it's being rebuilt and it's perfect. I'd always take good care of my bike and Shawn and the SRAM guys would always help me out but it's different from having one bike all season that you kind of limp along as oppose to two or three bikes a year that are completely rebuilt with bearings and things like that — it's a huge difference. 
Also having Ann-Marie; she would cook for us, if it was really muddy she would help us with our laundry, you just didn't have to think. You just show up and think about riding your bike. You show up at the airport and they would be there. You're not like, oh shit, I have to go rent a car and drive up to this mountain town and find some random address at midnight in Austria. It's so much simpler. 

It allows you to focus heaps more, hey. 
Yeah, it's way more relaxing and you just have fun, and then you focus on the race and move on to the next one, yeah. 

Now having been on both sides, do you think that other people with factory rides appreciate how hard it is for privateers?
I think some of them do. 
Some of them? Like the ones that have been there?
Yeah, for sure, and then I also think some of them — not that it reflects on them at all, but if they've been on a factory ride their whole life they don't really know. They see that yeah sure, it's hard, but they don't actually understand. 
I felt bad when Forrest (Riesco — a privateer from the Sunshine Coast of B.C.) was asking how the team was, I didn't want to tell him, like, it's so much better than last year. You know, you almost don't want to tell them how good it is but really I was like, "f*ck man, compared to what we did last year, it's like, 200% better" 
[Laughter]
Do you feel that the factory riders have a major advantage as far as bike setup goes?
For sure, yeah. Well, depending on who they are, for sure. On our team, Kevin has three or four different shocks for Finn and I, same with Loïc. You know, based on the track or our feedback they (the mechanics) can just whip out a shock with a different tune on it, throw it on our bike and we can go try that. As a privateer you're like, "well, I'll try one more click and see what happens". You kind of have to have one really good base setup and make small tweaks off that — you don't have the time to make drastic changes. With us, it's one run and if you don't like it you can just put the other one back on. 
And the mechanics know where your bikes are at and the settings…
Yeah, they don't even really tell me, they're just like, "try this". Then I can let them know what it's doing and they will change it. It's… You know, for the longest time my dream was to have a wheel that would spin uninterrupted but no matter how hard I tried I'd be f*cking with my brakes all the time — I could never line my calipers up right. It would almost be perfect but, dammit. So then this year I would spin the wheel and it would keep spinning… Ahh, that's what I'd always wanted. 
[Laughter]
"It's worth it for this!"
Haha, yeah. All I wanted was wheels that spin silently… roll forever. 

How was it having teammates the likes of Finn and Loïc, and how did they influence your prep?
It was cool watching how they went about things. Both very competitive… I think it was good for me because I'm competitive but maybe it's more with myself, whereas they are very outwardly competitive, so it's good for me to be in that environment—it makes me try harder, even when it's not to do with biking. You know, just kicking a soccer ball around or something like that. 
Everything is a contest to those two.
Yeah exactly. You kind of want to keep up as well. 
It's cool to watch how Loïc and Jack work together. They're very dialed and the way that they test things — it's cool, you kind of take from both. It's good too because they ride the track later than I do, so they'll have a little bit of feedback on how the track is and when I go up for timed training or practice the next day I kind of have an idea, or I've watched their helmet cams and things like that. I like to kind of watch what they do and then if I like something maybe I can try it but it's more just observing what they do and if it works for me then maybe I'll try it. 
So you guys are watching back GoPros in the evening and if you see a line they do and think, 'oh, I'll give that a go'?
Yeah exactly. In the truck, there's a TV and we can hook our GoPros up there. Sometimes I'll watch my helmet cam with Kevin, my mechanic, and he can kind of get a sense of how the track is developing, as far as bike setup goes, or maybe my body position on the bike, things like that. Then with Loïc and Finn, if there's a section that I'm not sure about I can watch their helmet cam and see what they do. 
Sometimes it's hard for that because they're on such another level, like Loïc's helmet cams, they're like… they look perfect. Super fast and stabilized too — it looks smooth and you think it looks easy. It just looks so smooth and fast and the next morning you're standing in the rock garden looking at it, and you're like, hah. [Laughs] So yeah, I can use it as ideas but maybe not as ways of doing things. 
You mentioned your mechanic and the riders there. Who do you feel is the bigger influence come race day?

Probably Kevin. 
Yeah?
Heck yeah. He's a very comfortable person to be around. He's able to talk to you about the race but he keeps things light and fun. 
Yeah, he's pretty chill.
Yeah he's really chill and just likes to goof off but in a way that sort of helps you, you know? It's like a distraction from yourself like at the top of the race or something, but it's all constructive. I'd say he's… you know, he settles Finn down if he needs to be settled down or builds him up if he needs to be built up. All of the staff are kind of emotional stabilizers for everyone.  
You say, he builds Finn up or calms him down. Does he do that with you?
Probably, I'm just not aware of it. Like you're kind of just focused on yourself so when I see him doing it to Finn I'm looking at them with an outwards perspective — Finn might not know that it's happening, so I'm sure Kevin does the same to me. 
He was saying (that) at the top of my run for Worlds he changed my setup based on how I was acting at the top of the race. 
Really?
So, he like, read how my demeanour was and tweaked my bike a bit based on the energy of what I was putting out I guess. 
That's pretty crazy…
You have so much blind faith in them that you just… I didn't know he was doing it but I wouldn't have noticed. 
He told you afterward?
Yeah. 
I thought I noticed at Lourdes. I thought I was running one set up all weekend and then at the end of my race run I noticed that it was totally different and I felt great on my bike in the race, so…
That gave you the confidence to be sort of like, whatever, with the mechanic's changes?
Yeah, you're like, huh, he can do whatever he wants, it feels way better, so… [Laughs]

So talking about suspension, you mentioned last year that you were leaning towards a more progressive suspension setup than previously. How much has your setup changed over the course of this year?
I'd say it's still pretty progressive, but yeah, just changes based on the track really. We were trying to change it a bit throughout the season… I don't know if it was partly my knee, but I was sort of fighting with my body positioning after I got hurt and I had bad balance. The side of my leg, not even so much my knee but my hip, my glute, and my back kind of stopped firing because I was compensating so much for my knee that the whole side got kind of weak and wasn't very activated. So I had really bad balance to that side and I wasn't riding with my legs at all, I was riding really far over the front end, trying to do everything with my upper body, compensating for my leg. We kind of had a hard time trying to find a balance on the bike because I was riding so strangely and really with my upper body. Perhaps that's a bit of my style but then also it was accentuated by the injury. 
So yeah, then we're trying things like raising my bars up a bit more so I can shift my weight back, shorter stems, things like that, we were just kind of playing around. So that side of the setup changed a bit, my bar height and things like that. 
For Fort William we ran slightly longer rear ends, different width rims, things like that always changes but a lot of the time for my suspension Kevin will never really tell me numbers, unless I ask him—it's more by feeling, you know, I feel like I'm diving or things like that and that changes every day, right. At Val di Sole every run is different. 
Do you think that if you got on your bike from 2016 you would be like, 'whoa, what is this', or would it still be somewhat comfortable?
I think it would be comfortable but like, bike park comfortable—probably not fast. Having the custom link and stuff like that on the bike makes a massive difference. Yeah, I think it would be comfortable but I don't think it would be fast. 
Have there been any growing pains with those changes? Have you ever had to spend a couple of runs on a change to see how it went?
Yeah, for sure. There was one race where I just felt like… I think it was Mont Saint-Anne. I couldn't feel comfortable on my bike. I think the morning of the race, Kevin completely changed everything and it helped, but throughout the weekend every run there was something that… again, it's hard to tell if it was me not being comfortable or trying to go… 
The Öhlins suspension is very detailed. One click can make a big difference to your whole setup so maybe we were trying to be too aggressive right from the start. A lot of the time my setup trickles down from Finn. So Finn will be riding a different style than I and quite a bit faster, so mine is a less aggressive version of that, but sometimes maybe we start too aggressive for how fast I'm riding. You ride really fast and it feels really good but you back off a little and it can feel terrible. 
Part of that too is maybe my runs being inconsistent. One run could be really fast and the bike feels good, then I go back for another one and I'm more tired and not as focused, so I'm going a little bit slower — all of a sudden my bike feels really bad. I may not necessarily feel that I'm going that much slower but you know, it's the end of the day and I am. So this year it may be focused more on consistency and maybe fewer runs that are better quality. 

"I never really go to a track and think yeah this track's suited for me, I don't really know what track is suited for me. You know, I've done well at Leogang before but I've also done well at Mont Saint-Anne and those are two pretty different tracks."
So swing around to World Champs. What were your expectations heading into that race? 

I didn't really have any. I just wanted to have a good race. I felt like I'd had this opportunity on the team that was essentially the dream and I felt like I had kind of blown it, being injured and not really being able to race the way that I felt I could. At that time it was sort of up in the air if I was going to be on the team again so I was kind of like, well, you might as well just enjoy it — this could be your last weekend with the team so might as well enjoy it.
I figured I could probably do well on the track because it was pretty pedally and, it wasn't like…
Was it really that pedally? The bottom is but…
Well, it's not a steep track and every corner you could take a pedal stroke out of, things like that. 
Then yeah, it was kind of a weird track. My first day of practice was really good and then as the week went on the track deteriorated and I was almost trying to ride as if the track was getting better, not worse. You were trying to go faster and faster and do things better but the track was getting sketchier and slower. 
Seems like that caught a few people out.
Yeah, so you kept finding yourself riding in unrealistic ways and the last two days of practice I pretty much just f*cking tomahawked my way down the whole track. Every run I would eat shit so hard and be like, what the… It wouldn't necessarily be in the same place either. One run you would get that line through the rock garden and it would seem like it's not that bad. Next run you would be like that much too far over and hook a pedal and flip into a pile of rocks and be like, sick… 
So the last day of practice I switched it up and started taking the b-line, where you go up and around and cut through the last section of it—Loïc was doing the same thing… a whole bunch of people found that as the weekend progressed your success rate went down drastically. I remember watching Tracey go through the rock garden and I was just like, "Eee, we should all go home" [Laughter] She was… she just did it so well. 
Then even other things, like the top corners, were so f*cked but you couldn't…
Even the first one looked blown right out.
Oh yeah, I ate shit in the first one in practice and then seeding I just blew my foot out of the corner then three corners down I ate shit off the side of the track. They were just so loose but you couldn't do anything about them, it's so narrow, so you had to ride the one line and just take it. 
So for my race run my whole plan was to get through those top corners, get through the rock garden, not try and push at all… Pretty much just get through the top corners without stopping because the holes were so big you'd get hung up and almost come to a stop. I just wanted to roll through them and make it down and once I got past that rock garden then I'll start to try and pedal, be smooth and solid, not override anything — that's what I was doing all weekend, I was overriding everything, sliding out and crashing. As soon as I got to the sprint I thought, well, the race is over so may as well go as hard as you can. I figured I could do well on the sprint because it was only like 20 or 30 seconds or something but it's easy in the sense that it's over. You're not sprinting into the next section of track, you're sprinting to the finish.  
Yeah, deal with it.

Yeah, just deal with it, you didn't have to be good for a rock garden or something.
It sounds like you had to work on race-craft, hey? The difference between just trying to go hell-for-leather and tuning your race-craft and being smart about it.
Yeah. It's hard though because you feel like… you can do that and actually be slow, right. 
Was your knee still bugging you at that point? You said you had three weeks and that it was pretty good. 
Yeah, it was pretty good. In the past, like at Saint-Anne, I would crash in practice and it would be my knee that was bugging me. I would be worried that I had just reset it, kind of thing. I would think well, this kind of feels like it did a month ago and as I was tomahawking my way through Cairns the knee wasn't really bugging me much. I'd have to make sure the wrists were all good. 
[Laughter]
It was just like crashing normally and not being scared that I'd just blown my knee up or something. 
Were you still in your brace in Cairns?
I think I raced in it for (Canadian) Nationals or maybe I took it off for my race run there, I can't remember. I was like "f*ck it, I don't think this thing is helping me now". Yeah, nationals was I think the last race I wore it. I know I wore it in practice and I may not have raced in it, I can't remember. 
At nationals?
National Champs, yeah. It was Jack's knee brace and I had to give it back anyway. 
How do you feel about the track in Cairns? Does it suit you?
It was never like… I don't know, it's whatever. It was fun to ride, I wouldn't say it was a favorite. I never really go to a track and think yeah this track's suited for me, I don't really know what track is suited for me. You know, I've done well at Leogang before but I've also done well at Mont Saint-Anne and those are two pretty different tracks. 
Yeah. What's your favorite track on the tour?
Probably Mont Saint-Anne. The high-speed section is so fun, under the lift there. The one kind of sketchy woods with this kind of sketchy little rock thing/drop out of it. Then you get into the high-speed ski run stuff and that's just really cool, and it makes for sick videos.
What do you feel your strengths are on the bike?

I feel like I'm good at pedalling and sprinting — I've got some fitness. I don't know. I like the high-speed, rough things. I've never done well at really tight terrain. I also really like Val di Sole but I've never done well there. 
Is it tight there?
No, it's steep and rough. I don't know. Maybe… I think I'm good at pedalling, I like high-speed things. I've never… I don't like jumping, actually, I do like jumping but I've never been the first person to hit a jump and sometimes jumps mentally f*ck me but whenever I do hit the jump I feel that I'm actually good at hitting them, it's just that first time which, I don't know, I guess it's just from being injured so much or something. If I follow someone into a jump for the first time, I'm nervous, but I actually can jump well. 

You do live by one of the best bike parks in the world, there're plenty of jumps.
Haha, yeah I guess. It's funny because I ride all the jumps there and I don't even think of them as like, yeah…
Back to Cairns. Who did you train with there, did you practice with anyone or just solo?
It was kind of weird. It's funny at races, how you get to the top of the track always determines how I practice. Cairns is shuttle trucks, so you're pretty much only at the top of the track with twenty other people and a lot of the time those were like, twenty junior men or something. Maybe there would be one other girl in that truck, whereas (with) a lift people are constantly coming up. So yeah, mainly I think I just rode by myself in Cairns, which was kind of good. I did maybe a lap with Myriam but mostly you're just by yourself.  
Do you find it allows you to focus a bit more, training solo?
Sometimes, but sometimes you want someone else to bounce an idea off or follow them into something and just to see how you're doing because sometimes you have no idea. 
Do the ladies in the sport openly share lines with each other?
Yeah, I think for the most part everyone's pretty open. I say that but the only people that I've really ever ridden with are probably Tracey and Myriam Nicole, or Vaea, she's Canadian, haha. 

What was the toughest thing about the Cairns track for you?
Ah, just how blown out it was. When I was still trying to ride faster than the track was allowing I was getting really frustrated. I felt like I didn't understand why I couldn't go that fast because I felt that the track was technically pretty simple. For me, to crash all of the time was really frustrating. It was like, f*ck it's not hard, why am I falling? But it's because it was so dusty, or the holes, things like that. So I think it was the way the track deteriorated. Like, at least in Val di Sole, it gets f*cked but the track is gnarly anyway so you're always pushing. I don't know, it's weird, that one (Cairns) is simple so you're like, I should go faster whereas Val di Sole you're not thinking this is simple.

True. You're always on your game a bit more.
Yeah. I just think that the way the track deteriorated and before I had switched mindsets, and was still trying to push, was really frustrating. But that rock garden is pretty awkward. 
It looks like you pretty much hang up your crank on it somewhere every time.
Oh yeah. (Motions awkwardly falling through something end to end). Yeah, it's awkward. The first time you do it, it's pretty scary. [Laughs]
Did the week go smoothly for you there, or were there some challenges that you had to overcome? I guess the track for sure, but what about off the track?
We had a sick house in Trinity Beach with a pool and Finn was practicing at the same time that I was, so that was kind of fun. We would ride to the track together in the morning, practice, and we could ride home together, go play frisbee on the beach or whatever, just hang out. It was fun, it was easy. 
Okay, so we'll go to that moment. You cross the line, you're in the green by 9 seconds, what's the first thing that came to your mind?

I was just stoked because, well I wasn't ranked very well because it's based on your UCI ranking so I was eighth. My plate was eight and all weekend Kevin was talking about when Morgane Charre won World Champs in Leogang, she was plate eight. When we got my plate he was like, "ahh Morgane Charre, World Champ, plate number eight" and so we were joking about that all week. My goal was to cross the line in first because if you don't do that you're pretty much in ninth or eighth or whatever, so my goal was to cross in first. It was nice that I had a big buffer of nine seconds but I… 
You know what, I was like it was a safe run, it was a good run, so I can still be happy with it. I hadn't pushed myself really hard other than the sprint and I was happy with that, you know, I didn't crash, I had no crazy moments, I was trying to be smooth and pedal hard at the end and that's what I had done. 
Then it just kept working out that someone would crash or make a mistake or they'd f*ck the timing up. [Laughs] It was just funny, each person kept coming down, but I think the run of the weekend was definitely Tracey's. 
Before she ate it?
Well, after she ate it. She was only two seconds off my time and she had fully carcassed through the woods. She was riding really well. 
She was there to take it for sure.
Yeah. 
And some people say that you won because others crashed, but that's racing, right?
Yeah. At first that's kind of how you feel (won because others crashed), like, maybe Myriam's time was faster than mine because they f*cked the timing up, Tracey crashed, Tahnée crashed, things like that but then you're like, if someone else had won, if roles had been reversed — say Tahnée won and they had f*cked Myriam's time up and Tracey crashed, I wouldn't have said all those things about Tahnée. You would be like, she won because she didn't crash and she had a good run. When it's yourself all of a sudden you can think of all these reasons why, so… I've slowly over time begun to not think that way but at first, I kind of felt like that. 

You're owning it more now?
Yeah and you can own it more once you think that if the roles were reversed, I wouldn't have thought those things about those people, so why think them about myself. 
What did you think when you realized they crashed? I don't know if you saw they… You probably saw Tracey's on the big screen…
I saw Tracey's but didn't see Tahnée's, but you could tell because she had dirt on her and stuff. 

What went through your head at those moments?
For Tahnée I was like, oh shit she's up but then she crashed and I thought well I probably got her, just based on the time. But then Tracey I was like, f*ck yeah she can still beat me!
[Laughter]
Tell us a little about where you were mentally while on the hotseat in Cairns? When this was all going down were you calm up there or anxious?
I was pretty calm actually. It was one of those things where I didn't really care if I won or came second or if I got fifth. You know, I didn't come down from my run and get into that hotseat and expect to win. I was kind of ready to get down from that hotseat at any moment. When it looked like I had medalled it was pretty funny because Finn and Benno and other people were in the crowd yelling at me—probably Gabe (Fox) was the funniest too, he was in the manager's box… just so funny. 
Then when I did win I went down to see Laurent and Kevin and it was so… [Laughs] Kevin had a dip in and it was coming out of his mouth. He was freaking out and there was dip all over his teeth and Finn was trying to make him clean it up, I don't know, it was just funny. The way that Myriam and Tracey treated me—both having pretty shit, weird scenarios in their runs—they were both really cool, they seemed genuinely happy for me. 
Oh yeah, and all of the photographers kept trying to make me do these things but I was like I'm not going to do them if I didn't do them. Like, "now put your hands up" or whatever and you're like, no. Fraser was all "hold your bike up" [Laughs] "Put your hands in the air" and I thought I'm just going to do what I was going to do. 
Yeah, "we're not staging this".
[Laughs] Yeah, I'm not going to pretend. Like, I haven't won before, I don't know what I'm supposed to do. 
Did you and your teammates ever think of the fact that had Finn won another championship, the team would have taken all the golds?
Yeah.
Yeah?
And Finn was probably the first person to realize that and as soon as Loïc won he was really upset. He had already had an emotional day because he was like… ask anyone who was going to win Junior Men…
It was Finn's to lose…
Yeah. It was Finn's to lose and he crashed a couple of times in his race and it was heartbreaking enough for him. Then I happen to win and then Loïc won… We didn't think about it, at least I didn't think about it at first and then saw Finn and he was so upset, then I realized, oh yeah.
No one will hold it against him. 
Yeah exactly, we're like, Finn, you already won everything else. [Laughs] We're already proud of you.  
When you got home there was a big surprise setup for you, did you have any idea what was going on?

Well, Remi blindfolded me, so I assumed we were going to CORSA (Ed: A bike shop in Miranda's hometown of Squamish and one she has worked at for a long time.). There's only one place, either CORSA or maybe my parents' or somewhere down there, but I thought it was probably CORSA. I didn't think there would be that many people there. 
Were you sitting blindfolded in the car trying to get a sense of where you were going?
Haha, we kept doing laps around the roundabout. [Laughs] But yeah, I didn't expect all of those kids and stuff. When we took the blindfold off and they're all staring at me. 
How do you feel about influencing an entire generation of youth in Squamish and probably the whole Sea to Sky too?
It's cool. I mean, Remi, myself or Lee*, any of us who still race and compete it automatically should be part of your job you know. I don't think you should try too hard but you should definitely be aware of it (the influence) and it's really cool. 
*Ed: Miranda and Remi's roommate who also can handle a bike.
Just try and be a good role model. 
Yeah and just be approachable but be yourself. I mean I remember, I probably looked up to Kyle Richie* or something. You know, they were the shit and I remember Kyle was always really cool with us and even though he may not race or ride anymore, it was still cool when you were that age. 
It's definitely cool and you don't walk around thinking of it but you are reminded of it when you meet kids like that.  

*A ripper from Squamish who doesn't really ride anymore
Has this off-season changed as a result of winning World Champs? 
Yeah, winning that race sort of secured me another year on the (Specialized) downhill team. 
Last year I worked up until January and that's when I was officially on Specialized so I stopped working, whereas this year I've had the full off-season to train. It's the first year that both Remi and I have been able to do it so we've taken full advantage of it. We went to San Diego for ten days and went road biking, then we came home, then went back to Santa Cruz for a couple of weeks. I think we're just taking way more advantage of warmer places. 
It's kind of weird. You miss being at home and you feel like taking advantage of it but then you come home and you're here for a week—it's so nice being at home but I can't ride my bike. There's just so much snow. It's kind of a mix because I want to maximize my home time but I want to be doing stuff too, I want to be getting stuff done — sometimes you have to leave to get stuff done. 
How about your goals and expectations for the coming season? 
They're pretty similar. Maybe I have a goal of making it through a whole World Cup season, maybe that's a new goal. But yeah, pretty much the same. I don't want to come out swinging in Croatia but each race take small steps forward. 
Have you had any thoughts on Croatia? There's a bit of chatter around that race, in particular, this year. 
No idea. I've watched a helmet cam but I don't know. People watch helmet cams of Leogang and then shit-talk Leogang when they've never been there. Leogang's pretty fun and it can be pretty scary because you're going so fast. Till you actually go, you don't know. And look at where it is, it's so nice—yeah I want to go there, it looks beautiful. 

Is there one that you're looking forward to more this year?
I'm pretty stoked to go to Croatia. La Bresse is back and apparently, it's a new track that's on the other side of the mountain or something, so I'm pretty stoked to go there. 
What's next for you? 
Tucson (Arizona) tomorrow for ten days and then I think I'm going to Europe at the end of the month for testing with the team. 
Any thank yous or shout outs you would like to make?
Just all of my sponsors, the team, mainly Laurent and Kevin from the Specialized Gravity Team. Squamish—that's a big one for me, everyone in Squamish that supports me. Mountain Fitness, they give Remi and I a membership. Squamish Integrated Health gives me massages and physio. Nesters Market — Sean Daily at Nesters. Obviously I need and love all of the support that I get from cycling sponsors but the ones that are the coolest, like Locavore and Cloudburst for the food and coffee, a lot of those came to me and wanted to support me and what I do, I never asked but they recognize that it's something I need and they've wanted to get behind me so I think those are the coolest ones. 
A very special thank you to Miranda and Remi for their time, and the folks at Specialized for their help with this article. If you haven't seen it, don't forget to check out our video featuring Miranda from last year's Landshapes series.