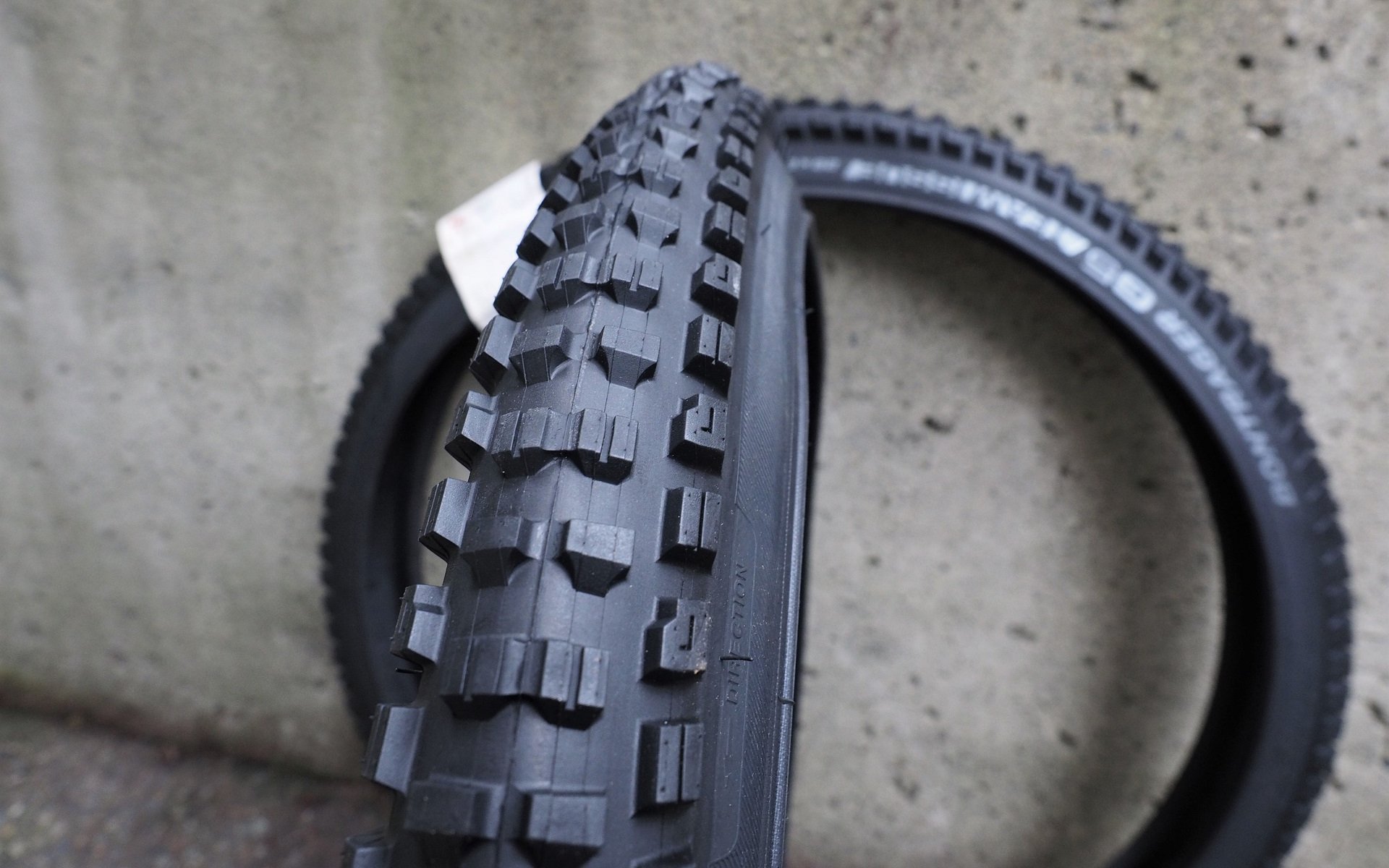 REVIEW | EDITORIAL
Min-Maxing North Shore Rubber With The Bontrager G5
Min-Maxxis
On everything from aggressive hardtails to full on DH bikes on the Shore, it's no stretch to say Maxxis holds dominion over tire choice. For the vast majority of riders, buying new tires comes down to four decisions:
is the front tire a DHF or Assegai?
Is the rear tire a DHR2 or Assegai?
Is the front tire casing EXO, EXO+, or DD?
Is the rear tire casing EXO+ or DD?
That's an oversimplification. There's also the choice between tubes, tubeless, and if inserts which ones. But generally, I think I've summed up 95% of North Shore riders here. Despite this, many are curious about non-Maxxis rubber. It wasn't that long ago that Schwalbe and their Magic Mary seemed to be showing up regularly. There is a lot of other intriguing rubber on the market as well from Michelin, Goodyear, and e13. Some of it I'd even put right up against Maxxis' most popular treads. The e13 LG1r for example is a fast favourite of every rider I know who's tried it.
But hit the trails or the local shop and I hear this sentiment all the time; the best value in tires is any combination of the Maxxis DHF, DHR2, and Assegai. Yes, they're more expensive than other options but you know what you're getting every time. Easy enough to save a few bucks on a great tire like the WTB Vigilante High Grip or anything e13 MoPo but if you don't like it and end up buying an Assegai anyways that's a big extra outlay.
In addition to that sea of yellow or white Maxxis logos there are also a fair number of Bontrager and Specialized tires present on our local trails. Good Bontrager tires like the SE5 are on the Treks while good Specialized tires like the Butcher and Slaughter on the Specialized. When those wear out will the riders replace like with like or just pick up some new Maxxis shoes?
I also have that one friend who likes Continental tires. I know someone who thinks Michelin's latest rubber is good when it's greasy. I still know a few folks who are loyal to Mary even though there's no Ultra Soft 29x2.6" option. And apparently, the 2.6" Schwalbe Eddy Current Rear, as a front and rear tire, isn't just for e-bikes if you can stomach that each tire weighs over 3lbs.
If you can stomach that weight, and you like a performance-per-price bargain, you may consider Bontrager's 29x2.5" G5 Team Issue tire. These are the same tires that come stock on the Trek Session DH bike and they sell on their own for an SRP of 70 USD or 90 CAD. They also last surprisingly long given their soft 42a rubber throughout. They also have a dual-ply multi-layer casing with added butyl layer to prevent flats. This adds a great degree of stability and when all is tallied makes for 1440-grams per tire.
Woah, Woah, Woah! 1440-grams per tire? Between the amount of rubber, dual-ply casing, and wire bead, (I don't know why they use a wire bead instead of Kevlar here) the weight really isn't surprising. What as surprising, is these are the first tires I've ridden in a while without CushCore where I wasn't lamenting the lack of inserts. CushCore Pro inserts are some 260-grams a wheel so, in reality, this is the lightest tire setup I've been genuinely happy with since I started riding CushCore.
Bontrager G5 Team Issue
I'm used to turning over big meat, like 2.8" WTB Vigilante High Grip tires with CushCore inserts, so even with the super-soft 42a rubber, I didn't find the G5 tires unbearable on climbs. Slower than the Teravail Cumberland semi-slick I've also been testing?! Even with a 330-gram CushCore PLUS insert in the Teravail, comparatively I fly up the trails but now that we're in the greasy season I'll take the G5 downhill any day.
I've mounted the G5 tires on Bontrager Line Elite carbon, Race Face Aeffect aluminum, and WTB KOM aluminum and each time they aired up without issue. In all cases, these were test rims so I haven't yet tried the tires with any kind of insert. I really like the on-trail characteristics of the G5 without and all of the lighter insert options don't have the run-flat qualities of CushCore, which is the one benefit these G5 setups are missing compared to when I run inserts.
Speaking of ride quality - the thing that actually matters here - the incredibly damped ride of the dual-ply casing and 42a rubber adds notable stability to my hardtail or full suspension bike. At least at Andrew-speed, these tires brake in a straight line on greasy rock faces, ladders, or roots as well as any rubber I've tried. The transition from center to side knobs is totally predictable and there is traction at any angle. That's not to say that the combination of greasy sideways roots and my skillset hasn't gotten me into trouble more than a few times. No tire is going to save me from myself.
Climbing grip is, unsurprisingly, stupendous all things considered; look at the knobs, factor in super-soft 42a rubber, low 20psi front and 22psi rear pressure, and all the damping from the casing. If I can turn the wheels, they grip. I've put plenty of road miles on these tires riding up to Fromme or home from Seymour and wear is better than expected. Not as good as WTB's High Grip or Maxxis MaxxTerra, although these have obviously softer rubber, and I'd say, totally un-scientifically, similar to Maxxis MaxxGrip based on looking at friends' tires that put in similar hours on the bike.
Which brings me back full circle. SRP v SRP I wouldn't spend an extra 40 USD for a similar pair of Assegai tires because in my experience, as unpopular as this may be, I'm not gaining or losing anything compared to the G5. Are there stronger, faster, braver riders who will have a different experience? Is it possible to divorce their experiences from the pro-Maxxis bias in the mountain bicycle riding community?
It doesn't really matter because even if the G5 isn't their best bet, it's a safe bet. Want excellent rubber for fewer dollars? Here's the sweet spot. Can you get a bit better performance for more money? Maybe. Are the Bontrager G5 tires going to sit on your shelf next to a pair of Continentals you're saving for summer and those Michelins that are harder than you expected? No, they are not.
The G5 DH tires have been around since 2012 when Aaron Gwin was racing for Trek. At some point between then and now Bontrager upsized their do-it-all DH tire to 29x2.5" but otherwise it's the same World-Cup-Winning beast. Being the only DH tire in Trek's line, it's been designed to work in a broad range of conditions ("aggressive, loose, rocky terrain, wet or dry") and for folks like me who like to put a set of tires on and run them until they're dead, that works great.
It's one of my life-goals to never change a flat tire on a trail again and I have enough faith in the G5 that I'm still not carrying a tube (I do however carry some tire plugs just in case). It will be interesting to see if the tire feels overly dead as we come into the colder winter months where a lighter casing tire and insert may feel more lively while also getting me home without any faffing about in the rain. My time on the G5 tires has reinforced the belief that running a heavier casing, like taking the weight hit of an insert, makes a big difference in descending stability and ride quality.
Sometimes what's new isn't better, or at least isn't substantially better, than a product that's been around for ages. There are plenty of examples of this truth when it comes to mountain bike accessories and components. Even if the new-new is better, lighter, stronger, faster, sometimes the difference in performance is so small that as soon as the value is taken into consideration the older product is the winner.
Based on performance for my dollars, for my riding abilities and appetite for risk, the 29x2.5" Bontrager G5 is a truly fantastic tire that any open-minded, aggressive, North Shore rider, who can handle the weight, would be very happy with. Trek could throw us a bone by ditching a few grams with a Kevlar bead but in the meantime, the SRP of 70 USD | 90 CAD makes this a winner that I'd certainly buy.