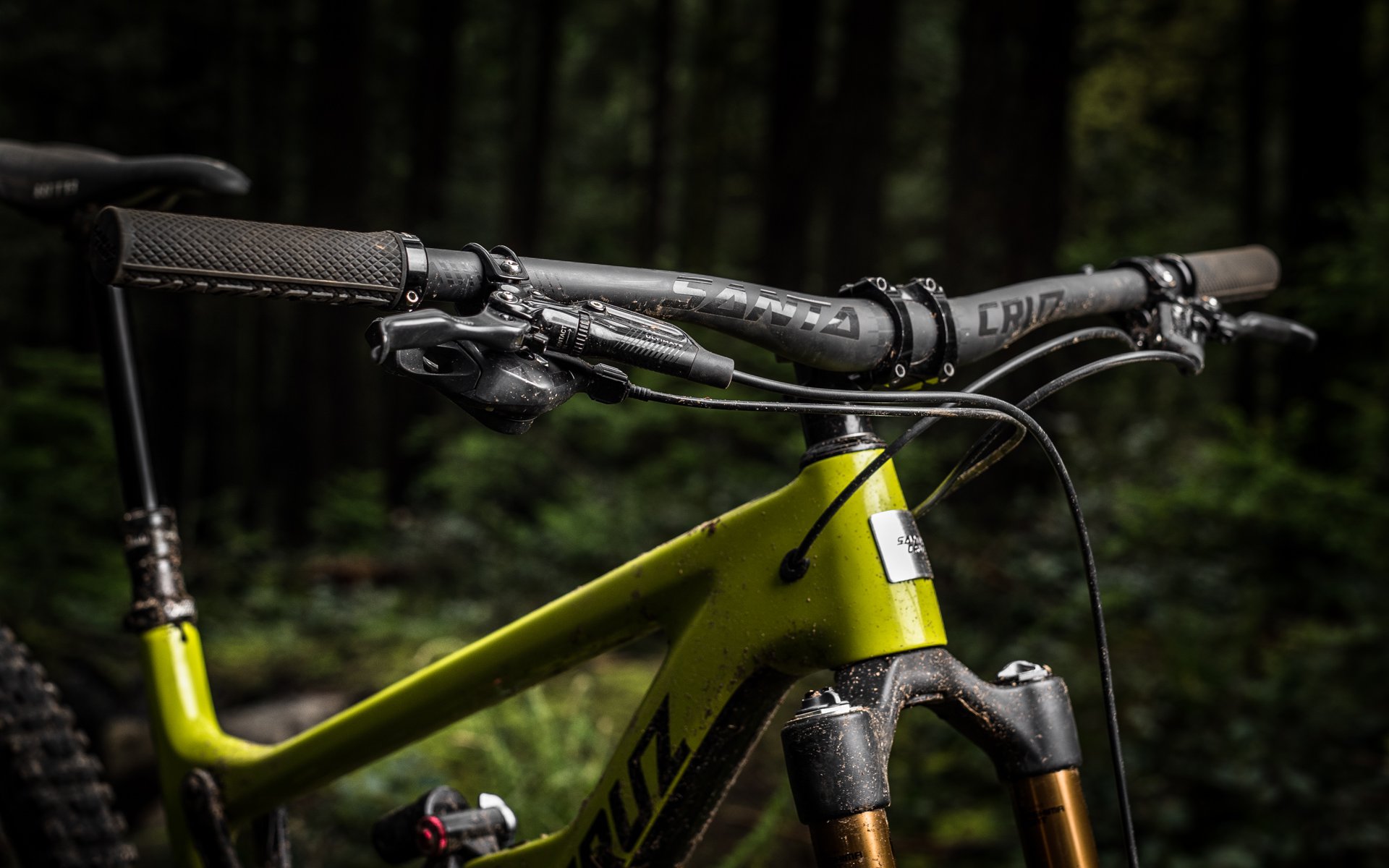 EDITORIAL
Min-Maxing Cockpit Spec
Expectations
Up to a certain price it's fairly difficult to screw up cockpit spec on a mountain bike.*
Choose a black 30mm - 60mm stem, bolt up a black aluminum handlebar at least 780mm wide with obvious chop markings and then grab basic lock-on grips you like. Top off the whole cockpit confection with a saddle that doesn't invoke the term 'ass-hatchet' and it's time to sell some bicycles!

Min-maxing In a role playing game is investing most of a player's status points in one or two attributes at the expense of all of the player's other stats. - Urban Dictionary
Somewhere on the graph between bread-and-butter hardtails and Eagle-equipped-ultra-Enduro-carbon-super-bikes expectations morph to require 'suitable' finishing kit: brand name carbon bars, machined stems, titanium or carbon rails on saddles.
Product managers invest a fair sum of money equipping bikes with high end parts that are actually quite likely to be swapped out due to fit or preference. Could this investment be directed elsewhere where performance will benefit?
Change
A good local shop wants to fit you to the bike you're buying. Mountain bikes have all kinds of performance factors to consider beyond the comfort-efficiency-preference bio-mechanic triangle of fitting road bikes.
Beyond setting up suspension and making sure the tire spec is appropriate for local terrain the next step is configuring the cockpit. A lot of the experienced riders throwing down for expensive all mountain machines have make and model preferences for grips, bars, stems and saddles that work for them.
It's an extreme example but a shop I worked in during the late 2000's had top end 110mm and 120mm Ritchey WCS stems with titanium hardware stacked like cordwood under the display counter. The best we could offer was trade them straight across for basic 50mm, 60mm or 70mm Truvativ stems and then strip them and sell the hardware to try and recoup the cost. It was a losing venture but the bikes were unsaleable otherwise.
Many shops now are avoiding swaps and would rather customers left with the stock controls and heavily discounted replacements as desired in order to keep inventory clean.
The alternative is of course dropping thousands on a top end bike, taking it home, and then dropping hundreds of dollars more to get it optimized whilst entertaining low ball buy & sell offers for brand new cockpit parts that will eventually have to be shipped to Winnipeg for pennies on the dollar and a promise of future beer next time buddy's driving through North Vancouver on his way to Whistler.
Zero winning.
Choice
I don't know of a single case where a rider purchased a bike because the stock saddle had titanium or carbon fiber rails. Not one. But I've met a handful of men and women over the years who have been reluctant to part with their wunder-railed pears of anguish because, apparently, suffering on a $300 saddle is a different experience than suffering equally on a $50 model.
Relative comfort aside, every time I see a bike stock with a carbon railed saddle I can't help but wonder how much money could have been pumped into a suspension, brake or hub upgrade - something that would actually make a performance difference to the bike.
Cockpits and contact points should be usable place holders; perfectly rideable product but chosen with recognition that grips, saddles, bars and stems are often going to need to be swapped out for optimum fit and personal preference. Spec dollars should be invested in the performance altering parts that a rider is unlikely to change.
Even in a case where a rider doesn't have a clear preference for bar sweep, grip thickness or saddle profile, choosing to spec. lower value items makes it more realistic for shops to swap out parts to best support their customers in getting the optimum experience.
It doesn't have to look cheap. For example a Race Face Aeffect stem, black-on-black Atlas bar and a WTB Pure saddle with chromoly rails is a great looking, high quality, package that's easy to support with a hacksaw and a range of stem lengths and dirt cheap compared to top end carbon kit. Once a setup is dialed in there's always an opportunity to bling out on plastic fantastic, ti rails and to taste the rainbow of anodized stem colors.
Min-maxing cockpit spec: everyone wins.
*In this case I'm ignoring XC race bikes - some of which cling stubbornly to 90mm+ stems
**I originally wrote "house brand" but bike companies like Santa Cruz, Intense, Specialized and others are putting out some luxury cockpit parts with their own monikers.