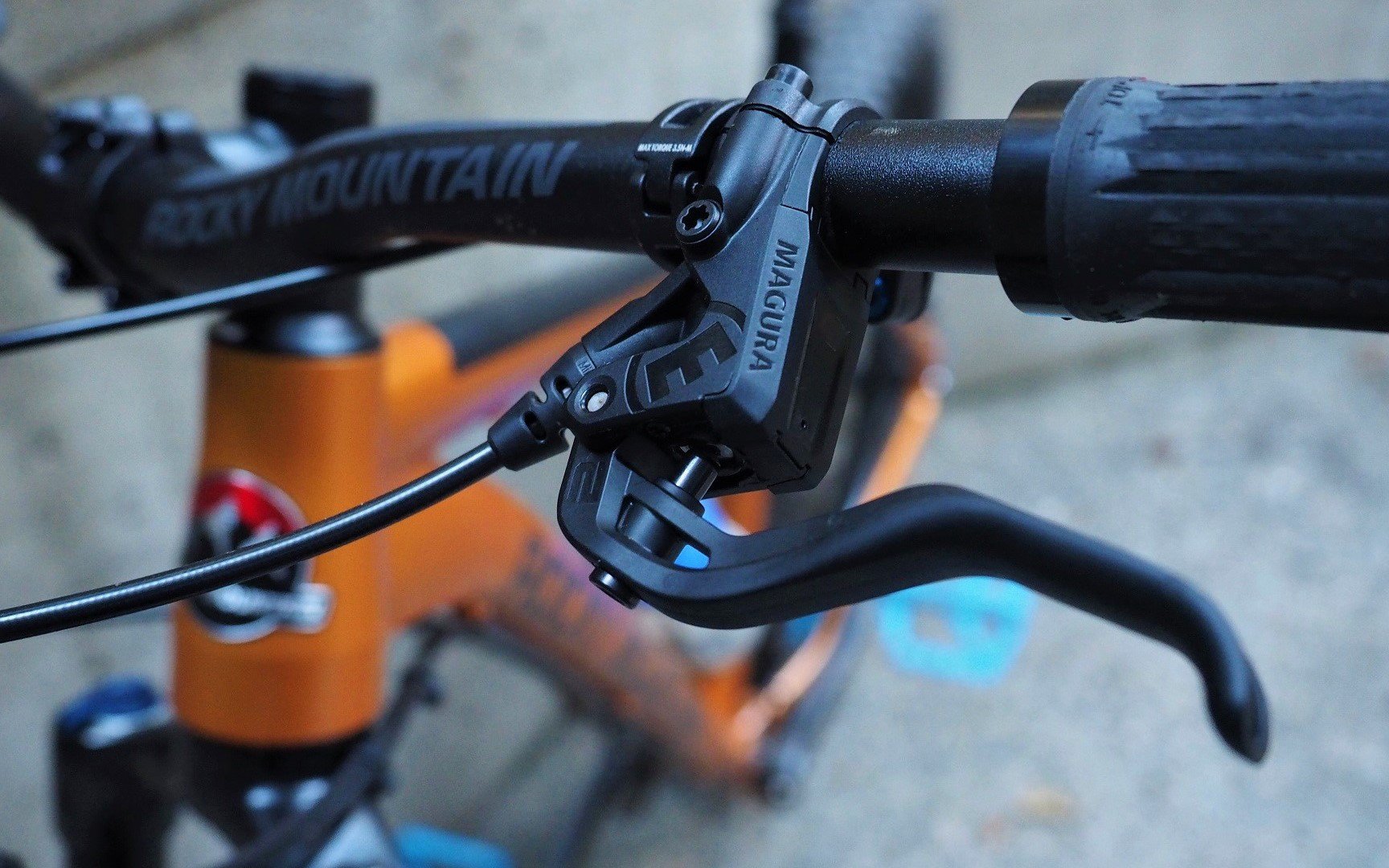 REVIEW
Min-Maxed With Magura MT Sport Brakes
Two-Piston Trail
Punching in as Magura's lowest-priced brake is this MT Trail at 80 USD per wheel.* Magura combines the same injection-molded Carbotecture master cylinder found on the MT Trail Sport setup I've tested previously, and the 4-piston MT 5 brakes that I've owned for years, with a basic 2-piston caliper which, quite remarkably at this price, is still a one-piece unit.
While not as ergonomic for me, as their generously hooked aluminum or carbon HC levers, the Trail brakes feature the same Carbotecture Sport blades I ran on my four year old MT 5 system for the winter in my quest to manage issues with cold digits.
This system is an easy choice for commuters but what about technical off-road mountain bicycling?
*Does not include rotors
Magura Nomenclature
Call me boring, but I liked it when Magura's brake lineup was neatly organized by ascending numbers. MT2, 4, 6, and 8 for the two-piston systems and MT5, and 7 for the four-piston systems. Then the 4+2 piston MT Trail SL system came along and combined a 6 & 7, the MT Trail Sport was a lower priced trail hybrid of the 4 & 5, and now there a couple of named brakes at the top and bottom of the line-up.
Similar names aside, these Sport brakes shouldn't be confused with the MT Trail Sport brakes I've tested at purchase time. The 280 USD Trail Sport system can go up against brakes that cost twice as much, including any that Magura makes. On the other hand, with the stock pads, these MT Sport brakes belong in the same category as the SRAM Level. They feel great at the lever but the power is notably lacking.
It's The Pads
Magura ships the MT Trail with their longest lasting, lowest friction, pad compound called the 'Comfort' model. Benefits? Longer pad and rotor life. And heck, it has plenty of friction for slow and stopping my bike on pavement. I was even quite happy with rear brake performance combined with a 180mm rotor. Up front was another matter. Ride one I was begging for more bite and when trails became steep or fast it turned to screams.
The good news is that Magura's two-piston systems all use the same pad shape. They make multiple compounds compatible with these brakes including the 'Perfomance' level pads I usually run and the 'Race' pads that I installed up front on these Trails. The Race pads make this as good as any two-piston brake on the market in terms of feel and power.
Trails On Trail
With the Race pads up front and the Comfort pads in the back my MT Trail experience was excellent. As in my lever blade review, I long for a more HC-esque shape to the lever blade and I'm willing to throw down a few more dollars for the adjustable brake-line exit point on the caliper. But then, I'd be happily throwing down for the Trail Sport to get the four-piston caliper bolted to my fork so I'm not really the market for this setup.
There are lots of old-but-good mountain bikes, and entry-level performance mountain bikes out there in need of new binders for a wide variety of reasons. Magura's MT Sport brings an easy to service brake with most of the features of their more expensive options including compatibility with a variety of ShiftMix adapters for SRAM and Shimano, excellent power for a two-piston system with the right pads, and an excellent power curve at the lever.
They're very good brakes, and for 80 USD a wheel I won't be surprised to see a lot more on the streets and trails.

---
Any questions? Please post them below or check out Magura for more information.