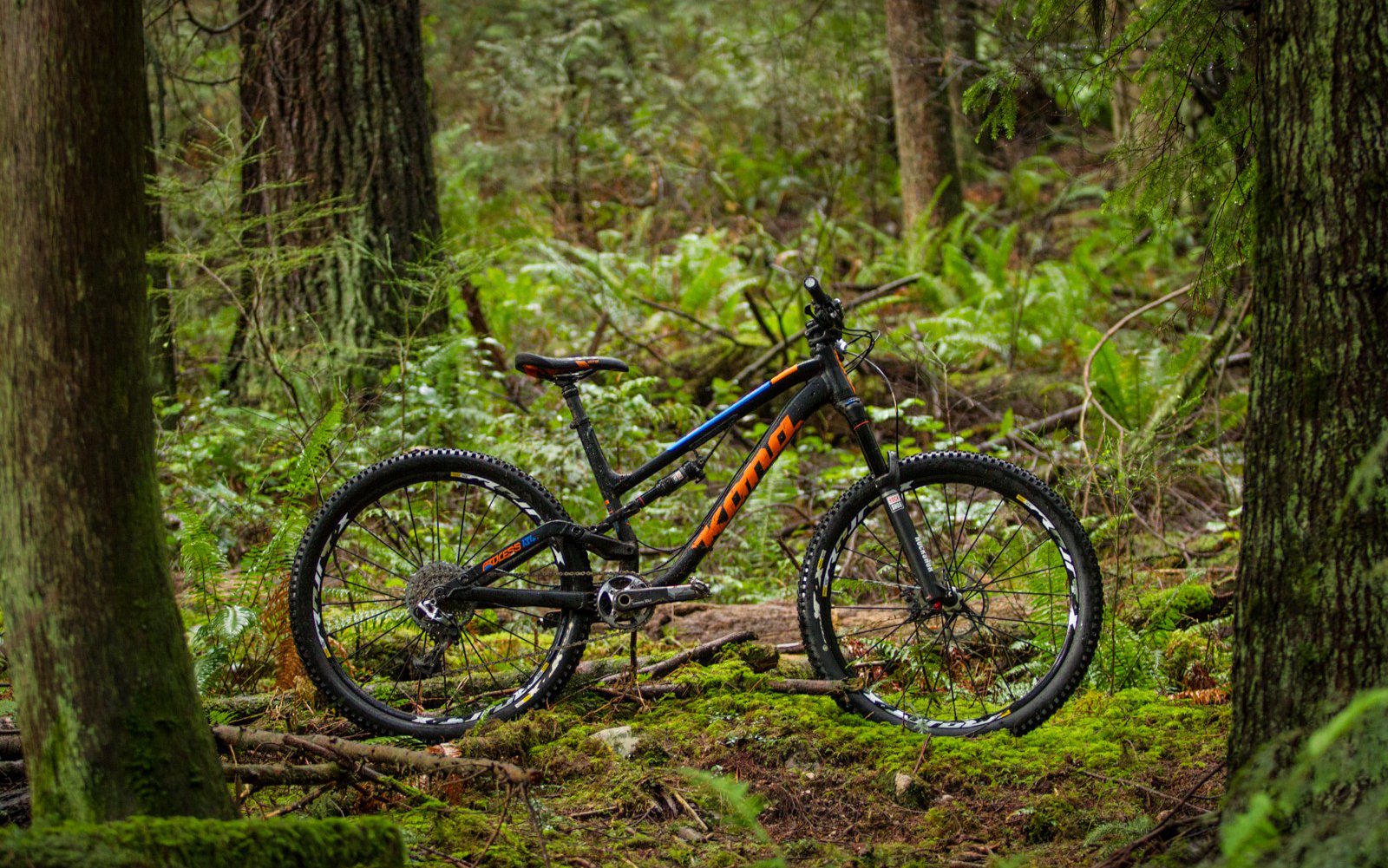 EDITORIAL | Part 1
Min-Max YOUR Mountain Bike | 2016 Kona Process 134 Supreme
Min-Maxing
There are a lot of ways to get from one place to another and the best way to get from A-to-B depends on a lot of factors. I've walked long distances when I just needed to do some thinking, and I've driven up the block to take an appliance in for repair. Often we measure travel efficiency in terms of how fast we can get a place v. how much it costs to get there, but that's not always the case. Sometimes a train ride is the slowest, most expensive, and most spectacular way to get where you're going.
The concept of min-maxing is often laid out as the best performance for a given price. Plugging a high-performance damper into the OE fork that came with your bike, to get Factory-level performance for a significantly smaller investment would be one example, or buying an all-steel Deore M6100 cassette that will last longer and deliver the same great HG+ shifting as the lighter and more expensive SLX or XT versions. Another example is CODE R or Magura MT5 brakes that provide the stopping power and modulation of their much more expensive siblings minus some bells and whistles you probably don't need.
But there are other ways to measure the best min-maxed mountain biking scenario for you. The greenest option is riding what you already own and that will often be the least expensive as well, but when it comes to riding toys in the forest, fun is of course the most important metric. Or, is it speed? The easy answer is, it depends. In this series we'll be looking at used bikes from various eras, and examining what it would cost to make them perform close to, or even better than, a brand new bike.
Buying The Bike You Already Own
I've been wanting to write something fresh about this particular model of bike for quite a while. It's a size large 2015/16 Kona Process 134 Supreme, and it's the very first bike I reviewed for NSMB.com. At the time it had the longest Reach of any bike I'd spent any time on, at 460mm. At first it was 'WOAH' but after a couple rides it didn't feel overly long, even with the 74° seat tube angle that is both perfect for me and slack by today's standards. I attribute that to the fact that Kona figured out, right out of the gate, that Stack numbers needed to grow substantially along with Reach. Where a lot of companies were pushing out size large bikes with 100mm headtubes on similar travel rigs, this Process had a 130mm.
When we started talking about this series, about min-maxing your bike, this was the only place for me to start. I never owned an original Process 134, but if I was hitting the used market tomorrow for myself, or for my wife, this is where my search would begin; big bearings beautifully shielded for multiple years of use, no weird proprietary parts, external brake routing, and highly adaptable for that adult-Lego fun factor. I'll accept being called out for the 425mm chainstays, which are some 15-25mm shorter than my stated preference, and note this is about building the best, most fun bike, on a budget. This is not a musing on my perfect dream bike at any cost.
I've always regretted that I didn't buy the Process 134 after the review was done so let's pretend I did buy this 134, and that I still have it these seven years later. Today I'll be looking at the stock bike and talking about the upgrades I would consider investing in to keep it up to date, rather than spilling a bunch of treasure on a new bike. I'm assuming it's in good shape and well maintained with regular brake bleeds, suspension services, and frame bearing replacements as needed. This isn't a reach because I can imagine myself picking up this bike for the right price and doing exactly what I'm talking about here.
The process going forward, will be to collect some actual photos and build lists from NSMB readers and then do the same. The goal is to put together some real examples of folks choosing to Buy The Bike You Already Own. Whether it's a three-year-old Rocky Element that needs to be beefed-up for a change of primary riding location, a 2001 Heckler you're trying to sort out on the cheap for a new rider or your kid, or anything in between. Make contact with a breakdown of what you have and some photos and if I think it's something I can help with I'll take a first crack at it.
I say a first crack, because the NSMB.com readership has no end of experience and opinions, both in terms of keeping their bikes running and also in choosing when to abandon ship for a new bike. A lot of the time the comments from our community go as far or farther than the articles in providing entertainment and information. Deciding whether to roll up your sleeves or grab the proverbial gas can will also depend on your access to tools, time, mechanical aptitude and wrenching experience, so I'll ask folks to keep that in mind when sharing their own ideas. Hopefully we can have some fun and keep some older machines running with current bikes for less money.
The 2015/16 Kona Process 134 Supreme
Plying the used market for a Process 134, I'd be specifically looking for a 2017 model. That year the Reach on the Large grew 1.5cm to 475mm which gets it pretty damn close to my current preference. But I thought it would be more fun to start with a bike I've ridden, if not owned, so the identical 2015/2016 model years is what I'm going with. That means that, depending on the handlebar I'm running, I would have already bounced the stock 40mm stem up to 50mm or 60mm. I would have also replaced the handlebar a couple of times over the last seven years. I'm certain I would have replaced some other parts too whether due to wear or the odd bought of upgradeitus.
One of the things that was truly special about the 134 SE was the boutique build delivered on the aluminum frame. Originally these build kits were supposed to come on the first generation of Kona's carbon Process bikes. But, with the fantastic-plastic versions not arriving until the return of the traditional horizontally-shocked Kona full-suspension silhouette in 2017, they found their way onto the excellent aluminum chassis. The value may blow your mind: SRAM XX1 drivetrain, Shimano XT brakes, dropper post, RockShox Pike RC3, and custom wheels with Hope hubs for 6000 CAD | 5500 USD.

Everything you ever wanted in a trail bike. Ride across huge tracts of wilderness. Bomb your favorite backyard descent. Race enduro. Race XC stage races. Do it all with confidence, comfort and speed on the Process 134 Supreme. The most versatile model in our Process platform, outfitted with the best components. Let nothing stand in your way." - Kona Bikes
Wheels & Drivetrain
Hope hubs are not my first choice for a few reasons. Key among them is the big hunk of plastic behind the freehub driver they call a 'labyrinth seal.' Personal preference aside, you're not going to hear any complaints from me seeing Hope come as spec. Hope does a fantastic job of supporting hubs going back forever, so I know it would be easy to come across any parts I need for the ones on the Process. I'd certainly consider jailbreaking the rear hub by buying an HG driver, and Wolf Tooth makes a very clean Boostinator kit for the front hub if I was to upgrade the Pike.
If the WTB Frequency i23 rims were still kicking I'd be looking to upgrade them to something wider. I'm hemmed in a bit by tire clearance in the back and will be running somewhere between a 2.4" and 2.6" tire so an i30-to-i35 rim would be perfect. In the front I'll be running a 2.6" tire minimum and would like the option of a 2.8" so an i35-to-i40 makes more sense. The big question is whether I'll mullet the bike or leave it with dual 27" tires and I'll talk more about that in a minute.
My preference is aluminum rims and CushCore inserts. Depending on my budget and how strongly I'm feeling about domestic manufacturing on the day I order, I might go after the USA-made Velocity Dually and Blunt. If I'm feeling a bit more skint, I like WTB's KOM rim lineup. Over time this might get a little redundant, so I promise I won't mention CushCore more than once per article.
Fresh rubber is a must. I purposely haven't made a recommendation because, more than anything on a bike, tires are location specific. I'd probably do something silly for the Process 134 like put a 2.4" semi-slick tire on the rear and an aggressive traction-over-rolling 2.6" or 2.8" tire on the front. I have friends who'd sensibly mount up a pair of 2.4" DHR II tires and never look back.
Drivetrain upgrades are going to depend on what's worn out but let's assume the chain, cassette, ring, and rear derailleur are all punched. I love-love that 11spd XX1 shifter so I'll mate it to a fresh SRAM Eagle rear derailleur and run that setup, which also gives me the option to run a wider range cassette if I want. I can make an argument for GX or XO1 when it comes to the derailleur. For an 11spd cassette that fits an XD driver I'll look to SunRace and their CSMX9X. The cassettes available as a 10-42t or 10-46t and are all steel except for the lowest gear. I'd be tempted by the 10-46t mated to a 28t ring so I'd generally top out at the 28x40t, for the improved chainline and enhanced life, but with the 46t left as a bailout for long rides.
The stock crankset has a four-bolt spider but that's mounted to the arms using SRAM's 3-bolt mounting standard, so it's easy enough to swap that out for a direct mount ring. If it was a hardtail I'd go with an oval 28t from Wolf Tooth, but for a multi-speed full-suspension bike I usually would go local with a 28t from North Shore Billet. I'll tie it together with a fresh SRAM 1171 chain. It's quieter running and smoother shifting than their cheaper 11spd chains and, in my experience, lasts as long as higher priced Eagle chains. If I can't find an 1171 due to parts shortages an XO1 Eagle chain would mate just fine with my 11spd system as well and in my experience they outlast GX Eagle chains by enough to justify the price difference.
Suspension
Let's say I've managed to limp the stock RockShox Pike and Monarch rear shock along to this point. Or, if I'm buying a used Process 134 with low hours that those parts are still installed. The obvious min-max choice, if the chassis are still in good working order, is just to get them fully serviced and keep riding but that's not what I'm doing here. It's not just about keeping a machine running, it's about making enough positive changes to the performance package that I cure my lust for a new rig.
First up is the rear shock, and there's only one option for me which is Cane Creek's DB Inline Coil. The Inline coil shocks are very reliable, fully externally tuneable - no re-valving needed, ever - and a bargain relative to their performance at 525 USD | 670 CAD, before a spring. I generally prefer the lower maintenance and increased reliability of a coil shock and in the case of the 2014-2017 Process bikes I've ridden with coil shocks, the performance has been excellent regardless what brand is installed.
So why the Cane Creek or any other option? On a size large Process 134 frame the lack of reservoir with the Inline architecture means that I can mount a Fidlock bottle within the front triangle. Yes, an expensive, low volume, solution but I'm happy enough with a bladder in my pack for long rides and this would get me through shorter loops. Actually, with their being water sources on the North Shore most of the year, packing some Aquatabs to cover me when I'm extra thirsty would be fine.
Wait, I'm easily over a grand and a half already between a rear shock, rims, and tires. Is this really min-maxing? I ask myself what a 2014 Process 134 SE is going to worth on the used market, look at the cost of an equivalent machine when even an NX-equipped aluminum Process 134 DL is 5K CAD, and I figure I have some room to make some actual upgrades while still saving a pile of cash. The CCDB IL Coil is nicer, in my opinion, than the shock I'd be getting on a 9K CAD Process 134 CR/DL, so heck yes I'm creating performance and value here.
My next big purchase is a new fork since I'm building my rig into something that can compete with the fresh bike I'd be buying otherwise. The ground-to-crown height of my new fork is going to be longer than the 140mm Pike as at the same time I'll be installing a -2° Angleset from Works Components or Wolf Tooth and I find that change works most awesome with a taller fork & wheel at the same time. For folks who need their suspension to match, a Cane Creek Helm would be a great choice here. I could do that, a Manitou Mezzer, a SR Suntour Durolux EQ, or any chassis that will clear a 2.8" tire on an i40 rim. I like my fat rubber, at least as an option.
The biggest choice here is whether to mullet the bike with a 140mm 29'er fork and a 29" hoop or whether to stick with dual 27" wheels and bump the fork travel up to 160mm. My mullet/MX experiences on full suspension bikes have all been winners to date so I'd be going the mixed-wheel size route to get the extra rollover ability. I have no concerns with mix-matching travel numbers on the Process though, as it feels bottomless, so I have no beef with anyone who'd rather keep running dual 650b hoops.
Brakes, Cockpit, Dropper Post
If your 2015/2016 Process 134 is still running the stock handlebar then you're due for a replacement anyways. Mine is going to absolutely be aluminum. I don't think I'll ever run another carbon bar - and it's going to have between 12° and 16° of sweep and be cut to between 760mm and 780mm of length depending on the sweep, the head angle, the general fit and how stable it rides between the wheelbase. There's not a right answer when it comes to bars and I'm an advocate of trying different things - especially when it's free because you're due for a new bar anyway. For me the Process 134 is going to have an SQLab 30X bar in the mid-rise and a 50mm or 60mm NSB Overlord stem, in 31.8, depending on the sweep I choose.
Chances are I've already replaced the POS KS Lev Integra years ago, so it may not need to be replaced again but,it probably also isn't as long as I'd like. I'm that text book rider who was fine with a 125mm dropper until I tried a 150mm, then the same with that until I tried a 170mm dropper post. Well, except that I after trying longer I'm happy in the 170-180mm range. The large Process 134 has a tall seat mast so at 450mm for the seat tube I'm going to choose a One Up dropper post for its most on the market drop for a given length. I should be able to run it at a full 180mm extension on the large, but if not I can easily lower it to 170mm if its a game of millimeters.
If the Process had come with SRAM Guide brakes to match the drivetrain then they would be fully rebuildable at this point. I'd still be upgrading to something with more power but I still think it's awesome that with a fully rebuildable system like the SRAM, Formula Cura/Cura4, or Hayes Dominion I can take an old brake and make it good, if not as good as new, again. There's a huge range of prices and preferences with brakes so I'll leave that open here. I will note though, that if a forward-thinking, power-hungry, Kona product manager had gone with CODE brakes for the spec then out of principle I'd rebuild them and ride them instead of replacing them.
Process
I was a bit nervous when I sat down to write this piece. What if halfway through I decided that there was no way I'd choose an updated '15/'16 Process over even a budget bike from 2022? The opposite happened, and in fact I've reached out to a couple friends who sold their Process 134 bikes on, that were in great shape, to see if the next owner is interested in parting with them for the right price. I'm thinking there's the potential for a real life version of this piece and also, that I like the idea of owning a ten year old bike that can still rip. The fact is, when Kona built these bikes with beefy tubesets and huge bearings that are well shielded they weren't counting grams at all, which makes them much more durable than other bikes of the same generation. I actually, (like a Toyota truck advertisement) what percentage of 2014-2017 Process 111, 134, 153, and 167 bikes are still being used on the trail.
If you'd be interested in seeing your rig get a min-max treatment then please fire me an e-mail and let's chat. To actually put together a piece, I will need a handful of decent photos, preferably landscape and at least 1920x1280 pixels, but we'll make it work.* I also would need a spec list and some idea of what parts have lots of life left and what's ready to die. Finally, what does it do now and what do you want it to do? I know that sounds like a bit of work, but hopefully there will be a solid return on your investment.
*Riding shots would be a great addition as well - Ed.