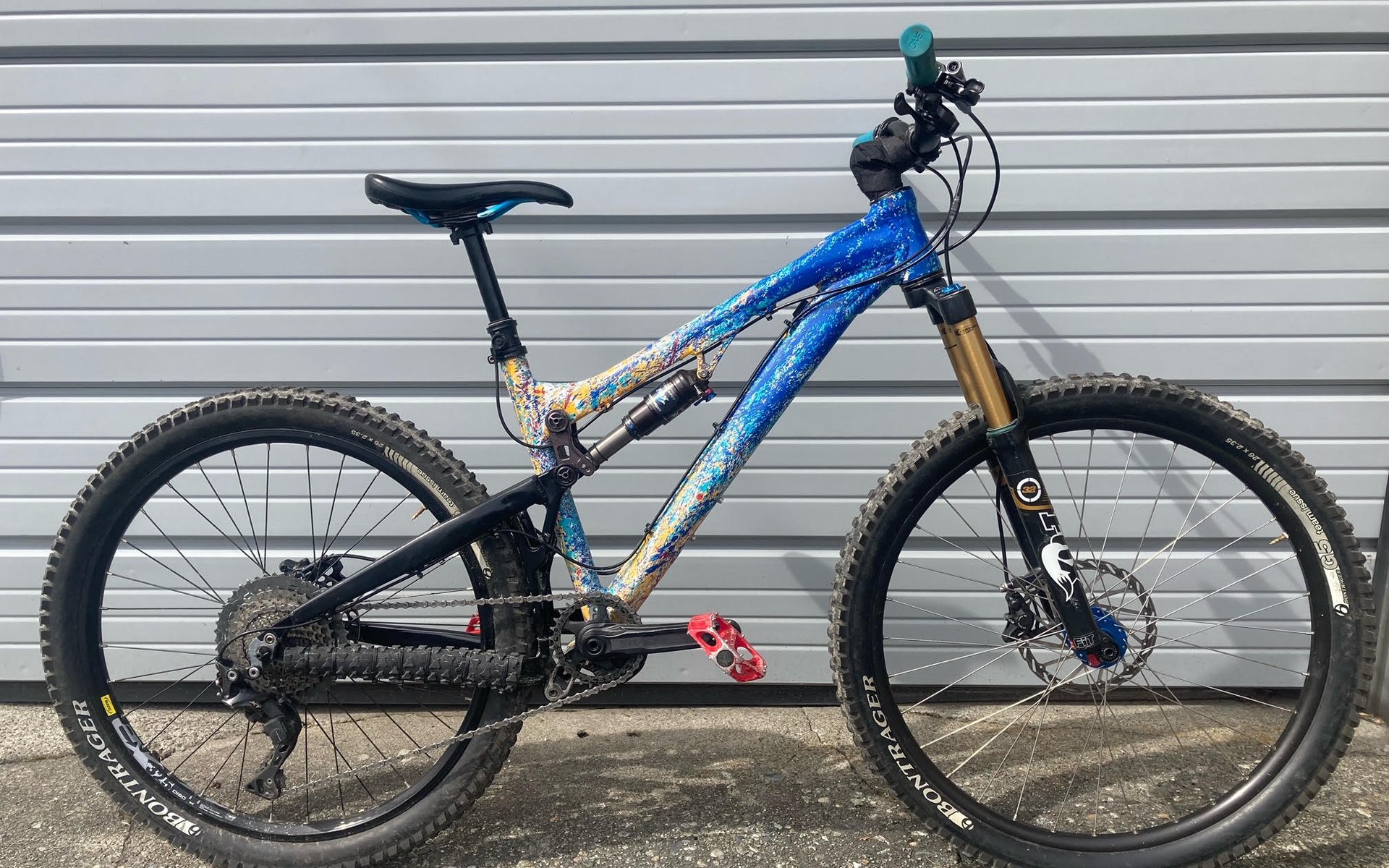 MIN MAX
Min-Max: Sal's Kid's 2010 Intense Tracer
Fabricated Fondness
I think my favourite part of the min-max series is the familiar if a bit fatigued way that some folks describe their submissions. Examples? Bean said their Salsa Timberjack is a "boring sleeper." In explaining why he's still riding his Banshee, Dave says: "to be honest, I've been looking at upgrading to a new bike for a few years, but have yet to find the right machine." Sal calls this project that he lovingly assembled for his son "a hodgepodge of my bike clutter and imagination." On the surface these descriptions are rather deprecating but the underlying fondness that min-max participants have for their rigs is undeniable.
My appreciation is personal. We can't all be Daniele making dream eyes at his 2013 MDE. Whether he continues to ride it or the frame eventually becomes a wall-mounted combination of art piece and memory bank, it's clear that if he ever had a Viking funeral, that Italian-made aluminum steed would be on a flaming ship beside him. Sometimes I look at my mountain bike and I'm stoked that it will probably be getting pedaled around long after I'm dust. Other times I feel taunted by the fact that overbuild hardtail beast is going to be with me 'til kingdom come.
Sal is most likely stressing in the opposite direction. He's clearly put a ton of work into the 2010 Intense Tracer he assembled for his son, including a full bearing kit as part of the painting process. But he's also facing the universal law of children and sporting equipment: they always grow out of it before you're ready for them to. One cool thing about this rig is that Sal's kid is most likely going to grow out of it size-wise before he grows out of it due performance needs.
This version of the Tracer is the last generation before they went to swap-outs that allowed for different axle options, but has fairly similar geometry to the next generation Tracer 2 models. The frame has a 1.5" (49/49) head tube and 140-150mm (5.5-6") of travel, with the longer travel setting also getting slacker geometry. In the 150mm setting the head tube angle (HTA) sits at 67.5" and the actual seat tube angle (STA) is 71.5°. The nominal bottom bracket height would sit around 340mm depending on tires. For those that never had an opportunity to throw a leg over the Intense bikes of this era, their vpp system was actually VPP* at the time and within any travel category they ride very similarly to the bikes Santa Cruz was selling.
*Virtual Pivot Point (VPP) is one example of a virtual pivot point (vpp) suspension system.
Under that paint is an Easton aluminum semi-hydroformed tubeset with the shapes pressed and the frame welded at Intense's facility in Southern California. When this bike came off the production line it was still a couple years before Intense started their transition to overseas manufacturing by pitting their unique in-house aluminum heritage against the generically organic shapes of other-party produced plastic fantastic. It's a decision that's often brought to the front of my mind by the cool USA-made mules that the current DH team rides versus what you can buy.
Custom Flair
Sal describes himself as a tinkerer by nature and this Tracer served multiple purposes. His son had grown out of his 24" Kona Shred, and Sal was looking for a pandemic project anyway. He would troll the various bicycle buy-and-sell sites for possible bargains and came up with this Intense. The frame was beaten cosmetically, but it's running smooth after a full frame pivot/bearing service that was a necessary part of the custom paint job anyway. Sal assembled a spray booth in his garage, with tarps and a bathroom fan, sanded down the frame, primed it, and then painted it with rattle can enamels. Sal's kid appreciates the custom paint and the ground up build and that's rad. I also think it turned out great, but that doesn't really matter.
Greatest Hits
The rest of the build is a proper mish-mash of parts representing "a hodgepodge of [Sal's] bike clutter and imagination." It's hard to get too in depth with 'upgrade' ideas for this reason. Clearly it's a rolling chassis that will see parts swapped as needed. The 49/49 head tube means there's an opportunity to fire in a -2° angleset and see how much that changes the ride.
The Fox Float RP23 Boost Valve shocks were wicked little inline units that could take a beating and performed quite well given that a lot of frames they were mounted in were quite wonky suspension wise, and they were regularly featured on longer travel bikes being ridden hard. On that note another recommendation I'd have is to stay on top of service. All the seal kits are still available, however once any hard parts wear out it's going to be searching for a new shock - which will be substantially more expensive than a service. Same goes for the fork.
One item I would upgrade is the pedals. There are a number of smaller sized platform pedals that could work for a ten-year-old. I'd be looking for something lower profile (ground clearance) and with more traction for wet winter rides. You don't have to break the bank - Kona now makes a 'Small' version of their excellent Wah Wah 2 Composite pedal that I think would fit the bill. I've killed the bearings in my Wah Wah 2s so I'm about to find out if the bodies - which are looking rough but are actually still quite usable - will take another set of guts. They don't owe me anything so it would be a nice added value.
The Tracer is sporting a pair of Shimano XT master cylinders with an XT caliper up front and a Deore caliper in the rear. The rear hub is also a Deore unit while the front is actually an anodized blue Hope hub and those are laced to a pair of Mavic rims. It's an XT 11-speed transmission as well, not bad for a 10-year-old's needs. The only problem is that once they get used to Dual-Release Shimano stuff their cheaper shifting setups just don't feel as nice. Hook 'em young I guess but I know from my own experience that shifters are one places I really, really, notice the difference on budget-friendly bikes.
The crankset is a Race Face Aeffect which (now replaced by the Aeffect R) has long been my min-max favourite. Cinch chainring interface, 24mm steel spindle, and they share the solid appearance of their higher-end siblings. When the chainring is toast there are a host of replacement options. When the cassette finally kicks the bucket the temptation may be to replace it with a SunRace, but an even more obvious choice is whatever Sal has hanging around. SunRace cassettes are a solid value, but on the average 10-year-old's allowance, free is the big win.
Filling out the Fox-RaceFace portion of the build is the Fox Transfer dropper post. It's a 100mm unit. I will say that the Transfer is the absolute best fixed-cable externally routed dropper that I've used. Yes, the rider will get centimeters more travel for the same height by going to a OneUp but that would also require modifying the frame to add an exit port for the dropper cable. If the Transfer was already around, great, but the other advantage of the OneUp is the adjustable max travel so that the post can grow with your kid. They're currently the best dropper posts for short(er) people, and I'm confident that Sal could make that exit port.
The world of 26" tires, and really 26" specific anything, is interesting these days. It's a bit crazy when you consider how many kids' bikes still come set up with 26" as a bridge between 24" and 27" wheels, or as a transition point on bikes that can also run smaller or larger hoops. This rig would be equipped with a pair of 26" Maxxis DHF tires, and that would still be Sal's preference in the future, but these Bontrager tires were a cheap buy-and-sell find and really, in these days, any deal on rubber is a win!
I've been saying since my kid started riding that her first full suspension bike would be the first bike she buys, and pays to service, for herself. What can I say, hardtails make sense to me for kids, teens, and adults on a budget. Or really on any budget when the application is such that the extra service costs don't justify the performance increase. But, I think Sal killed it with this project on a frame that is thirteen years old and it is the sort of project that my progeny and I are into tackling, so maybe I should keep a more open mind.