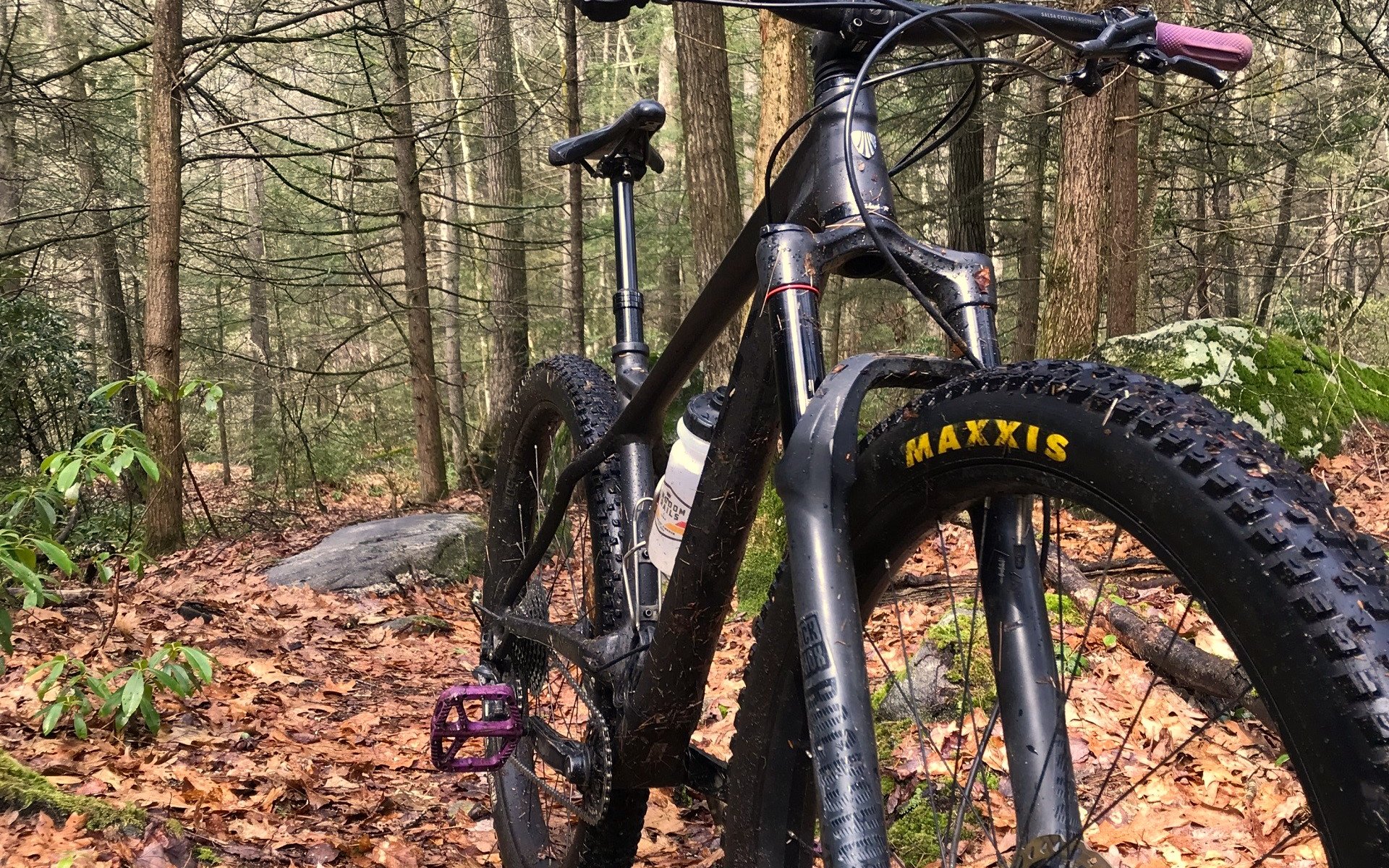 MIN MAX
Min-Max: Rob's 2018 Trek Stache 29+
Stached
Trek makes some great mountain bicycles. And they have for years. Know your terrain and buy the right size of Slash, Remedy, or Fuel EX and I think you're going to be a happy camper out on the trails. On the used market, the bikes with proprietary DRCV shocks are even a reasonable buy. The shocks are still supported and Trek sells hardware kits to swap them out for current double-eyelet shocks as well.
But, even though they manage some awesome paint jobs, and while the geometry is current, all of their rigs are what you'd expect from a great big bicycle company. They're safe. They look the same. They're not offending anyone with crazy slack head tube angles (HTA) on the short travel bikes or triathlon steep seat tube angles (STA) on the big bikes. Jokes about Session-like-appearances aside, all the trail bikes look the same.
The Stache is different. The aesthetic genuinely offends some folks. The elevated drive side chain stay. The massive, unique, sliding drop out system. The 29+ tires. The giant smiles and genuine love the crazy conveyance invokes from its pilot. If Trek has ever made a bike worthy of having its own fan club it's either this beast or the timeless 520*. Between having reviewed the bike and being a nerd for any rig with sliders, I've corresponded with many Stache owners since 2017 and Rob and his rig are a great stand-in for all of them. I love the bike and I wish Trek had continued to develop the platform and update the geometry.
*Yes, I'm giving them a pass for swapping the bar-con shifters for STI a few years back.

I also wish Trek had been able to continue investing in the platform. A more modern/progressive version would be rad." - Rob
Trek may have cancelled the good Plus tires they made - the 29x3" SE4 and SE2 - but you can still buy a brand new Stache frame in aluminum or carbon. Sadly, in my opinion, the platform never received the geometry it deserved. These aren't zippy and whippy pump-track hardtails, and they'd be so great with longer rear centers for improved weight distribution and climbing performance and slacker head angles for the speed and terrain they're capable of hitting. A straighter seat tube, thanks to the longer stays, would make room for a second set of bottle bosses, and they might as well make it a bit shorter on each size while they're at it.
I can't help but wonder if the carbon fibre version was this bike's undoing. Having to sell enough units of fantastic-plastic to amortize the molds while the aluminum version stagnates. It's certainly happened to plenty of smaller companies that tried to get into the carbon game. Actually, the first time I saw the 29+ Stache in person I couldn't help but wonder if the whole platform was conceived by a couple of former Gary Fisher Bikes employees long-forgotten in some windowless converted basement storage room Waterloo, Wisconsin. Sort of like Robert Redford and Brad Pitt doing Operation Dinner Out, only they had snappier suits and cool hats.
The frames aren't particularly stiff in the back end, but the elevated stay looks unique and it's damn quiet. Plus, I really felt with big tires run low and the Pike and Mattoc Pro that I ran on the front, that the overall stiffness of the bike was very balanced in every direction. These bikes like to be climbed out of the saddle and they get moving fairly quickly on the way down as well. I can't understate how much of an inspiration my time on the Stache was in terms of my own custom rigs, and my love of 27+ and 29+ setups, especially on hardtails.
Slack-R & Longer
Rob has a 9Point8 SLACK-R angleset installed in his Stache. This pushes the HTA out an extra -1.4° which winds up around 67° static. It doesn't sound like a big change, and the bike is still steep by current hardtail standards, but Rob noticed an immediate difference in performance. Rob says:
"I would say that during the first couple rides I noticed the front wheel wandering a bit more when climbing. However, slight modifications to riding style and weight balance and I don't notice it at all anymore. My friend's bike with a 68 degree HTA feels twitchy now."
I'm surprised, based on my experience and other folks that I've talked to, that Rob isn't running the chainstays all the way long. The Stache is a product of a time when every bike manufacturer was trying their best to tuck tires under the saddles of bikes - even when they wanted to clear 3" tires with room - and even with the stays extended the bikes trades some monster-truck potential for a more pump-track experience that is never going to be optimized with Plus-sized tires.

For the Angleset, I ordered it directly from 9point8... The simplicity of the design is very cool, though it's pretty tricky to get it aligned and tightened. It's a 1.4 angle, so it took the Stache from 68.4 to 67." - Rob
Based on my own experimentations with Plus hardtails and seeking a nice neutral weight balance, I'd like to see size-specific chainstays with the short settings changing 5mm per size with the M/L size hitting at 450mm. That should make for straight seat tubes on all the sizes meaning longer dropper posts can be accommodated as well as a second water bottle boss set low on the seat tube. A corresponding HTA of 64-65° static with a 130mm fork gives folks room for adjustment steeper or slacker using a SLACK-R angleset as well as by varying fork travel shorter or longer by a centimeter.
Even a lover of relatively slack STAs like myself would agree that the STA on an updated Stache would need to be steeper. Again, I think the answer to accommodating the most riders is to vary the effective STA by size with it being slacker for smaller sizes and much steeper for giants. Trek also needs to add at least one size and significantly redistribute the reach numbers. I'd make an XS and small size in 27+ and then go with 29+ from size medium up. I think combined with a steeper STA that the M/L size would hit around a 480mm Reach.
I know that for most folks, even hardtail riders, that Plus tires were an acquired taste to begin with and certainly haven't become more palatable since then. But the same things that make this generation of Stache very fun would hit another level with a next generation bike. Trek clearly believed in the bike to begin with and has the ability to manufacture everything they need including good tires. If anyone is going to make a go of a next generation Plus hardtail... Actually it's probably going to Surly or Salsa if anyone from QBP ever saddles up a Stooge and takes it for a rip. But, it would be really cool if it was Trek.
Build Highlights
So Rob and I, and I assume every other Stache owner, share the dream of a next-generation rig but this is a conversation about Rob's bike which is already min-maxed to the gills. It's a premium version of min-maxing I suppose. He has a lot of Gucci components but you can tell he's invested in getting the best performance with a focus on price. For example, I have extensive experience with Magura's MT Trail Sport and MT 5 brakes* and the performance they deliver relative to the higher end systems, which actually use the exact same brake calipers, is fantastic. I've actually been called out a few times lately because I've been focusing on writing about brakes that are fully serviceable, which the Magura units are not, and in that way this is a timely piece. The MT Trail brakes that I previously tested in 2016, and rode on the Stache when I re-reviewed it in 2017, are still going strong to this day with just a yearly bleed.
I think Rob also killed it, value and performance wise, with his wheelset. Industry Nine's 1/1 hubs show up on a lot of high performance wheels like We Are One and Crankbrothers builds and combine solid quality with good engagement. At 4° between contact points and only available in black they're clearly not as Gucci as the Industry Nine Hydra. But, they're made in house in the USA, 4° engagement is quick by almost anyone's' standard, and I9 does a great job supporting the product.
The rims are laced to Spank Oozy rims which are a solid aluminum option. They're an i35 rim which is perfect for running anywhere from a 2.4/2.5 tire designed for wide rims up to a 2.8" tire. If Rob wanted to run 3" rubber then an i40 would have been a better option, that still works great with 2.6" rubber, but good Plus rubber is becoming like hen's teeth so an i35 does keep the most options open. It's also the most future proof if Rob wanted to later transfer the wheels to a non-Plus hardtail or suspension bike.
Rob's 11-speed Shimano drivetrain mixes a top-end XTR shifter with an XT rear derailleur. It's been my experience that combining an XTR shifter with any level of Shimano derailleur from the most budget-friendly Deore on up makes for top-quality shifting. Once you properly clonk the derailleur a few times, the difference in performance between XTR, XT, SLX, and Deore is basically indiscernible so the shifter is certainly where to invest your upgrade money if you have it.
The Pike replaced the stock Yari and Rob calls it a "great upgrade" because of how much more supple it is comparatively. There's a lot of math contained in any min-max focussed response to that. How would the Pike compare to a Yari with a full service, or a full service and the upgrade to a matching damper, or a full service and a premium damper from Avalanche Racing? Both in terms of total cost and performance. In part it comes down to what Rob could get for the stock Yari and what he paid for the new Pike. It's worth noting that Rob gets an extra 1cm of travel out of his Pike for the same axle-to-crown height as the 120mm Yari that came spec on the 2018 Stache.
Re-embracing PLUS Rubber
Trek didn't do the Stache any favours by making the tire spec fast rolling, superlight-sidewall, rubber that was actually neither that fast rolling or particularly lightweight thanks to the fact it was 29x3". The crazy thing is that Trek did manufacture some excellent less-fat tires in the form of their SE4 and SE2 rubber which had reasonable sidewall support - very close to the version of WTB's 'Light' casing that comes on the 2.8" Vigilante. I think the perfect spec choice for the Stache would have been an SE2 rear with an SE4 front.
The stock rubber - nee Chupacabra, later called XR2 - was not at all confidence-inspiring any time the front brake was applied and couldn't be reliably run with the lower pressures that make the Plus tires great (27+ or 29+) because the sidewalls were made of Kleenex. With the SE2/SE4 combination Trek would have delivered real options since riders in more aggressive locales can happily run that combo with inserts in their rims and they're not that much heavier or slower rolling than the XR2 that anyone riding a Plus bike is really going to care.
Sadly it's a non-starter at this point and why I assume we'll not see a next generation Stache worth getting excited about. Trek is no longer making the SE4 or SE2 tires and now the Bontrager options available to Stache and Full Stache (the dual suspension version) are just the XR2 and XR4. In the wide world of aggressive Plus tires there are decreasing numbers of options. Surly still makes the Dirt Wizard, though inventory issues have been notable, and my favourite, the 2.8" WTB Vigilante has been on and off the chopping block so many times lately I'm a bit nauseous from trying to ride that roller coaster. Schwalbe has fantastic, aggressive, options in good sidewalls for 27+ bikes but that's not getting Rob or any other Stache owners anywhere.
Rob has been running fast 2.6" rubber that's readily available and honestly, I switched to a 2.6" with a CushCore Pro insert on the back of my Plus hardtail as well. I'm running a Bontrager SE4 2.6" and it's a great rear tire but I'd trade it in a heartbeat for a 2.8" or 3.0" SE2 that would add volume, roll faster, and provide surprisingly good braking traction. Actually, I'm right on board with Rob, when it comes to tires on this rig he says "probably a 2.8 is the right place for me."
I've talked to a few riders over the last couple years that picked up used Stache bikes, in good condition, for what seemed like incredibly small sums. And if you're not chasing a modern hardtail geometry experience I think they're very fun bikes. I'd immediately add the cost of a 9point8 SLACK-R angleset, like Rob has installed, and keep in mind that the stock i45 rims are really only going to be happy with Plus-sized rubber which has been a bit tricky to find. For a faster rolling tire with a sidewall that won't split at a moment's notice, Teravail does their Coronado in a 29x2.8" in their 'Durable' casing and the 29x3" Surly Knard is a 60tpi casing with a good reputation for holding up. Neither is particularly light, but you're making the choice to ride 29+ tires. For a more aggressive tire with great braking traction, the folks I know running 29x3" have lately gravitated towards the Surly Dirt Wizard, also in a 60tpi casing, often with something faster-rolling out back. This largely comes down to availability with Surly actually being able to supply their dealers with inventory.
I'm not holding my breath for Trek to bring back some good Bontrager Plus-rubber or to look to their Slash and Remedy, never mind other brands' modern hardtails, for meaningful updates to the Stache that would play to the best parts of riding big rubber. But, it would be awesome if they did. Maybe that ship has sailed aside from however many frames Trek has left in inventory, and the Stache bikes out there being enjoyed right now, but I think if Trek had the will to lead in the category they would find the demand is there to support the product.
Regardless of how dumb that daydream may be, thank you very much to Rob for sharing it. And for sharing his Stache build that was such an excellent locus for writing about one of the most fun, for the sake of fun, bikes that Trek has ever made and certainly one of the most interesting.