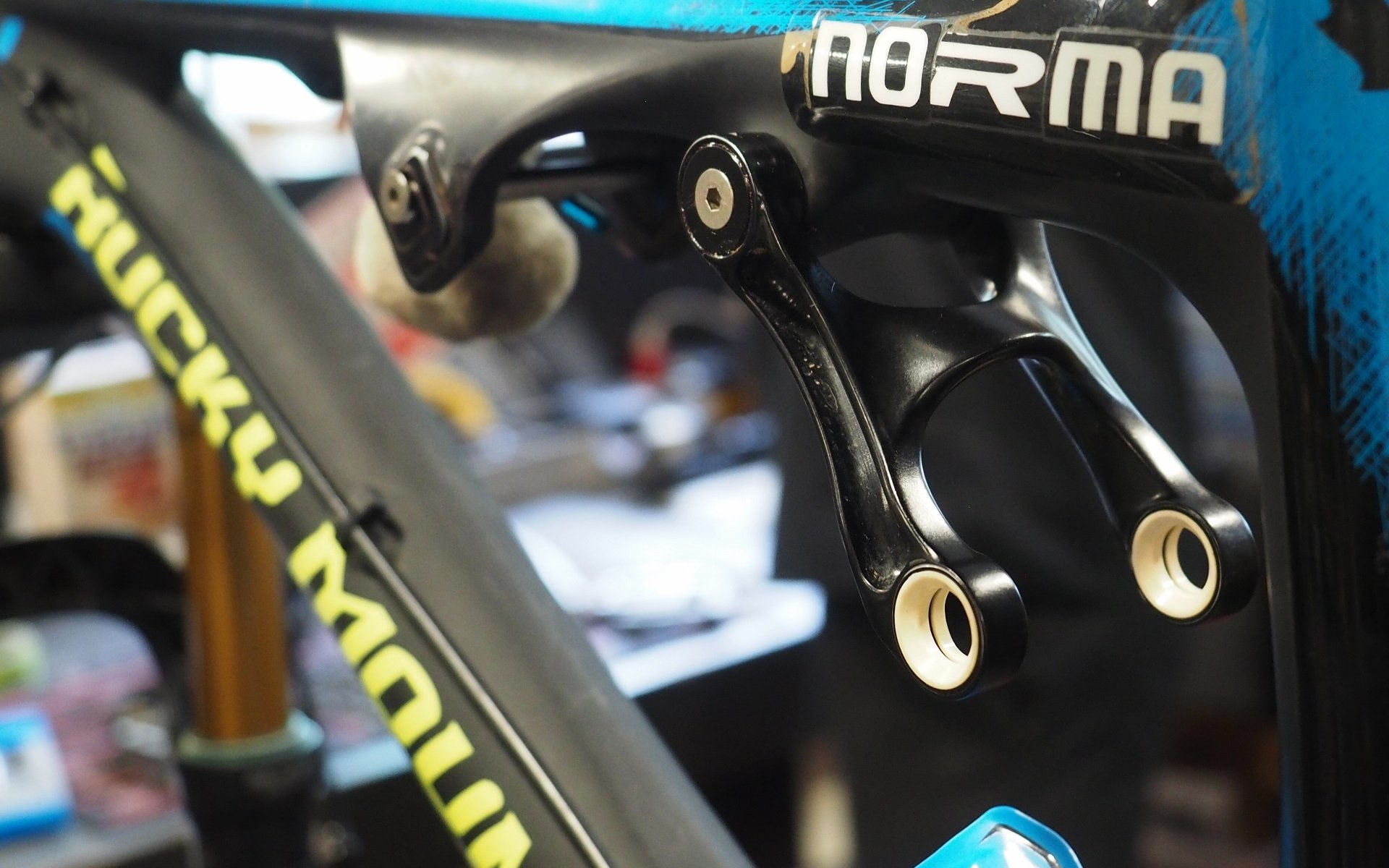 MIN MAX | TEARDOWN
Min-Max: Norma's 2014 Rocky Mountain Altitude MSL
Renewed Altitude
Element, Altitude, Instinct, and Thunderbolt. Carbon or aluminum. In my mind Norma's Altitude is a placeholder for an entire generation of Rocky Mountain's bikes that was born in 2011, with the launch of the Element RSL and MSL bikes, and I think it's fair to say, despite the carryover in appearance, that it ended in 2018 with the Reaper Alloy grom. What defines these bikes, beyond the vertically oriented shock captured by the top tube, is the use of Rocky Mountain's ABC and BC2 bushing systems at the majority of the frame pivots instead of cartridge bearings.
I've had a number of folks come forward wanting to submit their Rockys for min-max but without seeing the bikes myself I've been very reluctant to take them on. I agree with owners that the frame geometry stands up thanks to the relatively steep seat tube angle compared to many contemporary frames. I also think it's fair to say that aesthetically they're some of the more current looking frames from a decade ago. My issue is that without taking one of these bikes apart, it's impossible to know how neglected it has been and I've seen more than one rider wear out frame components that are very expensive to replace, if they're even available.
Rocky Mountain calls them their 'Angular Bushing Concept' and 'Bushing Concept Two' pivot systems. But, I've regularly heard them referred to as 'Always Be Cleaning' and 'Be Cleaning Too.' Some owners will point out that the bulk of the bushing maintenance is very easy to do with no special tools required but I'd doubt if even 10% of the owners of these bikes have taken advantage of that fact. It makes these bikes a potential pit of tears for those trying to play the used market and I've also seen folks dump a load of money into upgrades only to find themselves figuring out what replacement frame option has the most potential intercompatibility. There's no real way to know if you need bushings, receivers, or a whole frame without doing some disassembly.
This 2014 Altitude belongs to my friend Norma and it was supposed to be getting passed on this year in favour of a fresh '22 version. Yeah, you know where that story goes. With the weather taking a turn for the better and Norma having some extensive riding goals, she decided to make this bike the best it could be for the least amount of investment. My friend and collaborator Nice Guy Geoff was doing all the work so no better time to talk about a bike that could be a delicious min-max option or a depressing money pit. I know you're on the edge of your seat with suspense so I'll let you down gently here. The frame was due for a full overhaul, but there was no wear or damage beyond an ABC bushing kit and some main pivot bearings. For the right price I think this could have been a great used bike buy, if Norma had bought a new mountain bicycle, but only if the new owner had taken it in for a pivot service right away.
This makes me happy. I enjoyed the Thunderbolt that I reviewed with Pete in 2016 and I've seen a few for sale used over the years for very reasonable prices. With the fresh enough geometry, reasonable stand over height, and light weight, I think they'd make awesome rides for grom rippers in the smaller sizes. With sizing up and a judicious look at the condition of what you can't see without some disassembly, you could do a lot worse in a min-max project bike in general. The geometry is certainly current enough. This is a min-max piece on a specific 27" wheel-equipped Altitude, but it's also my take on models Rocky has made with 26", 27", and 29" hoops that could be worthy of your investment whether you already own one or are looking for a used project.
Pushing The Bushing
Going back to my introduction, I know a few Rocky nerds in the back are mumbling that bikes.com has used bushings for pivots all the way back to the first generation '3D Link' Elements but these ABC and BC2 rigs are different for a few reasons. For one, by 2011 most companies had come around to the idea that bushings are a bad idea for frame pivots with the exception of very low rotation purposes, like most seat stay/dropout pivots.* For those that have overhauled different suspension systems, these bushings have a unique shape rather than the typical top-hat cylinder-that-meets-a-face-at-90° you'd see for most applications.
*Where flex stays are becoming very common.
Having worked on a number of these Rocky Mountains over the years, and also having worked on the most current dual-bearing chain stay/dropout pivots in the newest RMB frames, I'd argue there's merit in the idea of using cartridge bearings everywhere except the dropout pivots where an updated BC3 system with all the contact surfaces being replaceable would be nifty.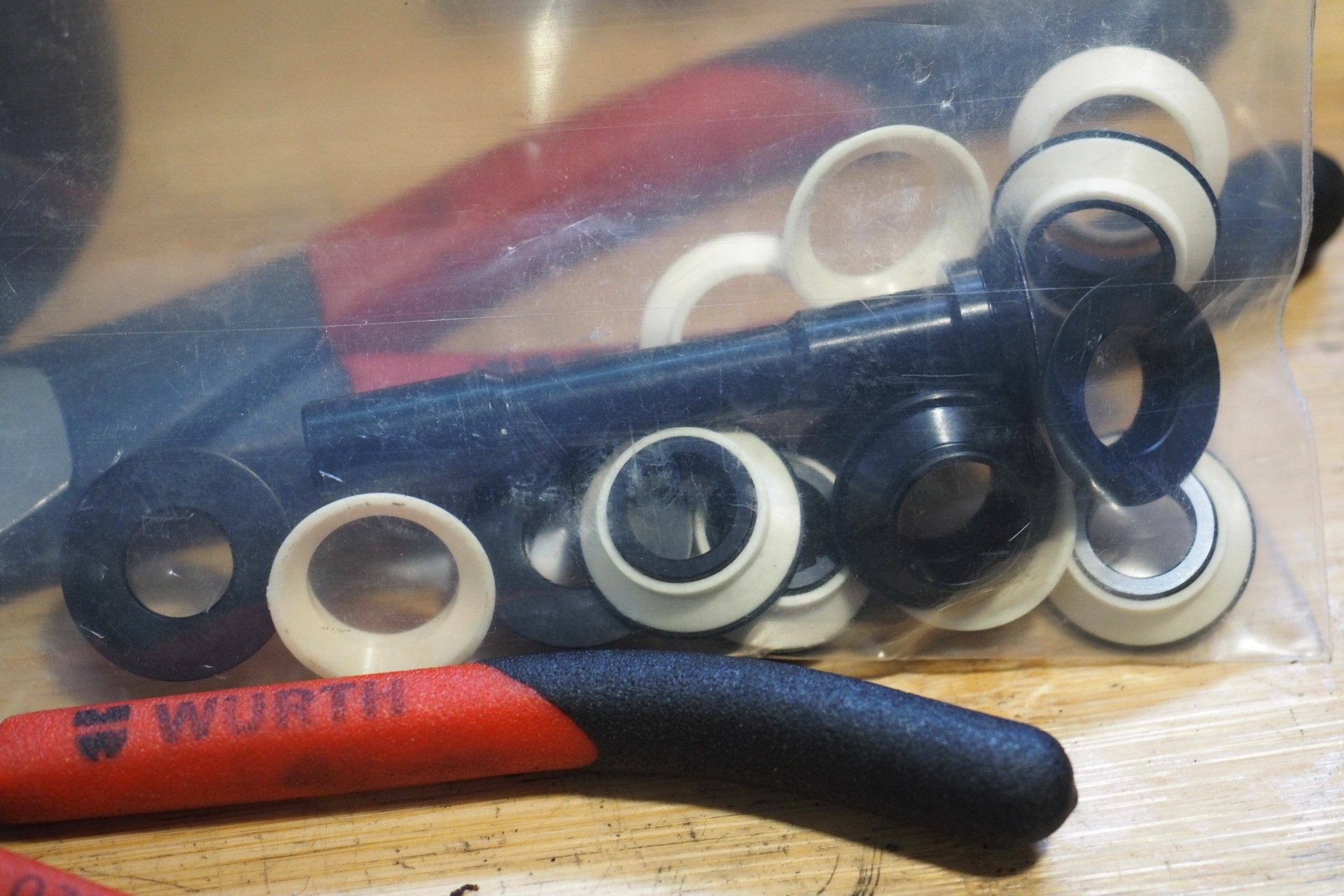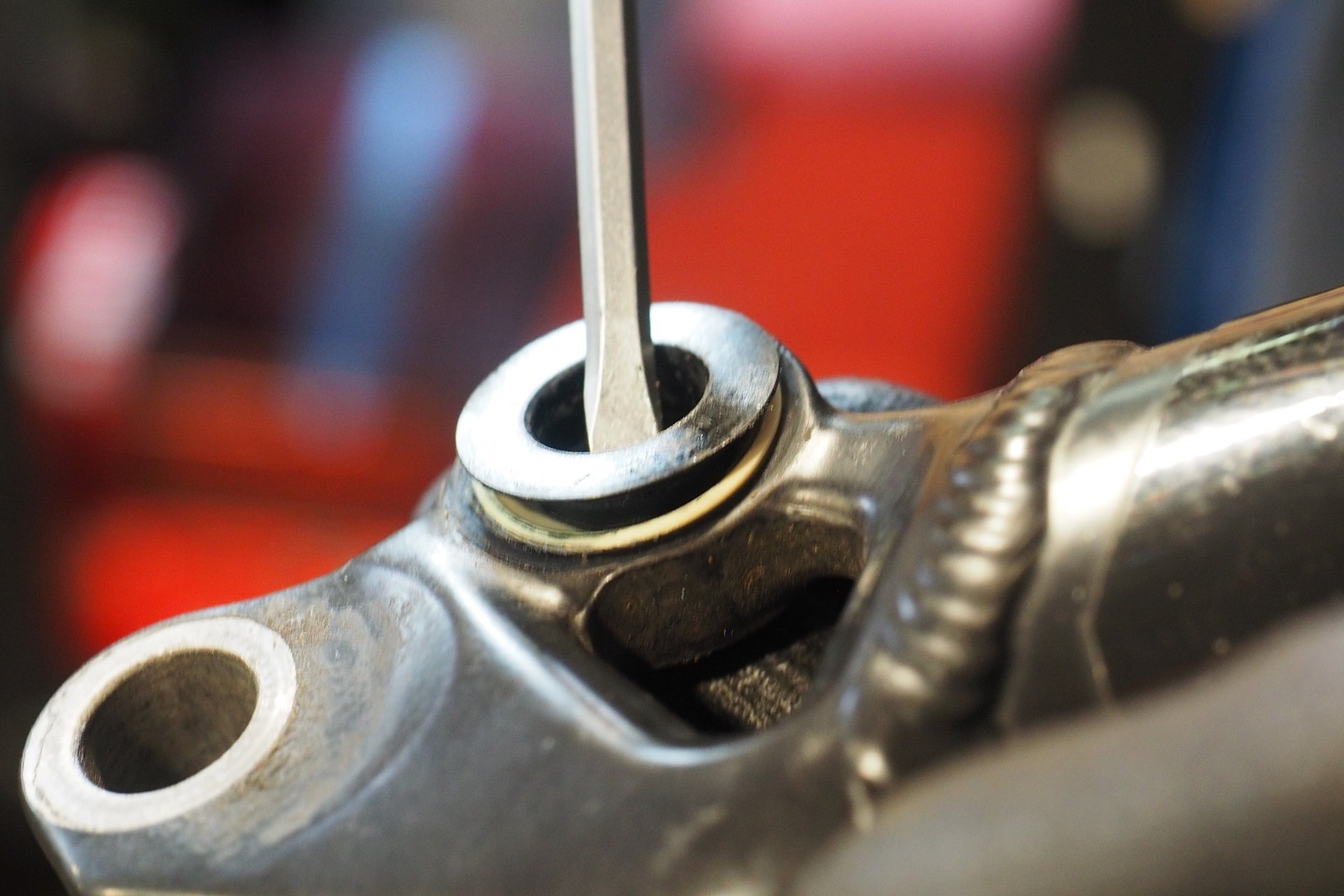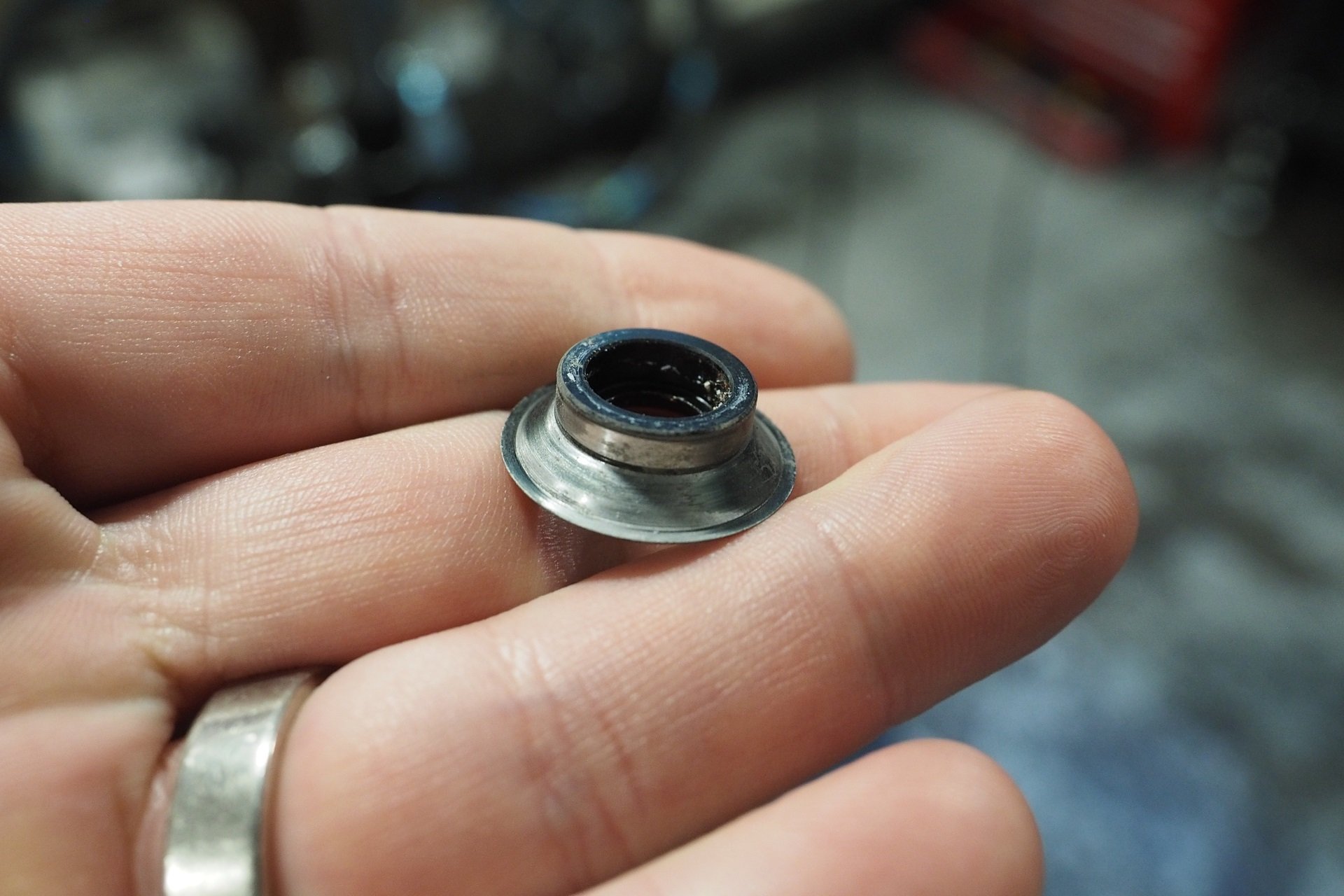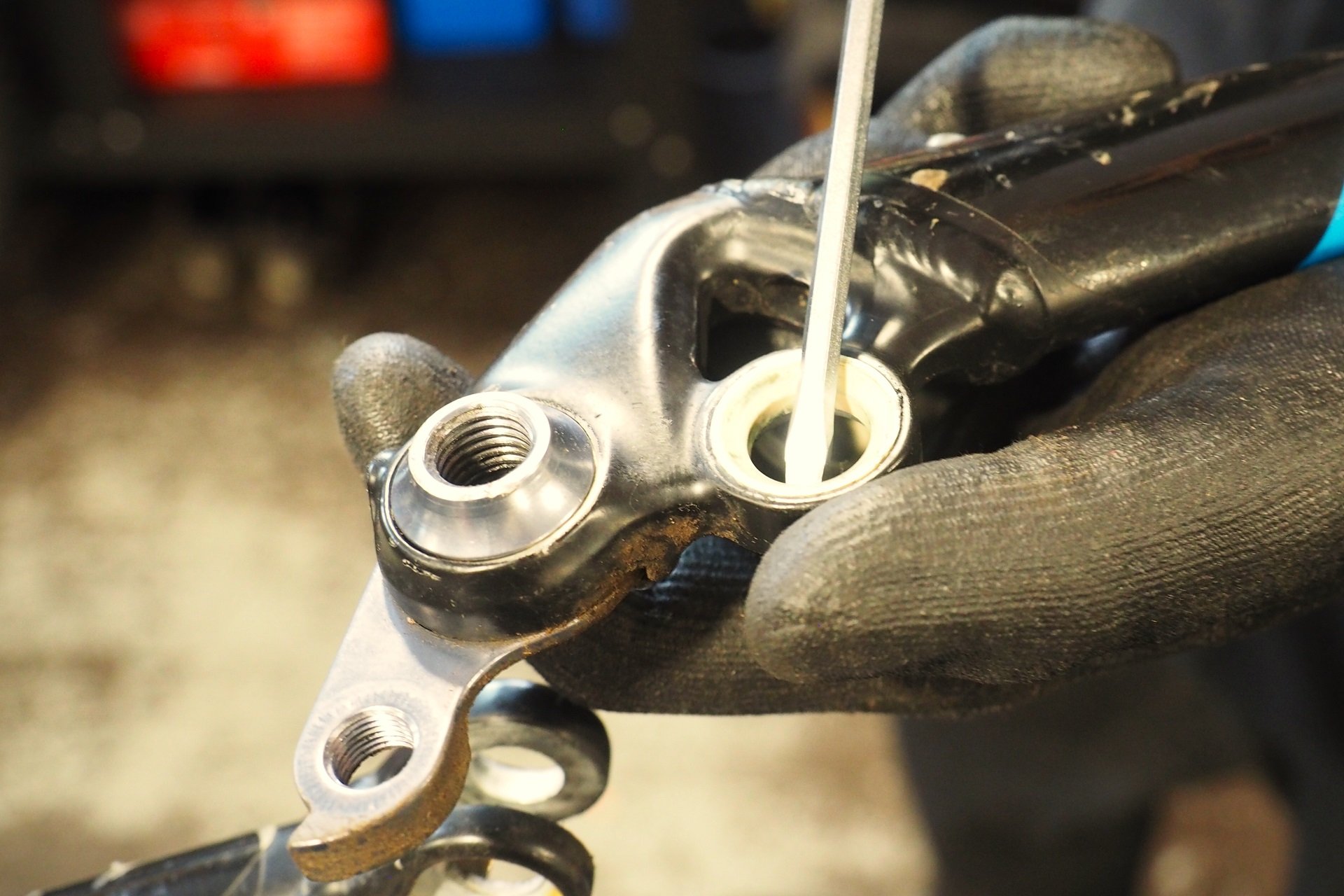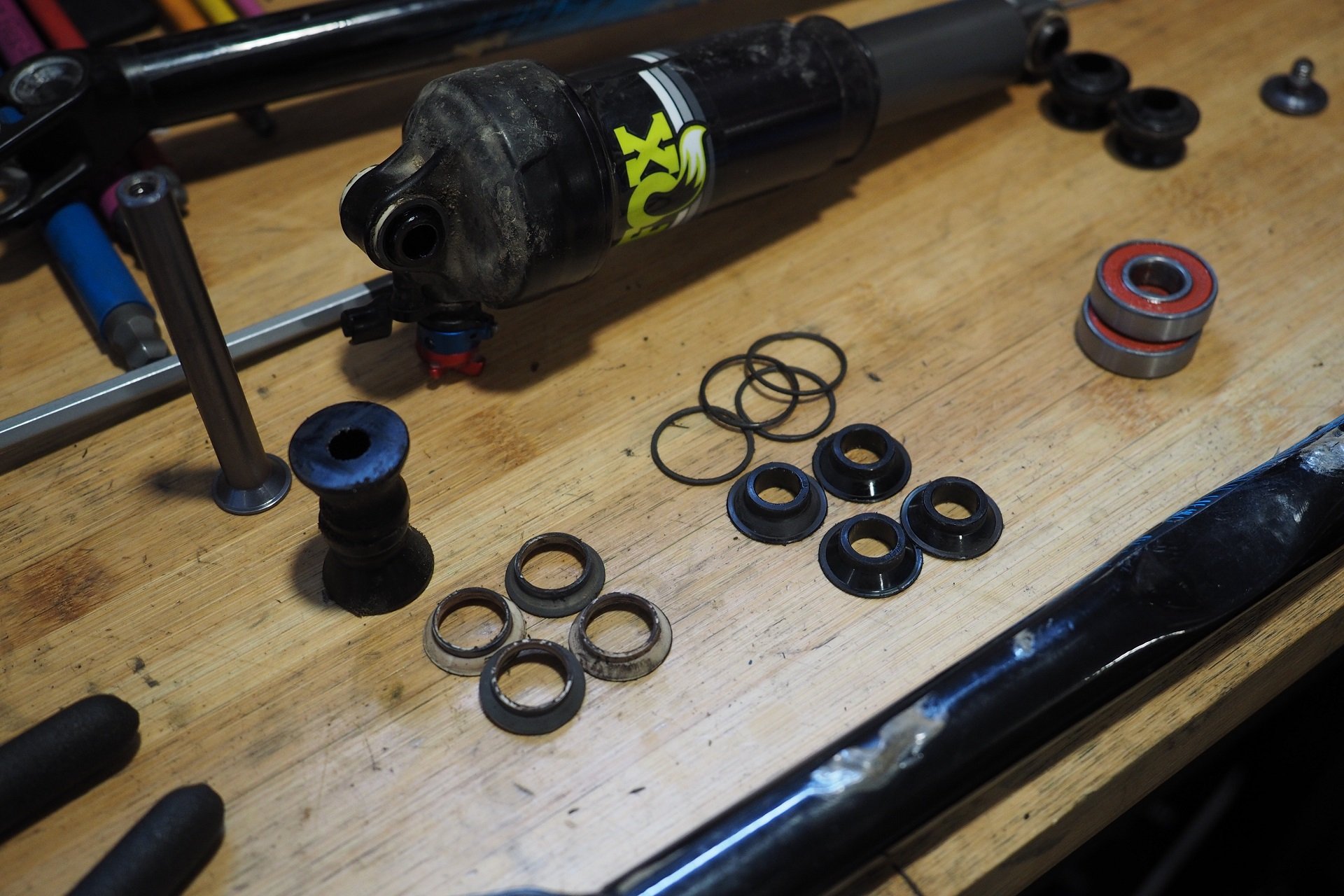 The main pivot features a pair of cartridge bearings but the good news here is that they're housed in the chain stay assembly. Why is this a pleasant tiding? For the DIY mechanic who gets their ABC/BC2 Rocky apart and realizes their main pivot bearings are fully seized like Norma's were, it means there's the easy option of just taking the chain stay down to their preferred local shop to have bearings pulled and pressed. The rest of the pivot service only requires some hex keys and a pry tool like a flat head screwdriver.
Anyone who's shown up at a shop looking for a save with an absolute shit show of parts hanging off a front triangle with properly seized bearings will appreciate this layout, and I know the local shop will as well. With a proper press-and-puller setup ready to go, this is a same day job at most shops and a great example of a hybrid model of bike service that many riders use.
How often a rider should be taking apart their ABC/BC2 bushing system for a clean and lube is going to depend on terrain and weather. Certainly do it every time you're booking your fork and shock in for a routine service. Replace any of the bushing interfaces that look worn because they're certainly less expensive, and less hassle, to acquire than frame components are going to be.
Personally, I like to lubricate the sliding surfaces with Slickoleum for a maximum reduction in friction but it's nowhere near as resilient as a heavier waterproof bearing grease if you know you're unlikely to stay on top of maintenance. I also recommend Loctite rather than grease on all the hardware unless you're someone who's going to be doing regular bolt checks. The latter is true of a lot of bikes and really comes down to knowing what kind of bike owner and maintainer you are.
Suspension Service
From my Thunderbolt experience I would have loved to have seen the shock updated with a compatible EVOL air can, but when it comes to keeping an eight-year-old shock rolling sometimes you just have to be happy that it's serviceable. Norma likes the remote lockout so there was no need to have a conversation about the costs of replacing it with a manual lever - which is expensive with this particular shock. In any event, it felt awful with a limited range of usable damping adjustment when it left, and after a few days with SuspensionWerx, and a full refresh of bearings and bushings, the back end of this Altitude moves nicely.
Norma's fork was a different story. Even with a full service, the 2013 TALAS CTD fork wasn't great for its time and it didn't age well either given the improvements in every brand's air spring performance after RockShox dropped the 35mm Pike for 2014. At the same time, a new fork would mean a significant investment and either a new front wheel or a Boostinator kit. Used forks can introduce a great value proposition based on a number of 'ifs' like if the crown steerer unit (CSU) doesn't creak, and if the internals are still supported, and if the combination of purchase price and service don't push the owner into the realm of a brand new option.
This RockShox Pike is a non-Boost version that passed its service with flying colours. It has some cosmetic badges of use, but no damage to the stanchions. Even then, it's very impressive how well a pair of SKF seals can keep oil in and crap out even when stanchions are fully trashed. As an added bonus, this 160mm setup is a slight over-forking which tends to always be a win on steep local trails.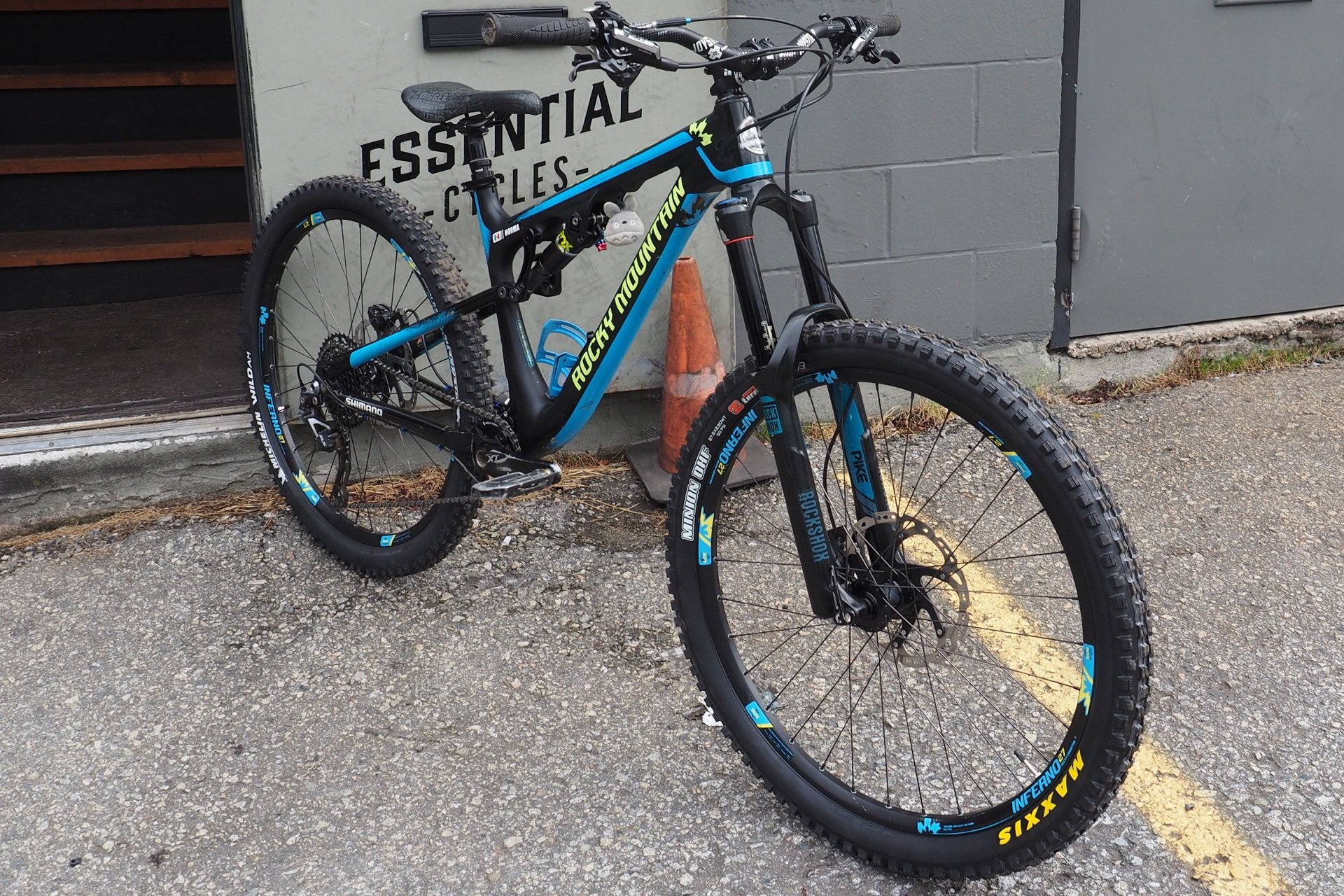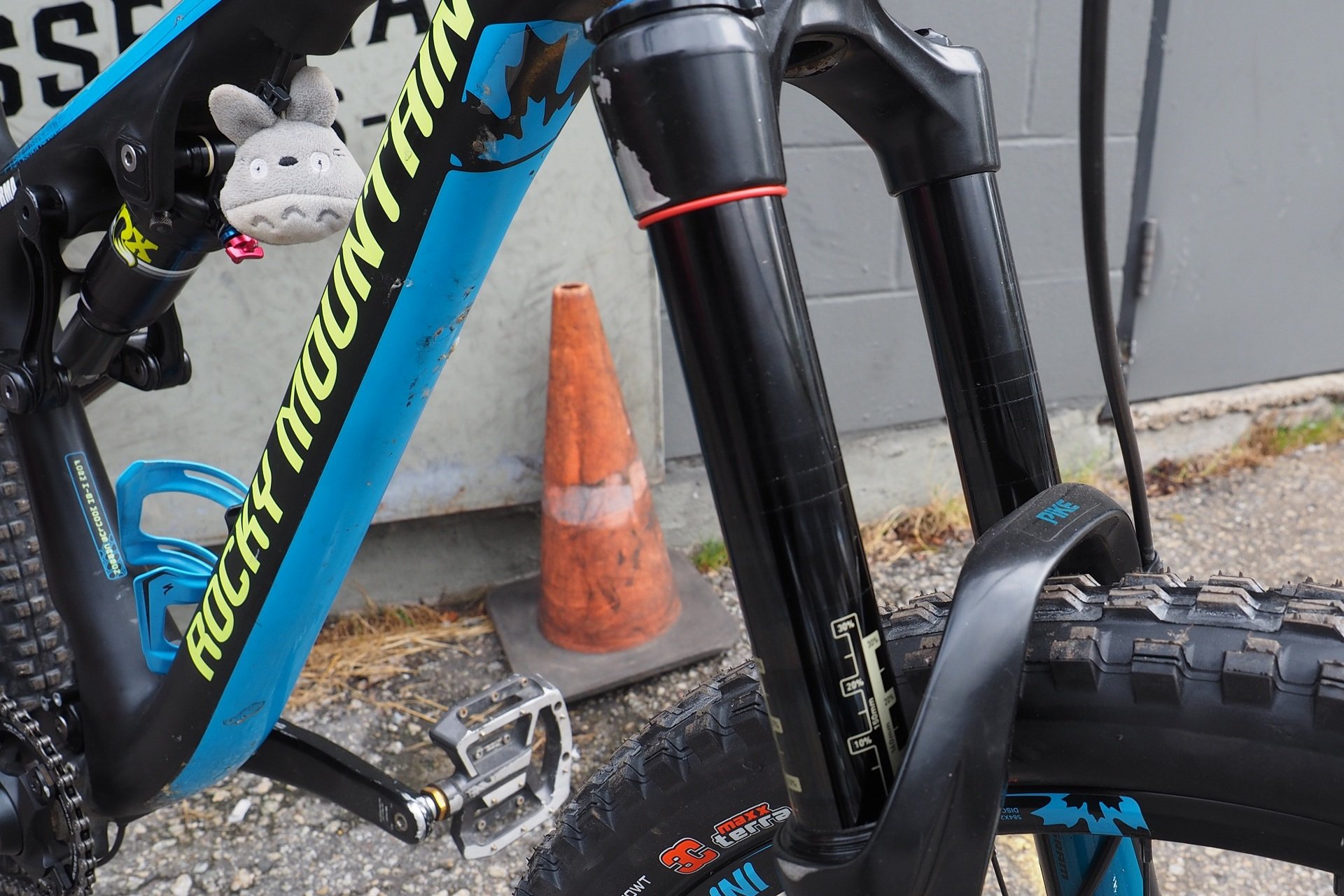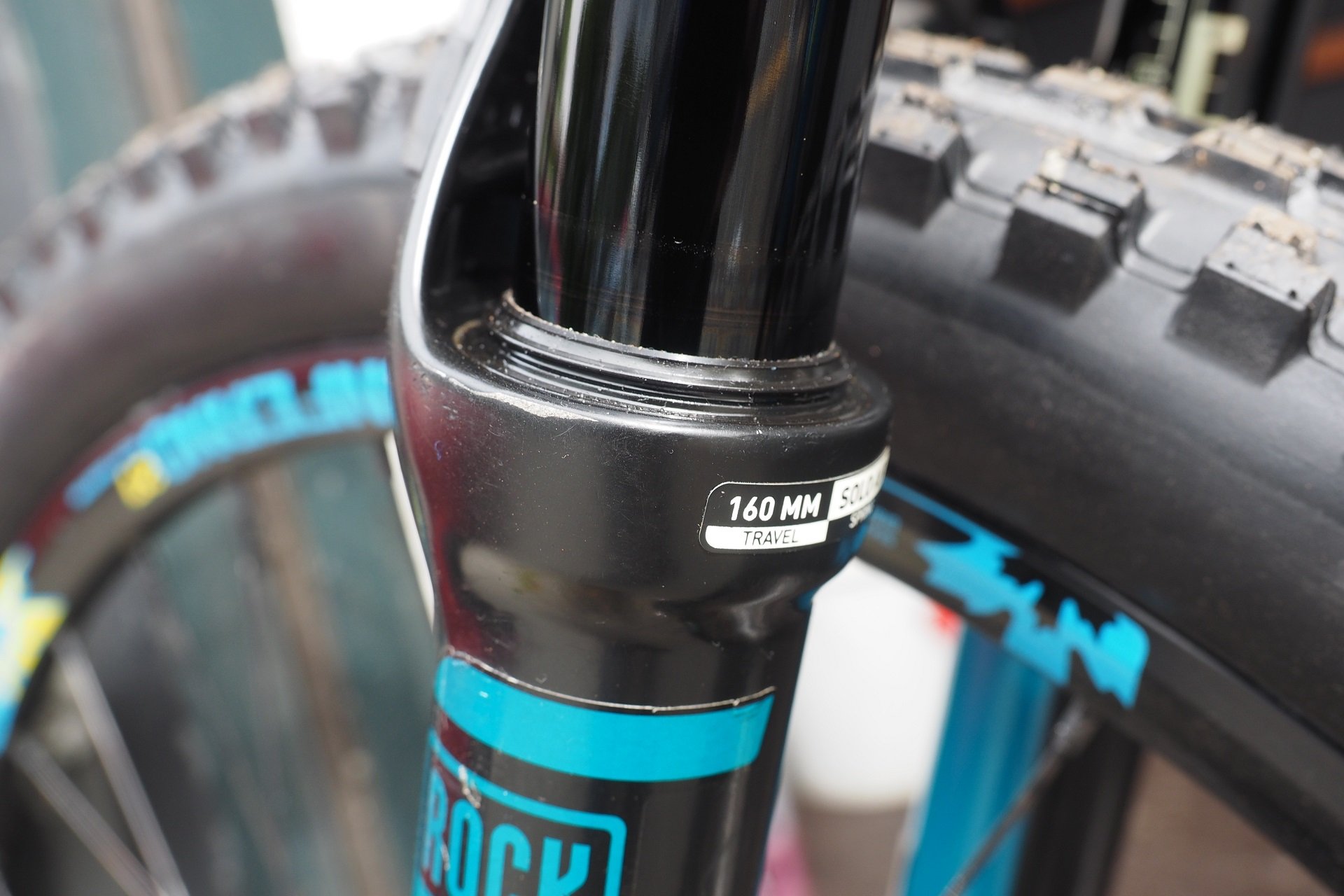 Getting the very smooth 'more ramp and less damp' Pike to work nicely with the CTD rear shock is a more involved undertaking than if the shock was equipped with an EVOL air can, or replaced with an equivalent RockShox air shock, but it's certainly doable. The secret, from my experience, is to run a bit more sag in the rear than one might normally choose and then make the remote damper adjustment your friend. This is how I rode the Thunderbolt until we borrowed an EVOL air can from James at SuspensionWerx and after that we didn't even hook up the remote system.
Going 1x
Norma's bike was already equipped with a Shimano SLX derailleur capable of managing a decent sized pie plate in the back. It was paired with the stock XT 10-speed shifter for a 3x10 setup and one goal with the update was to improve chain security with a 1x narrow-wide ring setup. The XT crankset is a silly sucker with a smaller 96 BCD instead of the more standard 4-bolts / 104 BCD but Wolf Tooth makes a compatible ring option which saved having to replace the cranks. Aesthetics aren't everything but it's amazing how much more 'current' the Altitude looks with this change.
There was a bit of customization required in the spirit of Does The Future Have Fewer Gears. Norma's used-but-still-good replacement cassette is an 11-speed, which would pair just fine with the SLX rear derailleur except that the Altitude is sporting a nice 10-speed shifter. The 10-speed XT may be the nicest example to wear that moniker. Rather than go chasing an extra click, Geoff removed a cog from the stack and added a spacer behind the ten remaining ratios. The shifting feels good and there's better chainline in the lowest couple of gears as well.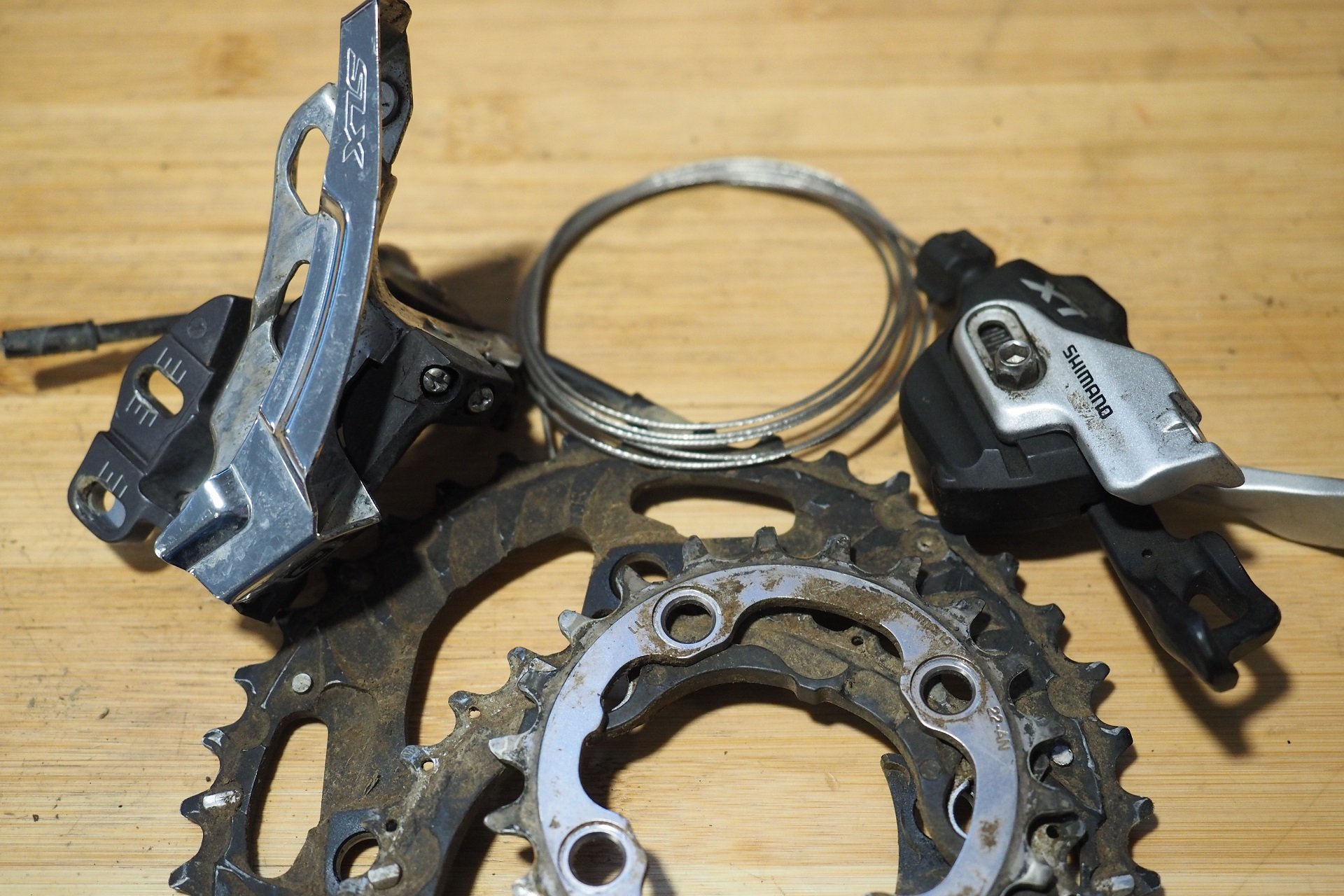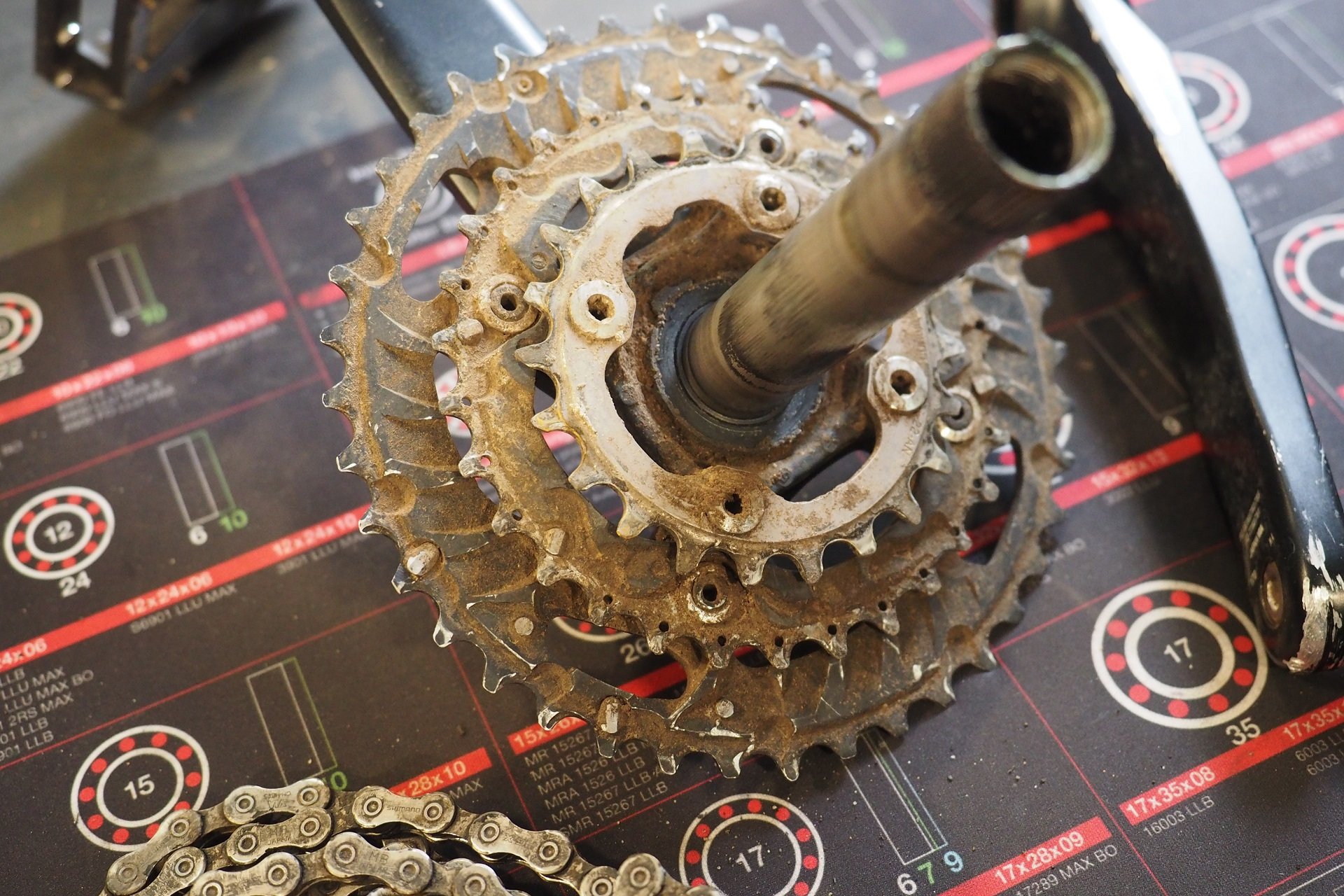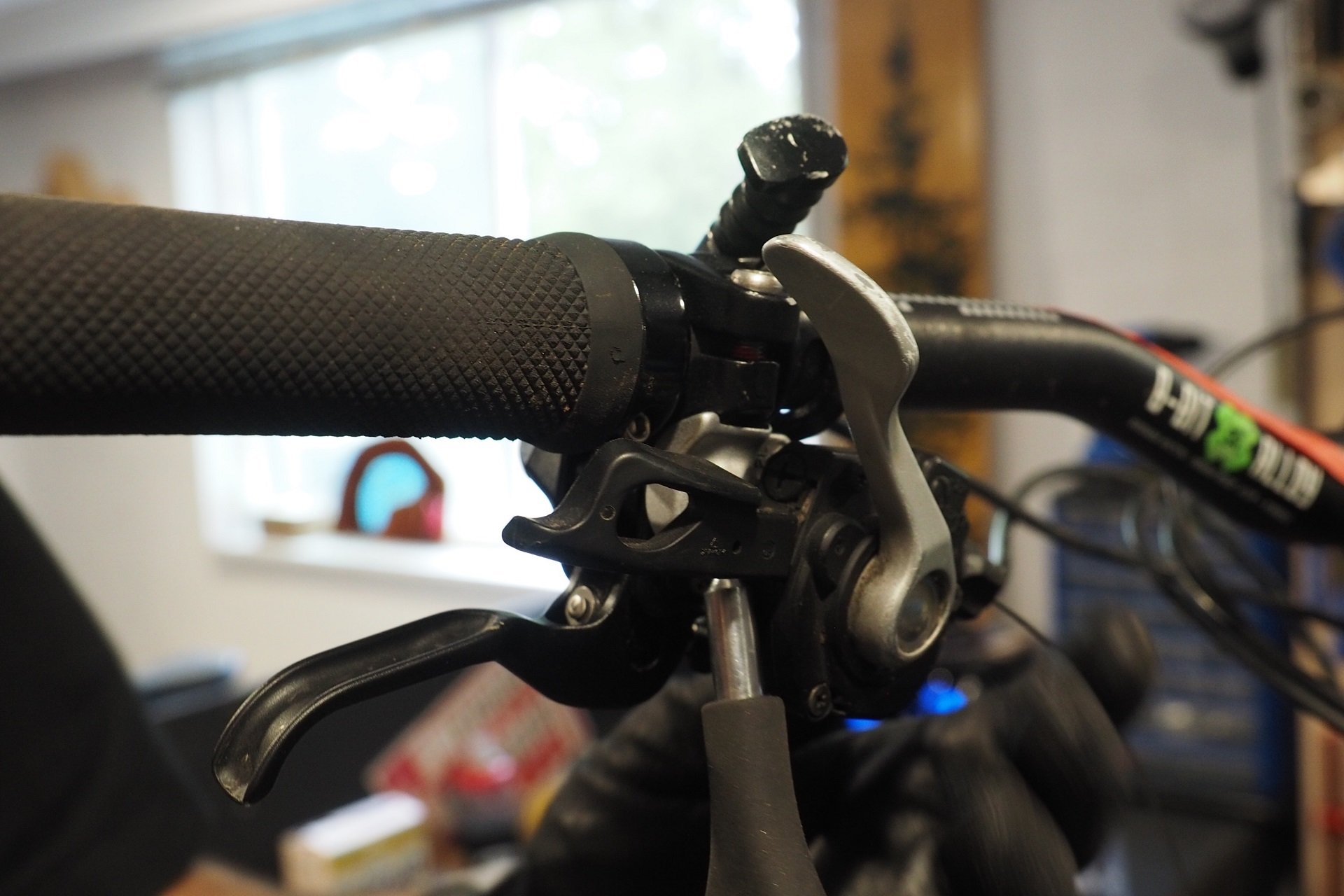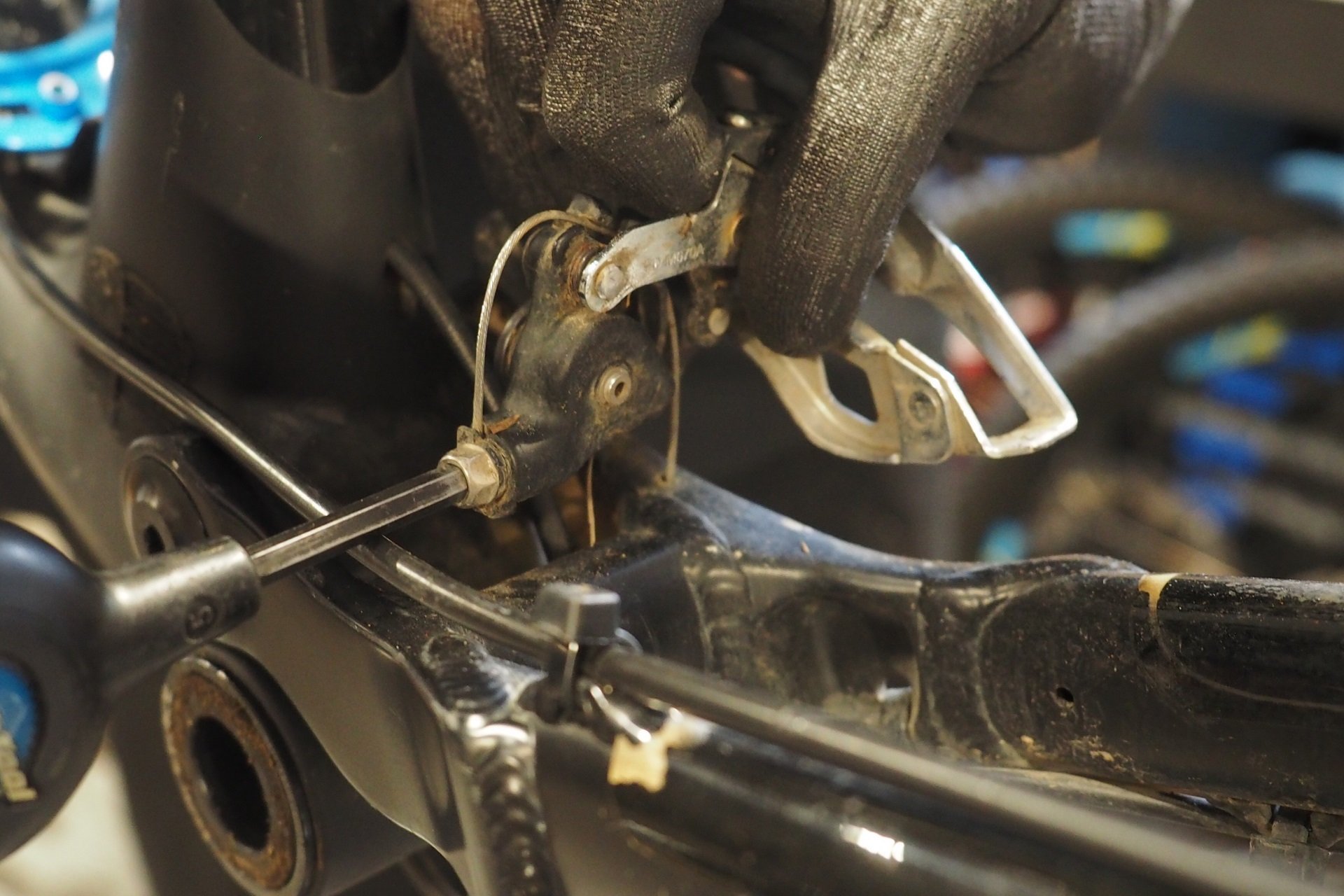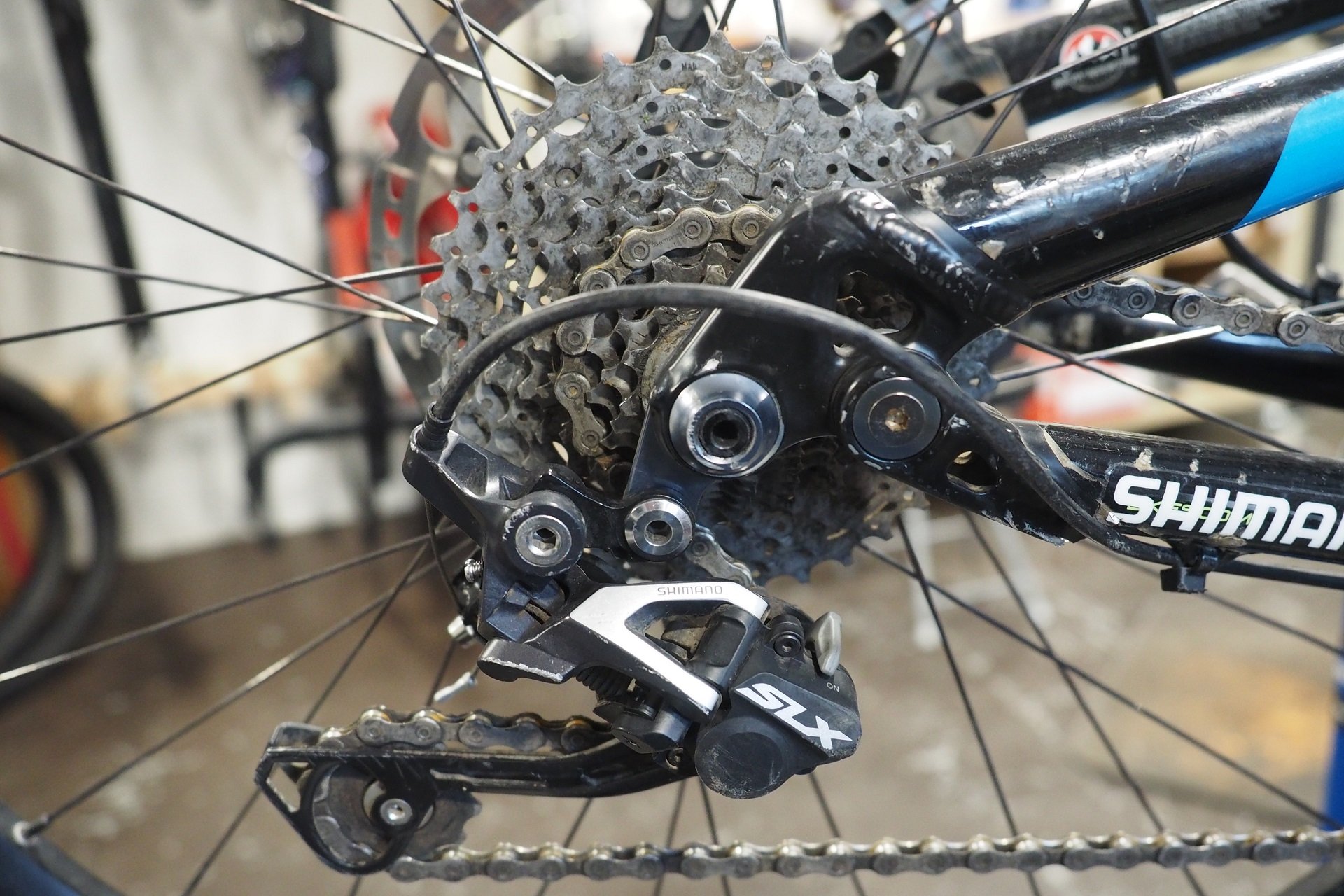 For a hot minute I'd planned to dump all the crap we removed onto a scale for a proper comparison. Even with the heavy NX cassette, less one cog, I'm positive the 1x setup with an aluminum Wolf Tooth ring dropped over a pound compared to the three previous rings, bolts, front derailleur, and front shifter. But then, it doesn't really matter does it? And anyway, no scale shot was produced. If Norma didn't have a used cassette to install I think it still would have been a worthwhile investment to make the change, maybe with the addition of a SunRace or MicroShift cassette. Even the most ardent front derailleur hold-out would have to admit that, at the very least, this 1x transition has increased the resale value of the bike if Norma decides to flip it next year. It just looks much more like a current mountain bike - less is more and all that.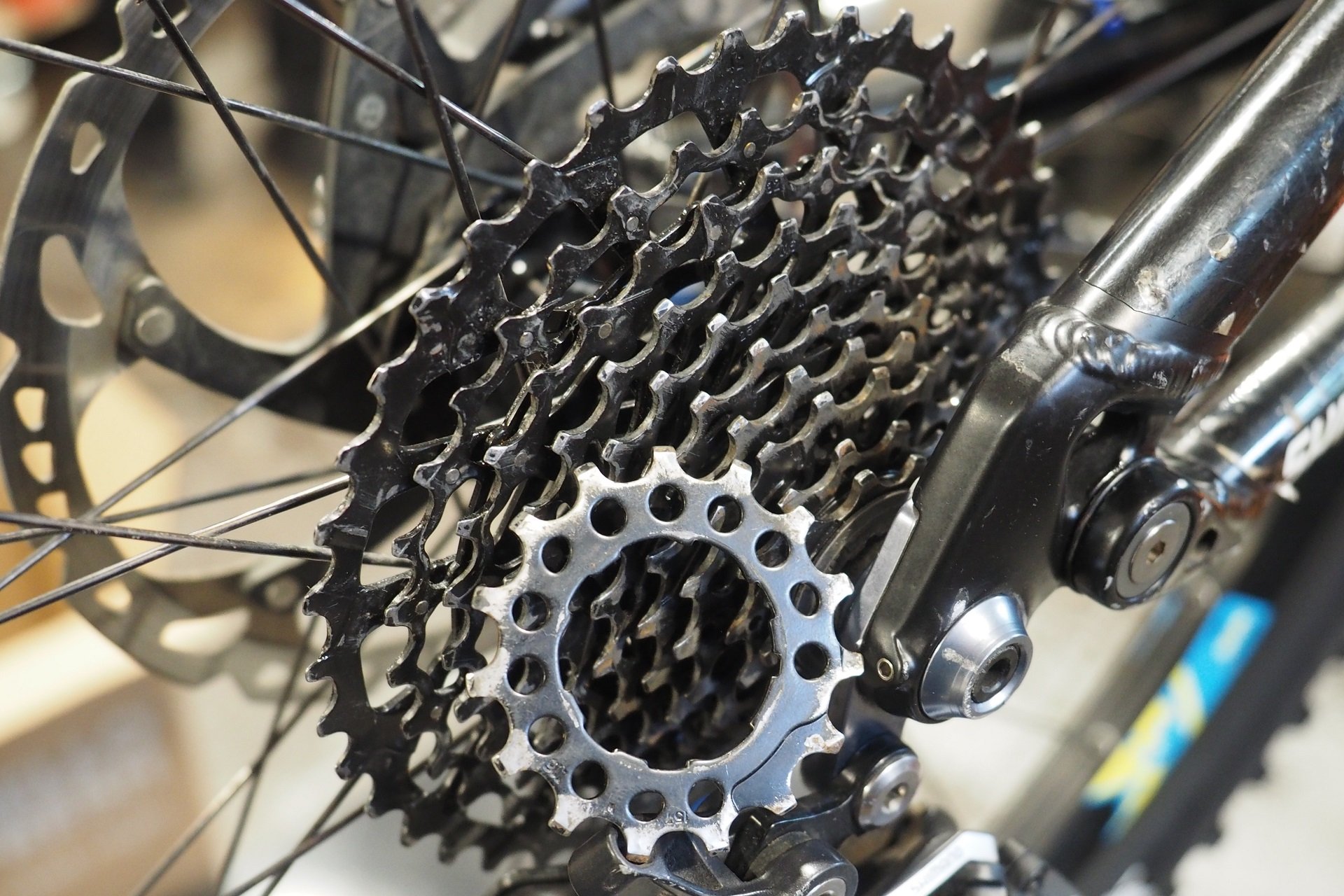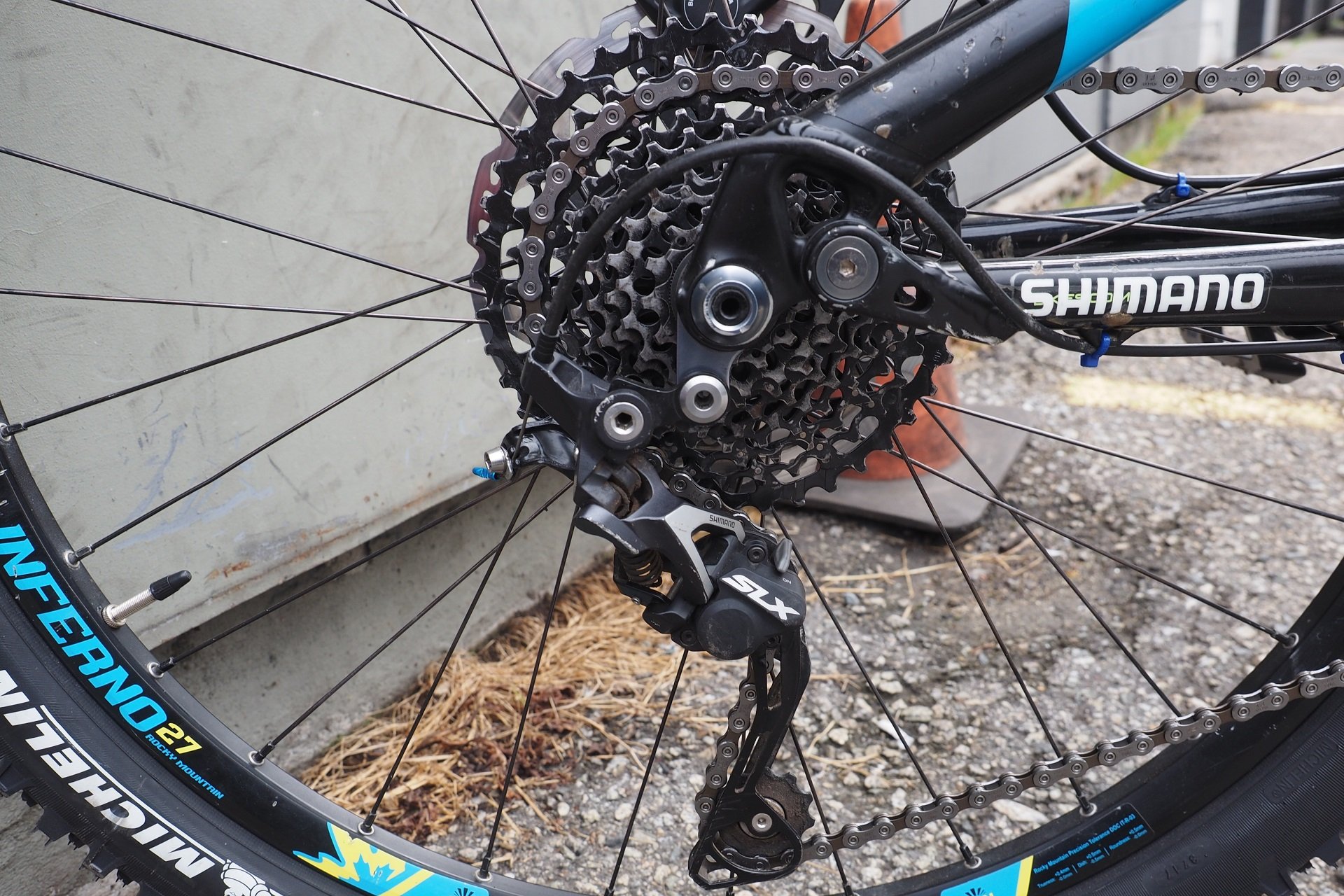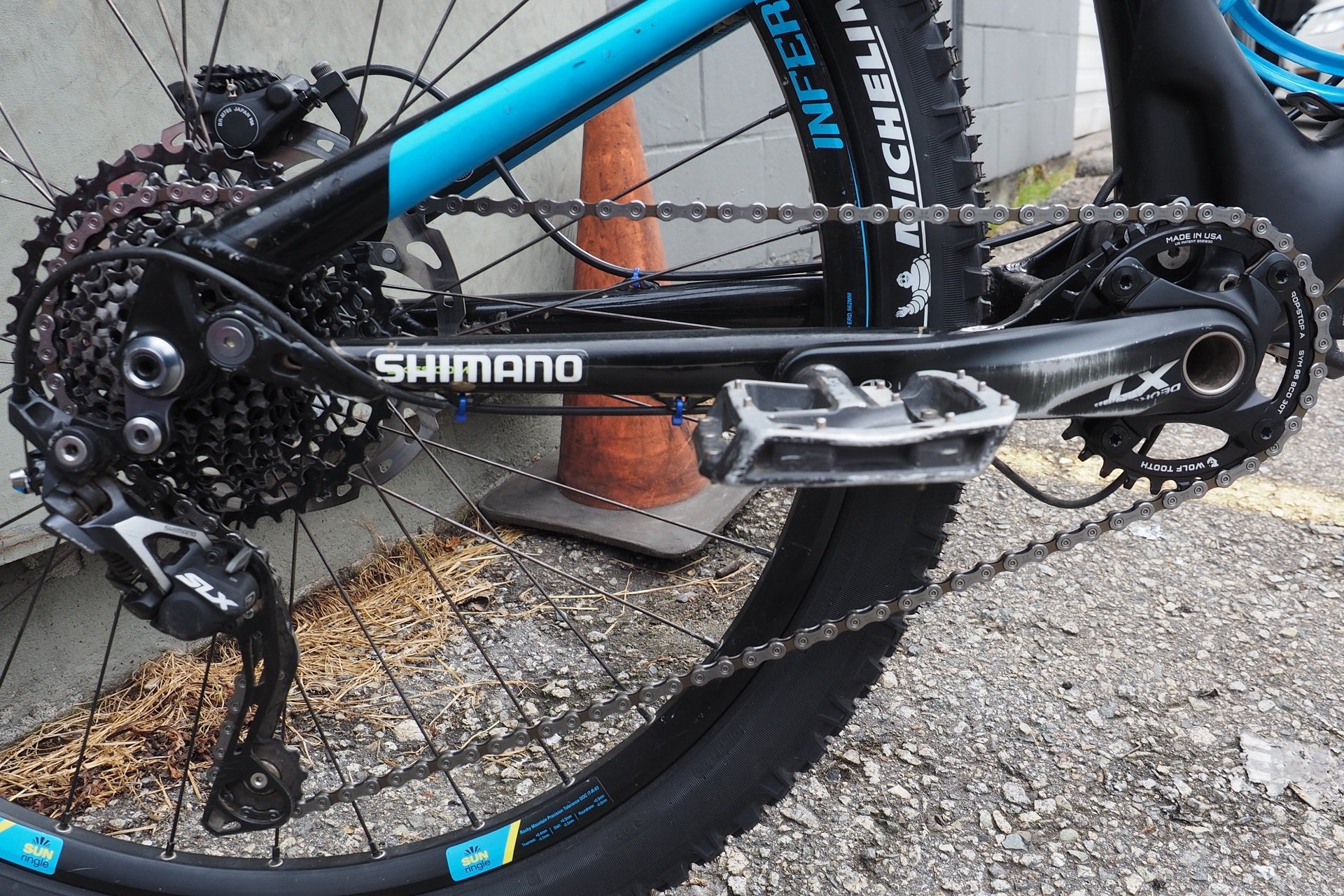 Reverb
As an added bonus of switching to a 1x shifting configuration, Nice Guy managed to dig up a used Reverb plunger in order to swap the position from above the bar to below. In addition to being cosmetically more appealing, this position is more ergonomic to use and more durable. I prefer the little plunger over the newer shifter-style 1x remote that SRAM sells for these posts but I don't use my dropper post as much while riding as some other folks do.
I know riders who've thrown down for the new SRAM trigger remote or purchased a kit from BikeYoke or Wolf Tooth that replaces the hydraulic actuator with a cable unit and lets you run your preferred remote. I can both appreciate servicing and updating something you already own and also wonder about the wisdom of investing in updating the Reverb experience. Then again, with the number of AXS Reverbs I see in a week, my concept of value when it comes to money v. dropper posts may be skewed.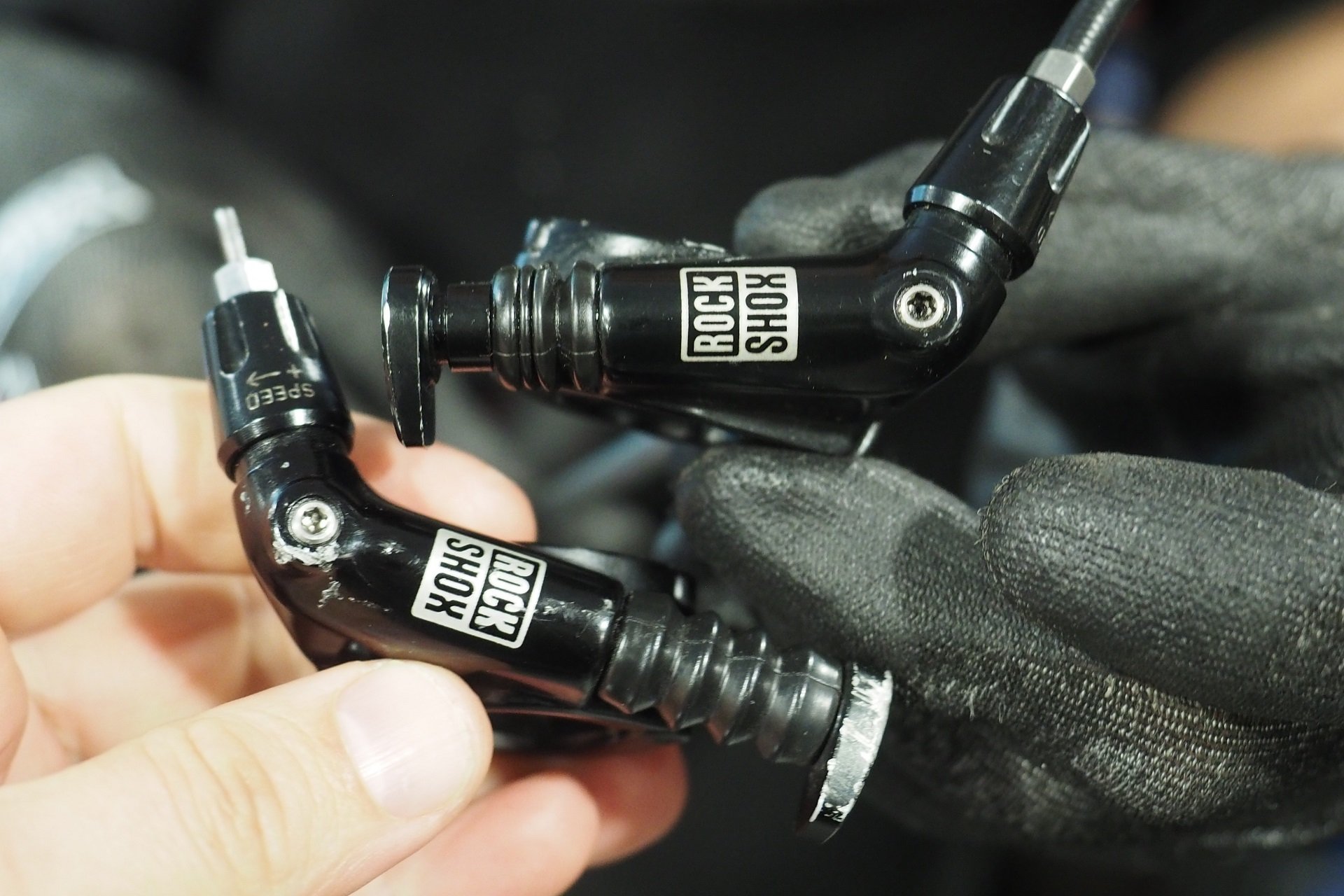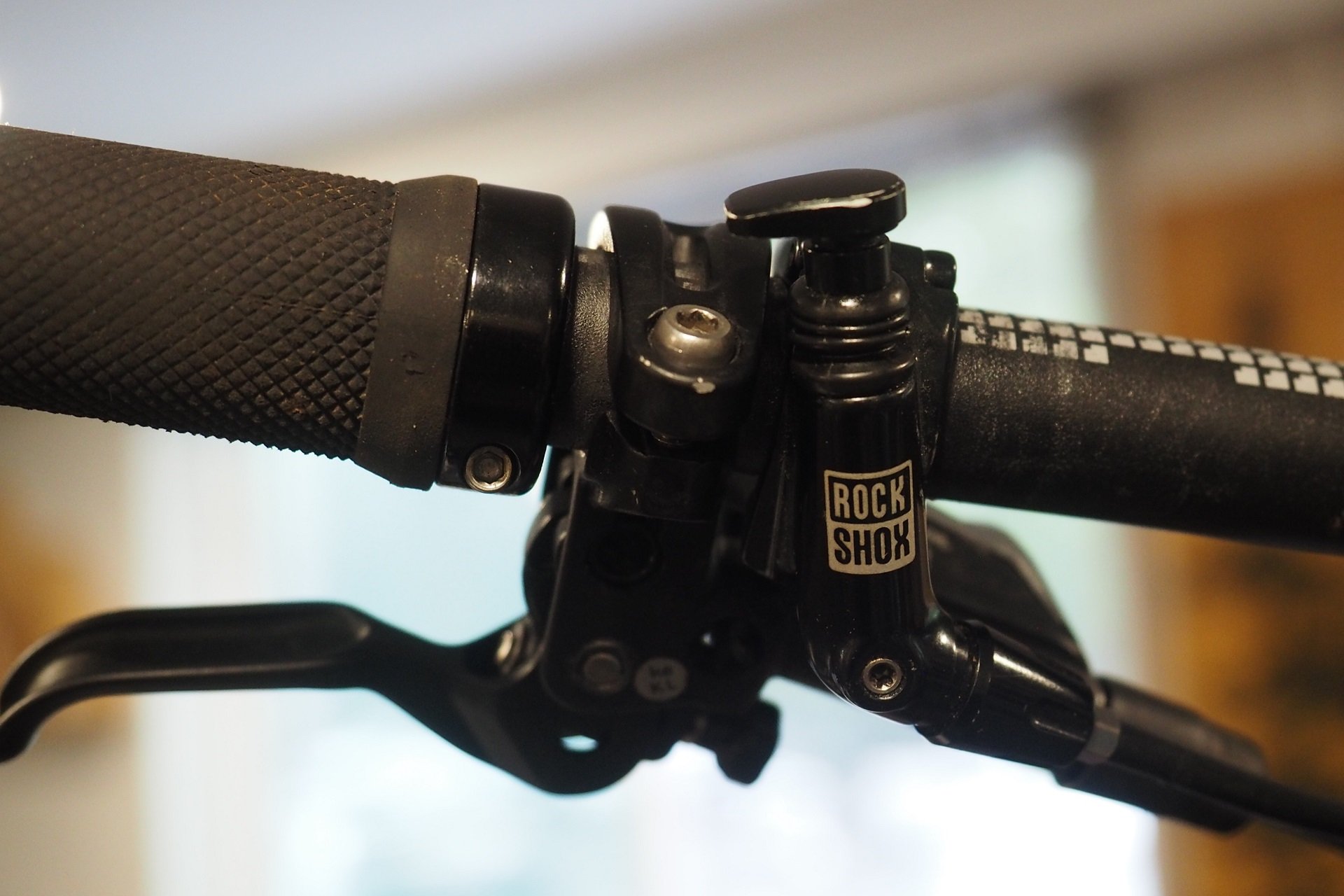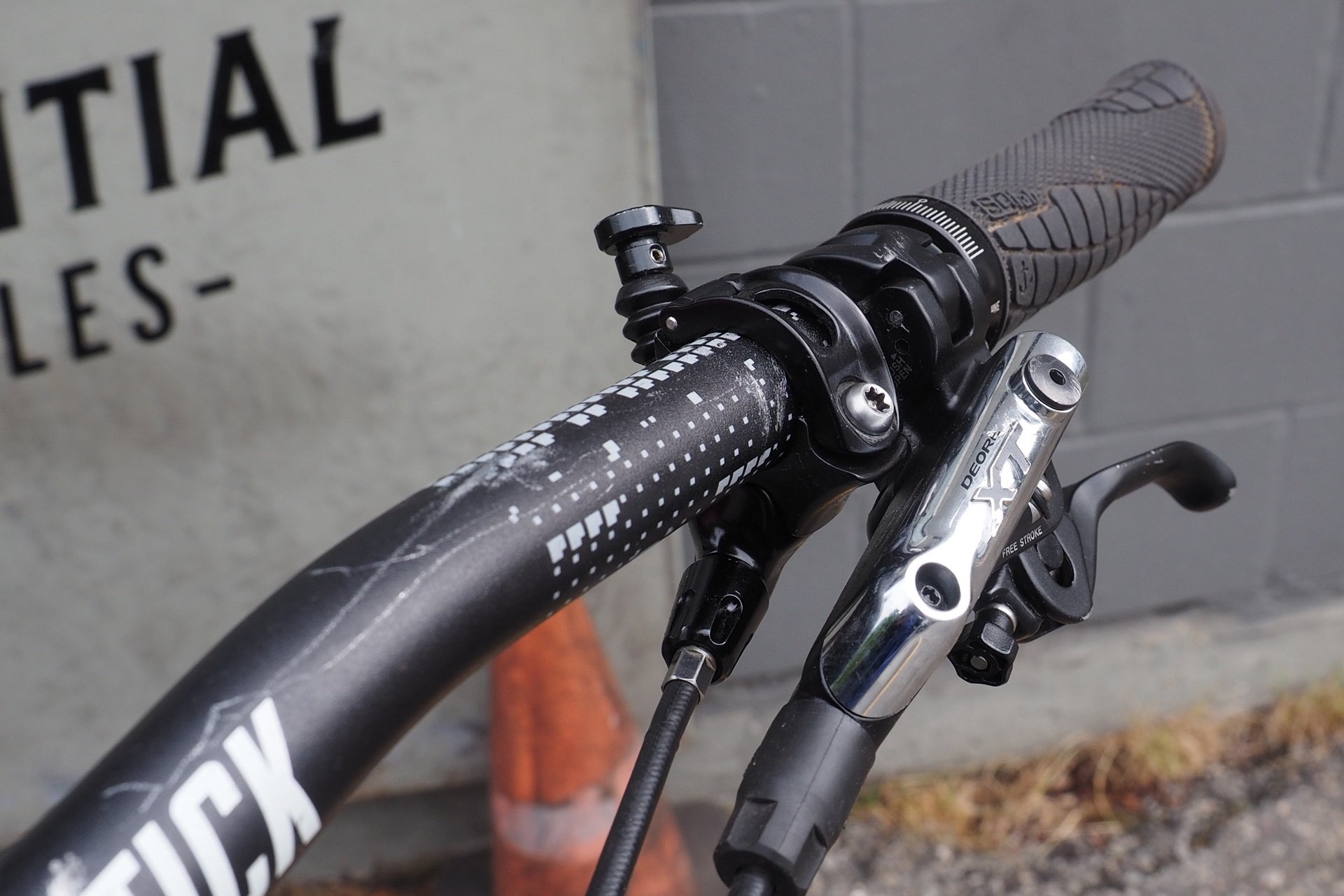 Used plungers aside, in Norma's specific case I wouldn't recommend putting any more money into the Reverb post. Not even the cost of a service. Compared to a OneUp V2, this Reverb commands a massive amount of additional real estate for the seal head and the post head that could be extra centimeters of drop instead. I'm guesstimating that Norma could safely run an extra 40mm of drop without any fitment issues. It may be more between the Altitude's long seat tube and the OneUp's patented dropped clamps but in any event I think if any money needs to be invested into the saddle-dropping function of this mountain bicycle, that's the way to go.
Versus New
Fresh bearings to replace the seized suckers in the main pivot, fresh bushings all lubricated at the other linkage locations, and a full rear shock service were always going to be a huge performance improvement. Add that to the longer, smoother, better supported 35mm Pike over the 2013 Fox 34 TALAS that Norma was riding and the suspension experience is going to be night and day. I know a fair few riders who'd take the Shimano M785 XT 2-piston brakes over the more current 2-piston options from the biggest-S and these feel nice after a bleed.
With the exception of some new SQLab lock-on grips, the contact points - Saint flat pedals and a Joystick saddle - are ones Norma knows and likes. Speaking of contact, any form of fresh rubber would have been a big upgrade. The mis-matched tire patches here are an ode to min-maxing as well. And hey, if running different branded tires really bothers you, a Sharpie is a lot cheaper than paying SRP for another Maxxis shoe.
A new rig would have all the standard geometry changes - longer, lower, slacker - but for a bike from 2014 I think the Altitude makes out okay on the geometry front. With the 35mm fork and 1x conversion it certainly looks more fresh than most eight-year-old rigs. I don't think Norma could have acquired anywhere near as nice a machine for the investment she's put into a bike she already owned outright, and as an added bonus, this beauty is already imprinted with lots of positive emotions and personal experiences. As I mentioned, even if she does just ride it one more summer, the updates will make it much more desirable to the next owner.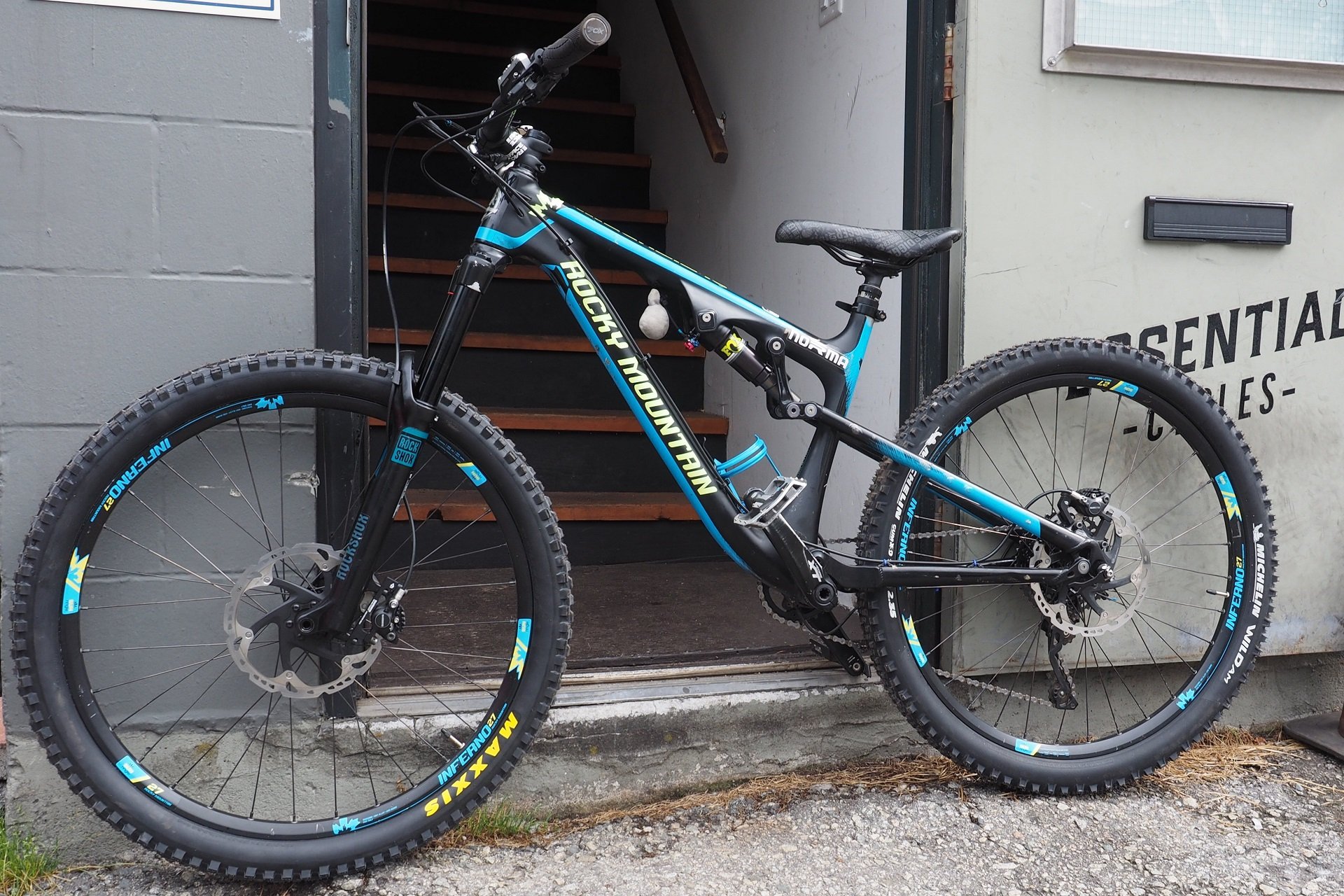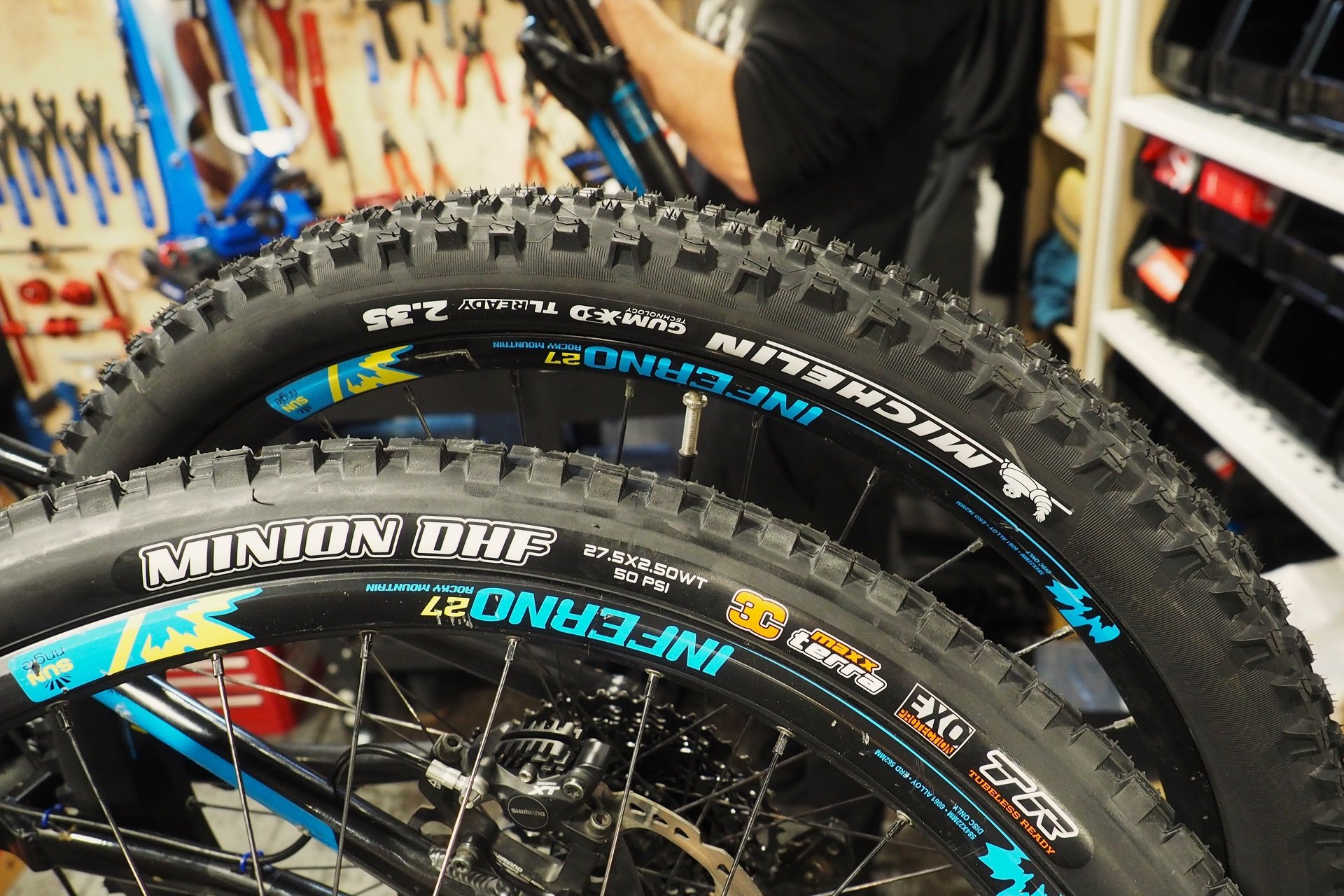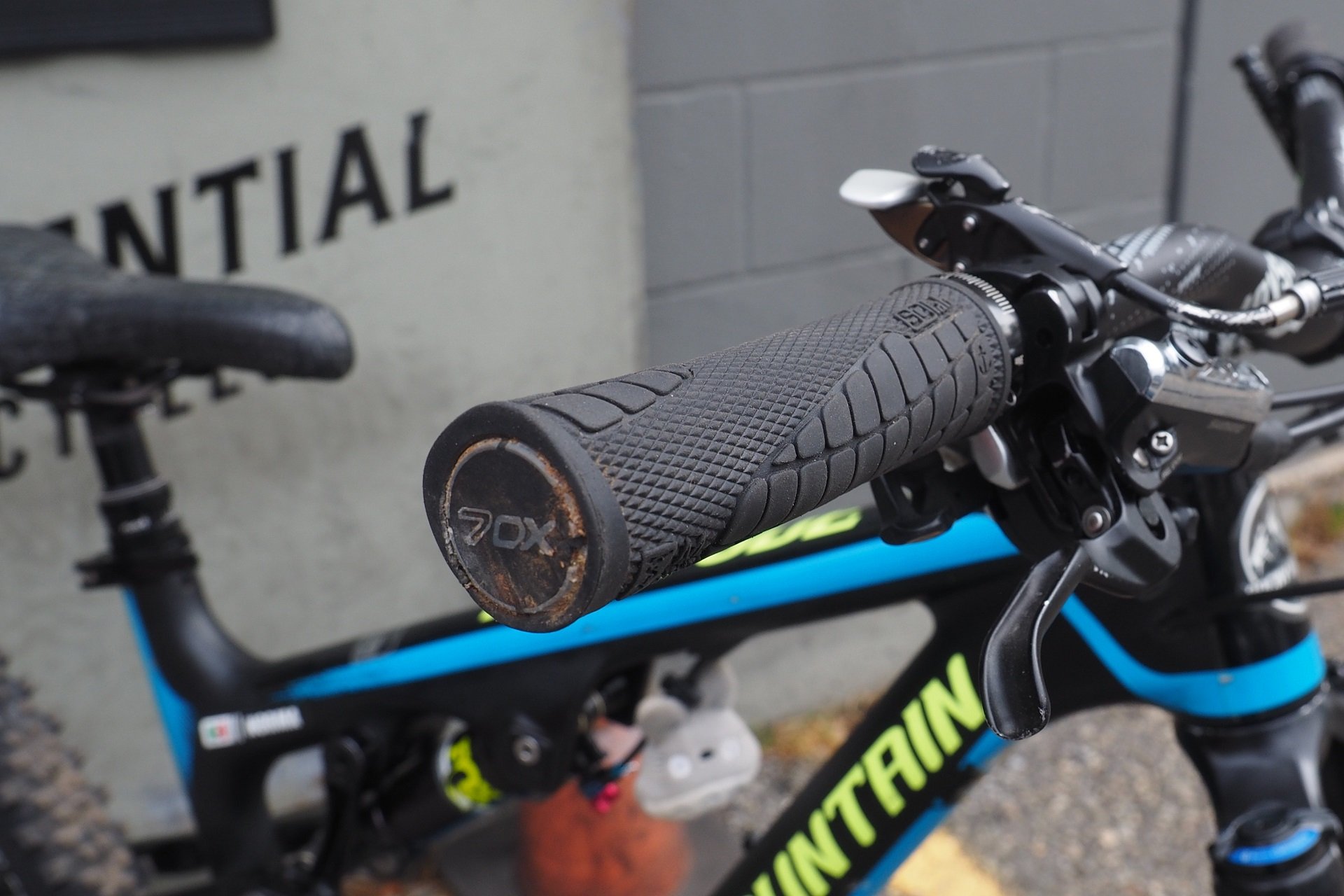 The elephant in the room with this generation of Rocky Mountain is always going to be the bushing pivots. The bikes look good, ride well, take a water bottle in the main triangle, and fit close enough to current bikes that they have genuine appeal. Riders I've talked to who owned one had no problem flipping it on the used market no matter what condition it was in. I certainly wouldn't recommend buying one without pulling the pivots apart - or having a shop pull the pivots apart - which is a job you're going to want to do anyway if you do buy the thing.
Working on Norma's bike was a nice reminder that, though a bit time consuming and frequent, the fact these bikes don't require special pullers or presses to service the pivots is a real win for folks who are going to roll up their sleeves and do it themselves.
Given that this was a min-max machine that I was actually involved in updating, I'm looking forward to following up with Norma once she has some solid hours on the bike. At the end of the day whether it's on the trail or sitting outside the coffee shop, it's her bike and, therefore, really only her opinion that matters. But, I'm thinking or at least hoping that the improvement in her experience will be many times a return on the investment.