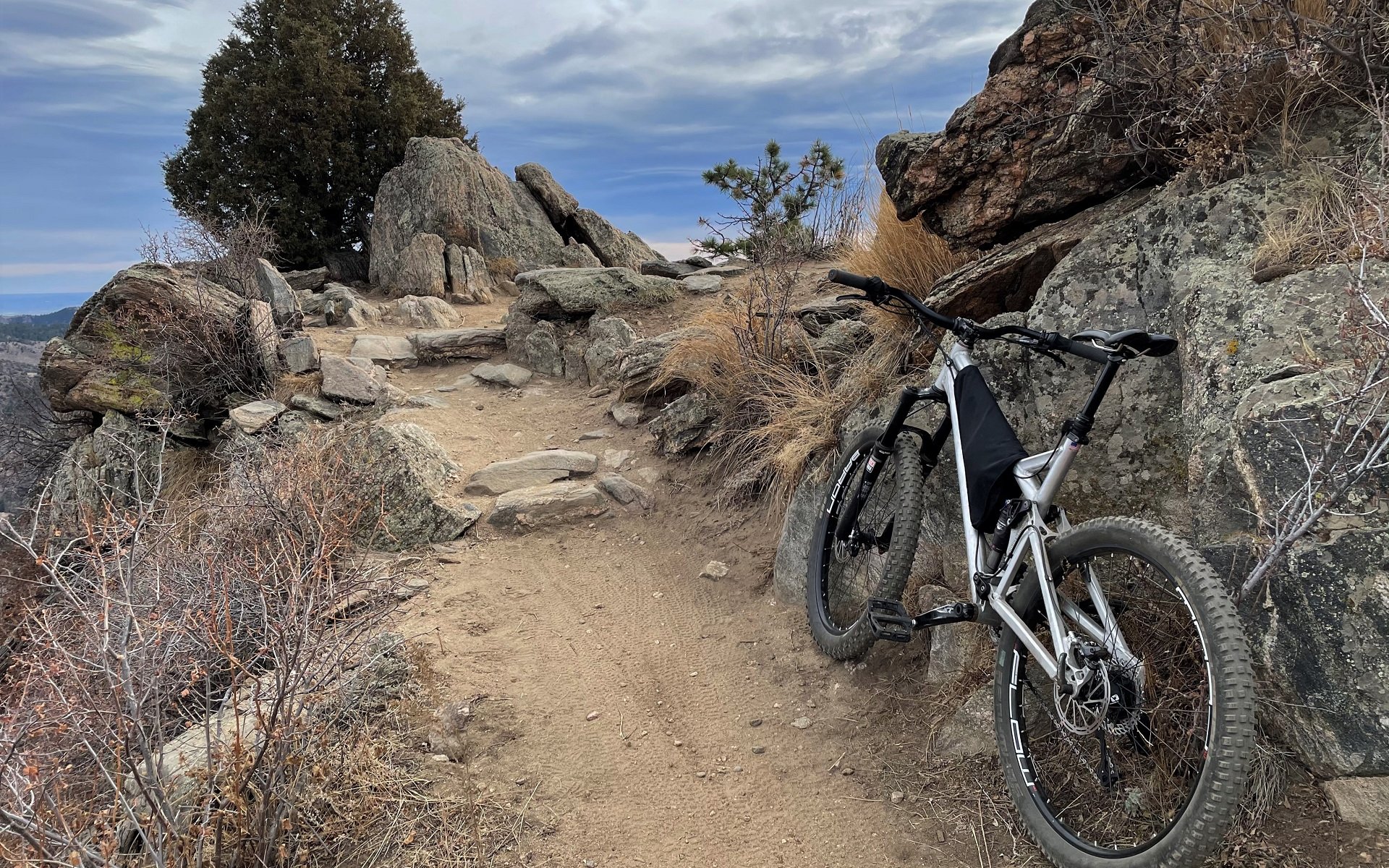 MIN MAX
Min-Max : Jeff's 2011 Turner 5 Spot

I love the look of the high end alloy manufacturing. The complex CNC work Turner did around the rear triangle and pivots is almost Victorian steampunk." - Jeff
Head Turner
When I think of Turner bikes the first rig that always pops into my head is my friend Mark's 2005ish Horst-Link equipped rig. With raw aluminum tubes and a PUSH linkage upgrade, it's delicious. Sadly, Mark's Turner is instantly disqualified as a min-max rig due to its straight 1-1/8" steerer tube, even if he somehow sourced a sweet Fox 36 FIT RC2, EC34/EC34 -1° Angleset, and a 27.2mm dropper post and really modernized the look of the rig with a 1x drivetrain. For the record, that's not a dig on the aesthetics of Jeff's 2011 here, he's tried it both ways and the double chainring setup looks a lot cleaner.
Turner Bikes has been out of the full suspension game for couple years now, and Jeff's DW-Link 5 Spot relies on bushings for the linkages, so I was skeptical about this entry. But it's a great looking frame in my favourite Turner colour, and Jeff pointed out that Turner still stocks bushing kits for the 2009+ frames. If you contact them they should be able to lead you to pivot hardware as well. If you do have one of these rigs I'd recommend picking up a spare bushing kit (although they are off-the-rack IGUS bushings, so it's possible to order them from an industrial supplier as well).
Whether due to smaller batch numbers, higher tolerances, or weather conditions where they were most popular, Turner never suffered the complaints about bushings that dogged so many other applications. I'd still recommend regularly checking the pivot hardware for wear - if crap does get in the bushings the aluminum will get eaten faster than the IGUS material.
Min-Max submissions vary greatly from a few words and photos to deep dives into parts choices and anecdotes about special bits. There's quite a lot of DIY going on here, which I'll get to, plus the fact that Jeff's running a mini-mullet setup (27.5/26).Jeff sent me quite detailed thoughts on his bike, and I think he sums it up perfectly with this: "I love the look of the high end alloy manufacturing. The complex CNC work Turner did around the rear triangle and pivots is almost Victorian steampunk."
Jeff's thoughts on the fit of this bike could probably sum up most min-max projects we've seen to date, especially if riders have already upsized their frames and added an angleset:
"The geometry is a mixed bag. Head angle was pretty slack for its era, and is easily in the Trail category even now, which is how I use the bike. Seat tube angle is old school 72 degrees with the longer fork and 27.5 wheel, but I like that. It makes the bike more comfortable than the modern steep tubes on the rough-but-rolling terrain I tour on, and the hip to foot angle mimics my gravel and road bikes, making the transition between them easier. The frame is a large, but it is decidedly a medium by modern fit standards, and I do sometimes wish the reach were a bit longer. But if I ride it a bit more old school from further behind the saddle on descents, it works out ok."
This 5 Spot started its new life as a frame only deal. Jeff bought it used for $300, "'cause ya know 26 is dead", and I've been rolling that around in my head a bunch. I mean, in the insanely hot used bicycle market of the last couple years that sounds like a solid deal even with the geometry being a bit dated. At the same time the frame is over ten years old. Yes, it's easy to buy a new shock that fits and yes, it takes a tapered steerer fork so there are a plethora of 650b options. But keeping this frame going out on the trail, doing what it was born to do, almost seems like a community service.
If you noticed that the cable routing looks unique, that's not a Turner feature. Jeff didn't like the stock routing so he filed off the existing braze-ons and installed riv-nuts and p-clips for his preferred setup. His custom frame bag and downtube accessory mounting are also courtesy of extra hard points he added himself. Very neat. But, I'm giggling to myself right now as I type this, wondering how many NSMB readers will add some water bottle or accessory bosses to their aluminum frames next week. For the record, you can also securely mount that Fidlock bottle to your Kona Process using double-sided 3M tape.
26 For Flights
Let's be clear: Jeff's not a retro-grouch frozen in time way back in 2011 with his front derailleur, top-mounted dropper post lever, twist shifters, and 26" wheels. I mean, wow, even by 2011 the Grip Shift would have been suspect to a lot of riders. Personally, I find it more suspicious that not one of my Grip Shift loving friends of yore has bucked up the 49 USD to twist-shift their Eagle drivetrain. The later versions of Grip Shift, like Jeff's, rotate on ball-bearings and have no discernible friction or play.
They're bombproof, cheap, and you can plow through gears faster than any trigger deck out there if that's your thing. It's a relatively inexpensive,thing to try and if you don't love it, it won't be hard to flip and takes mere minutes to swap back to your trigger shifter. Just run it with brakes with long lever blades so you can find your perfect combination of brake, shifter, and grip position. If you do try SRAM's Eagle Grip Shift, just keep an open mind and give it a couple of rides. It'll never be a stock option on complete bikes again, but that's not because it isn't awesome for some riders.

Found the frame locally on Pinkbike about 5 years ago for $300 in raw - 'cause ya know 26 is dead" - Jeff
Alright, sorry to the give-me-triggers-or-give-me-death crowd for the twisted aside. At least I didn't also add in a pitch for friction thumb-shifting. Back to the Turner, it's not that Jeff doesn't own 1x12 rigs - he owns several with AXS wireless shifting. It's not that he's a 26" evangelist either; the Turner is a mini-mullet setup with a 26" rear and a 27.5" front. The bike was originally built for a specific purpose, which is travel. The full suspension frame, like most, is easy to break down into a smaller package by separating the rear triangle from the front and with the smaller wheels the whole package has Jeff checking his bicycle with no oversized luggage fees.
I had a customer at one of the shops I worked at who could get his V1 Bronson into a similarly small package and claimed it really wasn't any more work than boxing up a bike into a hard case once you've done it a few times, and it was cheaper than buying a hardtail frame with couplers. Some food for thought for those who travel regularly with a bike.
2x Build Out
Whatever your preferences for full suspension systems, and however your feel about DW-Link, the design works very well in terms of the pedaling efficiency that Jeff is looking for while also remaining plush but supportive when called on to deliver traction and comfort. Most importantly from a min-max perspective, it works well with the most basic of air shocks. If your budget is for a fresh SR Suntour Edge or an OE-only basic RockShox Select+ or Fox DPS takeoff shock, you should find that almost any budget option is going to work well enough.
Jeff's bike is equipped with the legendary stalwart that was the Fox Float RP23. Some of the things folks put these little inline shocks through on 6" travel bikes with ridiculous leverage ratios was borderline bicycle cruelty, yet from the anodizing to the internals I think you could make the argument that their quality challenges any production shock on the market today (exceptions perhaps for PUSH or EXT). Sadly, support for these basic Float shocks beyond basic seal kits has waned, so Jeff will want to stay on top of maintenance to avoid having to retire it to paperweight status.
Keeping with suspension, the fork is a 29er Pike off of his Giant Anthem, set at 140mm. Jeff did try the Turner as a mullet with a 29" front wheel, and also ran it with a 27.5+ front wheel for a time, but the current setup is a 27.5 x 2.6" Nobby Nic in front with a 26 x 2.3" Nic out back (which measures to 2.4" on a Stan's Flow rim).
From my nerdy perspective the most interesting feature in Jeff's parts kit is the Shimano XT T-8000 brake levers. Like Shimano's most budget-friendly brakes, these rely on honking long lever blades instead of Shimano's ServoWave magic to drive their further-apart-pistons into the rotor. So you get the potential advantages of an easy, drag-free setup along with consistent feel through the brake stroke along with the forty-year-old aesthetics of the Magura motorcycle levers that appeared on '80s mountain bikes.
The long XT levers are key to Jeff finding the desired position for all his controls since his Grip Shift is set up with a full length grip. There are two schools of thought when it comes to twisters: those that prefer to have their hand on the shifter all the time and who run a shorter grip, and those who prefer to run a full length grip and move their hand over a bit to shift. Jeff's Turner represents the latter option. I would love to try a pair of those levers with some 4-piston calipers to compare them head-to-head with Shimano's current 4-piston setups.
Apart from the parts already mentioned, the hubs are also of interest. These are XO-branded, but the guts should be identical to the Ringlé-inspired 4-pawl, ROAM 60 wheels (only difference is the j-bend spokes on these instead of straight-pulls) that Jeff Bryson and I did a teardown on in 2016. For riders happy with the 7° engagement, these are very reliable hubs that can sometimes be found used for a song, so they're worth keeping an eye out for if you're in the market.
With the 72° seat tube angle (STA) it makes perfect sense that Jeff prefers a comfortable flat-nosed saddle - the Chromag Trailmaster in this case - for those steep climbs where he has to get on the nose to keep traction. It works. The head tube angle is 67.7° and I think there's a decent argument that the -2° EC44/EC44 angleset from Works would be worth a try to see how it changes the handling on descents. Jeff is well aware the this headset exists so hopefully he'll report back if he does give it a shot. I mean, it's all good that he's happy with the current geometry, but would it be an NSMB Min-Max article if the bike didn't already have an angleset installed or I didn't recommend one?
Beyond that, my only real surprise is that Jeff hasn't drilled a stealth-dropper exit into the seat tube. Please note, it's not that there's anything wrong with a fixed-external mount dropper, and the previous generation of the Fox Transfer or the current PNW Cascade are both good options. It's just that a person who's going to add their own rivnuts for preferred cable routing, bag, and accessory mounting obviously likes making holes in things.
Thank you for submitting your sweet Turner, Jeff! If you'd like to submit your well-loved rig for Min-Max Your Ride please fire me an e-mail.