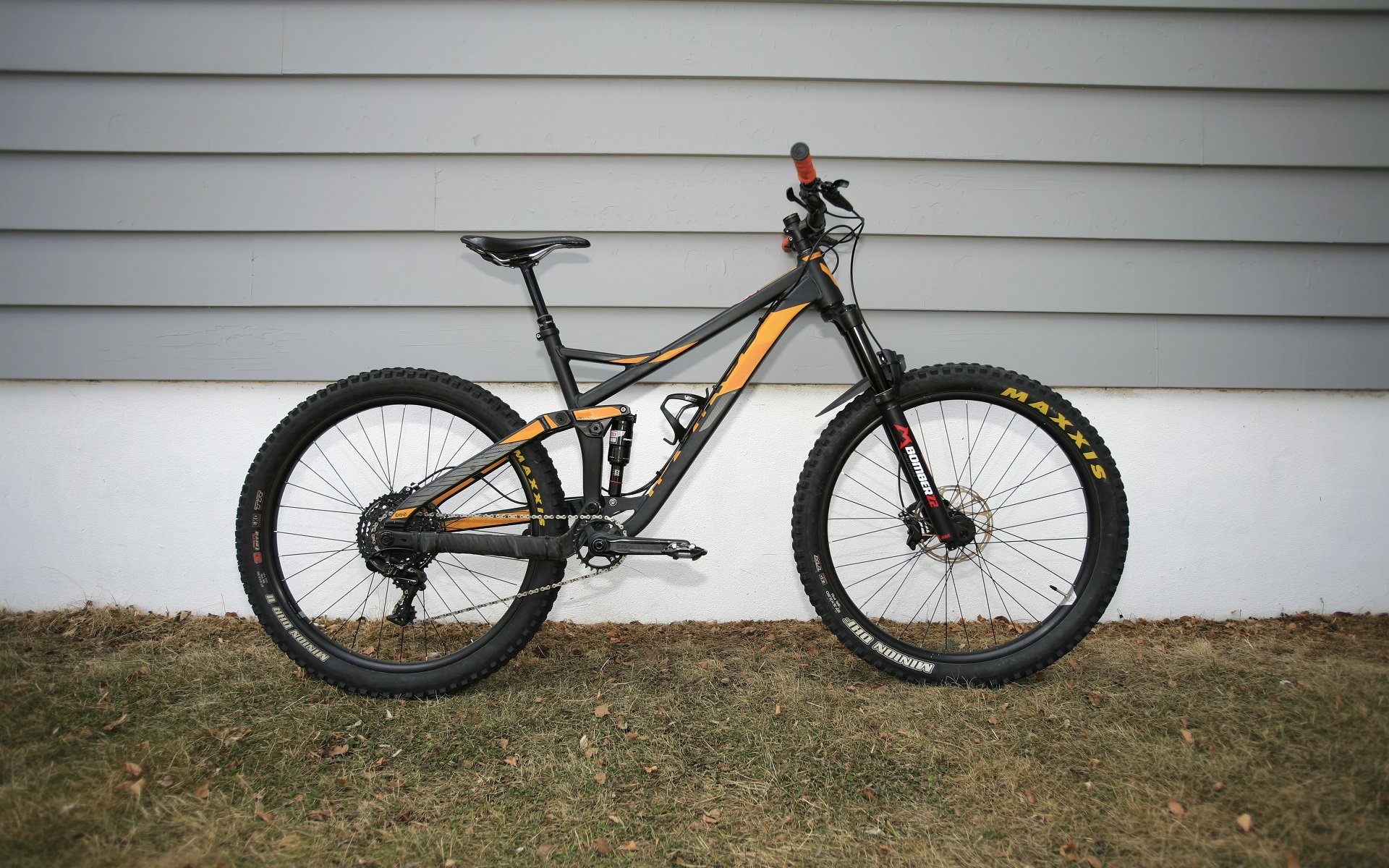 Min Max
Min-Max: Greg's 2016 Devinci Hendrix 27+
Pluses
The Devinci Hendrix presented an interesting take on selling mountain bikes in 2016. Devinci put together just one high-value complete build and then sold frames for a reasonable price for folks planning to make so many changes to the build that there was better value to be had assembling their own vision. For 3000 USD, a new owner got a SRAM GX drivetrain, Guide R brakes, mid-level RockShox suspension, stalwart Race Face Aeffect cranks, reasonable Formula hubs, and a fixed seat post that would make a great back up for when the dropper craps out. For 1600 USD they could have just the frame and shock.
The complete bike had some upfront costs for anyone that really wanted to use it as a mountain bike; replacing the Maxxis Chronicle tires with actually knobby rubber, moving the 180mm rotor to the rear and adding a 200mm up front, and adding a dropper post. The 30x10-42t gearing was a bit tall for the average rider pushing plus tires up steep climbs so a Cinch 28t ring or even 26t ring would have been a good buy.
The 67.3° head tube angle (HTA) isn't unreasonably steep for a bike with a 120mm travel fork but going from the frame up, why not consider buying a 140mm fork and a -2° angle set? Or, stick with a 120mm fork, install a -2° angle adjusting headset, and run the bike as a mullet with a 29er front wheel. The smorgasbord of build options in a well-built 120mm suspension bike package are delicious and the Hendrix is no exception. This frame is running on all the most common current standards with Boost 110x15 and 148x12 wheels, a press-in 44/56 headset, and a 31.6 seat post. The bottom bracket is a press-fit PF92 but combined with a 24mm spindle the bearing life should be good.
Currently the Hendrix is a largely ignored six-year-old platform that is worthy of consideration on the used market. The fast-and-fun geometry in a shorter travel platform should include it in conversations with machines like the Kona Process 111, Transition Smuggler, and Banshee Phantom with the one notable difference that those are all 29ers and the Hendrix is based around 27+ wheels, committing all the worst crimes against plus tires at the same time with the paper thin, low grip Maxxis Chronicle tires as the stock rubber.
Even Greg's upgraded rubber is fairly awful as plus options go. The EXO sidewalls in a 2.8" size, without inserts, have a minuscule magic air pressure setting between bouncing like basketballs and being a squirrely shitshow, and as is generally true of the DHF tire, the wider they get the less fantastic they are whenever you're carving your bike. The 2.3" DHF is a legendary tire for the reason, the 2.5" is good but has largely stepped aside for the Assegai, and the 2.8" and 3.0" have huge transitions from the centre to the side.
While there are limited tires to choose from, there is still some experience-changing rubber out there for Greg and any other plus-curious riders. For aggressive riding, a Schwalbe Magic Mary 2.8" in Super Trail casing would make a great front-and-rear tire. For faster rolling, going to a Hans Dampf or Big Betty as a rear tire, also in Super Trail and 2.8", will keep the tire patches matching. That's the first 200 CAD I'd be putting into this bike, or any Hendrix turning stock tires.
In the low geometry setting, the Hendrix sports an actual seat tube angle (STA) of 70.8° which Devinci measures as a 74.8° effective. The addition of a -2° angleset with the stock build would steepen the STA, increase reach, and lower the bottom bracket a bit from the stock 326mm height but that's still not enough of a change to make the steepest effective saddle position - with the saddle all the way forward in the rail - current. If Greg was looking for a steeper pedaling position, 9point8 makes a 25mm offset Forehead clamp setup. This adds stack height, and it may only work with 9point8's Fall Line R dropper post. I haven't seen one in person so I can't confirm whether it works on on other posts, but for 45 USD it may be a worthwhile experiment for a few riders I know who's number one complaint with their bikes is the pedaling position.
Hendrix 27+ frames, which later had their name changed to the Marshall, have relatively tall seat masts for a given size. It would be possible to gain a bit of drop by chopping the seat mast a bit and then lengthening the channel in the back. While this might void any extended warranty, it would be possible to gain somewhere between 1-2cm. It doesn't sound like much but the extra saddle drop could be enough to allow someone to keep the frame.
Not everyone has the tools, talent, or trust to cut the seat tube, and drill holes in older frames for stealth routing. If you understand that these actions could violate your warranty (which is silly if a frame fails in a different area) then ask around and you will find a bike shop willing to do the work for you.
Prior Upgrades
If you're counting cogs you may have noticed that the 11-speed GX drivetrain on Greg's Hendrix actually has twelve of them. This is thanks to an e13 upgrade shifter kit that I've previously reviewed. The kit is fantastic and beyond adding a click to the shifter, via a new ratchet, it adds a bearing to the GX shifter like the higher-end X0 and XX shifters contain. This upgraded shifter works great with the current 12-speed SRAM derailleurs so when the current GX 11-speed derailleur and the 9-46t e13 TRS+ cassette are worn out, Greg will have a range of options to keep his Devinci shifting. Assuming the shifter is still clicking nicely through the gears, of course.
Sticking with the XD driver, there are cassette options from SRAM, e13, and SunRace but before replacing a complete cassette it's worthwhile to look at the e13 option to just replace the low gears which see the most torque and are made from aluminum. The steel higher gears should outlast multiple chains and multiple low gear swaps on a mountain bicycle. In the front, the options for a Cinch compatible chainring for Aeffect cranks are endless. If weight isn't a concern, the stamped-steel Race Face rings are cheap, cheerful, and functional. Add in a decent quality chain and replace the GX 11-Spd derailleur with a GX 12-Spd when it breaks or wears out. If you can find another GX 11-Spd, buy that and remember to swap the e13 pulley spacer kit off the current changer.
It's similarly possible to just gut the drivetrain and replace it completely with a wide-range budget option but I think the path Greg is on will give him a more robust product with better shifting quality at a similar cost - at worst - and will create less recycling in the long run.
The most recent upgrade the Hendrix received saw the stock SRAM Guide brakes replaced with Codes with significantly improved stopping power. Guides are fully refreshable but the Code system is a nice upgrade that Greg can theoretically run forever with routine maintenance and periodic rebuilds. Replacement pads are relatively cheap and very well supported. They use easily acquired DOT brake fluid, and the 'Bleeding Edge' caliper fitting and dual-syringe bleeding make the system the easiest on the market to bleed cleanly and consistently. They're on the short list of brakes I recommend.
Greg has also replaced the stock Reba 27+ fork with a Bomber Z2, which is a reasonably well-performing fork when you factor in the purchase price of 700 CAD. The Rail damper is very basic, but if he wants better fork performance from his Z2 chassis, the highest value proposition would be to upgrade the fork at it's next 100hr/yearly service. There are multiple options worth considering for damper upgrades. In this case, buying a damper out of a Fox 34 that someone else is upgrading is probably out of the question since the Marzocchi uses the same, thicker, stanchions as the Fox 34 Rhythm or E-Bike chassis.
Some folks will take issue with recommending a damper that costs a significant portion of the Z2's purchase price but the chassis is solid, the air system is good, and flipping this fork used and buying a stock fork with a top-end damper will be significantly more expensive. The most common upgrade is to spend 360 USD on a top end Fox GRIP 2 damper, and, along with a service, that's a fantastic upgrade over the more basic Foxzocchi dampers that come as original equipment on some surprisingly expensive bikes. Based on my own experience, I'd also consider spending more - 500 USD - on an Avalanche Racing Products damper. My 2012 Fox 34 with an Avy damper and the old Fox coil-negative air spring is still one of the best performing forks I've ridden.
Pivoting
Specfic models from a few manufacturers make up some 90% of the bikes owned by riders interested in participating in this Min Max column. I'm interested in presenting a variety of machines but it seems that folks who are drawn to buying a bike and upgrading it in this way are often drawn to either the uniqueness of the bike initially (not a belly button bike in appearance or attitude) or the value it presents up front. I think this Hendrix, as a relatively aggressive short-travel 27+ bike for a very reasonable price, checks those boxes.
Unfortunately, as has been discussed on NSMB and elsewhere, plus tires never really had a fair shake in terms of initial experiences with too-narrow rims and tires with crappy paper-thin sidewalls. New converts are almost totally relegated to the slowly growing niche market of rigid mountain bikers and the rest of the sales are to established believers who know that 2.6" tires are not really a replacement for what they love about 2.8-3" rubber. As such, it's not really surprising that options are limited for Greg to re-shoe his Hendrix and options for a new 27+ dual suspension bike barely exist. All the more reason to keep his Hendrix running.
If you're considering submitting your bike for min-max, and you're not sure if it would be a good example, please let me know. I'm not writing about any full suspension trail bikes with straight EC34 headtubes (1-1/8" steerer specific) but otherwise, I have an open mind. To answer a FAQ, there's not a minimum age of bike we're looking for. If you have a bike from last year that you're looking to upgrade strategically I'd be eager to get an e-mail about it. In the meantime, if you were buying a min-maxed rig today to upgrade over the next five years what would you be pedaling, and if you were riding this 2016 Hendrix 27+ what changes would you be making?