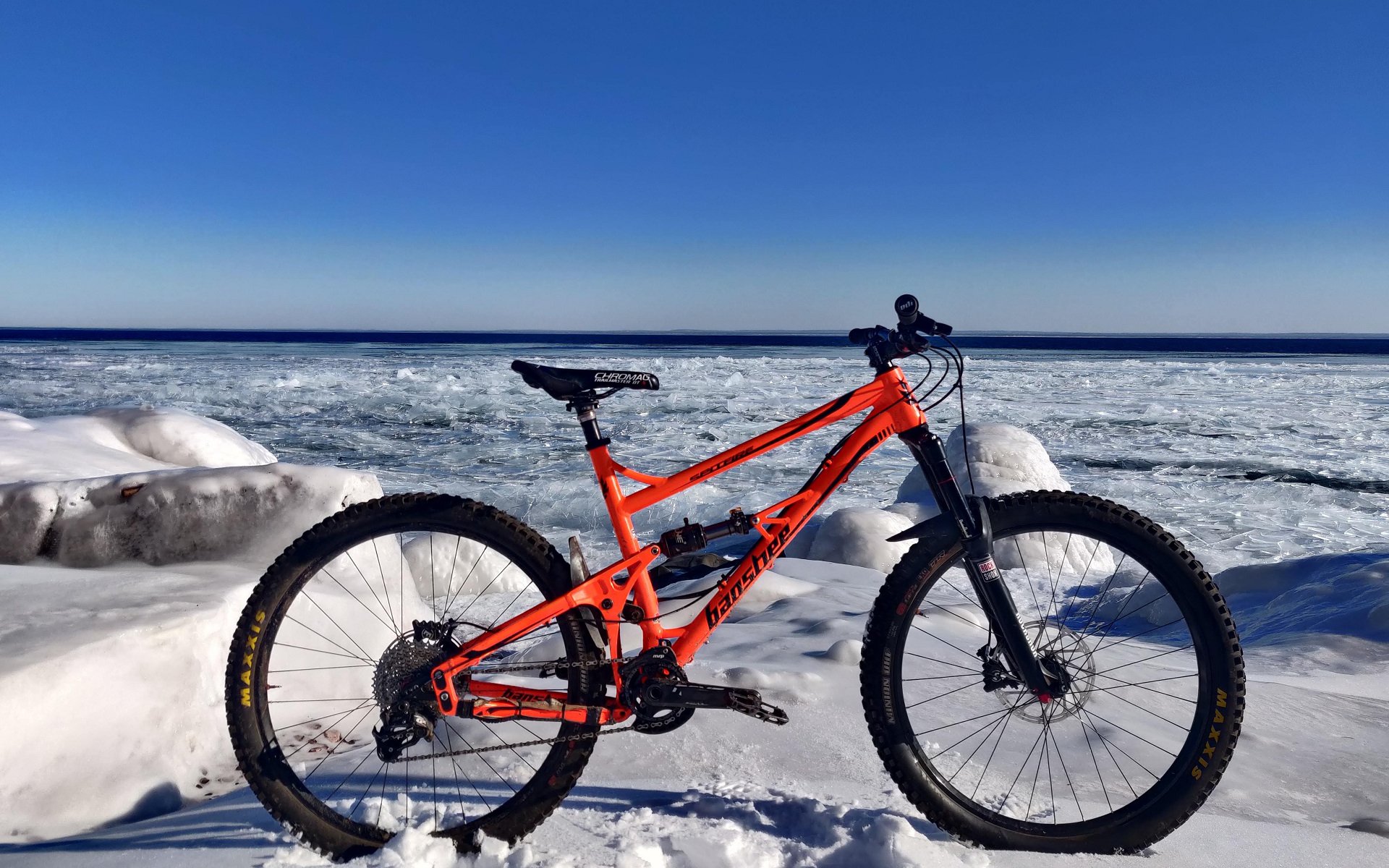 EDITORIAL | PART 2
Min-Max: Dave's Banshee Spitfire V2
Thanks For Playing
Within a day of Min-Max YOUR Mountain Bike, Part 1 hitting the front page, I had enough emails to put together a few of these pieces a month for the rest of the year. I hope that I managed to get back to everyone - apologies if I somehow missed you - to say thank you and that I really appreciate the offers of photos, information, and thoughts about your rigs. It's so easy to get caught up in the new-new that, if nothing else, it was really sweet to see and hear how many folks are keeping their rigs running years after the initial purchase date, or making mountain biking more affordable by bring a keen eye and their own wrenching abilities to the used market.
Yes, there is a 'yeah, but' coming. I didn't have to open very many emails before a troubling trend had ear-wormed Chumbawumba into my brain perhaps for the rest on time: "he rides a Kona bike, he rides a Banshee bike, she rides a Kona bike, he rides a Banshee bike. He rides the trails that remind him of the good times, she rides the trail that remind her of the better times." Compliments to both those bike brands but there are only so many ways to dress a V2 Banshee or '14-'17 Process. Why those bikes in particular? Big bearings and frame construction that err towards survivability over gram savings probably means a high percentage of them are still in use. The only submission I've had from the first decade of the noughties has been a Kona as well.
I have some other rigs lined up now - a Rocky Mountain, a Devinci - but the flood of submissions involving those two brands is worthy of note. I do find it interesting that while most companies have adapted their designs since the mid 2010s, neither of those popular platforms has mounts to accommodate a water bottle in the front triangle. Maybe not the deal breaker it was billed as?
Okay, so before I get any texts from my Banshee V2 loving friends, yes it is possible to get a side loading cage or Fidlock bottle into the front triangle - of the larger sizes at least - like the V2 generation of the Process bikes. The Fidlock mounts get attached to the underside of the top tube, and it's not a big effort to get a sideloading cage physically secured to the forward shock mount. I've seen it done with piggyback shocks even, at least on an XL Spitfire, but as with any home-bodging, please take some measurements before spending money or modifying components.
Banshee V2
I had a few friends buy Banshees when the V2 models hit the market. In addition to great geometry and suspension performance, there were two key features of those early Spitfires and Runes that made them very desirable. They were readily available as framesets for riders looking for longer, lower, and slacker bikes who had high-end build kits on their current rigs. Also, the dropout system meant they could be built as 26 or 27-inch-wheeled bikes without faffing about tight tire clearance or lower than desired bottom bracket heights. Many riders had invested heavily in high-end 26" wheels and were not ready to switch to larger 650b hoops, but by buying a Banshee and a slightly taller 27" compatible fork, they were able to future proof themselves. As it would turn out, Banshee's excellent dropout system would bring future compatibility wins by making it possible to switch between Legacy 142 rear wheel spacing and Boost 148.
Going back to the geometry charts from nine or ten model years ago, I'd also forgotten how on point Banshee's V2 numbers were for the time. In 2013 their 140mm trail bike was running a 66° HTA. The Reach numbers look a bit short now and one big fit improvement Banshee put into V3 was the addition of size-specific head tube lengths and stack measurements, and seat tubes were longer then than current dropper post travel trends would allow but, again, twenty-thirteen. The longer travel Rune V2 sported a 64.5° HTA for a 160mm platform and both frames feature 44/56 headtubes which means a -2° Angleset installation is no problem. As a total aside, with the 44/56 head tubes it really seems like -3° should be possible.
Two more things before I jump into Dave's bike specifically. The first is that since these V2 Banshees were designed around the use of a front derailleur, they have ample clearance for adjusting chainline inboard, running a more micro-drive setup with a 28t or 26t chainring, or never running a manual-shift 2x setup with a pair of narrow-wide rings. Heck, I suppose you could even run a front derailleur if that's your jam. The nice thing about the KS Link suspension working well with a smaller chainring is that the owner of a 2x bike can easily make the switch to a single ring up front without having to buy a new rear derailleur (and likely a shifter) with a ground-dragging cage. For example, a 2x10 drivetrain with a clutch-equipped derailleur will easily shift an 11-42t SunRace cassette mated to a narrow-wide ring up front for the least expensive and best performing 1x option.
I was talking to a couple of friends who ride on a tight budget about this particular machine and they started getting very thirsty about picking up a used Spitfire or Rune V2. If that's you as well, then I'll be the first to share their disappointment that these machines are both fairly rare and expensive on the used market. Given I have friends who rode theirs raw without a whimper I'd attribute this to a combination of folks holding onto their frames and also these being the sort of used frames that you'd confidently sell to someone you like.
It's easy to forget what a revelation these rigs were for Banshee coming off the previous generation's bushing suspension platform and the extreme headaches they delivered to riders and dealers alike. I know riders who swore off ever owning a Banshee after their experiences in 2010-12, with the similar silhouetted frames, yet here I am talking about what a hit the 2013+ KS Link frames still are almost a decade later.

"To be honest, I've been looking at upgrading to a new bike for a few years, but have yet to find the right machine that's enough of an improvement over the Spitfire that would justify the expense." -Dave
Dave's Spitfire
Dave's Spitfire hails from the calendar year 2014, which makes it about 8 years old. It was supposed to be "matte black or raw" but as it often goes with smaller brands and availability he ended up with bright orange. I'd never seen one of these in Safety Orange before now. It looks great. He's the original owner and it's been a great platform for a range of terrain from Utah, to Minnesota, to his current digs on the North Shore. of Lake Superior. He's the original owner, and was quick to note that as good as the bike is it's not like he hasn't been tempted by the newer machines in that time.
He says, "to be honest, I've been looking at upgrading to a new bike for a few years, but have yet to find the right machine that's enough of an improvement over the Spitfire that would justify the expense." He's demoed a few bikes and the only one that really grabbed his attention on the trail was the latest generation of the Pivot Switchblade and the bike that most recently piqued his interest is the Arizona based brand's newest model, the Shadowcat. At 7600 USD, with an XT build, less what he could sell the Spitfire for, that's a substantial upcharge. As an old* bike shop guy he'd rather start with a frame-up build, which is increasingly an issue with many manufacturers who either do not offer frame-only options or price them similarly to the entry-level build option for a given platform.
*it's all relative
If it was my Spitfire I'd start by talking about a -2° Angleset and a mullet front wheel setup, but interestingly Dave's potential new love isn't really that much of a stretch from the Banshee if you look at the Shadowcat geometry chart and it's a dual-27" bike as well. That makes it clear to me that Dave knows what he likes in terms of the smaller hoops and best geometry for his local terrain. It's a good reminder that whether it's tires, bar height, or over-forking, that there's personal preference given terrain profile and sports surface, and that personal preferences can change if we plant roots somewhere other than a Pacific rainforest.

"Sure, I'd like a bit more reach, a steeper STA and a water bottle on the frame, but not that much." -Dave
Dave's Upgrades
If it seems I've written a lot about Banshee V2s in general and less about Dave's personal Spitfire, that's by design. There just isn't a ton to say here in terms of recommending changes. Dave's a pretty typical mountain biker in that he's upgraded parts as they've worn out or when higher performance options became available and with an eye to value - whether it's the best-for-the-buck Magura MT5 stoppers with HC lever blades or the extensive warranty on the 170mm Crankbrothers Highline dropper. The drivetrain is 10-speed SRAM GX with a SunRace 11-40t cassette that's easily ranged by the GX clutch derailleur. He's replaced a worn out GX rear derailleur once already and they're still available, so as long as his shifter is working there's money to be saved sticking with one less gear at either end of the cog.
The RaceFace Atlas pedals he runs are easy to service with a kit that's readily available for 66 CAD, including the fitting to press the guts in and out. Admittedly paying a shop to do that work starts getting into the realm of a decent set of fresh aluminum pedals, and the kit itself is already around the price of a pair of excellent OneUp Composite pedals, but Dave can overhaul his RaceFace pedals himself, so if the grip is good why not keep them running? As I did in my Daemon review, I'll say here that silver is the only colour that metal pedals should come in. If you're going to keep them fresh inside, why not have them stay looking fresh outside as well?
If I had just bought the bike used, the first thing I'd change is the saddle. Partly due to personal preference but I also think if Dave was on a flatter saddle pushed forward a bit, he'd find the seat tube angle worked better for him. The first saddles I'd try would be shorter as well, either a WTB Koda for a more budget option or a BikeYoke Sagma for someone looking for max comfort from a saddle that moves with the rider somewhat. I'd also be switching to a 31.8 aluminum bar with a bit more back sweep and flex but presumably the carbon Six-C works great for Dave. Same goes for the lock-on grips.
Dave's Suspension
Dave's build runs on a pair of Hope Evo hubs, so there are a number of very clean options to convert the front or rear to work with Boost spacing. It's nice to know that the Banshee frame can easily be swapped out to Boost 148, but the thing about buying a 142x12 Hope hub up front is that the purchase price includes Hope's excellent reputation for long term small parts support, so it's doubtful that there's any worry about updating the rear.
The Cane Creek Inline Air has been faultless, which wasn't always the case with the first generation of their Inline shocks, so Dave is going to keep riding that until it gives up the ghost. These original Inline Air shocks were very high volume - similar to the CCDB Air with an XVol air can - and didn't work well in plenty of bikes on the market but the KS-Link on these V2 Banshee bikes plays very well with a coil shock so it makes sense that the most linear air options would work well also. If this was my bike I'd be very tempted to start saving my nickels for a Cane Creek Inline Coil shock to coax the most performance out of the shorter travel bike, but for a lighter bike weight and more pop on smooth and fast trails, an air spring makes perfect sense.
It's likely that Pike won't be mounted on the front of the Spitfire too much longer now that Dave's come around to the idea that he's going to be riding this Banshee for some years yet. With their reputation for quality and customer support and his own experiences behind him, the first choice for a replacement fork is a Cane Creek Helm. One really nice feature of the Helm is how quick and easy it is to adjust the travel with the included spacers. So Dave could run his Spitfire at the current 150mm but also try it with a longer 160mm or 170mm setup or shorter at 140mm. It's nice being able to confirm your happy place by trying some different options.
I think the neatest thing about the Banshee Spitfire V2 is looking at photos, perusing the geometry chart, and realizing most riders would be happy riding this rig. It's still a great looking bike, it's running standards that are all supported with the added bonus of being able to easily update to Boost 148 for the rear wheel. The geometry is really close to some equivalent 150/140mm bikes being launched today and the 44/56 headset is compatible with a -2° Angleset if you really want to push it. They aren't light, but I'm certain that's part of the reason I still see plenty of them on the trails. A bunch of older bikes, including many from 2013 that I've looked at also require some thoughtful drilling to make them stealth-dropper compatible, so that's a nice bonus too.
I think it will be neat to follow up with Dave again in a couple of years and see if he's still running the Spitfire and what he's changed on it. I'm guessing he will have dropped a couple grand into a fork, shock, cranks, and a saddle. He will have bled the brakes and replaced the pads a few times and maybe the rotors once too. It may not matter for his local topography, but I'd love to hear his feedback about how it climbs and descends after trying a -2° headset or even slapped a friend's 140mm 29er fork and wagon wheel combo on to try something different. I bet it will have a bottle inside the front triangle, too.
All in all this bike is already looking min-maxed with powerful brakes, long-term hubs, a 1x10 drivetrain, updating to an on-trend long dropper post, and staying on top of suspension service for a long life. Would you ride it? What would you change if you suddenly found it hanging in your garage?