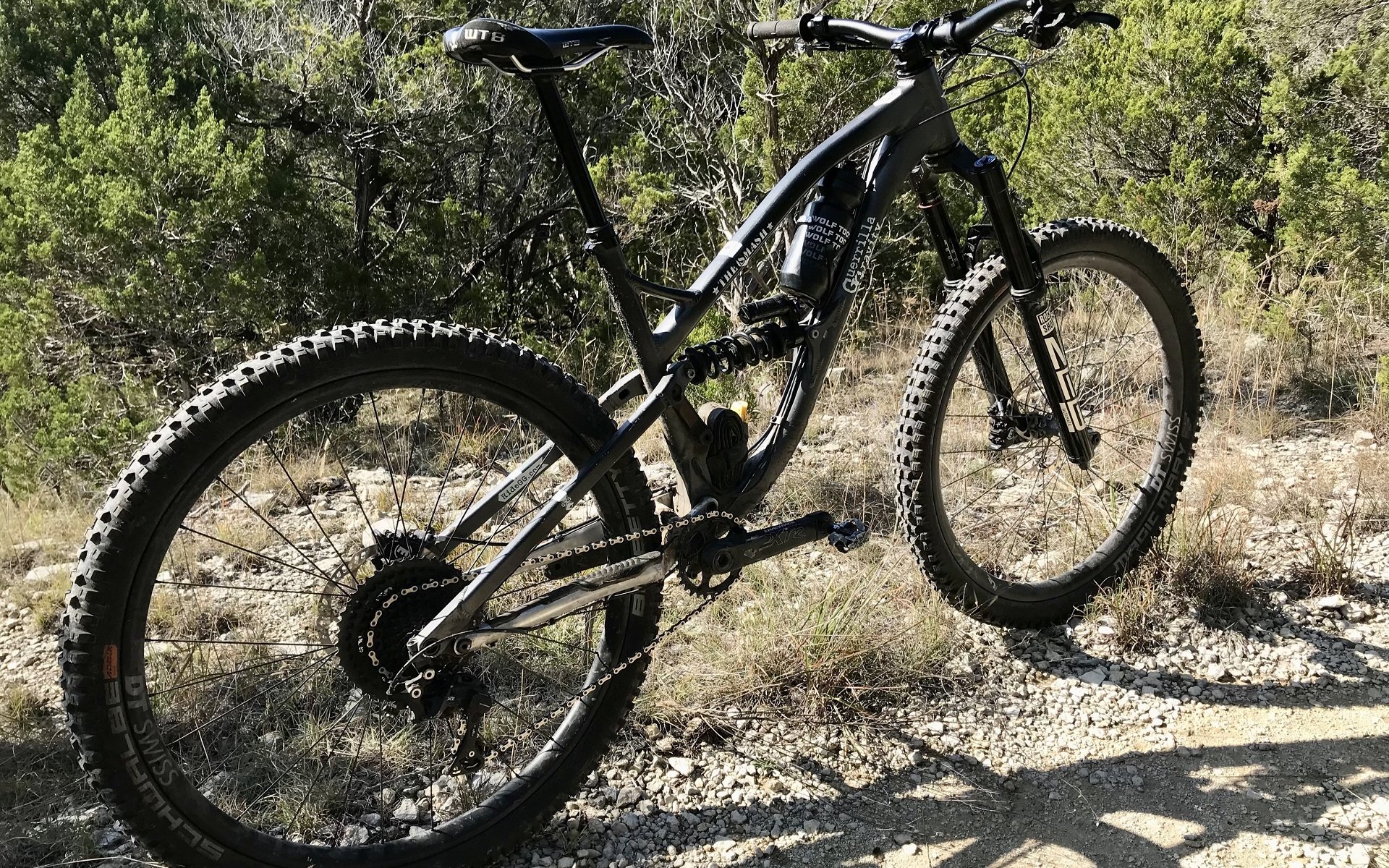 MIN MAX
Min-Max: Daniel's Aluminum Guerrilla Gravity Smash

Central TX. Rocky, chunky, loose, not much dirt, rapid-fire ups and downs with more proper steep, technical, and big hits than people imagine, usually with an awkward flat flow-killer corner for a run-out." - Daniel Culotta
GG Wishes
Daniel's aluminum Smash has me all fired up. They're easily in my top-five full-suspension trail bikes I'd buy used and one of the nicest multi-pivot rigs to service. But before I dive into the good stuff, I need to get a couple of things off my chest.
Nothing against their USA Made fantastic-plastic full suspension frames, but every time I see an aluminum Guerrilla Gravity, in person or in photos, I can't help but lament that they couldn't produce both products simultaneously. Along with Nicolai, GG was making some of the most interesting aluminum mountain bikes, and I'm certain there is a market for their metal bikes among those who will never buy carbon.
It drives me crazy that GG doesn't sell their one metal bike, the steel Pedalhead hardtail, as a frame only. It's an interesting frame with excellent all-around hardtail geometry and sweet-looking sliders. For such a colourful brand, Guerrilla Gravity's current stock builds are the antithesis of their compelling bike lineup and I'm positive I'd have had the chance to throw a leg over a few locally if folks could buy the Colorado-made "half squish, full send" steel sled as a frameset.
And, breathe.
Bought Used
Daniel's bike is pretty recent, having been welded up in 2018. It also is hung with some full-flash parts like the Zeb Ultimate, DT 240 hubs, and a pair of carbon RaceFace cranks which may have some regular min-max readers crying foul, but much of the value here comes from the fact that he bought it used in 2021, a couple of years after GG stopped making all-aluminum bikes.
There was some work required however. The Code brakes needed a rebuild, the frame needed a bearing replaced, and of course used bikes are, used. On the other hand, Daniel picked it up for a solid deal and it had been upgraded from the stock GG 'Race' build with CushCore inserts and Wolf Tooth ReMote added.
Saluting Serviceability
I've put in a lot of hours working on the Smash. Not this Smash that lives in Central Texas, but the GG frames in general. There are a lot of things I appreciate about the design. Foremost, the bearings are well shielded and well supported, and combined with excellent alignment they last a shockingly long time for their size.
When it does come time to replace bearings, each journal has a cut-out so it's clean and simple to tap them out with a punch and hammer. I own a small bearing press for putting the new ones in, but not a blind-hole bearing extractor which makes this a frame I can service at home. I think it's a nice detail that shows the brand is thinking ahead to a customer interested in longtime ownership.
The Syntace hanger design is not without faults, but the breakaway bolts are nearly universally available and it deserves credit for being the original universal derailleur hanger (UDH). It makes perfect sense for smaller brands to future-proof their bicycles and make it easy for their customers to buy spares by using a common hanger, and before SRAM put out UDH, this was the best option available to meet that goal.
The Smash is a bastion of don't-fix-what-ain't-broke bicycle standards. A classic Horst-Link suspension configuration with a full-length seat tube, horizontally mounted shock, and room for a bottle, or even two depending on frame size, inside the main triangle. There is a threaded BSA bottom bracket, good external cable routing and an IS rear brake mount that puts the threads for the brake caliper on the cheaply-replaced adapter instead of into the frame.
Finally, GG used a classic 49/49 head tube standard, née 1.5", which came out in or around 2003. It's a twenty-year-old headtube standard that can accommodate current tapered forks, and if Daniel wants to get really spicy he can fit a -2° Works Angleset.
Daniel's Jenson-Zeb Story
Daniel can't actually run said -2° Works Angleset with his current setup, and he's shopping bars taller than his current Race Face +35mm Atlas bar because the steerer tube on his '21 Zeb is just barely long enough to work with the headtube on his Smash.
Daniel won his fork from Jenson USA as part of a promotion where he reviewed a couple of low-cost consumables. After confirming it wasn't a to-good-to-be-true internet scam, he received the Zeb we see here, a '21 Ultimate that was a media-review fork, with a couple of decal scuffs, a missing air cap, and the cut-down steerer.
Pedals, Cranks, & Brakes
I'll admit when I was first looking at the pictures Daniel sent, the carbon crankset did raise my eyebrow a bit. Not that I've anything against Race Face cranks - I've countless hours on the same set of Turbines I purchased in a panic in 2017. I also love their Aeffect R 24mm-axle arms and recommend them to anyone who will listen.
For one, carbon cranks are expensive, and also some generations of Race Face's NEXT arms, while lightweight, aren't famed for their reliability. Clearly, Daniel saw me coming:
"The internet will be surprised to hear that they haven't yet jumped off the bike, killed me in my sleep, and burnt my house down."
He did include the word "yet" in there, so he's aware that may be coming. Joking aside, he's not the only person I know hucking away happily on a few-year-old set of the Burnaby, BC brand's carbon crank arms, so who knows?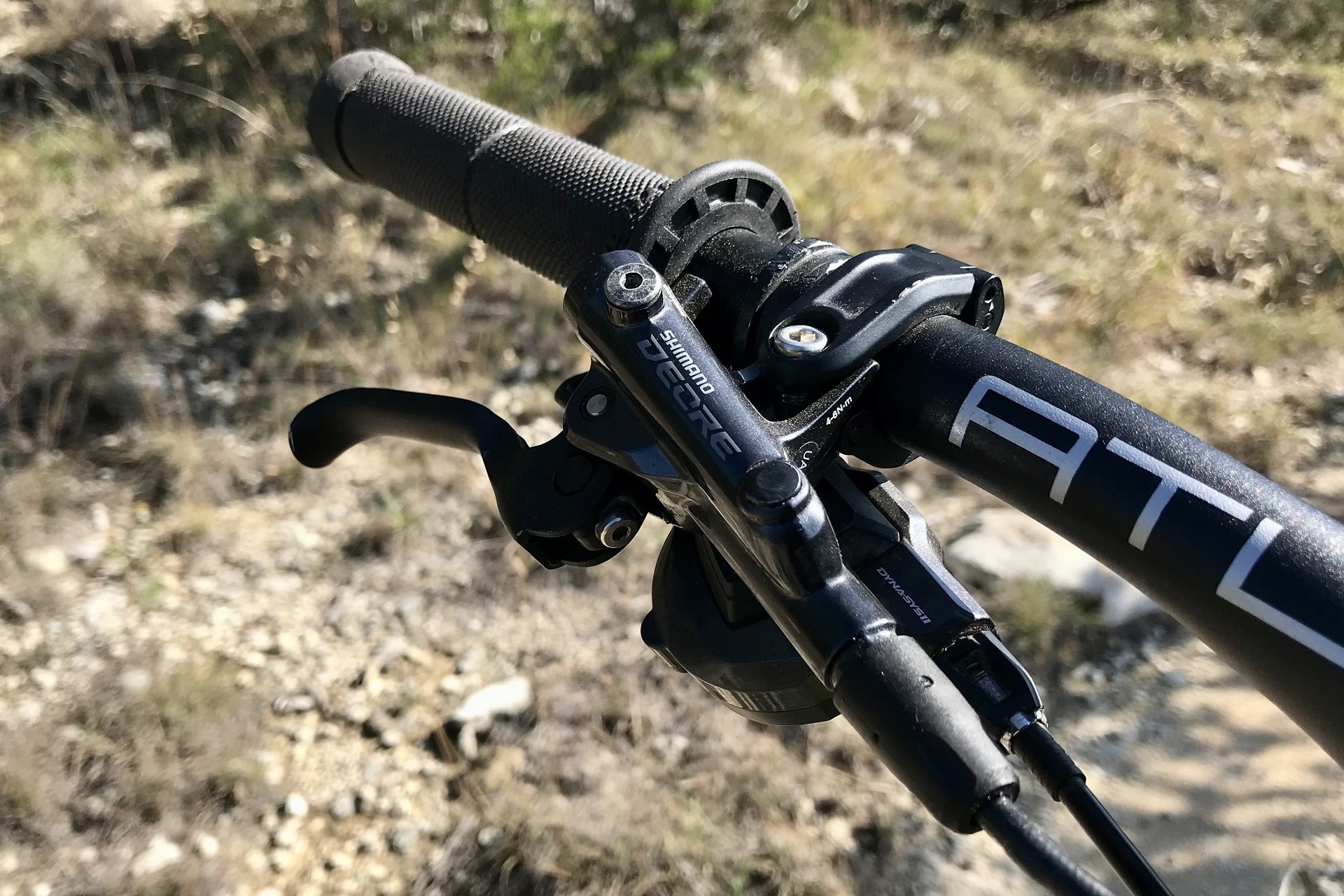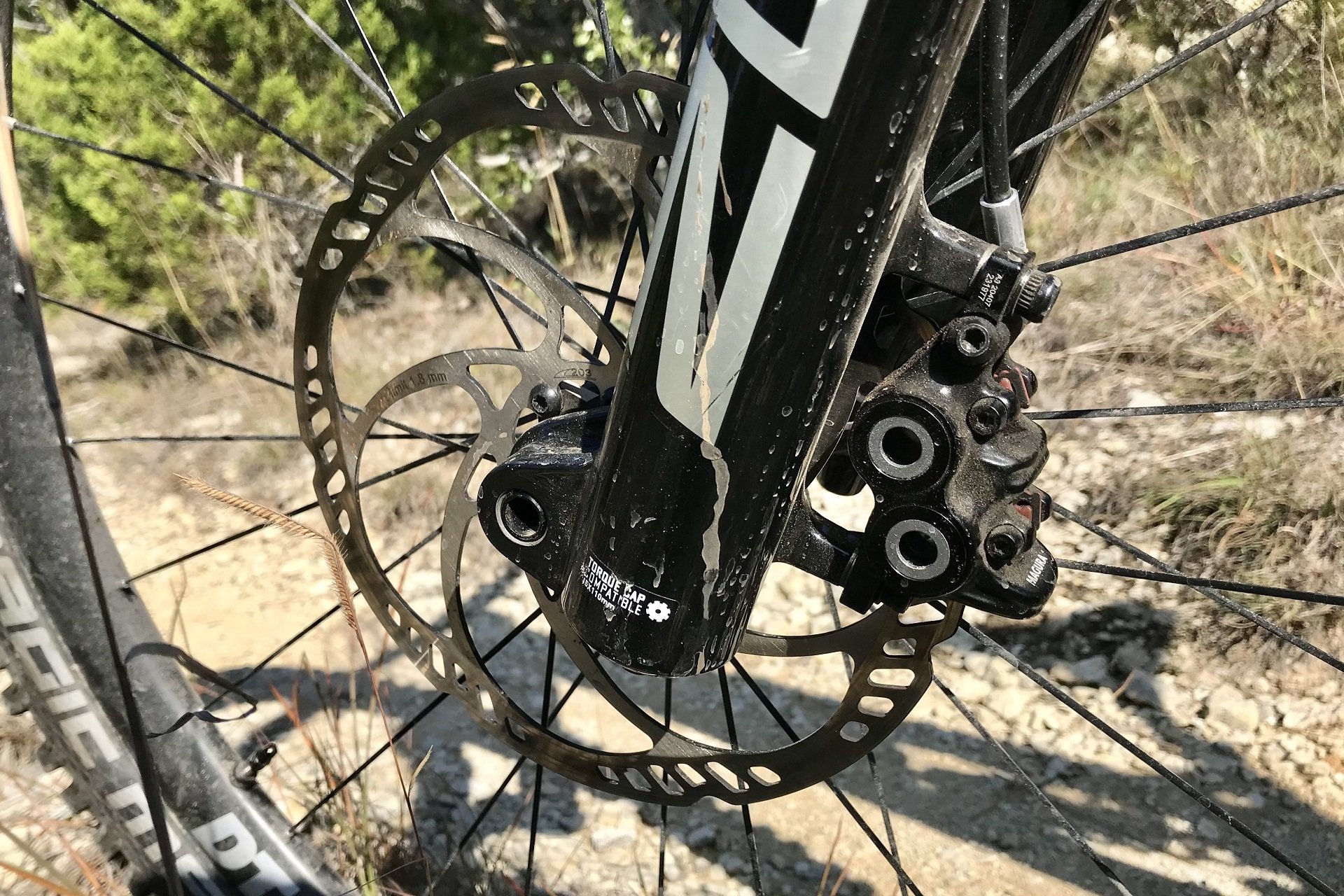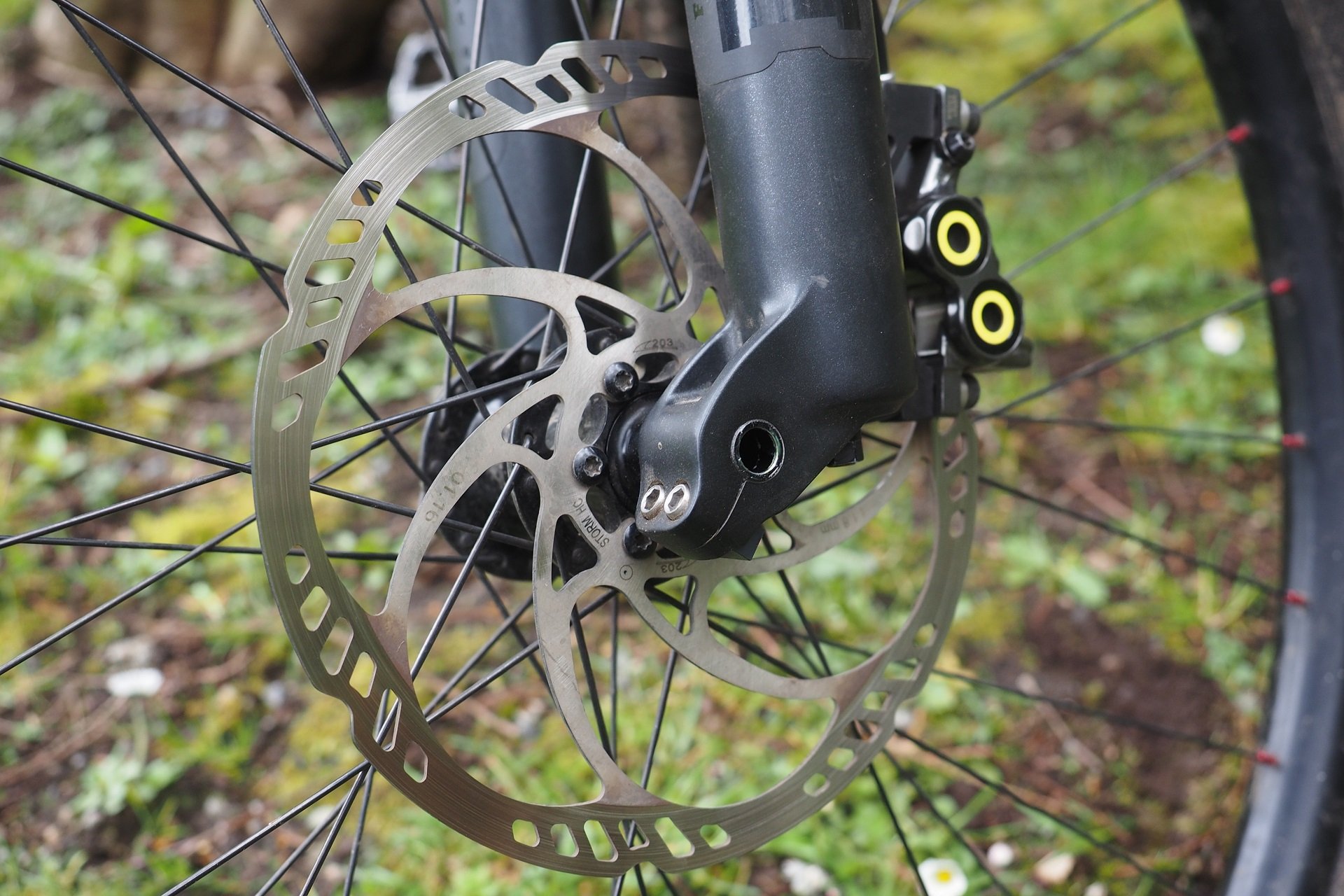 The M520 pedals are a cool throwback to when Shimano's SPD options were a bit thicker than they are now but seemed to last for years longer. For an XC-sized platform, the M540 is the sleeper hit - a spitting image of the legendary first-generation XTR pedals - but you really can't go wrong with the M520 either. Unless you're stuck trying to explain to someone why a pair of cleats cost half as much as a pair of M520 pedals, which include cleats. Serviceability only matters when the parts are reasonably priced and the ratio of cleat v. pedal is off.
I like the current generation of stock Magura master cylinder assemblies, and the shape of their HC lever blades, and they have a number of options for blade-shape. I've also had excellent experiences with their longevity. The calipers seem to last forever, and nerds are going to nerd, so I've had the opportunity to build a few Shigura (Shimano + Magura) setups now both for myself and for friends.
Daniel is running the most common collaboration; a ServoWave lever assembly (in his case the best-on-a-budget Deore level) with an MT5 caliper. If you are going to go down this road, I'd recommend trying a Shigura setup using a non-ServoWave system, at least as a comparison, if you can. Also, no company recommends or stands behind combinations with non-factory parts, so remember this is a case of wrencher-beware.
Smashing
Whether it's the "rocky, chunky" terrain of Texas, the greasy-rooted North Vancouver rainforest, or, well, most anywhere it would seem, I've yet to hear of a Smash rider who had ridden their GG with both a coil and air shock and didn't significantly prefer the coil. That's whether they run the linkage in 'Plush' or 'Crush' mode.
The Guerrilla Gravity Smash is always happy with a range of fork travel lengths, though here again it would seem most riders prefer to pair 160mm of front travel to the 140mm rear suspension, regardless of the mode they run it in.
In terms of upgrades, Daniel is already running offset bushings in the shock. The slightly slacker head tube angle is a bonus, but the key goal was to lower his bottom bracket a smidge. He'd also consider an angleset if his fork's steerer tube was longer, but clearly not to the extent that he'd be willing to purchase a new CSU (crown steerer unit).
He's already bumped the dropper post travel up to 180mm with a OneUp V2, and the other item on his radar is a 54t ratchet set for the DT Swiss hubs, to replace the current 36t option. The grips are Renthal push-ons, which are fantastic.
Weight is not a huge concern. There are steep punchy climbs on the trails this Smash regularly hits but none of them are long sustained efforts so I'd say the bike is built to be ridden as it is with the odd part replaced as it breaks, wears out, or upgrades catch Daniel's fancy.
Thanks for sharing Daniel, and for everyone else who e-mailed me with a min-max submission as well. We'll have plenty of interesting takes on the concept coming up!