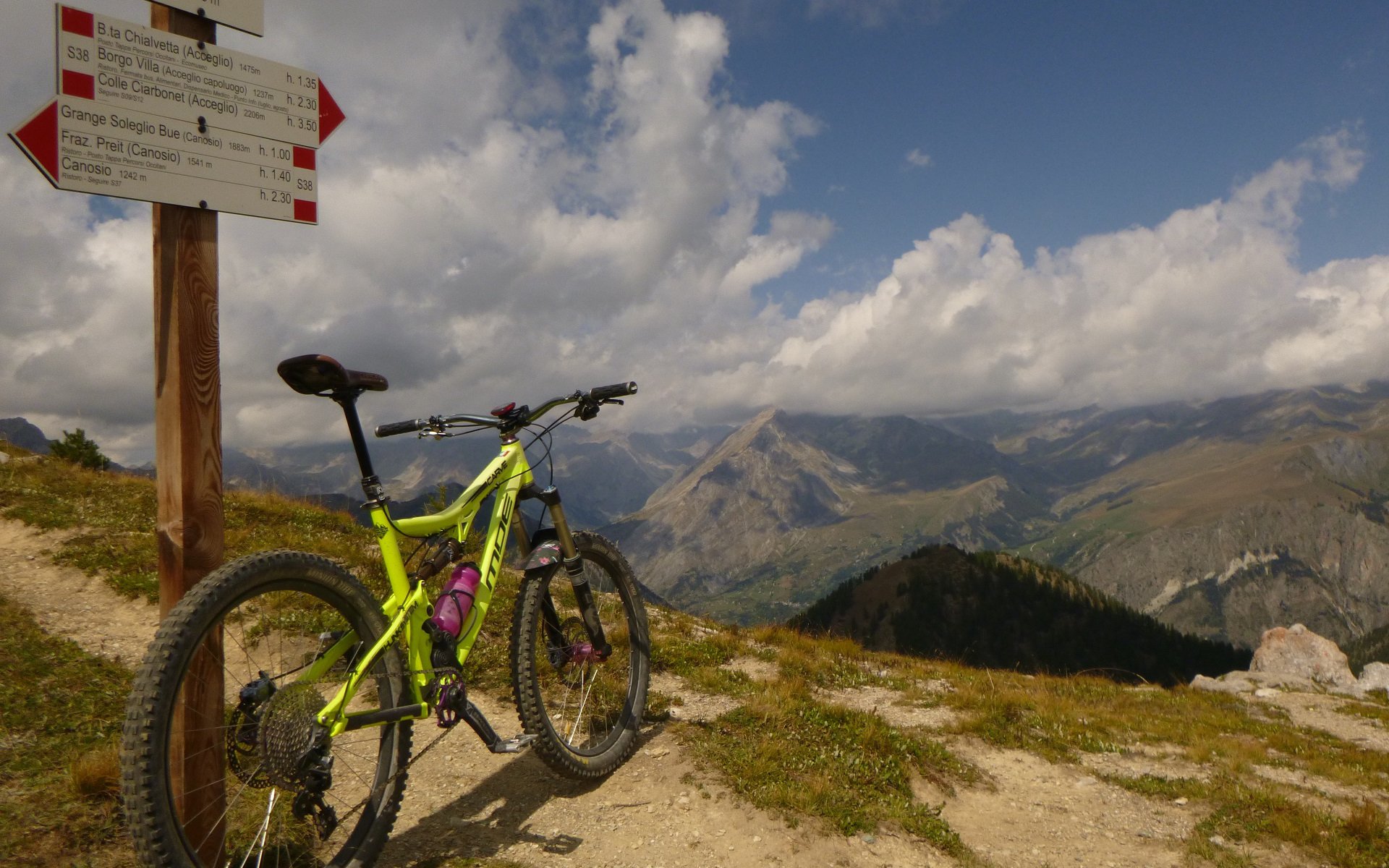 EDITORIAL | PART 4
Min-Max: Daniele's 2013 MDE Carve

The bike was mine even before he decided to sell it" - Daniele Villa
Resurrection.
MDE bikes has been making frames in the Piedmont region of Italy since 2001. Messaging back and forth with Daniele, it's come from being a bike company that I'd heard of to being one that I love, and I don't think I've ever seen one of their creations in person. Daniele's frame was born in November, 2012. Like many companies at the time, MDE produced bikes in all three wheel sizes that year and this is one of their last generation of 26"-wheeled full suspension bikes.
What's perhaps most interesting about this frame, and MDE in the context of this min-max series is that in addition to a date of birth, it also has a date of death. Last summer Daniele discovered a crack forming in the frame where the top tube and down tube meet. In most circumstances this would mean a date with the recycling bin, but this is where MDE is rad. They'll repair, heat treat, repaint, re-decal, and then extend a further 1-year warranty to their frames as part of their Revitalize program. My mind started wandering to the potential on a global scale. Imagine if every time a crash replacement or warranty frame was processed, the company collected it back, put it in one of those empty containers headed back to Taiwan, refurbished it, and then resold it. Not just aluminum frames either; we know carbon repair is an option as well.
Daniele is torn between servicing his current bike and trying something different. So much so that he's parked the MDE for now in favour of some different full suspension projects and a steel hardtail. I'm a sucker for a good story though and this Carve, which Daniele bought used for 850€ in 2018, has thoughtful details like Banshee-style modular dropouts, a linkage system using 8 identical bearings, a threaded bottom bracket, and the always-fashionable external cable routing. .
The Build
That 850€ in 2018 bought a 2013 MDE Carve frame, made in Torino Italy, and workable suspension products. In Daniele's words it was otherwise "built with crap." A mix-matched collection of parts pulled off Daniele's 2011 BMC completed a rideable package. As you peruse the photos you'll probably notice that this machine has evolved over the years that Daniele has owned it. Parts have been replaced as they've worn out and as a person with considerable wrenching knowledge and ability, and access to tools, Daniele has made it a min-max dream machine.
I think my favourite component example is the Formula R0 brake system. I've restored a few sets of fully cooked SRAM Guide brakes that were otherwise, essentially, free, and that's what Daniele has done here with what is undoubtedly the most boutique brake system Formula has ever made. I love the power and feel of my Cura4 brakes, but they're an exercise in engineering restraint and manufacturing simplicity compared to the R0 with its inverted master cylinder design and the oval caliper pistons that were meant to deliver four-piston stopping with the simplicity of a two piston system. Formula is fantastic with their small-parts support and Daniele made the most of it here.
A man after my own heart, Daniele has mix-matched various drivetrain compounds through various versions of this bike with mixed results. The current system is solid though with the purple 30t ring driving an 11-speed 11-46t SunRace cassette. The shifter and derailleur are fresh 11-speed X1 units that he picked up used for 80€. Presumably from someone who needed their drivetrain to go to twelve. One nice thing about bikes from this era is designers were taking into account suspension performance with multiple front chainrings. Where some bikes now have a minimum ring size, the MDE should work great with whatever Daniele wants to run. I'd be inclined to run a 28t or even 26t ring to spread the wear over more ratios on local climbs but then I'm not really worried about giving up high gears for the tight local terrain I ride. I'd guess he's spinning out the 30x11t combo some places in the Alps.
Another beautiful upgrade here is the used, Chris King hubs. This is my favourite shade of anodized-pink that King produced. They're in beautiful shape, at least after they were serviced, and these are one of those products that I think presented excellent value if you bought them new with plans to keep them forever - never mind picking them up used for a deep discount. They're laced with Sapim spokes to a used pair of i25 DT EX471 rims. There's probably a call here to at least upsize the front wheel to a 27" rim with an i30 rim, to maximize rollover and front tire options, but it's hard to argue with a bargain set of lightly-used DT rims.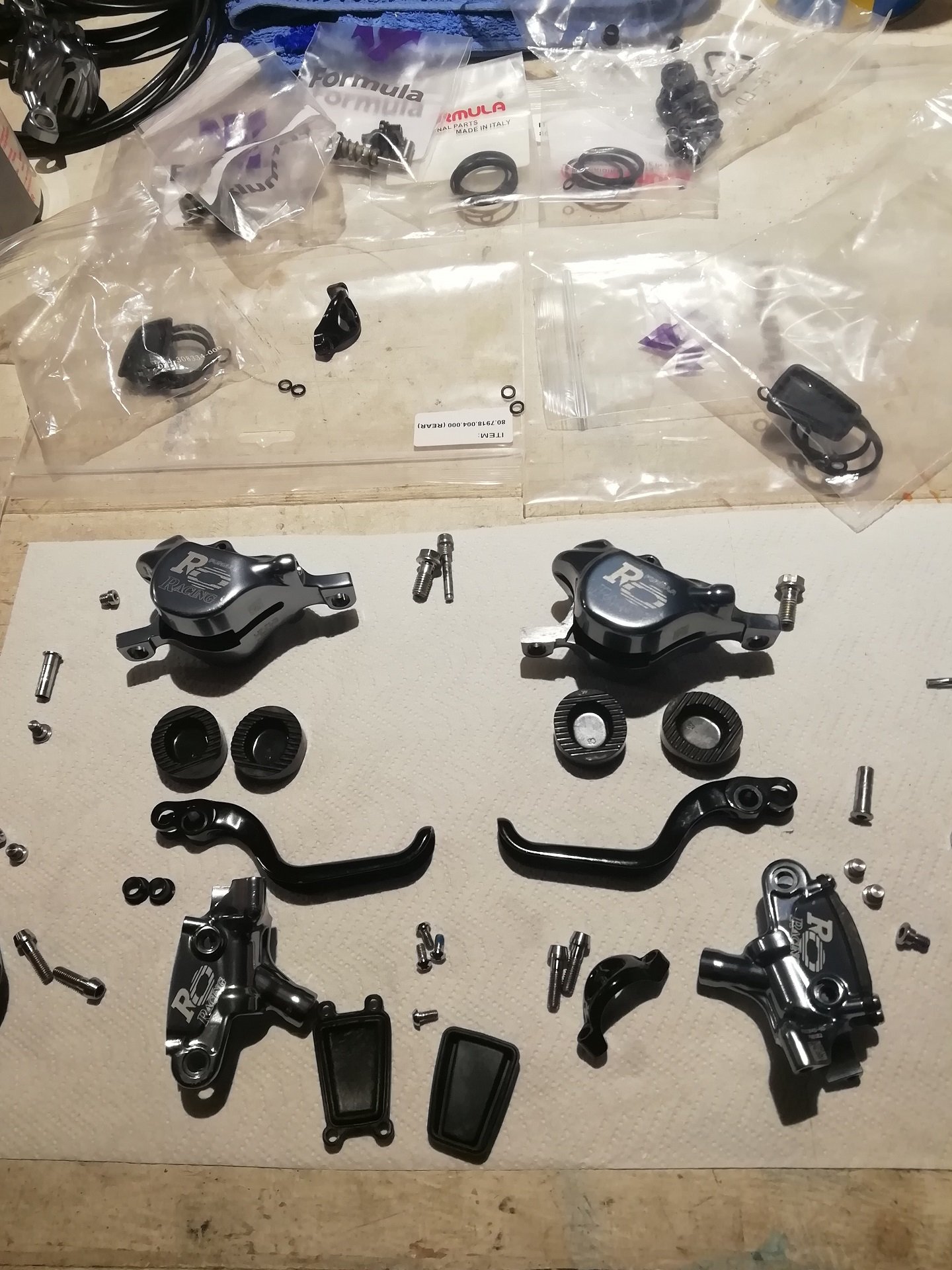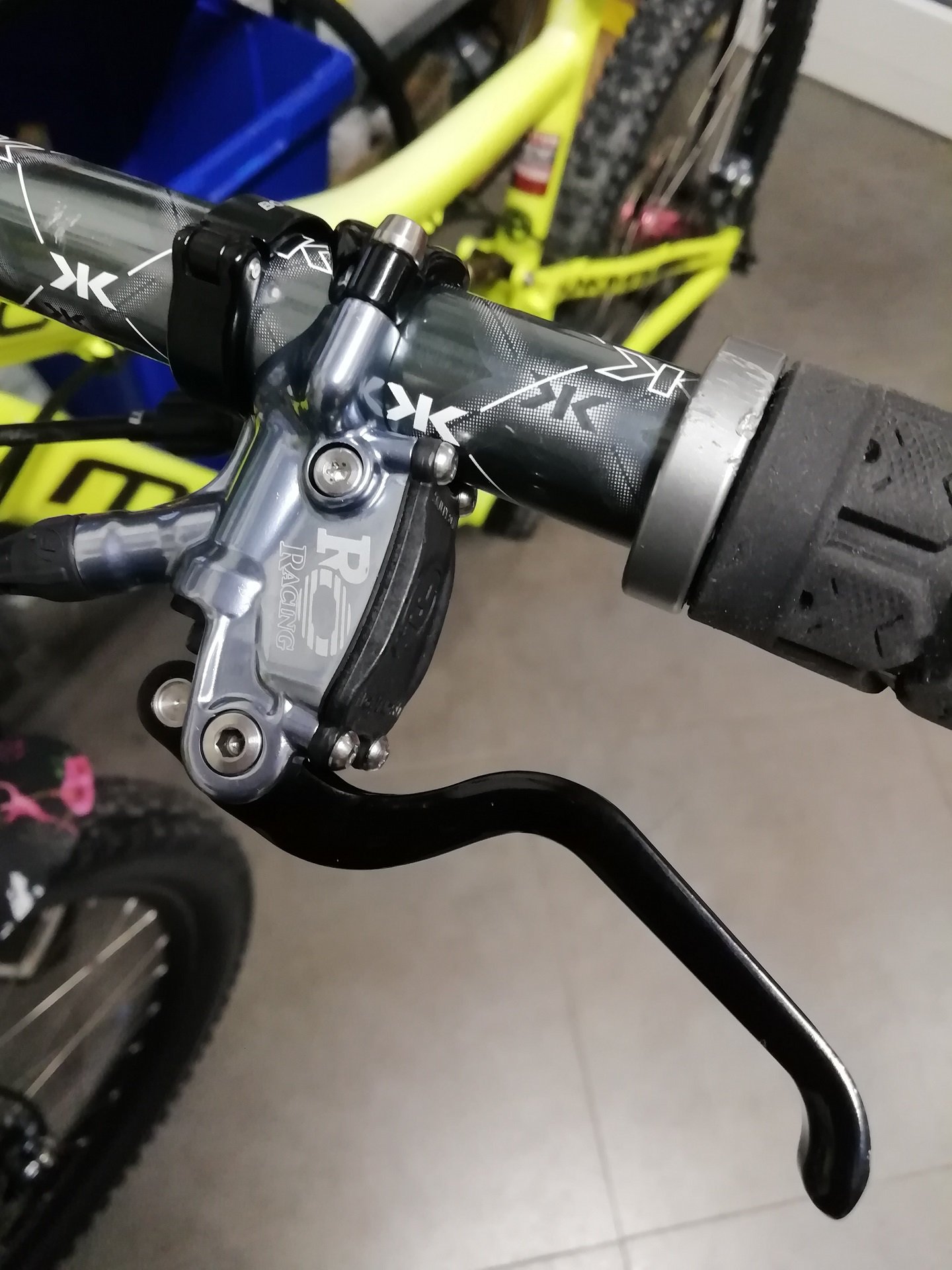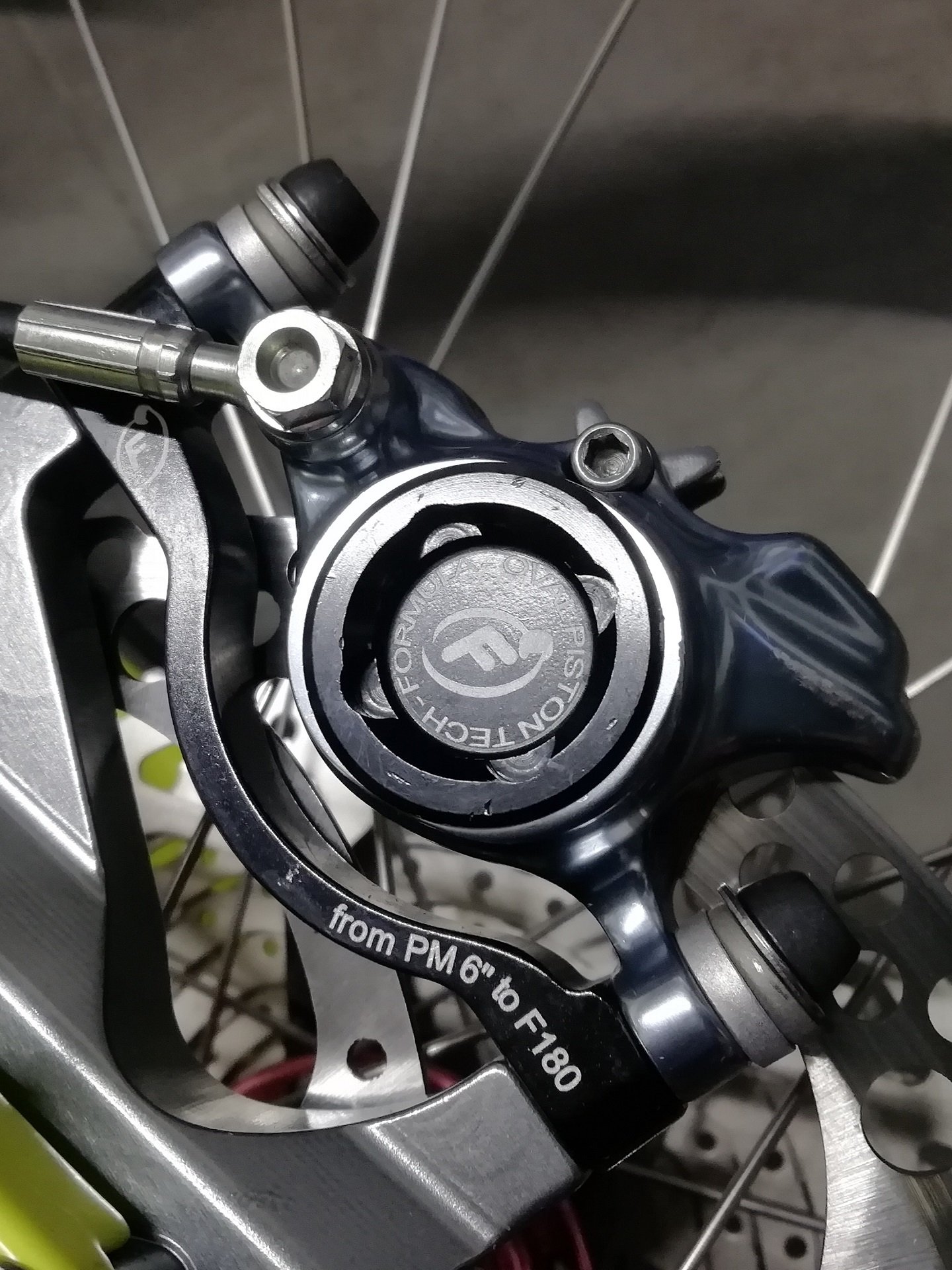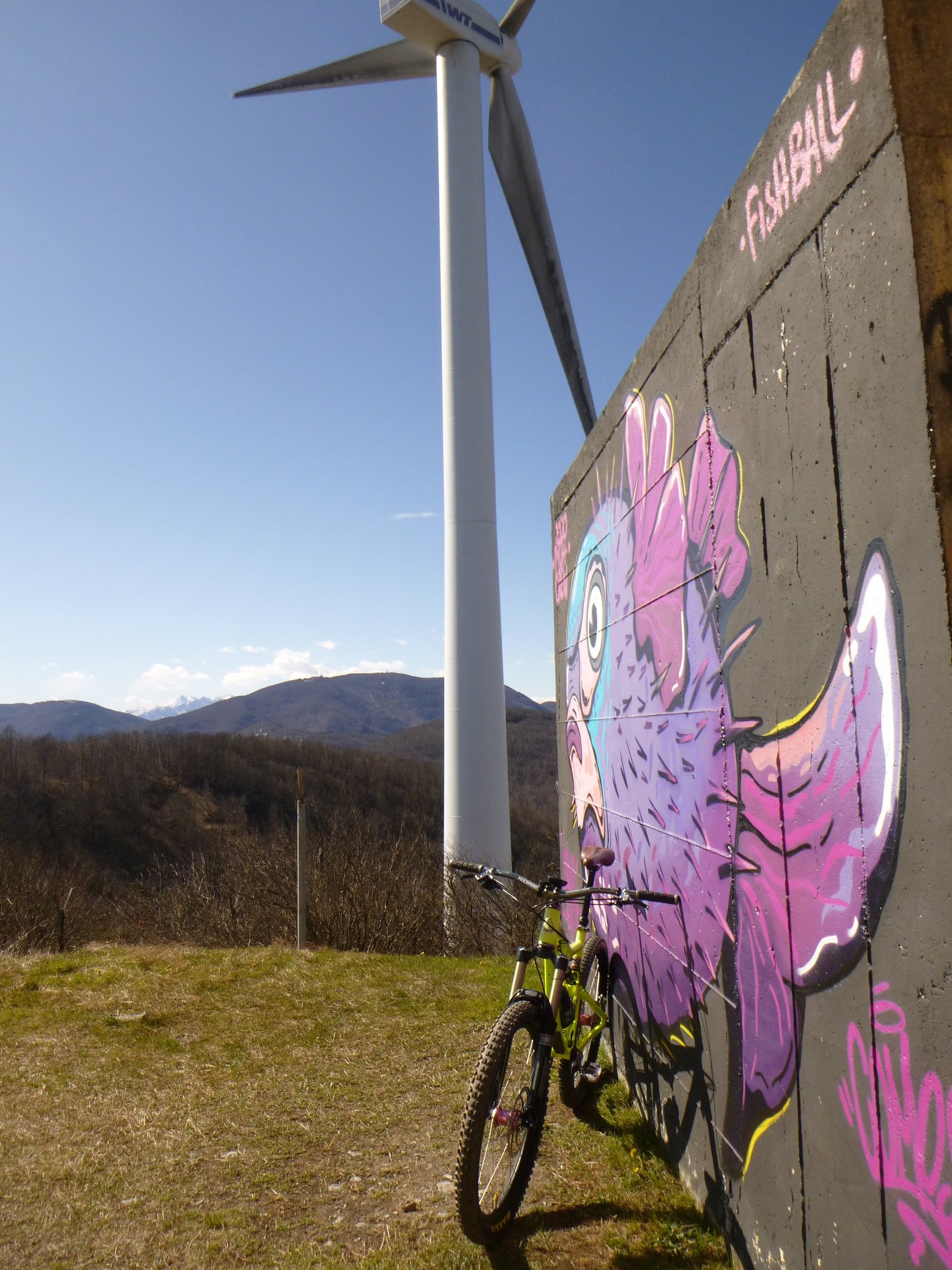 If there is a full resurrection in the MDE's future, Daniele and I both agree that fresh suspension is in order. The fork has been updated with SKF low friction seals and a Float air spring, over the TALAS-V system it has in some photos, but the damper performance is clearly falling short of more current expectations. Where we'd likely differ is that I'd choose a 27" fork for the option to mullet the bike with a proper big tire as well as availability and sell-ability and Daniel is clearly much more true to the 26" origins of the bike.
I don't know if there's an obvious choice here. For big mountain riding a rear shock with more oil volume makes sense and for long descents where it's hot, it's hard to argue with a coil setup. Given Daniele's preference for combining a sweet deal with a full service, I certainly see a de-roached Fox DHX 5.0 coil or Cane Creek Double Barrel Coil shock (or Double Barrel Air rebuilt as a coil) being the business back here. The DHX 5.0 uses a standard schraeder valve for the air backed IFP and seal kits are fairly readily available, so it's conceivable that, with his skillset, Daniele could service that himself.
Unfortunately, Formula and EXT haven't been making forks and shocks long enough that Daniele would be able to pick up a set for a song and it's probably a bit aggressive to purchase such premium systems new for a bike that was fabricated in 2012 but they would go well with the Italian theme. For a used fork, I'd be inclined towards an SR Suntour like my Durolux. It's not light but the chassis reliability is next level, which I think is key with used forks, and Daniele could easily perform the full services on the PCS damper and air system himself. Staying within a single brand for the fork and shock, I think there's also a strong argument - new or used - for the ubiquitous nature of a RockShox Super Deluxe and one of their 35mm forks.
A suspension upgrade would be worthshile but at this point continuing to service the fork and shock is an option as well. It's one of those hard choices where you almost (almost) hope that your older, unsupported, fork starts creaking to make replacement the only viable option. If Daniele decides to get the frame repaired, it will be interesting to see what route he chooses for his suspension.
I'd be more than happy with a 180mm dropper post, but for my legs on the MDE it would be necessary to go with a OneUp dropper to get there. For older bikes, with shorter reaches, it's extra nice to have ample drop and the increased bike-body separation it brings. Looking at the Brand-X post he's running, he could get at least another 2cm of drop from a OneUp but it would require drilling at least one hole in the frame. The current MDE Carve uses very clean bolt-on external brake routing and if the frame is going for a refit anyways adding the necessary bosses wouldn't break the bank.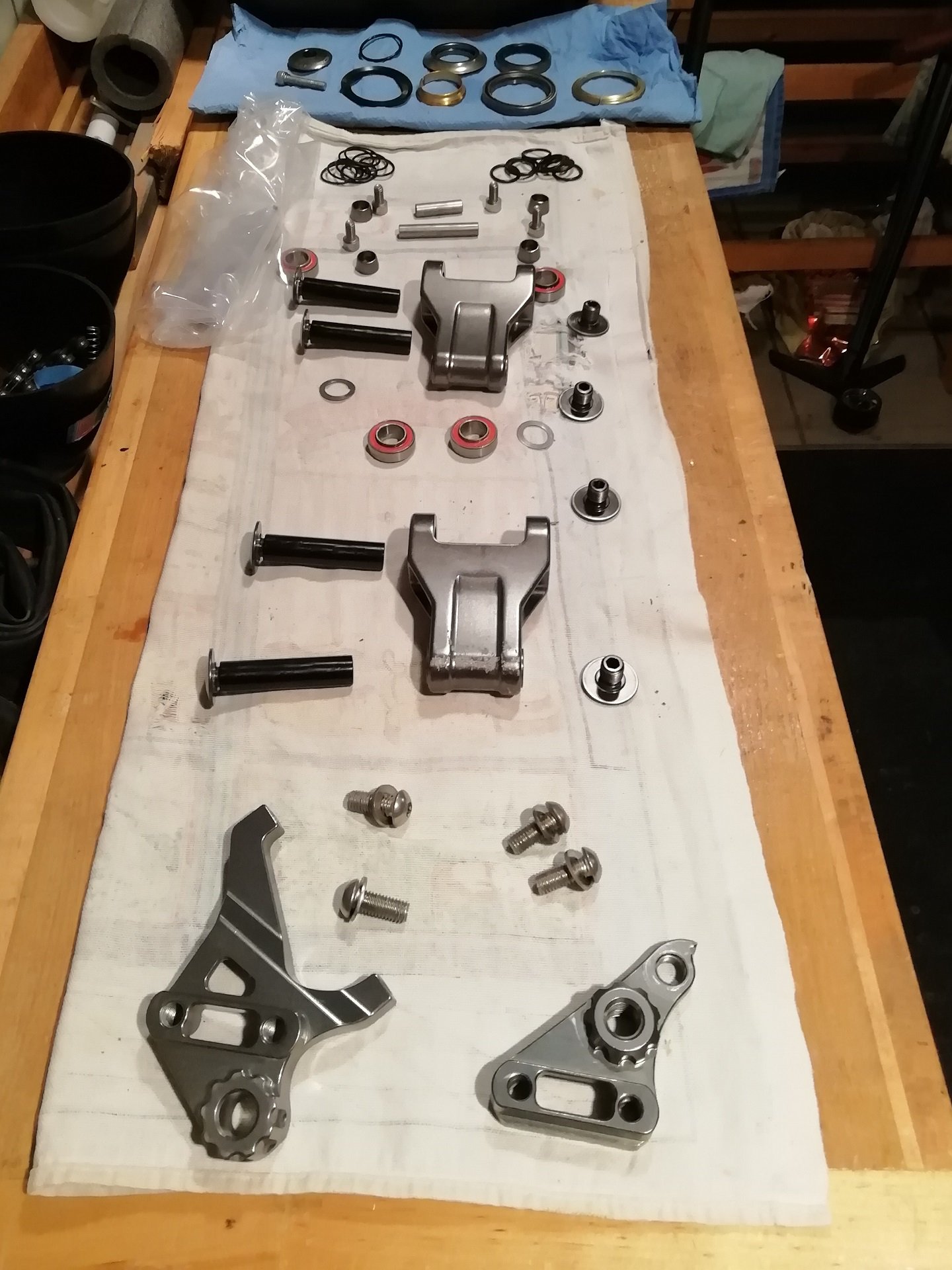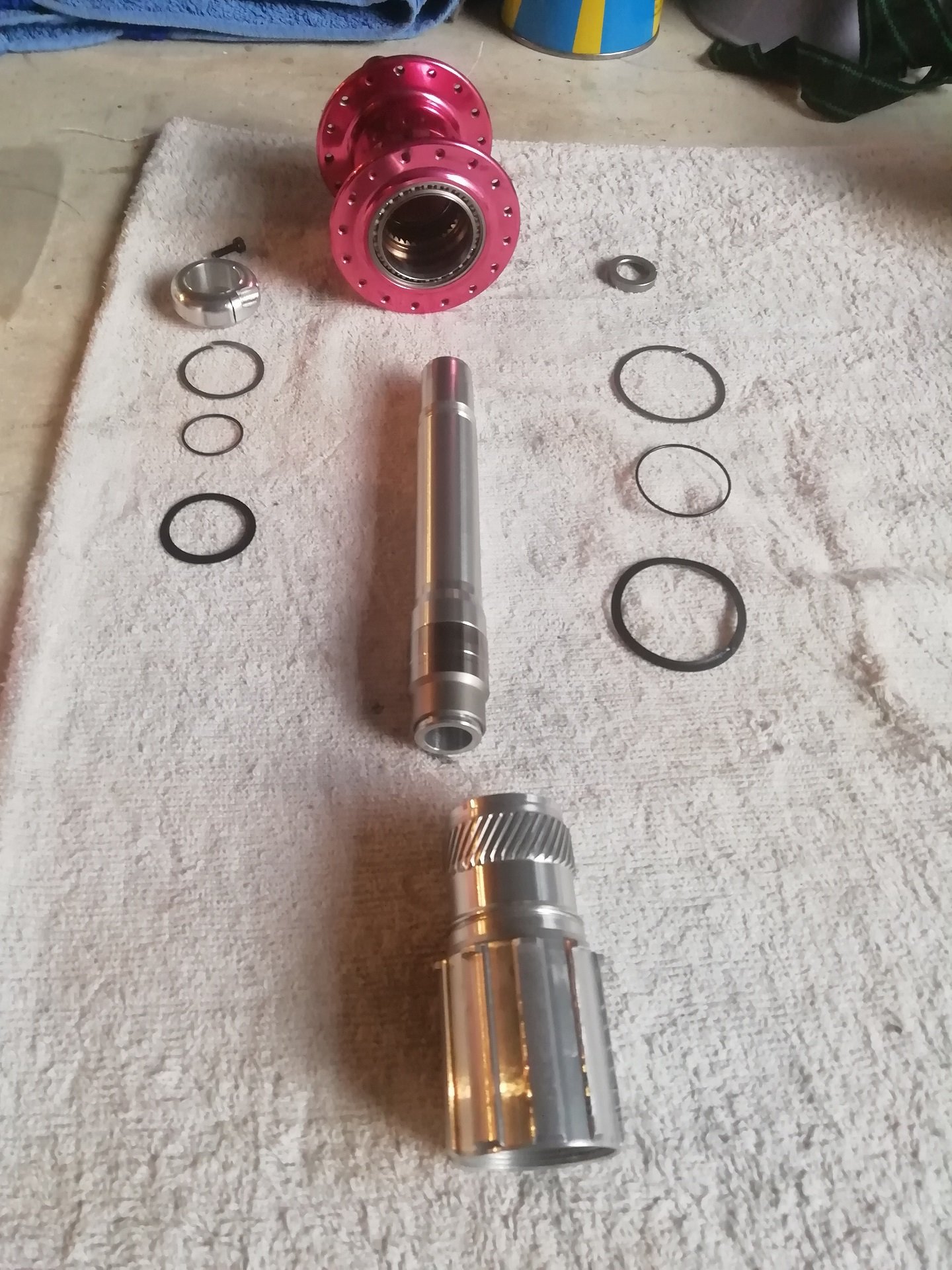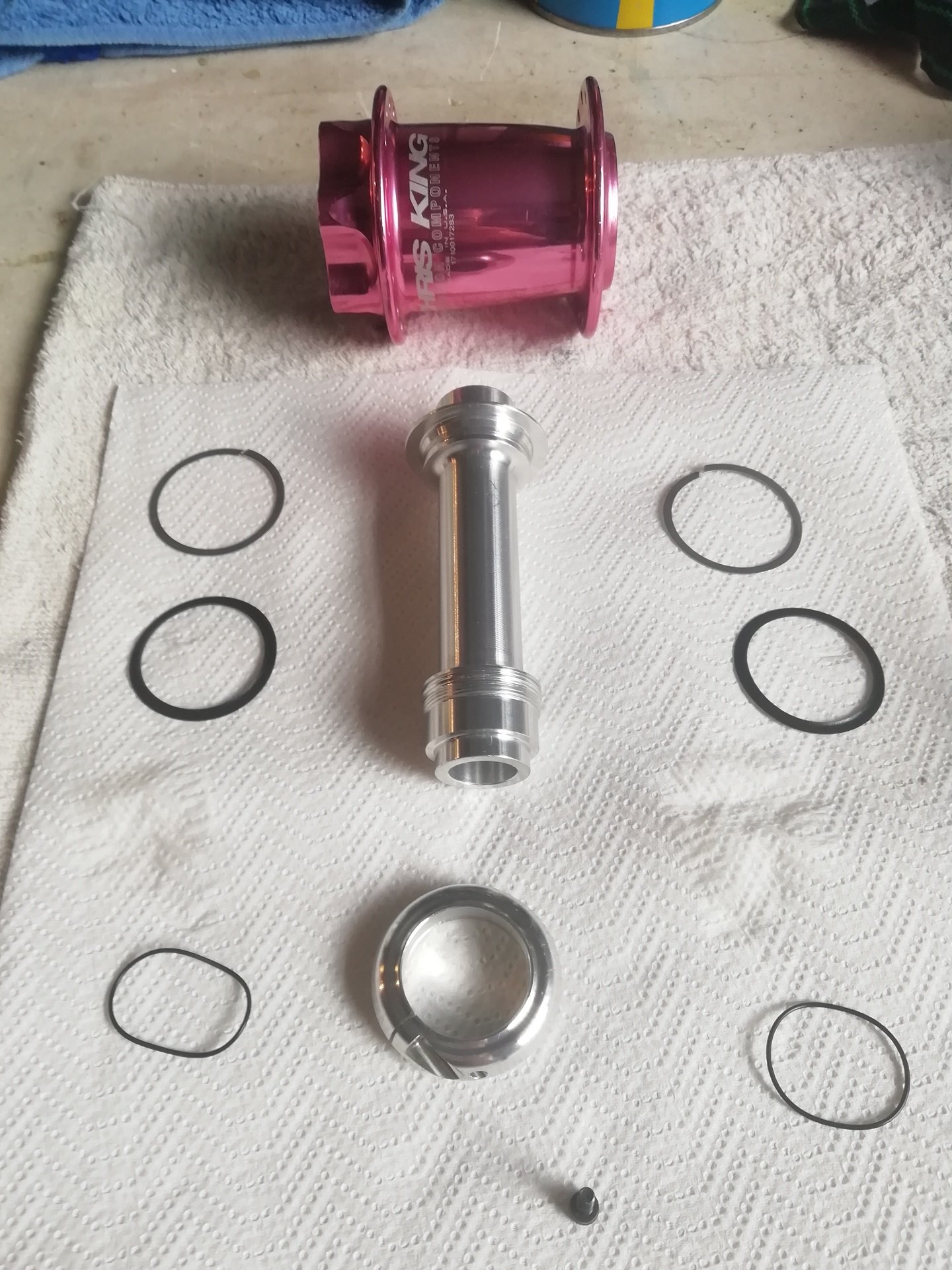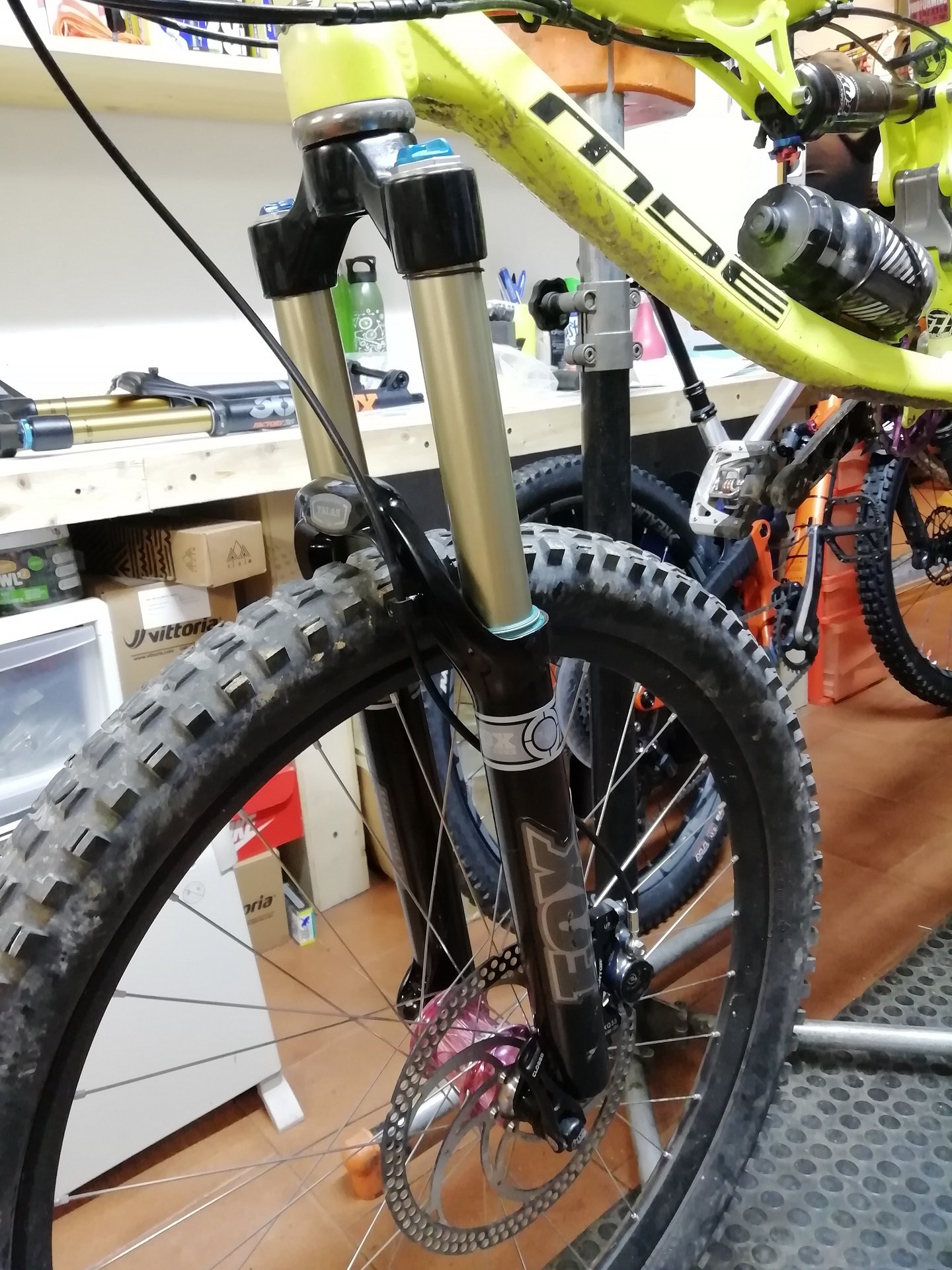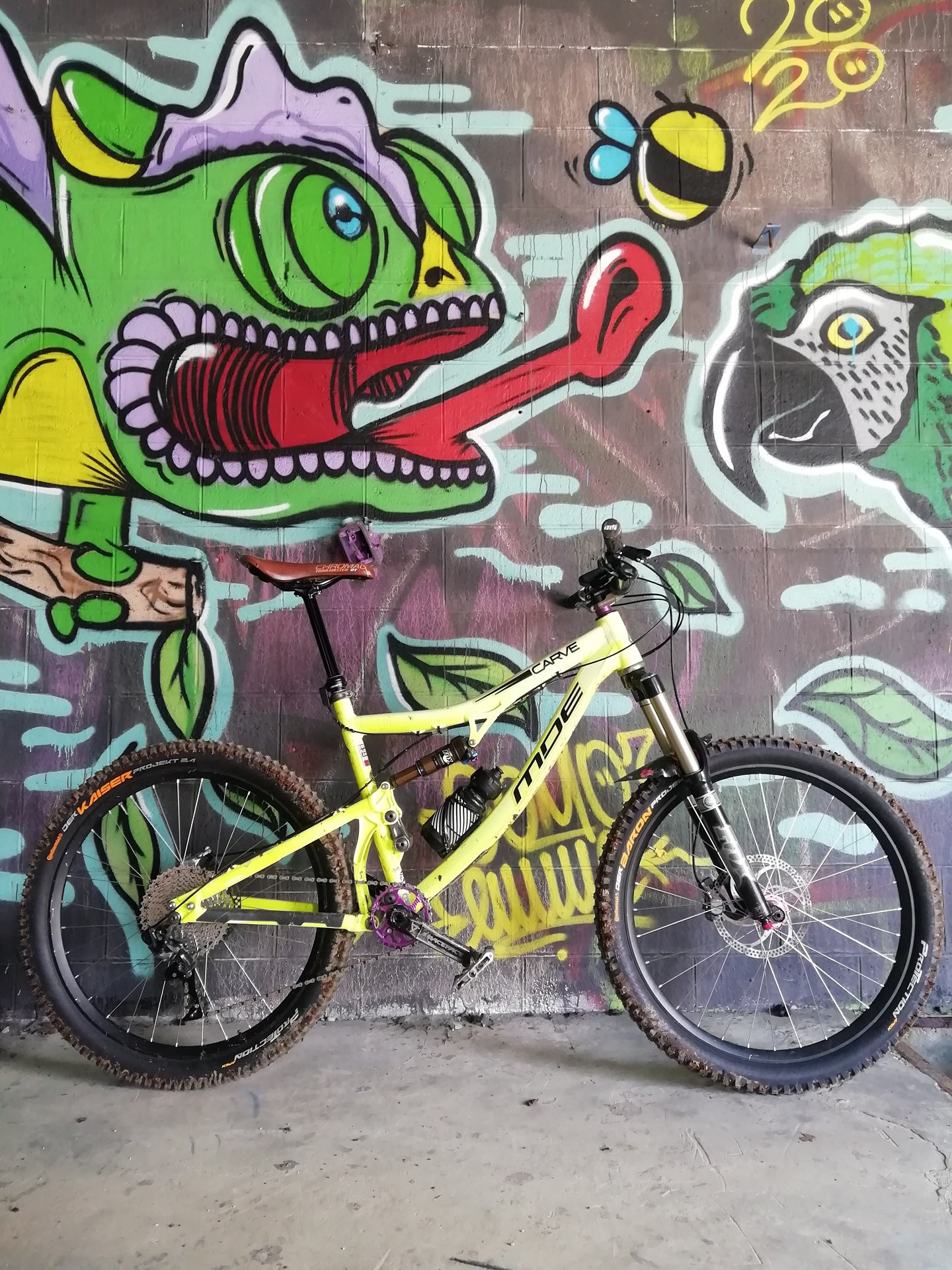 Got Angleset?
I put two stipulations on Min-Max submissions. First, they have to have a headtube that can accept a tapered steerer tube. This is because anything 1-1/8" specific that's not a hardtail or dual-crown compatible is on borrowed time. Second, no proprietary, un-supported, suspension products that can't be replaced with a current off-the-shelf damper. I think the DYAD pull-shock was awesome, but Fox & Cannondale have rendered it unsupported with no replacement options. On the other hand, some Specialized Brain shocks and all Trek DRCV shock equipped bikes can be upgraded with regular damper units so they would qualify even if the shock currently equipped is due for a second life as a paperweight.
A bike being angleset compatible is not a necessity, and it may be that in some cases it's not a worthwhile investment. But for most bikes I look at from nearly a decade ago it's one of the first changes I'd make. Daniele's Carve uses a ZS44/EC49 headtube configuration but by going from a zero-stack upper cup to an external upper cup it's possible to slack out the bike -2° using a Works Components EC44/EC49 headset. That's a 95-to-115 CAD purchase depending on where you are in the world (VAT v. no VAT). I don't think, in many cases, that there's a better and faster way to update a bike for a c-note.
Uniquely Italian
Formula brakes, the MDE frame, and Daniele all have something in common. They're all into riders using products for a long, long time. Daniele works as a bike mechanic, and he sums up his personal philosophy thusly: "Keep in mind that both for my personal bikes and for my customers I always give advice for getting used bikes/parts whenever it makes sense, which is almost all the time." I recognize that this changes from one locale to another and that the used market has been a bit ridiculous the last two years or so, but I still think it's a lovely turn of phrase and turning of the tables on the norm.
Daniele's also done about as well as you can in terms of purchasing used components with tons of life left - Chris King hubs, Race Face Turbine crank, SRAM X1 shifter/derailleur - and then filling that in with products like SunRace's 11-46t cassette that deliver a lot of performance and longevity for their price. There's no better example than the full rebuild, with all new guts, of the Formula R0 brakes, which would have cost as much as a budget set of brakes (parts & labour) but deliver significantly better stopping and feel for the same outlay of cash.
Will Daniele get the frame fixed, or will it join the injured reserve with a place of honour hanging on his wall? The suspense. Clearly he'd still be riding the Carve regularly if it wasn't nearing end of life. Money aside, he should fix it simply because his passion for his MDE cuts clearly through all our correspondence. Even his initial story of falling in love with another man's bicycle: "the bike was mine even before he decided to sell it." And I with the suspension upgrade he's considering, and a -2° angleset, he'd be getting much more joy out of riding it. I'd start with the repair and angleset even and then do the fork and then the shock further down the trail.
My big takeaway is just how neat MDE bikes is from the perspective of product support. They've gone from a brand I barely knew existed to one I can't stop talking about. I mean, it's neat that they've been making a go of making frames their way for over twenty years but even more than the fact they're made in Italy, their support of products deep into the future is really admirable. It would be really neat to see more companies taking on this fix-it-instead-of-replace-it philosophy. If MDE can support aluminum frames in this way, other manufacturer's should be able to as well.
---
If you have a Min-Max worthy machine and you're interested in sharing it be sure to fire me an e-mail.