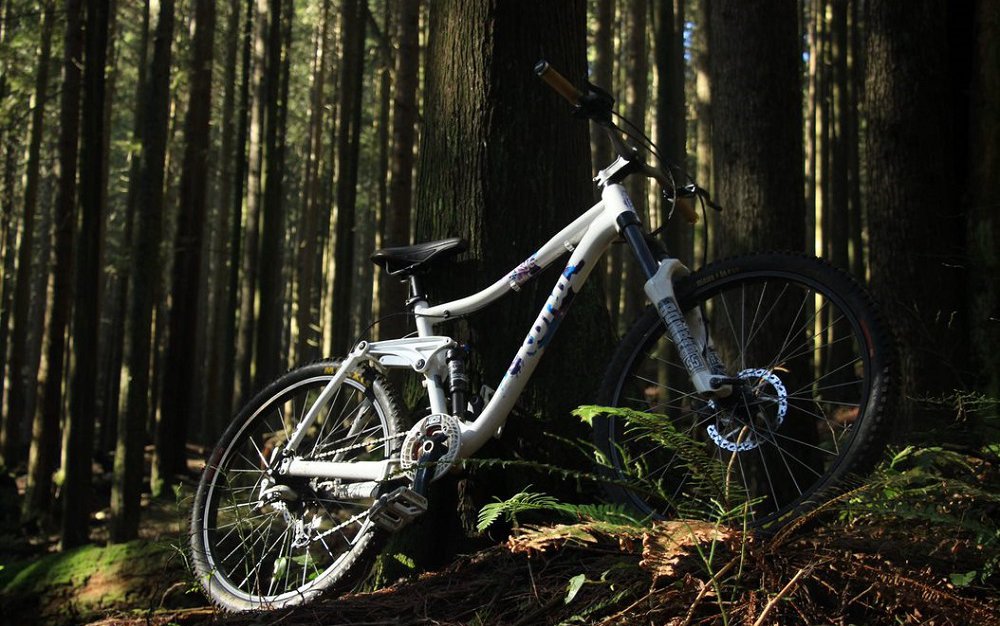 EDITORIAL | PART 3
Min-Max: Claire's 2009 Kona Stinky 6
Tapered In The Two Thousands
Without even discussing how the bikes ride, there are three categories of used mountain bike I'd consider from the first decade of this millennium, and it all comes down to pre-tapered headtube dimensions. The first is hardtails. That's an easy one. There are plenty of rigid fork options with 1-1/8" steerers. Even if you're not using the bike for commuting, the investment in an i40 rim and a 27+ front tire will get you on the trail faster, cheaper, and with a much smaller headache than chasing an old straight-steerer fork that's still serviceable and has a chassis that you know is not some missing teeth, or worse, waiting to happen.
The second is bikes that are dual-crown friendly. Replacing the fork on a dual-crown-friendly DH rocket or Freeride ferry in great shape, with a straight EC34/EC34 headtube, is no problem. A lot of the time bad bike geometry gets increasingly scary as travel goes up and many of the better big bikes of the decade had 1.5" (49/49) headtubes; the Specialized Demo 8 I, Intense M6, Turner DHR etc. Heck, the Trek Session 88 had a 44/56 tapered headtube in 2008. Most of the '00 DH bikes I'd be interested in riding share the same story but after a bit of brainstorming I'd take a lap on a Balfa BB7 or an early 2K Turner DHR.
The last category is full suspension trail bikes that had tapered, 1.5", or the very, very rare 44mm headtubes from that time that were deep enough to accept an external lower cup. Many of these bikes came with forks with straight 1-1/8" or 1.5" steerer tubes, but with the right upper or lower headset cup installed, a current tapered steerer fork is an easy addition. That's good news for Claire and her 2009 Stinky 6 because Marzocchi has changed ownership and factories a couple times since her 55 was made, which means getting the proper coil spring rate may be impossible, never mind getting the fork serviced if it needs anything more than seals.
This adaptability isn't only important if Claire wants to, or needs to, upgrade her suspension fork but also if she plans to sell the bike and upgrade in the future. Upgrade? A 2009 Kona Stinky? It comes down to how much you relative to what you could get from selling your current machine and piling the money together. But, there's also something to be said for the potential experience benefit upgrading a rideable machine over time. When I was getting into mountain biking that's how I assembled most of my machines; start with what you can afford and then upgrade parts as you can afford them. I knew riders who would sit out for months to stockpile funds, but that wasn't going to happen for me.
It was fun to look at this bike and weigh the upgrade options. This generation of Stinky sports a 66° head tube angle (HTA) with the stock 160mm fork and the top tube lengths are generous from the perspective of a seated pedaling position. With the 73.5° seat tube angle the pedaling position is more rearward than that showroom-fresh ride would be, but it's easy enough to bump the saddle full-forward on the rails and switch to a bit wider bar, or a slightly longer stem, to try and dial in the length.
I love this bike. In part I love it because it's being ridden, as it is, off-road, in the year 2022. In part I love it because it's still fully upgradeable with the potential to be strategically evolved for an improved on-trail experience without the upfront expense of buying new.
Stinky 6
Claire's is the first entry for min-max that's more than a decade old. It's geometry chart sits pretty damn close to the 2013 Process DL, the walking-beam sleeper bike that marked the cut off point between the Kona bikes of old and the more radical looking 2014-2017 Process V2 lineup. Between decent geometry and the 1.5" (49/49) headtube, the Stinky 6 has a lot going for it, especially as a bike for a new rider.
As multi-pivot bikes go, it's far from the most intimidating to overhaul with the bearings in the frame and swingarm all being easy to access for replacement without any specific tools; punch them out, press them in. If I didn't own a press then this is a bike that can easily be introduced to fresh bearings using a vice. Just cover the jaws if they aren't smooth. The linkage arms house those bearings, rather than the frame, so they're straightforward. The main pivot requires the bike to be lifted into the vice so that's going to probably be a two person job. Is it presumptuous to assume that everyone has access to a bench-mounted vice? Probably. Although I will say if you can find a way to have one in your space - even if you have to mount it every time you use it - I'd almost guarantee it will pay for itself many times over even with none-bike projects. I'd give up a lot of tools I have in my apartment before my vice.
If you don't have the time, patience, or tools to source bearings and press them in but you're comfortable doing most of the rest of a bike teardown, don't be afraid to send your local shop a message to see what they'd charge for labour to swap the bearings if you just bring in the front triangle and the two linkage arms. Some shops are very DIY friendly and others aren't and. Identifying which is which is a wise first step if you're planning to do as much of your own work as possible. You want to bring me a SRAM master cylinder for a rebuild but you're going to do the bleed yourself? Great. You need a headset pressed in, or a bottom bracket pulled out of an otherwise bare frame? Great. A lot of service can be done without owning any of the expensive tools that best practices dictate be used on your inanimate best friend. I have a buddy who builds his own bikes and then rolls them by his preferred local mechanic for a basic go-over.
One of the first things I'd consider is replacing the non-drive side dropout to ditch the floating brake arm. I don't need the extra weight and I've come across so many of these floating brake arms with a combination of noise and play that no one wants for their rear brake. Kona used this specific version of the DOPE LITE dropout system on a huge range of bikes from 2007-2010 and the specific non-drive dropout needed to ditch the floater on the Stinky 6 was used on a whole range of very common bikes like Dawgs, Coilers, and Coilairs, among others.
The system is QR on the drive side and 12mm on the non-drive side, because bikes, and Kona still stocks the dropouts for both sides. Or, it's easy enough to switch the lighter QR-specific non-drive dropout at the same time. Either way it's a 40 USD investment to ditch the floating brake arm and that replaces the seat stay bushing at the same time, which is something I'd be checking for play on a rig from 2009 anyways. I'm sure there's an inventory manager somewhere who disagrees with me but I think Kona deserves a lot of credit for supporting their past machines by both having inventory in small parts, and providing an in-depth and easily searchable small parts database that's available to riders. What's worse; that recycling a frame because you can't buy a dropout? When the dropout exists in inventory and you still can't track it down.
Suspension
The shock on Claire's 6 has already been updated to a Fox Float CTD. This is a good little shock, as long if the routine 100hr/yearly service interval has been respected, and the Kona uses one of the most common rear shock sizes, 7.875 x 2.25, if it should become necessary to source a replacement. These Kona frames worked well with coil shocks and that usually means that any basic air shock in good working order will do that job as well. If someone wanted a brand new shock with a warranty I wouldn't hesitate to recommend the SR Suntour Edge (350 CAD | 280 USD) for this application. There can be good deals and also often absolute money pits when buying used suspension and the Edge runs about the same as buying a basic air shock used and having it rebuilt straight away, which is usually the best strategy.
With the CTD shock sorting out the back end, the real question is the aforementioned Marzocchi fork. It looks from photos like Claire could use a lighter spring rate if such an animal existed and even then there's the question of what the fork looks like inside since small parts support is nonexistent unless you are a true scrounger-level home wrench, and this was a basic fork to begin with. It's a beefy coil fork with an air pre-loader and plenty of oil though, so I don't doubt it's accomplishing the job of tying the handlebars to the front wheel and brake or taking the edge off bumps and providing some traction.
Swapping out the fork would provide a boost to Claire's riding experience. It would improve performance and allow for better tuning so the front and rear suspension will work together, and could drop significant weight off the front of the bike. The Stinky 6 could take any tapered steerer fork by adding an EC49 lower headset cup and there's a strong argument, whether new or lightly used, that the way to go here is a 27" Boost-110mm fork. The 27" is only slightly taller than a 26" fork and opens up the opportunity to move it to another bike in the future, and Boost-110mm because there's a hub-hack to avoid replacing the front wheel.
Claire's front wheel is a pre-Boost 20x110mm unit so moving it straight across to a Boost 15x110mm requires two steps. The first is to acquire a rotor spacer and long bolts to shift the rotor out 5mm to the Boost position and, second, adapters to reduce the 20mm (internal diameter) hub axle to 15mm. You can find the rotor spacer kit in a shop or on most online stores and prices range from about 15-25 CAD. You can also make your own spacers by cutting up dead brake rotors and stacking them. The bolts are just M5 steel bolts with a button head. It's nice to use a T25 head but 4mm heads work fine too. For the axle reducers, I've never seen anything available from a bike shop, but there are various animals on the internet and I've seen some proper hobby-jobs that worked just fine as well. The nice folks at Risse Racing sell their version for 20 USD and I've bought machined fork axles from them before so I can certainly recommend them as a vendor. The only question with the Risse reducers is that they may require an additional 5mm of spacers per side to fit a Boost fork, in which case they'd be best combined with a proper Boostinator kit including rotor spacer, bolts, and axle spacers. For investment sake, I'm going to call that 45 USD worth of parts versus replacing the front wheel but it's certainly possible to do it for much less money.
As to a fork, lately I've talked to some folks who've done really well buying more-basic take-off 27" forks like the RockShox Gold 35 and SR Suntour Aion that are essentially brand new for two-to-three bills Canadian. There can be a whole can of worms buying used and these are good but basic air forks, but with some patience, asking knowledgeable friends, and the element of time there are still deals to be had. Buying new, I don't know that you can beat the current Revelation RC for a 160mm 27" fork when it comes to performance and chassis. Some folks may argue in favour of the Marzocchi Z2 150mm 27" here. I myself would be tempted by a SR Suntour Auron PCS.
I can feel the blowback through my computer; am I actually suggesting putting a 500-600 USD fork onto the front of a 2009 Kona Stinky 6? Why not? First, there's no reason that it can't be moved to another bike in the future or resold for at least 1/2 of the purchase price in a couple years. Some of the purchase price would come back when selling the Stinky, and in the meantime I think it would make a huge difference to the on-trail experience. A new aluminum full suspension bike with a fork like a Z2 or Gold 35 is going to run some 3000 USD / 3700 CAD and up. But since Claire has a totally working bike now, I think with a bit of patience and diligence she could come across a take-off fork this season as folks who can't get the trim of bike they want choose to buy a lower level model and upgrade on the spot.
Brakes & Drivetrain
The first thing I noticed in the pictures that Jared sent over - thank you Jared! - is the Hayes Stroker brakes. The Stroker brakes aren't amazing, even compared to the Shimano M575 brakes that Kona went with on the 2010 Stinky 6, but if these don't have too much play between the lever and the master cylinder body and the pads clamp the rotors, then ride what you own right? I've seen enough old hydraulic brakes suddenly stop working and I've pushed fluid through many old brakes where chunks of rubber came out as well. I asked a few, generally reliable, wrench friends if they'd bleed a pair of ten year Stroker brakes that came through and I think they all assumed I was trying to refer someone to them because I only had one response, which was essentially "I'd try to bleed them if bleed port isn't corroded and the pistons aren't seized, but I haven't seen that for a long time."
I think I would ride the Stroker brakes until they definitely needed a bleed and then replace them. This is one time that living near the North Shore is in a riders financial favour as so many riders have upgraded their SRAM Guide brakes to something more powerful that you could flag a 50km race just by hanging Guides from trees on the route. You could go into the parking lot at any trailhead and ask every dude over 175lbs if they have an extra set of Guide brakes in a box at home and 50% of them are going to say either "yes" or "I already gave those away." I've scored two pairs for my daughter's bikes (she is also named Claire) in exchange for beers. They both needed master cylinder rebuilds and bleeds but the combined cost of beer and service was still significantly lower than the equivalent brakes.
And I know we test-writers like to whinge and whine about the Guide's being underpowered but the fact is they're nicely made, wonderfully well supported, excellent feeling brakes that would be perfect to replace these Strokers on a tight budget, with a quality product that can be fully rebuilt. Buying new brakes, it's hard to beat the Shimano M396 or Magura's MT Sport brakes on the performance v. price graph.
The drivetrain is a Shimano 9-speed non-clutched setup that's already been converted to 1x. Claire's pedaling a 11-36t cassette with a 30t narrow-wide ring mounted on a 4-bolt 104/64 FSA Moto crankset. The narrow-wide ring should keep the chain from falling off but without a clutch she'll need to soft pedal out of corners to be sure that drivetrain is in gear before laying down the power. I'd forgotten that skill until I rode Rocky Mountain's 2020 Growler 20 down Ned's Atomic Rock Bin* and frankly, I adapted quickly and it didn't ruin my ride at all. It was a bit loud mind you ,when you're used to clutched drivetrains and single speeds.
*a local point and shoot trail in need of maintenance - Ed.
If the shifter or derailleur dies, Shimano still supports 9-speed so replacing either part is an option. Personally I'd be tempted to stick with 9-speed and pick up a MicroShift clutch derailleur and corresponding shifter. At the same time Claire could get into a 9-speed 11-40t or even 11-46t SunRace cassette. With a decent 9-speed chain the whole package will be under 200 USD | 250 CAD and even less if she trades the SunRace cassette for a cheaper MicroShift 11-42t unit. This upgrade could also happen in a piecemeal fashion since there's no reason the MicroShift derailleur and trigger couldn't shift the existing chain and cassette as well if there's no need for lower gear ratios at the moment.
Twenty Six For Strife
One concern that keeps coming up is getting good 26" rubber. What's in stock? What's going to come back into stock? What's the best option out there? While I put some effort into figuring out how to swap Claire's wheel to a new-to-her 27" Boost-110mm fork, there's a temptation to throw my hands up and mullet the Stinky 6. There is a number of great 27" tire options for the front and then a tried-and-true-and-available 26x2.3" Specialized Butcher or 26x2.3" Maxxis DHRII tires for the rear. Either of those tires would work fine up front with a dual 26" setup but if it was me I'd like to up my tire volume, especially running a more basic suspension fork.
This would actually be a beautiful place for an i40 rim and a 26+ tire. Sadly, Maxxis has killed their 26+ program and the 26x2.8" Minions that were out in the world have all but evaporated. Surly still supports the standard with their 26x3" Dirt Wizard but I haven't had chance to ride the DW+ tires yet. I'm hoping once I can pedal again that I can get some hours on a 29+ version of the Wizard. Barring that, unicycling on a front end with 27-Boost fork, 27" wheel, and a 27x2.6" tire is an investment I'd personally consider min-maxing the right bike from 2009.
Game Changer
Kona's Stinky frames do have one niggle, which is their use of a now dead 30.0mm seat post size. I have seen a number of frames, mostly Cove Bikes, that were once 30.0 and have now been reamed out the extra 0.9mm to fit any number of current dropper posts. Dremel a port in the seat tube for a stealth dropper cable to exit and then welcome to modern mountain biking. My friend had it done on his classic Cove Hustler and then never looked back until his 1-1/8" Lyrik died and he couldn't source an acceptable fork replacement. This is an undertaking that would be one thing for a bike-nerd with access to tools and time but is maybe a step too far in terms of adding a dropper post here? Maybe.
PNW makes their excellent Rainier 3 dropper post in a 27.2 diameter with a 125mm drop so that would be an option that would only require the, relatively easy, job of adding an stealth exit port in the seat tube. Cane Creek makes a nice deep shim that will take the 30.0 seat tube diameter down to 27.2 for the dropper. PNW also makes their 110mm drop Pine dropper post in an externally-routed format for those that are opposed to drilling holes in their frame. The other fantastic thing about PNW's dropper posts is that a patient rider can probably pick something up from their refurbished lineup which include a 1-year warranty. At the time I'm writing this there is a 125mm 27.2 Rainer 3 refurbished available for 120 USD and a 110mm 27.2 Pine refurbished available for 120 USD.
As components go, dropper posts have consistently moved up my list of luxuries that I can go without but would really rather prefer to have. I'd choose a dropper post over multiple gearing options every day of the week!
Sweet, Sweet, Stinky
It's a good thing I live in a small space and have other projects going on because the more of these older bikes I look at, the more desperate I am to build up a decade-plus old machine selected with current information. Like a sized-up Stinky, press in a Works Components ZS49/EC49 -2° angleset in the correct length for my head tube, a 26+ or even 27+ wheel up front with a 150mm or 160mm fork. My buddy has an old Fox DHX 5.0 coil shock in a drawer that would fit and it's so overdue for a rebuild I could probably get it for a case of beer and the price of a service. I'd need to run a 60mm or even 70mm stem and some folks will say that's crazy but I'm positive I could make it work. Better yet, I could pick up the slightly fresher but still traditional Kona-looking 2013 Process I mentioned earlier, run a 50-60mm stem with the 450mm Reach, and not find myself reaming out seat tubes.
To date this series has mainly evoked two responses. Depending on your perspective it's either a neat look at ways to keep older bikes fresh and make mountain biking significantly more affordable or it ignores the value of more recent changes, like much longer Reach numbers and steeper seat tube angles. I understand that sizing-up on an older bike isn't always an option, especially for folks that have nothing to size-up into or folks with relatively short inseams who would have to sacrifice the length of dropper post to get the Reach they desire with a <50mm stem. I'm not saying there's anything wrong with spending for a new bike for that reason, any other reason, or for no reason at all other than you want something new.
But, let's consider, relative to not riding at all, how much fun this Stinky 6 would be on most trails, most places, right now and then consider how much money a new bike would cost relative to making some strategic upgrades into this one. And yes, hardtails are an option, but let's consider that learning to ride on the Shore, or somewhere similarly challenging, is very challenging. There's a reason many new riders choose to learn on a full suspension bike here.