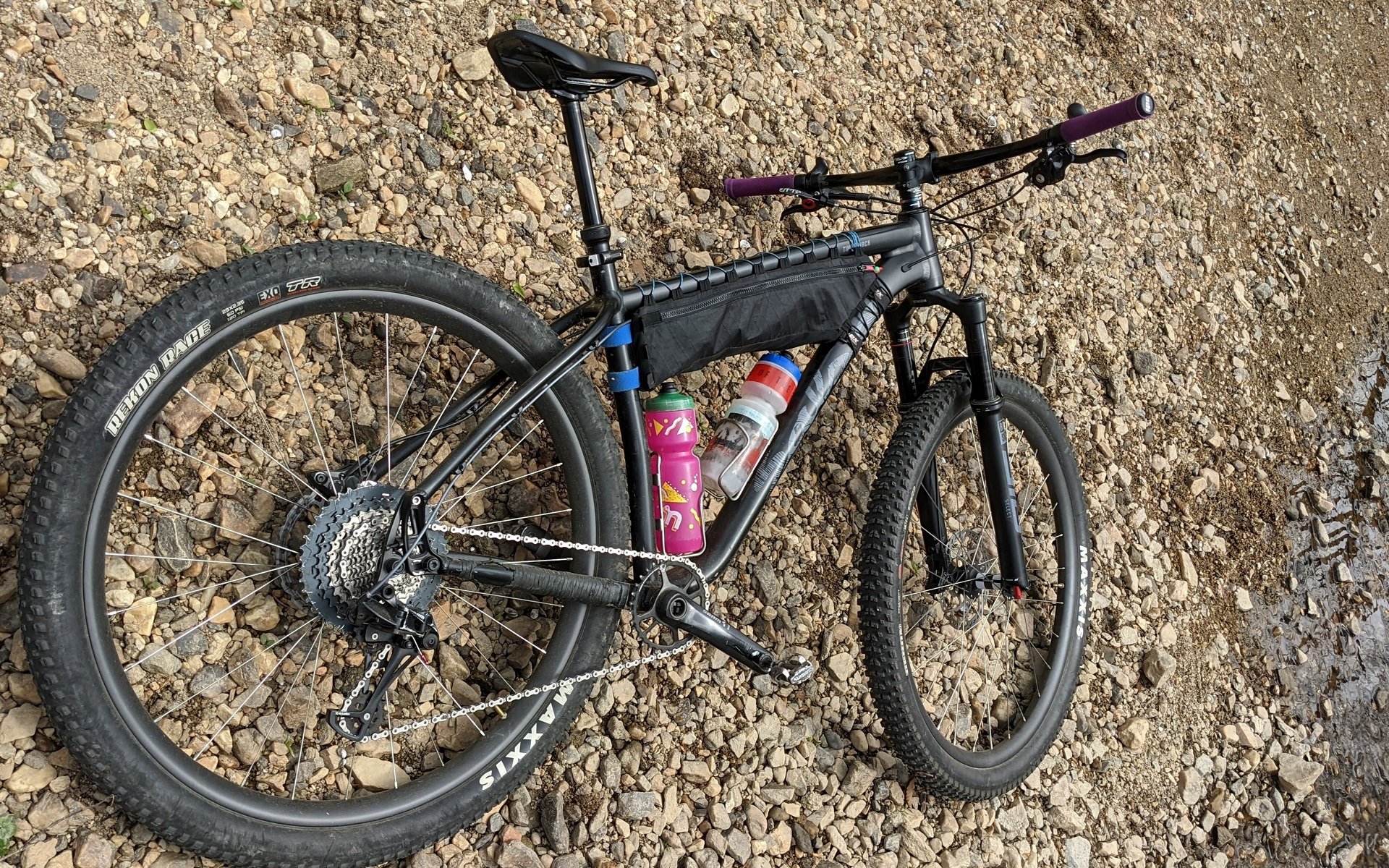 MIN MAX
Min-Max: Bean's 2017 Salsa Timberjack
Le Tour Du Monde
Thus far, Min-Max Your Ride is about as much of a 'world series' as the Super Bowl or MLB championship. Other than our friendly statistical anomaly, Daniele in Italy, all the submissions have been from North America. And even then, all of the readers rigs have been bikes that would be quite at home putting the North Shore in NSMB.com. Still, I think it's fair to say I have Jules Verne level hopes for this collection, Le Tour Du Monde En Quatre-Vingts Bicyclette.
Spinning a globe, the bike we're looking at today doesn't live a great-great distance from us here in British Columbia. Well, at least Canada. We share a long border with our neighbours to the south. Thematically however, it's very different from even the most Shore-XC, Upduro, or, if you're Cooper Quinn, 'Shore Country' rigs that we showcase here, while at the same time it's clearly more capable than a gravel bike and really just a tire swap away from being at home pretty much anywhere that mountain bikes are ridden, including in our locale.
If you're reading NSMB far from the Shore and your rig is min-maxed for local trails, or your own unique application, I hope this sweet Salsa serves as ample notice that we're lovers of all kinds of mountain bicycles. We have readers from everywhere mountain bikes are ridden, and we're curious about what makes your min-maxed-machine magnificent to you.
Bean lives in Washington, DC, not to be confused with Washington, State, and this is their 2017 Salsa Timberjack. It shares a lot of features with the most-current iteration, including a nice set of swinging 'Alternator' dropouts that adjust the chainstays from 420mm to 437mm. These open a world of build options from 27+, to 29", to 29+ rubber or some mulleted combination. The Timberjack has long been an affordable aluminum do-it-all mountain bike with the current frames selling for 700 USD. There are some notable, and probably unsurprising, geometry changes that have happened over the years. Where Bean's rig sports a 68° head tube angle (HTA) and a 73.5° seat tube angle (STA), the latest models run a 66° HTA and a 75° STA and then bump the Reach up around 15mm per size to achieve a similar effective top tube length.
Compare for yourself:
I'm jumping right in with some links because the Timberjack is a great starting platform - frame only or complete - for an all around hardtail. At least it is for anyone who can get over the fact that the frame isn't steel. You'll have to adopt the maxim that "Steel Is Real but Aluminum Is Equal Fun." This particular aluminum frame is perfect for a budget min-maxed build and also worthy of future upgrades like Bean's high-end wheelset. A -2° angleset and a slight over-forking push a current frame into aggressive hardtail territory and the same treatment on this setup would bring the bike into the present, minus a slacker seat angle that some of us (me at least) prefer anyway. The sweet swinging dropouts let you experiment with rear-center and wheelbase measurements and also make for a cheap and easy foray into the world of single-speeding.

I was so excited to try a lightweight (1450g) wheelset, and I couldn't even f*cking tell the difference. They're awesome wheels and I'm glad I built them, but it was a bit of a let-down."
Used, this frame set them back 150 USD. That was clearly a bargain but what's most interesting is the psychology of considering the value of the frame related to upgrades. Eventually this bike is destined to sport a -2° angleset, currently it has a Cane Creek 10 headset with 40-level bearings. The ZTTO dropper remote is serviceable and, as with everything else on the bike as it currently sits, it is not destined to be upgraded until it wears out or breaks.
Bean calls this bike "a boring sleeper" but clearly there is plenty of interesting stuff to notice in the photos they submitted so that requires a bit of context. The whole package we're looking at cost about 1500 USD - more on the individual component details below - and, like Daniele's MDE, it's important to note that this build requires a minimum level of mechanical skill and experience for the costs to be considered accurate if we're discussing value compared to a fresh ride rolling off the shop floor.
This rig is fit for purpose and thoughtfully built out right now. "It's an XC bike. My intentions for this bike are to have fun on trails, but also open the door to all-day mixed terrain rides involving enough pavement to justify compromising the trail capabilities (slightly)." That said, swapping out the rubber is about all you'd need to do to adapt it for riding most places, including most Black-rated trails here on Vancouver's North Shore. Bean is on 29x2.3" Specialized tires (Ground Control & Fast Trak tires, both the GRID casing, both T7 rubber) for the solid value v. performance compared to other brands. Locally, I'd advocate strongly for at least 29x2.6" rubber (there's frame and fork clearance) and something more aggressive, like Specialized's Butcher. The Nextie carbon rims come in a wide range of internal widths, from 19mm to 40mm internal so the rim and tire combo would be the main location-specific choice here.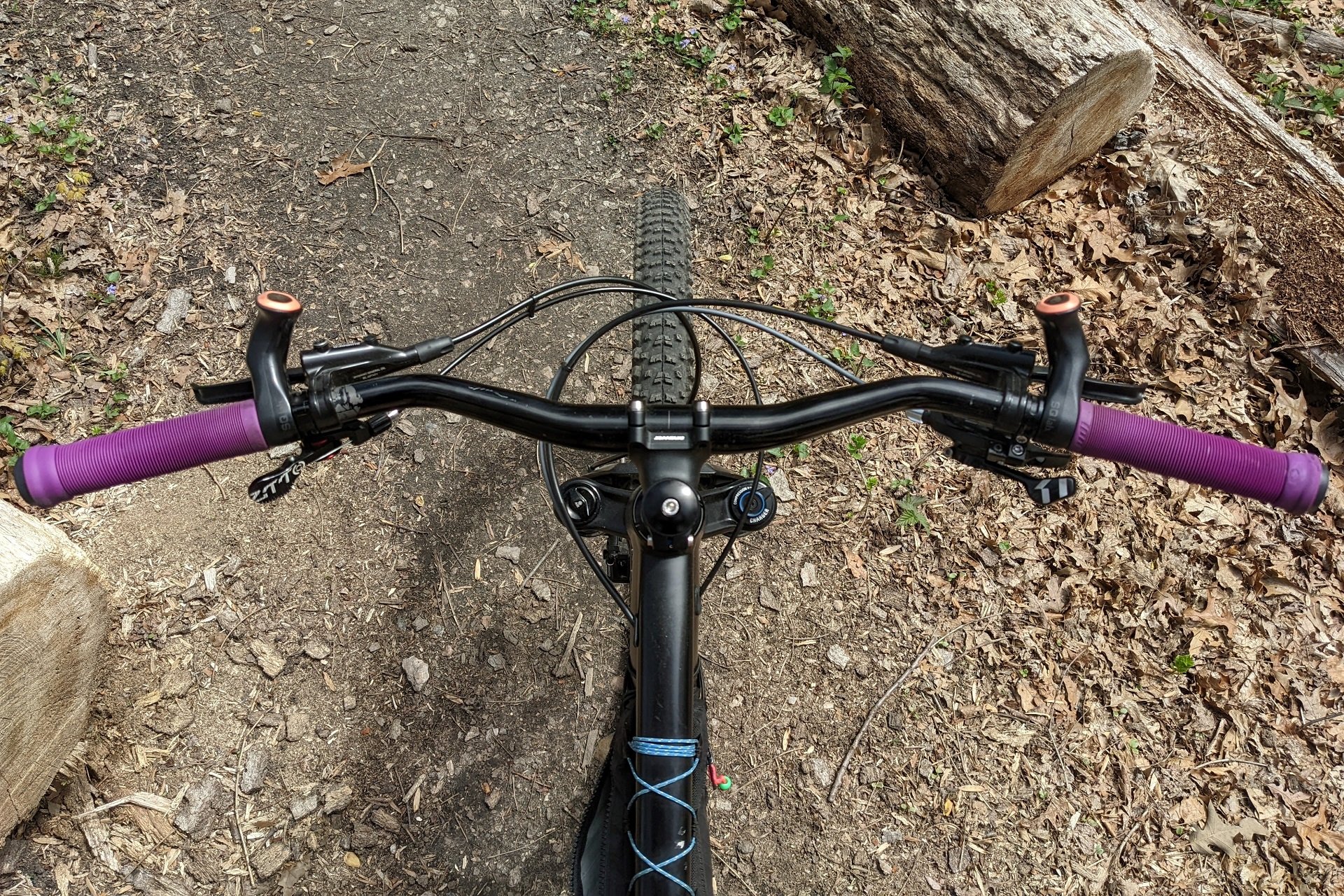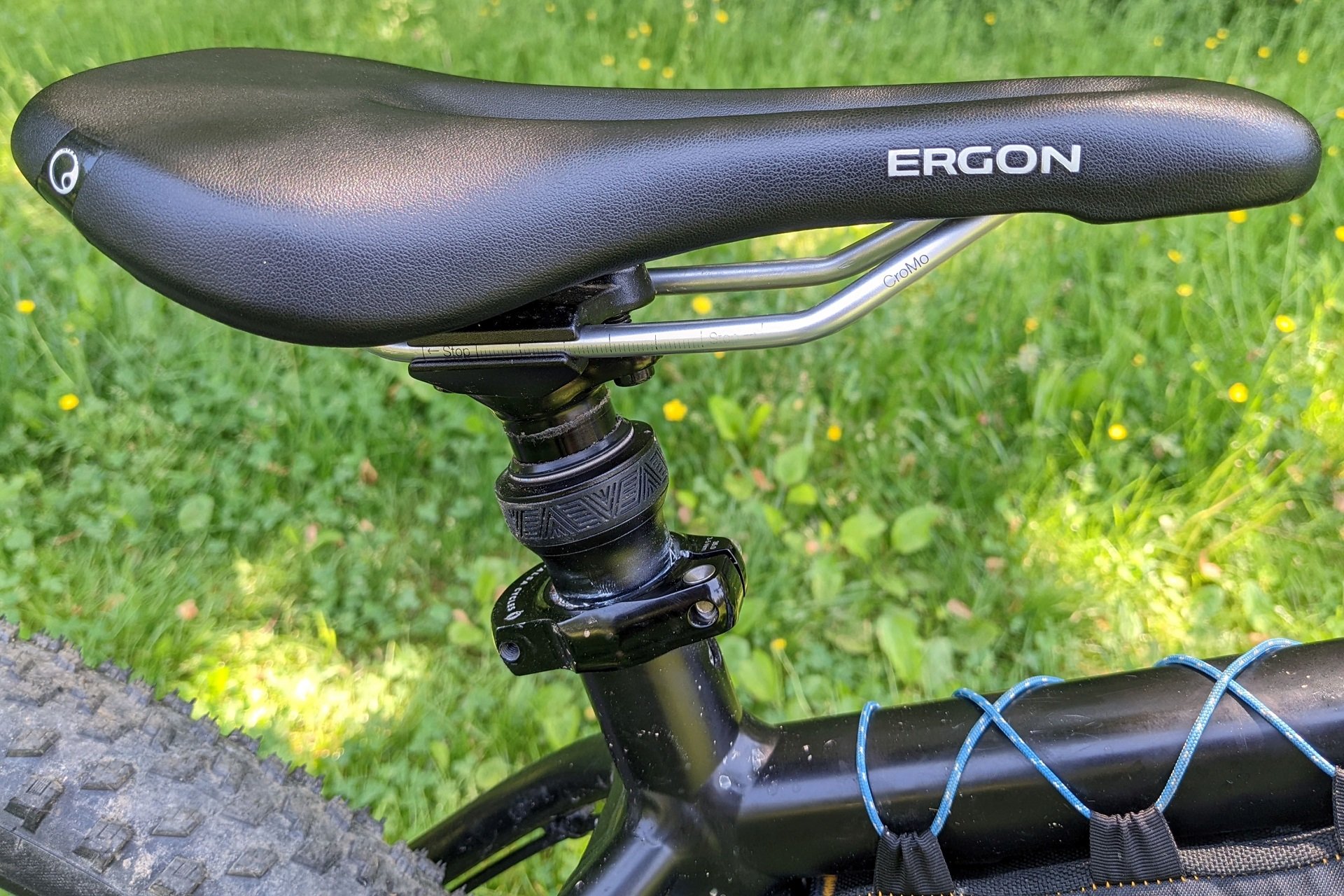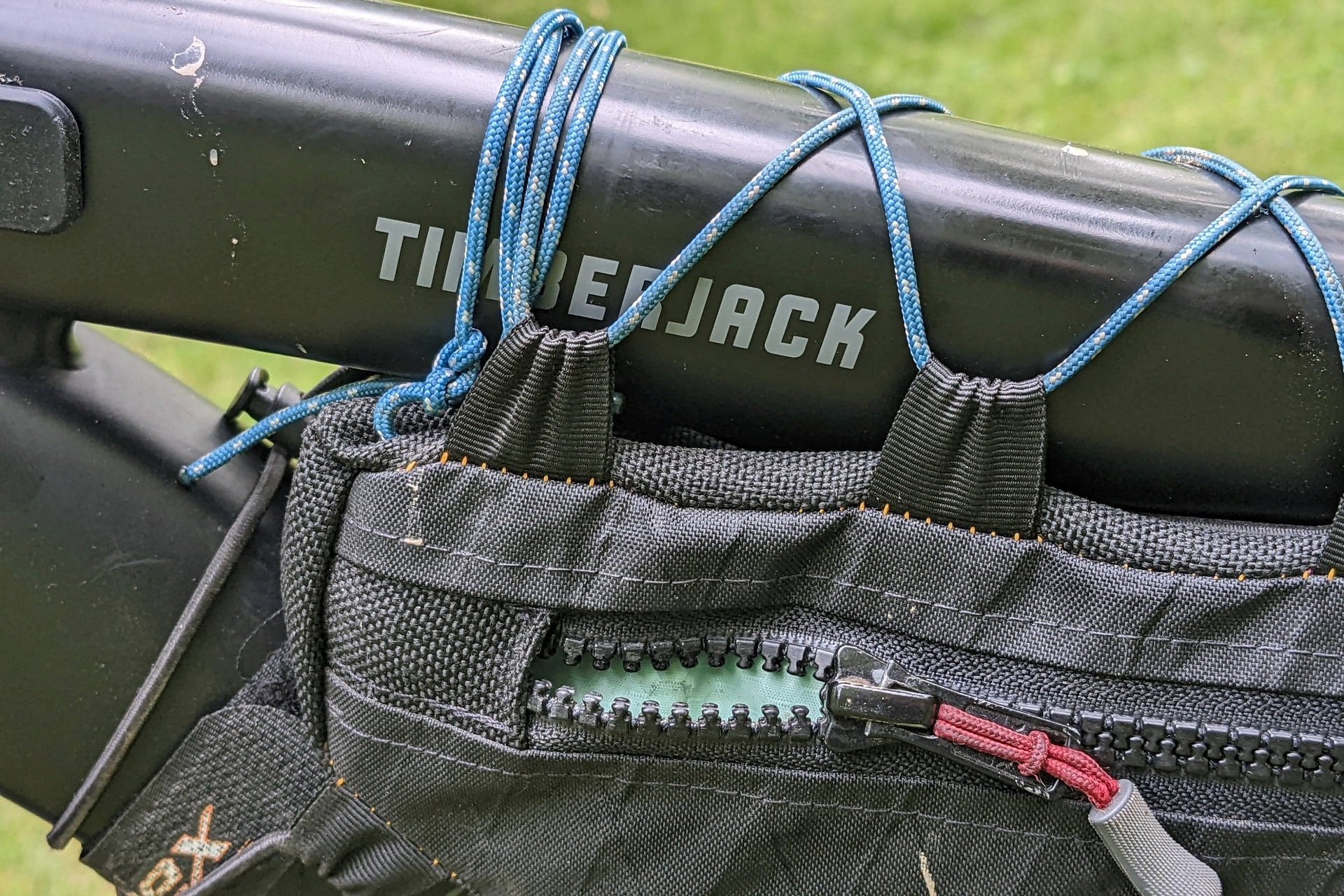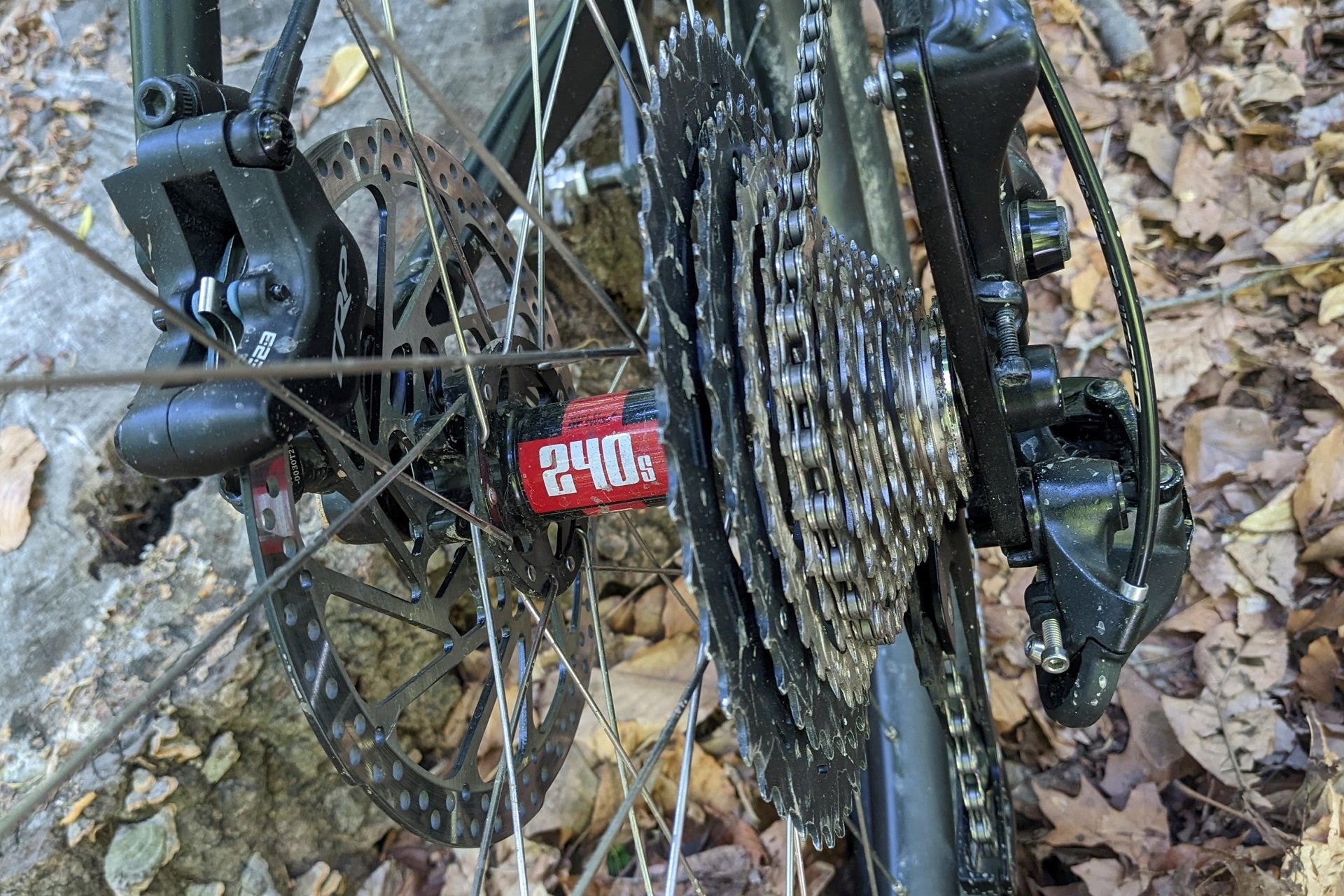 Every Piece Has A Story
Let's start with the RockShox SID on the front of the Salsa. Bean says, "my plan was to buy a brand new fork at the very beginning of its service lifespan (2020), because I was burned on that with a previous end-of-life fork. With the benefit of hindsight, I would've bought a Pike... but it's been totally fine. Not aiming for top quality performance here, but it's completely forgettable while riding and that's the goal." With RockShox announcing their new MY23 forks on May 26th, with essentially zero carry over between generations - chassis, damper, or air spring - it looks like the benefit of foresight may have been advantageous.
The Pike would have had two significant advantages over the SID on a bike where every 10th of a gram isn't being measured. The chassis has a significant increase in tire clearance and more tire clearance always means more opportunity to experiment. The Charger 2/2.1 bladder dampers house significantly more oil than the mosquito's bladder worth of fluid in the Race Day unit. The complete Race Day damper weighs the same as three Honey Stingers Waffles - without the packaging.
The wheels are also very light, combining carbon rims with a DT Swiss 350 front hub, DT Swiss 240 rear hub, and 28x superlight butted 2.0-1.6-2.0 spokes. With brass nipples for sensibility. They sound fancy, but the used 350 hub was a "cheap" eBay find and the used 240 hub came "even cheaper" from a friend. Again, this involves mechanical skills and experience to service hubs and build wheels versus factoring in the labour cost of paying a professional mechanic to do the work. As someone who isn't generally too focused on weight - with my Plus tires and CushCore inserts on i40 aluminum rims - I did have to laugh at Bean's wheel review: "I was so excited to try a lightweight (1450g) wheelset, and I couldn't even f*cking tell the difference. They're awesome wheels and I'm glad I built them, but it was a bit of a let-down."

I've found, for myself, over owning many, many bicycles, that I ride them less when they're precious and more when they're made from easily replaceable parts." -Bean
The TRP Slate EVO brakes are an interesting choice. They can use Shimano's finless 4-piston pads, owners are encouraged to use Shimano brake fluid, and they're easy to bleed. Power is good enough for most folks riding most places. Based on my experiences, turning wrenches part time in Canada, I didn't include TRP on my list of fully rebuildable brake systems. That said, I've heard from multiple readers and wrenches that stateside, TRP brakes have excellent small parts support, so as with many things your experience will likely vary geographically.
Where I prefer a slacker STA on my hardtails, it's clear from the way Bean has their saddle slid forward to the max, there's at least an argument that a forward-offset dropper post, like a 9point8, would be interesting to try, I'm still at a loss as to why every dropper post manufacturer doesn't have a reversible +/-25mm offset head. Heck, I know more than a few riders who'd be interested in +/-35mm because they're either trying to find their slacker-STA happy spot on a modern frame or trying to chase a 'current' fit on an older one. OneUp could combine their patented drop railed clamp with some offset options and sell it as an aftermarket upgrade with a semi-universal fit (hint, hint).
I ride flat pedals, and I'm already transporting some extra rotor bolts on my bike, but thanks to Bean I've been inspired to shove a wad of zip-ties into all my bottom bracket spindles. I was going to also provide some kudos for the idea of putting spare cleat bolts into the unused water bottle mounts on the bottom of the downtube but on second thought, every person I've ever helped with a missing cleat bolt failed to have their own tool to install one. Check your cleats once in a while team. Also, once you find your happy place for adjustment, it doesn't hurt to bust out the Red Loctite for that mounting hardware.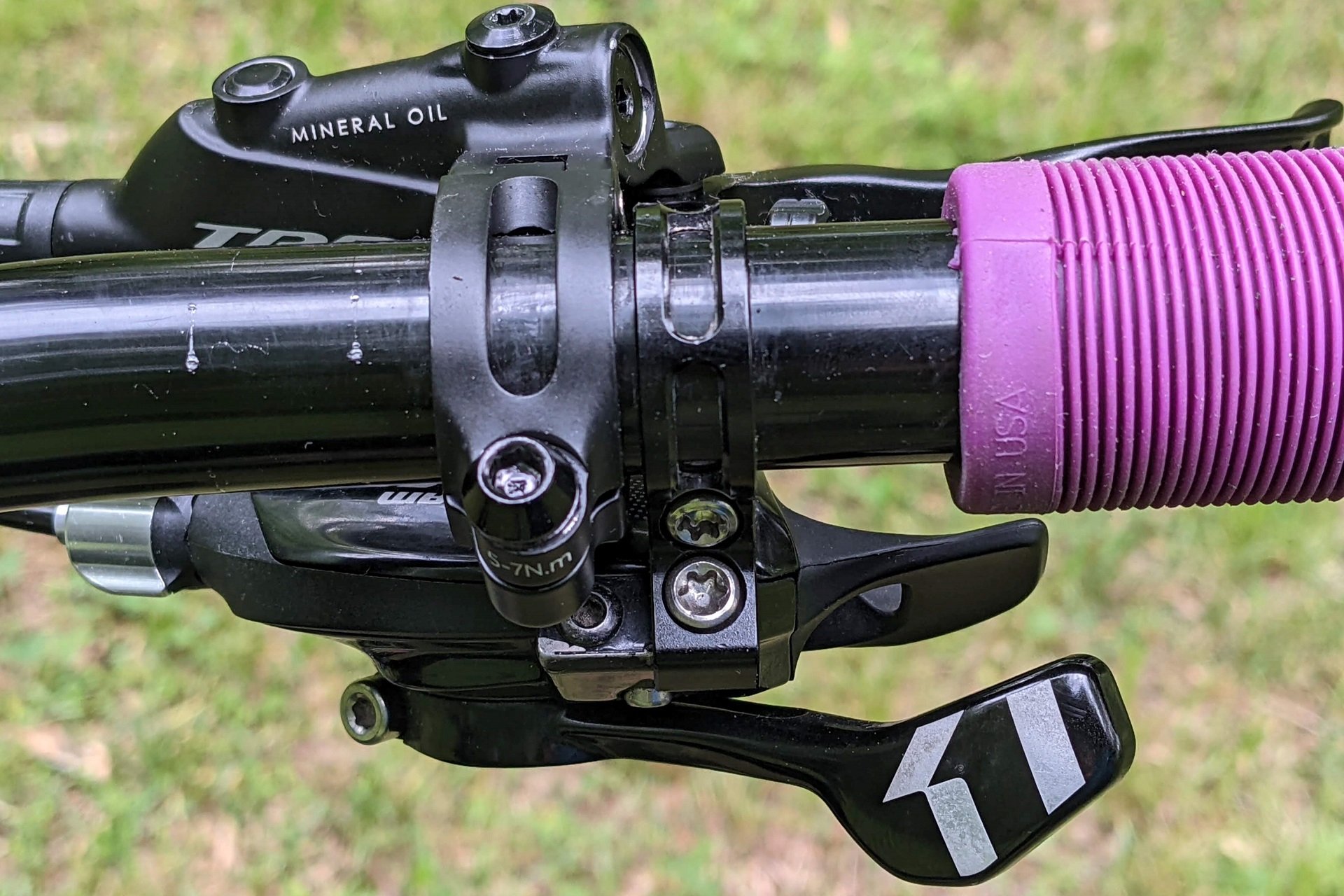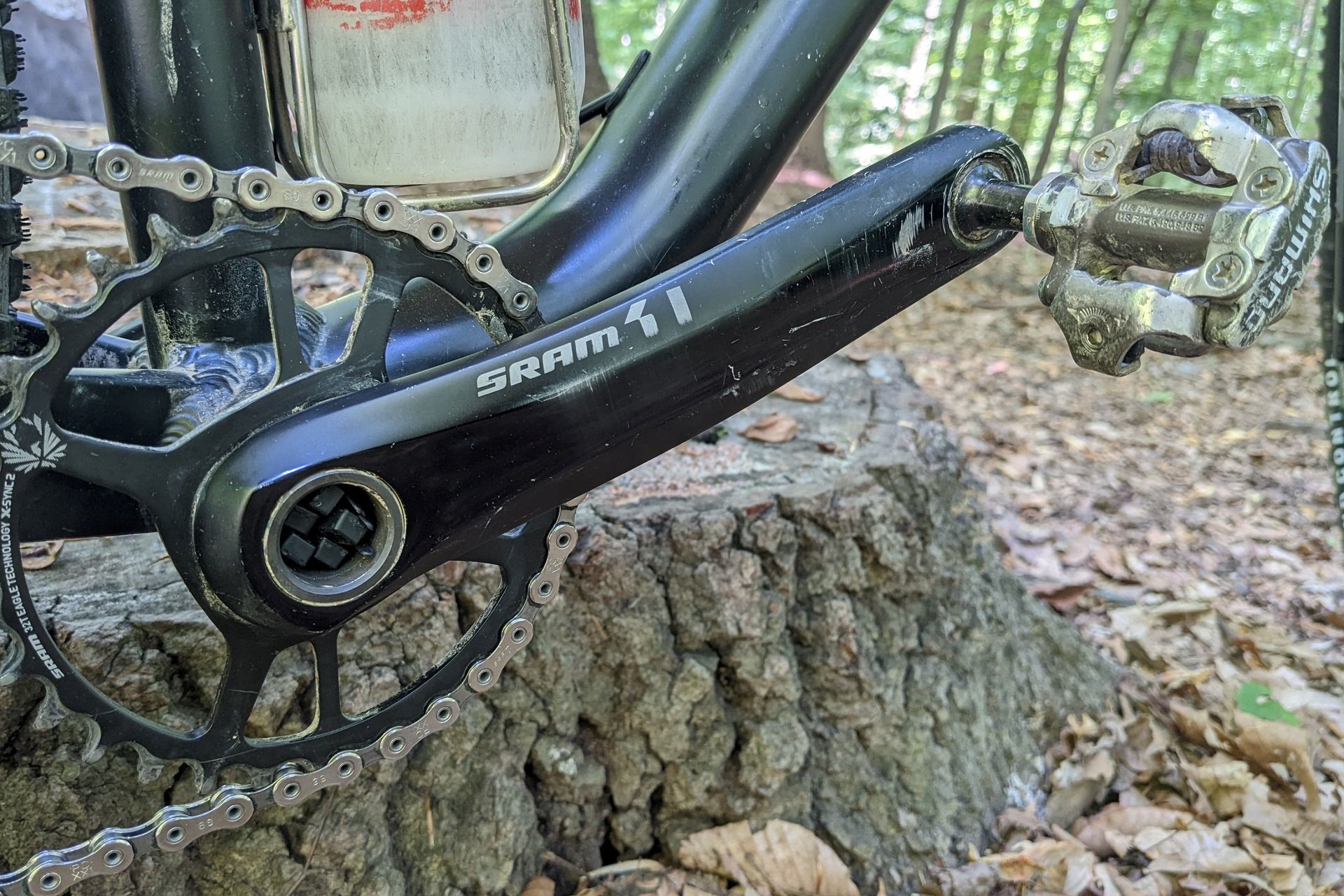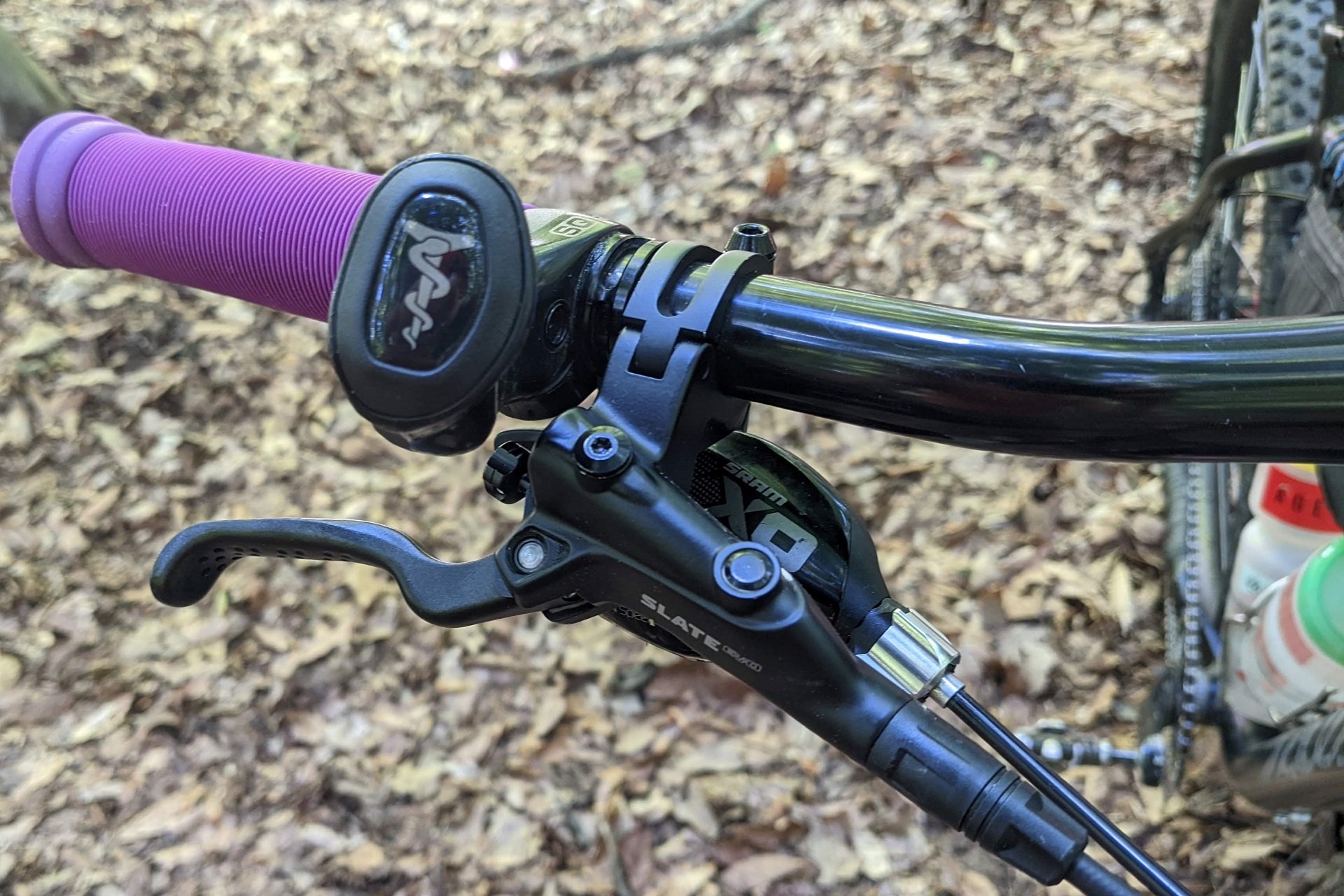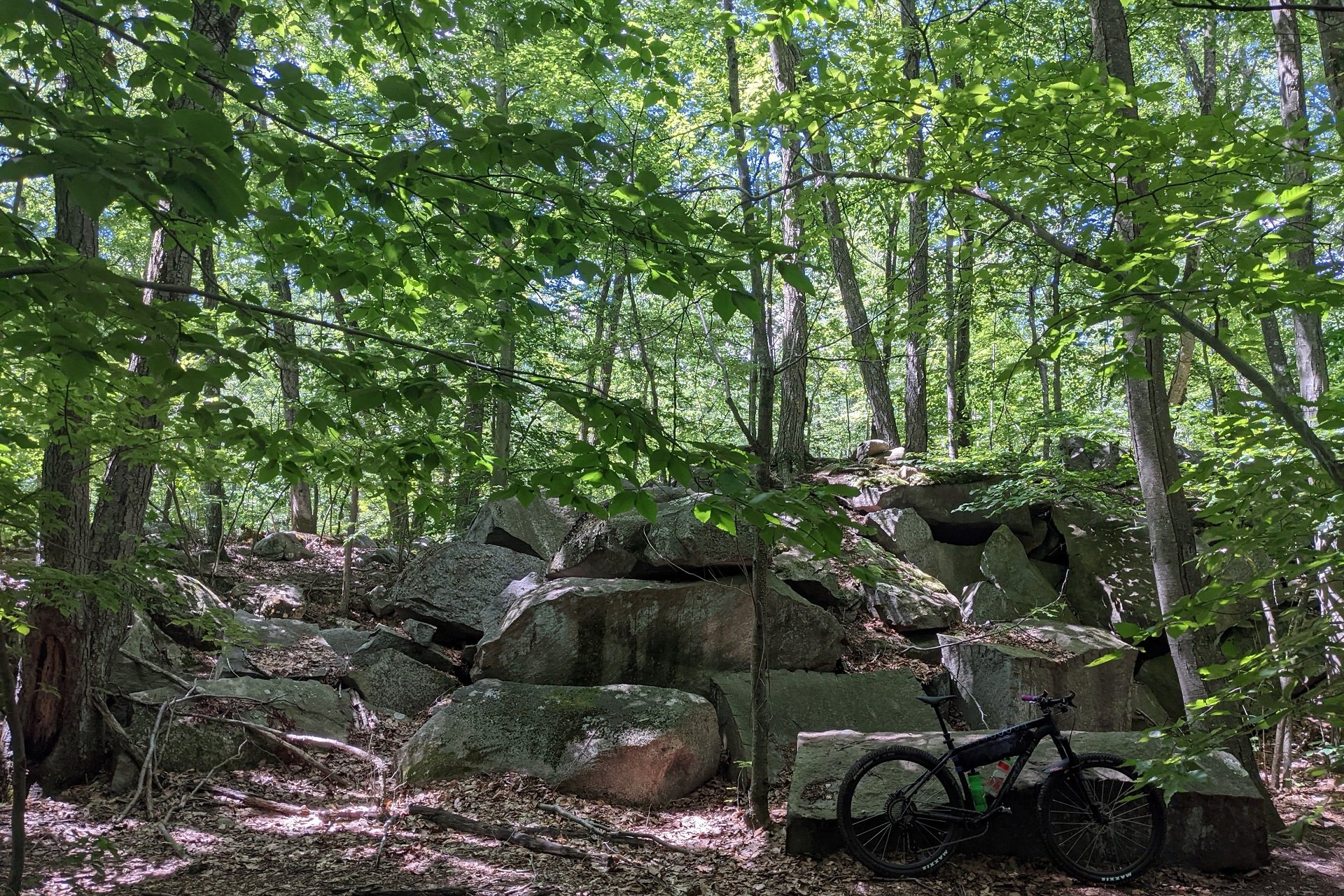 The drivetrain is an interesting ShiRAMano mix with an 11-46t cassette that looks to be on the way out, an XX1 chain that's certainly going to survive it, and a steel SRAM ring that costs about the same in pennies as it weighs but last a long time and retains the chain well for a minimal investment. As you can see the bike has a custom bag, alt-bar, push-on grips, nice hubs, and it's both ready to adventure and fully primed for some single speeding. And since it's the first hardtail we've looked at for Min-Max, I'll also mention throwing on a correct-length rigid fork, like RSD's 510mm, and a big fat 29+ tire up front. You know, for me it's staying on brand but also for you hardtail owners out there it's a totally different experience.
The follow up piece to Bean's Timberjack needs to be a properly slacked out freeride hardtail with a dual crown fork. Maybe single speeded, maybe not. Like a Honzo ESD with a -2° angleset, a full-travel Manitou Dorado, and 3" tires in a mullet configuration. It's all a balancing act and writing about XC bikes always makes me want to write about beastly bicycles. I was thinking the other day about a fellow I used to see riding his Trek Session 10 with a 13+ Monster-T up Mt. Fromme. If that thing was still in regular use it would be perfect.
I've had a few more interesting submissions for Min-Max Your Ride lately and they're much appreciated. If you have a project bike you've been min-maxing along and you're interested in sharing please fire me an e-mail and we'll go from there.