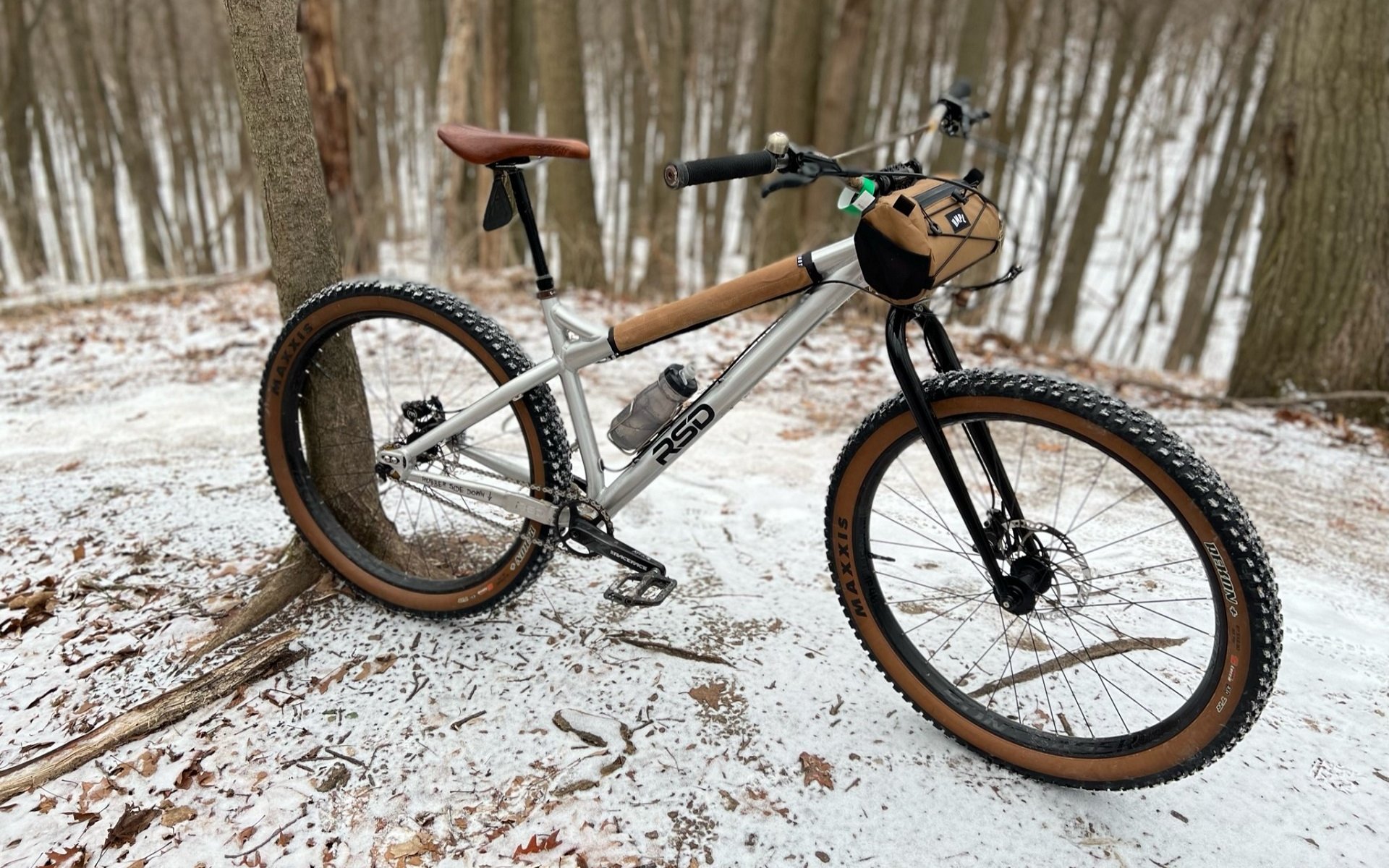 MIN MAX
Min-Max: Arden's Aluminum RSD Middlechild
Service Savings
Arden's RSD Middlechild is a timely Min-Max submission given the number of discussions I've had with other riders lately about service. The 180mm OneUp dropper post, Shigura (Shimano + Magura) four-piston brakes, Plus tires, and 820mm wide bar speak to an aggressive purpose. The long, rigid geometry preserving fork and single-speed drivetrain speak to low maintenance trail miles.
This bike is Ontario born and ridden, which explains component choices like the front and rear Rekon+ rubber and the steep 30x18 gearing. Throw on a 22t rear cog and an aggressive front tire like a 2.8" Magic Mary Soft or a 29 x 2.8" Vigilante High Grip and I'd love to get a few local laps on this classic looker.

I keep a bolt from a deceased goat link in the derailleur hanger because I find an empty threaded hole distracting, like a gauged ear lobe without hardware." - Arden
The frame is an aluminum Middlechild from Canada-based RSD Bikes. They make an interesting range of rigs in aluminum, steel, and titanium. They're likely best known for their fat bike, The Mayor, or their 125mm and 150mm Wildcat duallies complete with Horst-link suspension and sliding dropouts.
The Middlechild is available in your choice of aluminum, steel, or titanium, with the aluminum frames coming in the least expensive at 850 CAD compared to 950 CAD for steel while weighing just a bit more than their titanium option for a couple of grand less. RSD also sells complete bikes, but I like that they support a frame only option.
The static geometry sports 64.5° head tube and 74° seat tube angles paired with 140mm travel fork. A nominal axle-to-crown height for a 140mm 27" fork is about 551mm and with 20% sag Arden would be looking at a height of around 523mm. That's almost a 20mm difference between a sagged suspension fork and the Bird Blank rigid fork that he's running. I'd be tempted to run an extended crown race or headset cup, or just mullet the bike to make up some of the difference, but Arden is happy with the ride.
I like the Cunningham-esque appearance of the steel rigid fork mated to the raw aluminum frame but Arden had planned to spec RSD's own 510mm axle-to-crown rigid fork, which is aluminum. The RSD fork, as with so many products in the last few years, was significantly delayed in arriving. They're available now for folks seeking a longer rigid option, which is convenient as Bird sold through their inventory and doesn't actually list the Blank as an option any more on their site.
Highlights
I'm biased as all get out towards this bike, and I'm happy to admit it. Not only does it look great but my single-speed runs many of the same components. We're both on Race Face Aeffect R 24mm spindle cranks and Endless Bike Co Kick Ass Cogs. Arden's alt-bar is a custom -16° by WZRD in Victoria and I'm currently waiting for a bar from Em as well. We're both running Wolf Tooth Light Action ReMotes and first-gen Morse Cages, and did I mention the push-on grips?
Arden also runs his Shigura brakes - Shimano master cylinders with Magura 4-piston calipers - the same way I prefer them which is using a non-ServoWave Shimano master cylinder. This could come in the form of an older pre-ServoWave set of levers, some XT T-8000 trekking levers which are a match for Arden's long-bladed Alfine option, XTR M9100 XC masters, or any number of current budget options.
The White Industries headset uses a premium 440c stainless steel Enduro bearing which puts it in a similar category as Wolf Tooth's Premium headset and the brand new iRiX headset for Industry Nine. These should last forever. Normally I'm all in on purple, but the stealth-black finish with a machined logo looks wicked.

"The WZRD bars with ample rise and healthy 16* backsweep. I'll probably paint them someday. Similar dimensions to a Surly Sunrise bar with a bit less jackhammer harshness and a hell of a lot more panache. Full 820mm wide." -Arden
Other than gearing and tires for the local terrain, Arden's bike is a simple-looking machine with good geometry that doesn't invite strong opinions in terms of changes I'd make. Next chain I'd spend the extra money for an 11-speed option as I find chains, rings, and cogs last long(er) enough to justify the price difference.
Arden has purchased a number of premium components but many of them from the steel WZRD bars to White Industries headset should be around forever. Other components like the Bontrager Line Comp wheels, Aeffect R cranks, and OneUp dropper have very high performance for their costs.
When it comes time for a new set of pedals, if the treasure is available, I'd invest in a pair of nice, rebuildable, metal ones. In silver for that timeless new pedal look. Thanks for sharing Arden! We have a few more min-max rigs in the queue and submissions are always welcome.