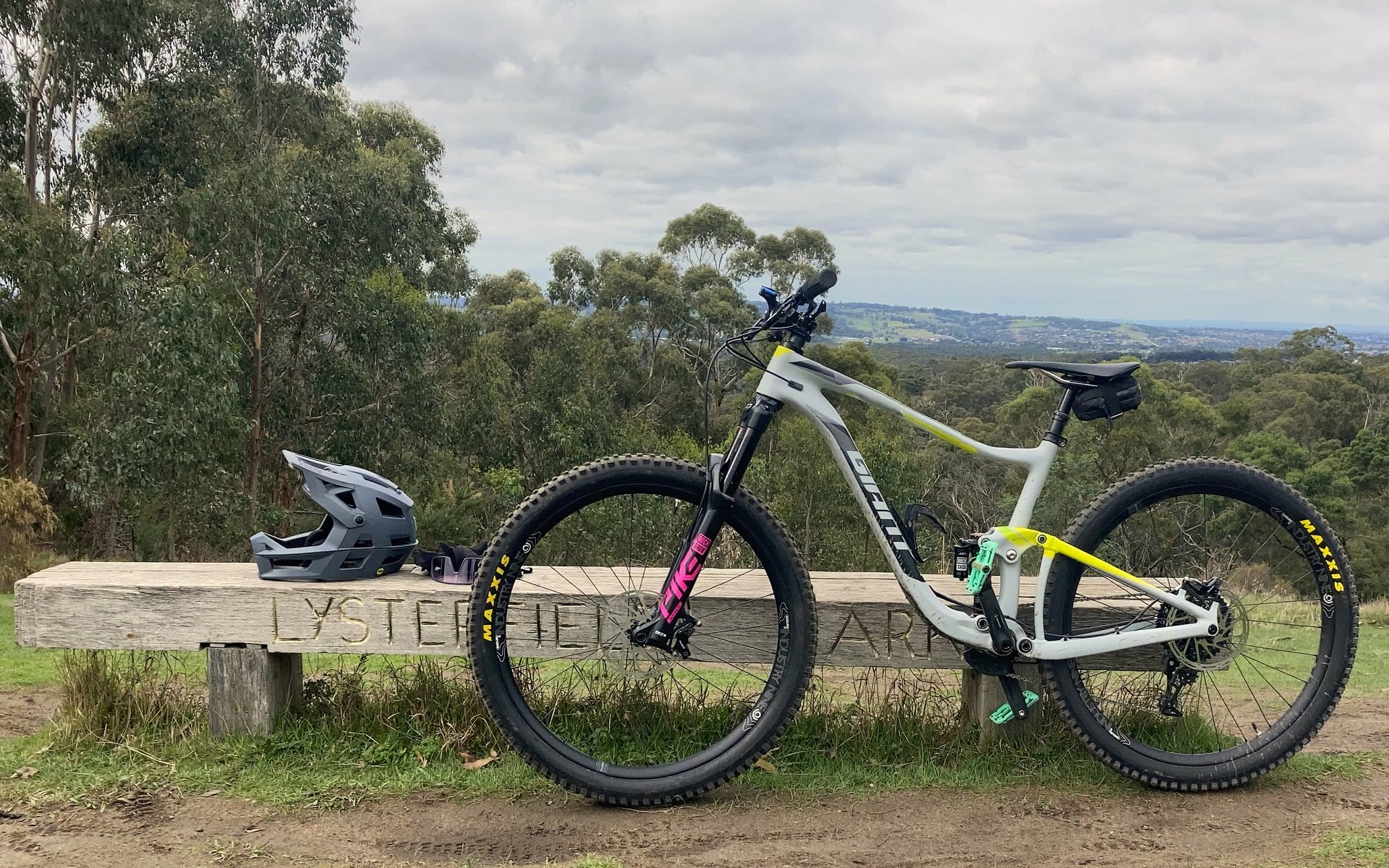 MIN MAX
Min-Max: Andrew's 2017 Giant Anthem Advanced SX
SX²
Andrew Stone took his five-year-old Anthem SX, tossed in a -2° angleset, bumped the fork travel up to 140mm, and stuck in a 180mm dropper post. The end result? A level of capability and componentry that actually resembles the "confidence and control on rugged trails" marketing that Giant dropped when they stuck an extra 1cm of fork travel, some Nobby Nics, and the 'SX' tag onto their 27" XC Race Anthem.
Wheel size aside, some of the most exciting meat-powered rigs on the market right now aren't a huge leap from the thinking behind Andrew's version the SX. I'm thinking of the new Element, Spur, HeiHei, the Blur that Pete reviewed, Epic Evo, and certainly the Top Fuel that Cooper just finished with. Nuances aside, rubber choice dependent, these bikes are go climb nicely under your own steam, absolutely rip on undulating trails - even really technical ones, and go down most trails with a bit less speed and minimal loss of fun factor compared to much longer travel rigs. Whatever micro-category you'd prefer to assign to them, these bikes are probably the most worthy of the original all-encompassing mantle of 'mountain bike.
There are different takes on what the perfect shorter-travel package is between around 120mm and around 140mm. For the slightly longer travel camp, I love the saying I've heard at least a few times that a "Stumpjumper never stopped being a Stumpjumper." Which is to say you can follow that bike from it's fully rigid inception, through to the interrupted seat tube models, and on to today's flex-stay rig with 130mm rear travel and 140mm fork travel and capture what most folks 'need' to ride most trails the world over. Interesting brain food maybe, even if you're own 'mountain bike' is a very different machine.

...and most importantly new pike stickers in OG RS1 pink" - Andrew Stone
Even in 2017 terms, the stock Anthem Advanced SX was a fairly boring rig. It shared the same 110mm travel aluminum rear end and carbon front end with the straight-up Anthem; in Giant's words a "state-of-the-art XC bike." The whole package was spiced up with an extra 1cm of fork travel, the piggyback shock aesthetic, and very slightly more aggressive rubber. The brakes on the top end SRAM-equipped models were also upgraded from the two-piston Level model (for level ground) to the four-piston Guide. And yes, maybe I'm overly critical, but I don't really see how that warranted adding a new model and a bunch of sizing SKUs.
Built the way Andrew has it set up, with an angleset, this bike is a lot more interesting. I'd say it's a brake upgrade away from being buttoned up as a super fun rocket ship. In my experience, these short travel bikes are amazing at getting the rider into trouble but with 4-5" of suspension it takes quick wits and big brakes to get out. If Andrew's Guide brakes are in good shape one easy hack is to purchase a set of Code calipers and bleed everything up. Otherwise there are lots of good choices from best-on-a-budget Code-R or Magura Trail Sport to any number of pricier choices.
Longer, (S)lower, Slacker
Tires are perhaps the quickest, way to change the character of a bike. Never mind the tread pattern, a more supple casing with a firmer durometer of knobs rolls much faster. It's an easy, if not cheap test to conduct on any bike. Grab a pair of Maxxis EXO MaxxTerra tires and the same sized rubber in a DoubleDown casing with MaxxGrip and go ride them. Even the difference between two MaxxGrip tires, EXO v. DoubleDown, the difference is noticeable by most riders.
One way to resolve the need for durability and support with a desire for faster rolling is to run the lighter casing tire with an insert. Essentially dividing the two tasks between two products. This is how I've ended up riding grippy tires with lighter casings, and big inserts, on my personal bikes. Another way is simply to suck it up and go pedal up whatever tires you're most comfortable riding downhill.
Tires are also very location specific as Andrew's Giant shows. Where the Maxxis Dissector in any casing or compound is a 'sometimes' tire on the North Shore that can be terrifying on roots and rocks at certain times of the year, it's a front and rear favourite in other locales. His Giant is running the lightest EXO sidewall version, and the firmer MaxxTerra 3C compound, in a 2.4" size. These will roll uphill a bit slower than the paired Nobby Nic tires that came with the bike, a 2.25" rear and a 2.35" front, while still rolling quickly across terrain and downhill while bringing significantly more cornering grip.
These shorter-travel but still DH-fun full suspension bikes continue to be defined by their shoes and as tires go the lightweight 2.4" category is probably the most interesting to follow in terms of development and technology. It also makes it difficult to talk about two bikes comparatively without running the same tires on each. For example, I had very different experiences with the Canyon Lux Trail between running a DHR2 on the front and a Recon. The added fun-factor was worth every second on the climb to me, but a true connoisseur of the category may have found love with something in between, like the new Forekaster or Bontrager's XR4, maybe Schwalbe's Wicked Will, or maybe a Continental Trail King?
The list and variety of opinions, both terrain specific and generally, are endless. The point I'm drilling down to is that I was very surprised to see dual-Dissectors but tires are expensive and terrain varies, so when you're spec'ing your aggressive short travel sled local knowledge from folks who ride that sort of rig is going to trump all.
A more universal upgrade is going to be wheels. The stock Giant XCT-1 wheelset has modern stats with an i29 rim width, 28x spokes, and a Boost front and rear axle widths but the key in this category of bike is to choose rims, carbon or aluminum, that are going to min-max weight with toughness. Tire pressure is going to be a key part of bicycle setup with the firmer-rubber, faster rolling setups and dent resistance is key. Andrew is running an Industry Nine Enduro S wheelset which combines their top end Hydra hub with an i30.5 rim that I9 says is suitable for a 2.3-2.8" tire, and I'd argue will work best in a 2.3"-2.6" window, which could open up some interesting higher volume rubber choices.
Andrew has carried forward many of the original components, including the X1 drivetrain and RockShox suspension. The creaking crown steerer units (CSUs), or other chassis issues aside, with routine maintenance top-end suspension products last a long time. With the rear shock, the big challenge to note is that Giant uses a Trunnion mount up top and a thru-shaft without a DU-bushing for the lower eyelet. This means staying on top of replacing cartridge bearings since if they seize it puts a lot of unwanted loading into the shock's shaft, body, and air can. It's very common to see these bikes with seized or indexing bearings both top and bottom. If you have one and haven't checked it for a while I'd highly recommend pulling out your shock and giving them all a spin.
I'm never surprised to see awful Giant Contact SL dropper posts being retired from these bikes and I've recycled quite a few myself. There are some very good Wintek-cartridge equipped posts that brands can print their name on but this is has never been one of them. Even in 2017 it was relative garbage and if you're still suffering with one and have the budget, consider treating yourself. Andrew has gone with the OneUp V2 in order to maximize drop for the given length. There are more budget conscious products like PNW's Rainier or X-Fusion's Manic that use the same cartridge system as the Giant but bring significant performance, quality, and experience enhancements.
That said, the stock bike with a carbon front triangle, aluminum rear triangle, and SRAM X1 build was a very good value even compared to others in the class of 2017. Giant was selling these for 4700 USD.
#HotForMullet
Instead of a longer travel fork, how about dropping down to a 120mm fork and combining the -2° angleset upgrade with a 29" wheel? That's a lot less min-maxed than tossing a new air spring shaft in the existing Pike. But lets say that Andrew's fork was unsupported anyway and he needed to upgrade due to some chassis issues. For the extra cost of lacing up a fresh rim I think a mullet setup would be one very interesting way to get a different experience out of the same bike.
Giant had a rocky relationship with 29" wheels. They first made some bad 29ers, and then they abandoned the size to chase the one-true-hoop as they, more than anyone, marketed the living shit out of the middle ground (that's not really the middle), of 650b. Also called 27" or 27.5" depending on who you're talking to. But, looking back it's actually easy to imagine a scenario where Giant could have been the first big player pushing mullet bikes and I think any of their rigs from this era with their relatively long chainstays would be amenable to a -2° angleset and a 29" front wheel.
Specific to Andrew's bike, there are some fun 120mm 29'er forks on the market like the Manitout R7 or the RockShox SID that are plenty stiff, and very light, that would suit such a project. That's assuming that frame outlasts the fork. He's looking to replace it at some point anyway, and he's keen on the mixed-wheel thing. For the time being, there's clearly no better suspension value than servicing what you already own and I think these Pike RC Solo Air forks stand up well against current models.
'Everywhere' MTBs
With the 180mm dropper and a static head tube angle (HTA) somewhere around 65° thanks to the Angleset and over-forking, Andrew's Anthem SX would fit in nicely with our local Shore-XC, Slack-C, or 'Shore Country', scene. However we'd choose to micro-categorize this rig, I think in the current form it's a rubber swap away from being usable pretty much anywhere. The fact it's a five year old, basically six model-years old bike that still looks fresh is neat too. Whether it's because aesthetic changes have slowed down at a similar rate to geometry or simply because all the design funds are being put into adding batteries to everything, I think this SX² looks very current too. That doesn't matter to a lot of folks but I'm sure it would keep more than a few riders looking at upgrading their current rig rather than spending for something new.
The Anthem SX geometry is already in decently close-to-current territory with a 67.5° HTA and a 452mm Reach & 587mm Stack for a Large frame. As with many bikes, there's clearly an XXL and maybe even an XXXL size missing if we're going by Reach and the seat tubes are probably too long, and too slack, for most riders to size up two rungs. Maybe more than any bike in the Min-Max series thus far, the addition of the angleset, which slackens the HTA while also steepening the STA a bit, makes this build.
I heard an interesting opinion the other day that this will be the category of self-powered mountain bikes - somewhere in the 120mm-ish rear and 140mm-ish front travel range - that will come to dominate local riding, even aggressive local riding, here on the North Shore in the coming years. The bikes are slower on the gnarliest descents compared to a full-blown Enduro rig, yes. But they're much more fun on tamer trails and with big brakes, good rubber, and suspension well setup they're clearly capable. I'm currently spending all my riding time on a 120mm/120mm mullet with a HTA sitting somewhere in the 63.5° range and it's a ridiculous amount of fun. But, and I'm not back yet in terms of riding a bike in anger, it sure does love to try and get me into trouble.
Tires, as noted, become the most interesting differentiator between a bike set up with more of an uphill bias, all-around bias, or downhill bias but even then lighter inserts hitting the market level out questions of rim protection and sidewall support for some more supple, less knobby options that roll faster but grip well with lower pressures. Great geometry is here, powerful trail brakes are here, and there are some excellent stiff-and-light short travel suspension forks as well as some excellent inline shocks. I'd guess we'll see a much higher percentage of bike reviews on NSMB like those listed in my opening.
In a way, I think this trend was announced almost a decade ago with bikes like the Kona Process 111, Transition Smuggler, and Banshee Phantom. It's taken the blending of these short travel, aggressive 29ers with lighter and more efficient XC machines to get us here. And, it's neat that, wheelsize aside, Andrew's 2017 Giant Anthem Advanced SX, or SX² as I like to call it, is really on trend, five years and an angleset later.