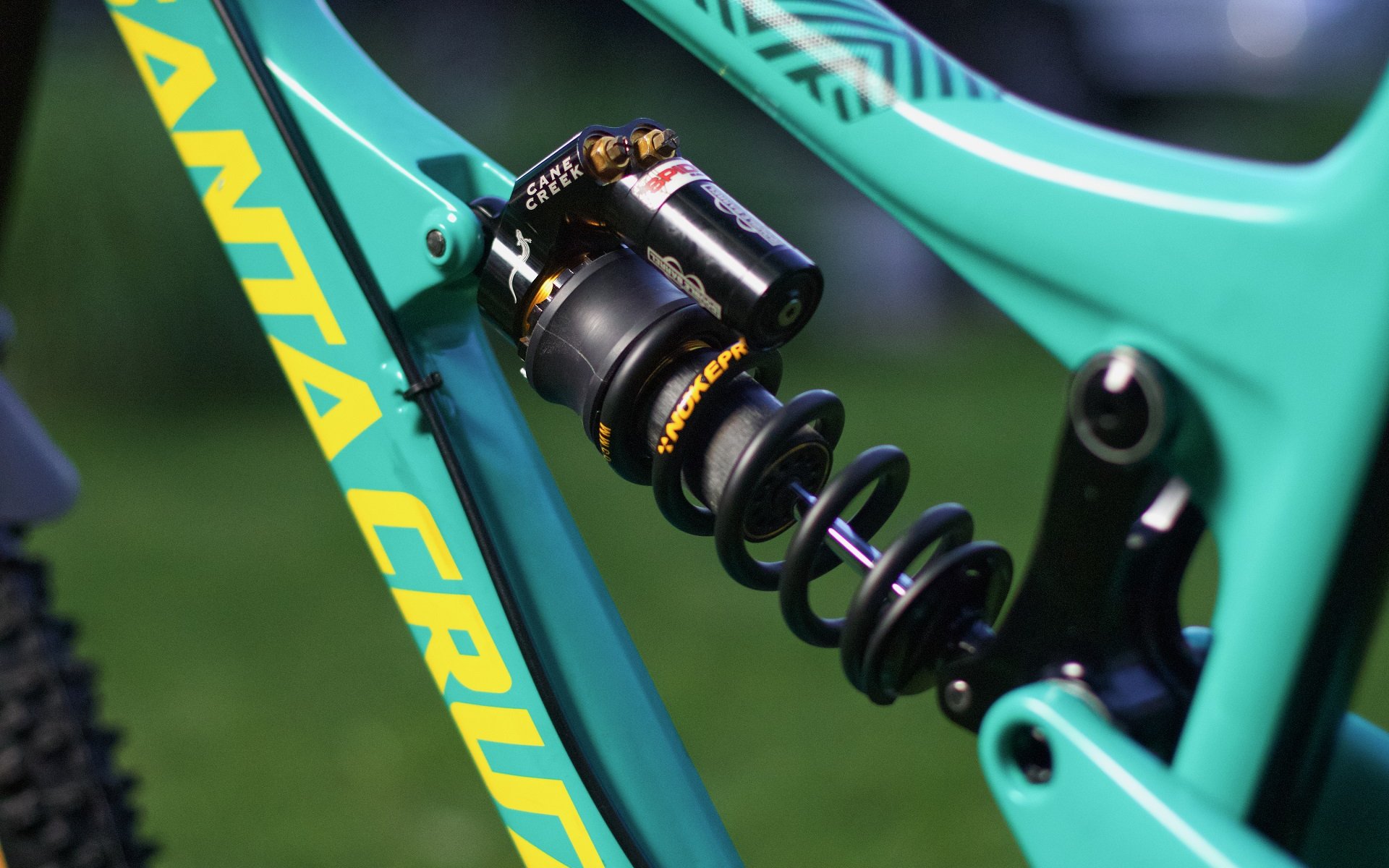 MIN MAX | EDITORIAL
Min-Max: Adam's 2016 Santa Cruz Nomad & The SCB Ten-Year Guarantee

We've committed to holding replacement parts for 10+ years after a model (or version of a model) is discontinued." - Garen Becker, Santa Cruz Bicycles
Forward To 2026
"The investment is mostly in the hours it takes to make the product initially, with the mindset of designing something that will last, where wear items are replaceable and affordable, and big expensive pieces don't wear or break. After that, we've got some wild computers and smart people that know how to use them, so making another batch of hardware appear before we run out isn't the most difficult thing we've done..." - Garen Becker, Santa Cruz Bicycles (SCB)
I think my favourite part of Adam's bike is that he just did a full bearing overhaul and it was fairly nasty. I didn't ask him how draconian the process was, but I've seen plenty of shafts that looked similar and it's rare that a few kind words are enough to expel them from a frame. But, his bike came out looking and feeling fresh and, while it's been years since I rode a Nomad V3, based on my memories it's fantastic on trail. It climbs surprisingly well for a bike with 165mm rear travel, the geometry is close-enough to what's current, it was much easier to setup than past VPP bikes I'd ridden, and it went fast downhill. If you're interested in digging a bit deeper, Pete had more hours on the bike than I did, and wrote an extensive long term review.
While I was riding the bike I never thought I'd be talking about it in 2022. I'd owned plenty of hardtails as longer term investments but full suspension bikes were still been developing quickly and I was as caught up as anyone in the "next-generation means significantly better" bicycles mentality. As it sits now, I'd like to follow up with Adam, or whoever owns this Nomad, in 2026 and see what it looks like after another four years of use.
Here's my standard min-max prediction right now:
-1° angleset
29" front wheel mullet with 160mm fork
Black tires
That same tried-and-true, pre-climb switch, Cane Creek DB Coil shock.
In my experience, based on how their bikes ride, are designed, and how they are supported, Santa Cruz delivers a lot of value. Their in-house assembly setup produces significantly better built bikes than most of their competition which can save headaches and heartaches down the road.
As part of an article I've been working on, I traded some e-mails with Garen Becker from Santa Cruz Bicycles, with the plan to take what I call the SCB Design Philosophy to other companies for comment. After mulling it over, I realized the plan was flawed. What's the point of asking a company that doesn't have a chainstay available (for the bike they sold three months ago) about their vision of supporting said bike ten years from now?
Credit goes from Garen to SCB Product Manager Josh Kissner, a twenty year veteran of the company, and the fact that "over the years the product and design teams came from the bike shops in the first place." Josh spent time in production and then as a rider support rep for years before becoming Santa Cruz's engineering tech. Between Josh, and former shop wrenches working at SCB, being hands on with the product, they weren't willing to produce anything that was difficult to work on. That meant avoiding bandwagon products like the (soon to be dead for MTB?) pressfit bottom bracket, or internal cable routing before they pioneered their internal tunnel system.

"We've committed to holding replacement parts for 10+ years after a model (or version of a model) is discontinued. This means all frame parts: bearings, links, axles, etc. We try to hold front and rear triangles too, but when those run out and we need to support a warranty claim, we'd then move that rider to a newer version. Most riders seem pretty eager to upgrade to a later model, but there have been times when a customer is SET on rebuilding their classic bike so we've supplied CAD drawings so they're able to get the part made at their local machine shop." - Garen Becker, Santa Cruz Bicycles (SCB)
There will always folks arguing that Adam would be better served by selling his V3 Nomad. The Reach is too short. The seat tube angle (STA) is too slack. His 2016 was the last year of production for this particular model so this is a six or seven year old rig but it's arguably a design that's now nine model years old. What's the value in something that lasts forever if the new model is significantly improved? But from where I sit looking at the activity of mountain biking I think ten years is a great minimum level of support for anything proprietary whether its a fitting, linkage, frame component of a shock like Fox/Cannondale's DYAD.
On Value
Continuing with the theme of the personal nature of value, I was part of an exchange recently where the new Santa Cruz Nomad VI was being used as the price point punching bag relative to a just-released carbon fiber e-bike with a Shimano EP8 motor and another bike from a popular direct-to-consumer (DTC) brand's bike with similar spec and travel.*
The conversation was with a friend who is planning to switch to a plug-in full time for all the standard justifications, so in his world value is measured by being able to do a properly satisfying door-to-door ride in under-an-hour. Clearly for the same price then, the EP8 option is his winner because the particular bike aligns with his DTC bike example on spec. The fact that the price difference reflects only the addition of the motor and battery, and comes from his local bike shop, is a source celebration for him. Honestly, for how much the bike is going to be ridden, issues that would detract from it's value may never come up. The DTC bike has a similar spec. to the Nomad for notably less scratch and the EP8-equipped rig costs about the same as the SCB he'd be buying.
If we assume the quality and performance of all three bikes is the same, what other value factors should be taken into account? Even ignoring the cheeky memes about eMTB owners communicating with each other via smoke signals - new month, new recall - the fact is that if you're looking to own a rig that's always ready to go at a moment's notice, e-bikes simply aren't there yet. Look online and there are legions of riders going months with six-figure clothes drying racks because their Shimano motor shat the bed and there are no replacement units available.
*With shipping, duties, and professional assembly taken into account.
The DTC brand in question has a horrific reputation for warranty replacement timelines and long term support for frame members. Buying one of their frames used is most certainly gambling and even new I'd say a strong selling feature is that everything on the bike will swap over to a Chromag Rootdown or Kona Honzo frame so you can fall in love with hardtailing again while you wait patiently for frame members to arrive. Maybe you've never broken a frame, and generally flip your bikes before they need a suspension service or bearing overhaul, and are more of a fair-weather rider, and have lots of activities you can do, or multiple bikes, in order to get through the downtime. In that case, our definition of value is very different.
I have multiple friends who've cracked Santa Cruz frames - everything breaks occasionally - that were covered by warranty, who were riding again within a week. They're among the easiest multi-pivot full-suspension bikes to service and they've used common suspension hardware through the whole lineup for years so every dealer has every shaft and bolt you could need. They're very well thought out and easy to work on bikes. Yes, they're expensive up front. For a rider who's going to put a ton of hours on their bike, and treat it like a mountain bike, and wants minimum downtime whether it's doing repairs or waiting for a warranty, their bikes and reputation add up to something.
Looking back to 2016, I know many riders who paid significantly less for a better equipped rolling port-a-loo than they would have paid for a Nomad III. And not one of them is still on that bike. But I still see plenty of these, and older Nomad frames on the trails under both their original owners and new riders who undoubtedly paid a bit of 'Santa Cruz tax' to buy into a product with guaranteed long term support.
'Simply Advanced'
Adam's Nomad has worn an array of parts and when we first started talking about putting together a min-max piece he was deciding between a couple of suspension forks. I can picture riding the bike because I rode a Nomad V3 while testing an SR Suntour Durolux. When it comes to rebuilding a fork at home, any generation of Durolux is about as user friendly as it gets and Adam just put his back together as part of this project.
I've never owned a Santa Cruz but I've reviewed a few generations of their Chameleon hardtails. I have however ridden quite a few Nomads, and worked on many more, going back to my brother's aluminum V1, and I quite enjoy them. I think the new Bronson MX will be very neat once they have an aluminum option on the market and, of course, the aluminum Tallboy is right up my alley in terms of balancing all the value I see from their design philosophy with my budget range for a new bicycle.
But, if we're talking used bikes in good condition for potential min-max projects, the Nomad V3 or later Bronson V3 would both be high on my list for potential candidates, either in aluminum for the lower price or in carbon with the knowledge that the frame quality makes them worthy candidates for a repair at Robert's Composites if disaster should occur. In either event, a larger frame, a 29'er fork with a bit less travel than the stock 27" number, an angleset, and a 29" front wheel would make for a very fun bike; no trunnion mount, no funky chainline, no faffing with stuff designed by someone who's clearly never worked on a bicycle. Awesome.
Adam's Nomad is running a stalwart Shimano 10-speed drivetrain. It includes a Zee shifter, an SLX rear derailleur and a 40t expander cog on the cassette. As products wear he'll be able to swap that over to a SunRace 10-speed cassette and a Deore 11-speed rear derailleur will happily take commands from the 10-seed Zee shifter that could very well outlive everything else on the bike.
If he's looking to hit lower gears and doesn't mind giving up a bit of top end then North Shore Billet manufactures a 64/4-bolt narrow wide ring that sits outboard enough to clear many bikes that weren't designed to accommodate a front derailleur and granny ring setup. I used to run this setup on my daughter's 20" bike and it will allow allow Adam to drop to a 26t or 28t ring.
In many people's experience the 1x-specific VPP bikes ride better using larger chainrings. I know at least two riders who swore by 34t rings on their V3 Nomads so it may be preferable from a suspension perspective to switch to an 11-speed derailleur and 11-46t cassette instead. I've also met riders running this very bike with direct mount cranksets using similarly small chainrings who say they work fine.
Adam's CCDB rear shock predates the Nomad by a few years, and also is older than the 2014 Orange Alpine that he acquired it with. I'd love to know the full provenance of some used bike parts. How many bikes was this shock on before the Nomad? I bring it up because part of Adam's decision to jump on this V3 Nomad is that it uses the same 216x63mm rear shock. I'd argue that this Nomad is worth a bunch more to the average rider now that the frame and fork have been serviced, so even if he does decide to try something else, Adam should be able to get a return on all the effort that he's invested in addition to the fun he has riding the bike in the meantime.
Thinking about Claire's 2009 Kona or Daniele's 2013 MDE, a common thread is that, like this Nomad, the majority of the maintenance work being done is by the owners. They're investing time and they have to have worked to acquire the skills, tools, and knowledge to make this happen, but those things are amortized differently than just heading to the shop and paying to have work done. That said, over the last few years I've been part of a few of these projects either lending advice or on the clock wielding tools and, if riders already own the bike (sunk cost) or are getting a great deal on an older rig in good shape, you can come out way ahead in terms of fun on two wheels per dollar. I think that's especially true with bikes sporting almost-current geometry.
There is that ugly buyer beware flip-side that's always worthy of addressing again and again. It's a lot harder to go wrong with a Santa Cruz of a similar generation to Adam's than it is with a lot of bikes. All the parts are still available, you can strip the frame down with nothing but some hex keys and maybe a mallet if the hardware is seized, and rims and tires are readily available for a 27" bike. In fact, with most gravel bikes using a 142x12mm rear, it's not even hard to find a replacement non-Boost hub. A Boostinator kit is always an option to keep the front wheel, or hub, in action if a fork upgrade is necessary. Every other part falls under the standard terms of bicycles as adult Lego.
Does the long term support increase the resale value, and long term used value of a mountain bike? I've seen so many folks devastated after buying someone else's recycling for thousands of dollars that I don't know if that's the case. Does it warrant spending more on a mountain bike up front, particularly for a rider who plans to keep it for years? Looking at how geometry progression has slowed it's not a stretch to believe that if I bought the right bike in 2022 I could very happily be riding it in 2032. In all events, I think Santa Cruz Bicycles' philosophy of a ten-plus year commitment to support everything they sell is rad and worth highlighting. It's also worth asking other companies to show the same commitment.
---
Thank you to Adam. If you'd like to submit a bike for min-max, hit me with an e-mail. We've probably had enough different rigs now that we could start accepting Kona Process V1 and Banshee V2 bikes again.